Belichick Spygate Scandal: Unanswered Questions
By Mo Johnson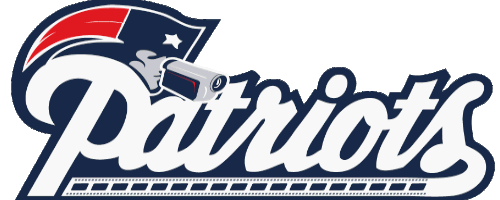 UPDATE:  January 2015:  Wow -- a new scandal has erupted.  This one could be even more serious than Spygate was.  It appears the NFL has found the Patriots used deflated footballs when on offense in their victory over the Colts in the AFC Championship Game.  That would have given the Patriots a passing advantage, particularly in the wet conditions.  The new scandal is being called "DeflateGate." 

And, it's not like both teams played with the same balls.  The way it works is each team brings 12 footballs to the game and uses their footballs while on offense.  11 of the 12 footballs the Patriots brought were found to be about 15% under-inflated.  

An anonymous NFL official told the Washington Post:  "very serious stuff."   The NFL has not announced any penalties yet but expect more draft picks to be taken.  Still, is that fair?  

The only fair thing would be to replay the game.  Or, perhaps, make the Patriots forfeit the game and send the Colts to the Super Bowl.  Otherwise, this will be another case of cheating paying off.
I see no other way to reasonably interpret this other than to conclude that the Patriots, as an organization, have repeatedly cheated their way to victories.  We don't know yet who knew and did what and when -- but come on -- this is ridiculous.    

At a minimum, these scandals have tarnished the legacy of Tom Brady, Bill Belichick and the Patriots organization.  

Will the Patriots allow us to interview whoever under-inflated those footballs?  Don't hold your breath!  
*******************
Spygate has evolved into such a huge story, with so many layers, that we can't cover it all on this page. So, our latest updates on the scandal (particularly after all the recent revelations by Matt Walsh) are at Patriots Belichick Spygate News.

The following is our coverage of the issue through Mid-May 08. If the Belichick Spygate Scandal is new to you, you'll want to start here and then check out the Spygate News page linked to above.

The Belichick Spygate Scandal story is not going away. Not even close. In fact, it just keeps evolving -- right here -- on this site.

We have received TONS of comments -- I'm sure way over 100 all together (we have combined many of them together). You can read them at the bottom of the page, and add your own if you'd like.

Three that recently came in, that are particularly interesting and informative, are Disgruntled Pats Players Spill the Goods, Where is Matt Estrella? and What Other Teams?

Particularly if you live in Pennsylvania, please read Radio Communication is the Real Spygate Issue. Your assistance is requested as you'll see.

And, another NEW terrific contribution from "Johnny in Boston" about the radio communications Spygate angle is at Spygate: More Radio Communication is the Real Spygate Issue.

I thought it might be useful for me to summarize the major points of the discussion so far. Based on the evidence we have, here's what most people seem to agree:
Bill Belichick knowingly cheated
The NFL refused to seriously investigate the allegations
The NFL destroyed the evidence
The NFL rules and guidance regarding one team taping its opponents signals during a game are scandalously unclear (more about this shortly)

However, we don't know:
The extent of the Patriot Cheating
How much of an advantage it gave them
The impact, if any, on prior games

Only after we find those things out, can we agree on the appropriate sanction. Assuming guilt (which is the most reasonable assumption based on the evidence available at this time), the most popular recommended punishments from the comments on this site are:
Ban Belichick from the NFL (as Pete Rose was banned from MLB)
The Patriots should forfeit all games they cheated in (including prior Super Bowls) -- again this would depend on the information obtained from a full investigation.

By the way, as I've always said, if anyone, can make a case for Bill Belichick or show us where anything we say in this article is incorrect, please submit your comment below. If it's informative, I'll be happy to link to it from here.

In fact, here's a pro-Belichick comment I thought was pretty good for presenting his side:

You'll see that the key to defending Belichick is to attack the NFL rules as being weak and unclear -- and, indeed, that's a good point. This moves the debate in the direction of whether the NFL needs to tighten up its spying rules because of the increasingly sophisticated technology available today [issue discussed more below].

Patriot fans won't believe it, but honestly, we really do want the truth and want to be as fair as we can be.

The NFL rules on taping are unclear because they don't simply say -- "you can't tape your opponents signals." That would be too simple.

Instead the rules say team staff members can't tape from various locations (detailed below) as well as any "accessible" locations. Whatever that means. I mean, if staff from a team can't tape signals from accessible locations, then, by definition, they simply can't tape signals.

Because if they were able to tape from an inaccessible location, well...it wouldn't be inaccessible any more. Right?

A blanket prohibition is the only policy that makes sense. Otherwise, if taping were allowed (albeit from "inaccessible locations") games would ultimately be decided based more on spying and deciphering ability, instead of play on the field. And, that would damage the integrity of the game.
This important issue is discussed in detail at another reader comment:
Naive! Cowboys and Broncos Stole Signals Too

But, why doesn't the NFL just say clearly -- you can't tape your opponents hand signals during games? Why not? Why the weasel words about accessible vs inaccessible areas? Strange.

In any event, while another indictment of the NFL, none of that lets Belichick off the hook. He was wrong to order the taping and he knew it was wrong. That's obvious from the fact that he's refused to discuss any of it since being caught.

Also, of course, he had Patriot's staff tape Jet's signals from the sideline. So, that is clearly prohibited -- even by the squishy NFL rules.

The Belichick Spygate Scandal already has challenged the game's integrity since we really still don't know what the Patriots did or when they started doing it.

The Pats illicit taping program appears to have been a longstanding Patriot practice, based on clues given in an ESPN story about former Patriot's videographer Matt Walsh. If you read the Matt Walsh Story, you'll agree that Mr. Walsh obviously has lots more to tell. [Hope Sen. Specter subpoenas him.]

Part of the problem is the stone wall of silence that Bill Belichick has erected. We just have no idea what he's done or if it's legal or not.

The statements from the NFL have done little to clarify matters.

Once again, I invite, no implore Bill Belichick or Roger Goodall to clarify their positions by using the form at the bottom of this page.

Why here? Hey, if you check out the Google search engine, you'll find that this page is the top fan page on the web for the Spygate scandal.

So, why shouldn't they respond here, directly to the fans.

It would be easy, fast, free and heck -- I'd put it on the front page. Silence, stonewalling, arrogance only breeds contempt and an understandable tendency for the American public to assume the worst. There's only one way to fix that.

So, Roger, Bill -- we're still waiting....


February 3, 2008 -- (Super Bowl Sunday)
Thanks to former Ole Miss (SEC) QB Eli Manning and the New York Giants for dispensing a measure of justice tonight with their dramatic 17-14 victory over the New England Patriots. The Spygate story is not over. But, at least, the "greatest team ever" nonsense is behind us.

I also want to say "thanks" to everyone who has spoken out on the Belichick Spygate Scandal. It has been amazing. This page has become perhaps the top spot on the world wide web for people to gather and discuss the Belichick/Patriots Spygate controversy. If you read some of the many comments submitted at the bottom of this page you'll see why. Every facet of the issue is thoroughly discussed as it is nowhere else.

Two comments I want to highlight are:

Prior Discussion

The Spygate saga continues. I read an article in the paper this morning claiming that NFL Commissioner Roger Goodall had destroyed the videotapes in question. What the ....!!? Is anyone besides me outraged by that? Does anyone care? Maybe not. Maybe cheating is now perfectly acceptable -- as long as everyone involved is making money.

February 2, 2008 -- Thank goodness for Senator Arlen Specter, Senior U.S. Senator from Pennsylvania. Apparently he cares and has the courage to speak out. In a letter he wrote to NFL Commissioner Roger Goodell dated January 31, 2008, Specter stated:
I am concerned about the underlying facts on the taping, the reasons for the judgment on the limited penalties and, most of all, on the inexplicable destruction of the tapes.
Senator Specter is the senior Republican senator on the Senate Judiciary Committee. Hopefully, he will call for hearings on why the NFL destroyed the evidence. At the very least, it will be interesting to see how Goodell responds to the letter.
**************************************


Now back to previously scheduled programming.

First the facts that we do know.

An employee of the New England Patriots was caught on the Patriots sideline videotaping defensive signals, by opposing New York Jets coaches, in their first game of the NFL season. A review of the tape by the NFL confirmed this.

Of course, taping opposing teams signals would have allowed the Patriots, after reviewing the tape, to know exactly what the signal was for a particular defensive call. Later, when they see that signal again -- they know the play the other team will run. Simple. And, very useful information to have. Unfortunately for the Patriots -- it is illegal!

There also were some "radio frequency issues" that occurred during the game; however, those issues appear to have not been pursued by the NFL. More about the radio frequency issues later.

After reviewing the matter, NFL Commissioner Roger Goodall stated:

This episode represents a calculated and deliberate attempt to avoid longstanding rules designed to encourage fair play and promote honest competition on the playing field.
Goodall imposed the following punishments:

Fined Bill Belichick $500,000
Fined the Patriots $250,000
Took away the Pat's first round draft pick in the 2008 NFL draft (or their 2nd and 3rd round picks if they don't make the playoffs).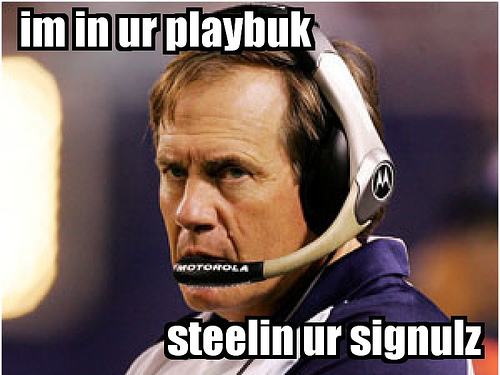 Thanks to silas216 at flickr.com for this picture of Bill Belichick.

Bill Belichick's response to all this has been essentially as follows:

I accept full responsibility (no indication what that means)
My interpretation of a rule in the [NFL's] Constitution and Bylaws was incorrect
I will not be offering any further comment on this matter

With that, Bill Belichick would like us all to go on about our business and not further trouble him with this matter.

Clearly, the NFL is of the same mind. Have you seen Roger Goodall discussing the scandal? Didn't think so.

Unfortunately for the NFL and Mr. Belichick there are serious outstanding issues that demand further inquiry.

First, it should be understood that there is no possible "issue" (or defense) of "an incorrect interpretation" as Belichick infers in his statement.

Page 105 of the NFL's "Game Operations Manual" states:

No video recording devices of any kind are permitted to be in use in the coaches' booth, on the field, or in the locker room during the game.

That's a pretty clear-cut rule.

But, if he were talking (which he is not) maybe Belichick would say he didn't intentionally violate NFL rules because he never really read the NFL rule book in detail.

That's hard to imagine since he's been coaching in the NFL for over 3 decades, and reputedly is a genius. But, I guess it could be a possible, even if unlikely, defense.

The trouble (for Bill) is that we have a "smoking gun."

On September 6, 2006, NFL Executive Vice President of Football Operations, Ray Anderson, sent a letter to NFL head coaches (including Bill Belichick) stating:
Video taping of any type, including but not limited to taping of an opponent's offensive or defensive signals, is prohibited on the sidelines, in the coaches' booth, in the locker room, or at any other locations accessible to club staff members during the game.
So, there is no doubt that Bill Belichick not only violated the rules, but that he also did it knowingly and willfully.

Not only that, but from the facts we the public have available to us, it appears clear that this is not the first time, in Belichicks tenure, the Patriots have cheated during a football game.

In fact, every day, new stories of prior Patriot misdeeds seem to come to light. Some of those include:

Former Patriots' offensive coach, Charlie Weis, overheard congratulating Tampa Bay's defensive coordinator, Monte Kiffin, allegedly stating: "We knew all your calls, and you still stopped us. I can't believe it."
A separate Patriot taping incident during a game with the Detroit Lions.
Pittsburg Steeler's players saying when they played the Patriots, somehow, the Pats knew all the Steeler plays before they were run.
Patriots jamming signals to the headphones of opposing coaches.

Perhaps the strongest evidence this cheating has gone on for years is that Belichick apparently only got caught this time because someone, who knows how he does business, ratted him out.

That person was Jets Head Coach, Eric Mangini.

Mangini was an assistant coach for the Patriots until January 2006 when he was hired by the Jets. Rumor has it that the Jets-Patriots games last year were full of intrigue as the Jets coaches, knowing they were being taped by the Patriots, mixed up fake signals with real ones.

But, preparing for NFL game days is tough enough without having to learn 2 or 3 times as many signals as usual and memorizing which are fake and with are real.

Apparently, Mangini got sick of the nonsense and alerted NFL security about what to expect from a certain Patriot cameraman. The rest is history.

Maybe now we have a better understanding for why Belichick was strangely upset at Mangini for taking the Jets head coaching job. Traditionally, coaches are happy for a subordinate who gets a shot at the head job somewhere. Not Belichick. Hmmm.

Oh, by the way, Mangini was asked if this cheating went on when he was an assistant coach at New England. Mangini said he had no comment. Hmmm.

As "Spygate" continues to unfold, it appears increasingly likely that cheating has been the way the Bill Belichick and the Patriots have done business for years.

Thanks to berbercarpet at flickr.com for this graphic.
Hey Bill, if it isn't so - say so. Tell us exactly when your cheating began. Oh yea, that's right, you said you will have no comment on this matter.

Sorry Mr. Belichick, but your silence speaks volumes. In fact, it is deafening.

As bad as Belichick's cheating is, that is not even the big story here. The more significant problem has been the NFL's response. The NFL's response has been so tepid and weak that it makes you wonder why they are afraid to dig more deeply. It calls into question the integrity of the game.

If there was an allegation that a college football coach was intentionally cheating; stealing signals from the other team; you can be sure there would be a full investigation.

The first question that would be asked; the first question anyone would ask is:

HAVE YOU DONE THIS BEFORE?
Roger Goodell, and the NFL don't seem interested in asking that, most obvious, of questions. Why?

Because, they know the answer already. And they don't like it.

The answer is - "heck yea, we cheated before!"

Based on the evidence in the public record today, it seems quite likely that Belichick and the Patriots have been cheating for years.

It is more troubling because the cheating apparently paid off. Bill Belichick is the only coach in NFL history to win 3 Super Bowls in 4 years. He is (maybe was) headed for the Pro Football Hall of Fame.

Each one of the Patriot Super Bowl victories were in extremely close games (3 point margin in each).

Could knowing the other teams signals (or interrupting their electronic communications) have made a difference in the outcome. You betcha.

Every one of the Patriots' Super Bowls Championships is tarnished. That goes for their AFC Championships too.

And what about Tom Brady? No one has talked about him yet in connection with this scandal. He has an image of being such a clutch quarterback. Always making the right throw to the open receiver at the key moment? Did that happen because he was apparently the beneficiary of stolen information? It's a lot easier to beat a safety blitz when you know it's coming before the ball is snapped.

OK, assuming the NFL did an investigation (which they are unlikely to do) and confirmed that the Patriots cheating has been going on for years; what should be the appropriate punishment?

Actually, that's easy.

If they cheated, their wins should be forfeited. Any first grader knows that.

Heck, the NCAA regularly erases wins from prior seasons, if it is proven, for instance, that a booster (with the knowledge of the football program) improperly allowed a football player to drive a car for free.

In this case, we have an NFL head coach, knowingly, intentionally cheating during a regular season football game. Caught red-handed. Videotaped evidence for Pete's sake!

The NFL's response?

First, they do not inquire into prior misconduct.

Second, to put the current issue to bed, they quickly dish out punishment that seems tough, but actually is essentially nothing.

A $500,000 fine seems rough to you and I. To Bill Belichick, it really means nothing.

Belichick has a base salary of $5 million a year. Who knows how much more he makes on speaking engagements, endorsements, etc.

When you make that kind of money (and have for a number of years), it's hard to understand why another $500,000 would matter much to you.

As for the draft pick, the Patriots already have 2 first round picks (got one from a trade with San Francisco). And Goodall didn't even take the pick likely to be higher in the first round (the one the Pat's got from San Francisco).

The goal of the NFL, and Roger Goodall, is the same goal as Bill Belichick's - to make this whole ugly thing go away quickly.

As an aside, one unintended consequence of Spygate is that the NFL is doing wonders for the reputation of the NCAA's rule enforcement division. In comparison to the NFL, the NCAA will now be viewed as the "tough cops" in the world of athletic rules enforcement.

Well, let's hope someone out there is listening. It will be horribly unjust if Bill Belichick is allowed to walk away from this without ever having to come clean.

Mr. Belichick, if you ever read this, I hope you will consider coming clean and telling all. If the truth is that you did cheat to win those Super Bowls, we can forgive you for that.

Mind you, the games will still need to be forfeited. But, we are a forgiving Nation and we can forgive you - if you tell the truth.

If the truth is that this was the first time you cheated, tell us that. Answer our questions and we will judge based on the evidence.

If you continue to stonewall on this issue, it is only reasonable that we assume the worst.

The obvious, until now, unasked and unanswered, question for you is simply: Have you done this before?

If your answer to this question is along the lines of: "What do you mean?" Or, "Define the word 'this' " - then you will need to answer the following additional questions:

Who videotaped the Jets signals in your first game this season?
Who told him to do that?
Did you know the Jets signals were to be videotaped by Patriots personnel?
How did you know that?
Has anyone from the Patriots organization ever before taped the signals of opposing teams during games?
When?
Have you (or to you knowledge other Patriot personnel) ever viewed game videotape of opposing team signals?
When?
Why?
How was the tape obtained?
For what purpose was the tape obtained?
For what purpose did you use the information gained?
Specifically, in preparation for playoff games, including the Patriots three Super Bowl appearances, did you (or to your knowledge other Patriot personnel) view game videotape of opposing team signals?

Mr. Belichick: Those are the questions. Please use the form below to submit your answers to the football world.

Mr. Goodall: You should feel free to use the above questions, should you decide to end the whitewash and conduct a thorough investigation of Mr. Belichick's cheating.

To me, it's not even so much that Belichick and the Patriots cheated. I'm sure there are others in the NFL who have done similar things. Of course, no one has done it as much or as successfully (till now) as the Patriots.

But, the real kicker is that, even though caught red-handed, it appears Belichick will be allowed to walk away without even answering the real questions about his misconduct. Why does he get to walk away and others (i.e. Pete Rose, Marion Jones, etc) get crucified?

Let's not let that double-standard happen. As several fans commented below, we fans should be shown more respect than that. Speak out if you think Belichick should have to explain what the Patriots did. Or if you don't. Either way, tell the football world what you think by using the form below.

I'd also appreciate if you forwarded the link for this article to anyone you think might be interested. The link is: http://www.secsportsfan.com/belichick-spygate-scandal.html

Thanks.
What do you think?


We'd love to hear your comments and/or opinions. If you submit them here, other visitors can read them, rate them and comment on them. An e-mail address is not required.

What Other Visitors Have Said
Click below to see contributions from other visitors to this page...

By
Mo Johnson
, Copyright © 2006-2017 SECSportsFan.com