SEC Swimming and Diving
SEC Swimming and Diving Update:

Four of the SEC women's swim teams finished in the top ten at the NCAA Div I Swim meet this year. Georgia actually finished runner up. They had a great meet and a great season. Auburn and Tennessee finished in a tie for 7th while Florida finished in tenth. An Auburn Senior, Arianna Vanderpool-Wallace brought home gold in the 100 free-style. Elizabeth Beisel finished in first in the 200 yard backstroke as a Florida Freshman. She was so excited after the meet.
************************************************************
The SEC swimming and diving programs are among the best in the nation. The SEC women are especially potent, as they are competitive every year and the SEC women have won 10 of the past 12 national titles in the sport. Florida is the reigning champion of the sport, with the other SEC programs closing quickly.

Unlike in other sports, the SEC only has 10 swimming and diving teams as Ole Miss and Mississippi State do not compete in the sport. Also, Arkansas and Vanderbilt both only have men's programs currently, so really the SEC has 8 women's programs; of course, that does not stop them from dominating the sport.

The men's programs are just as strong, with Auburn being the strongest program there. Florida, Georgia, and Tennessee are all strong contenders as well, and all of the other SEC programs are formidable in their own rights.

The only other conference that is close to the SEC at this time is the Pac-10. They have some great swimming and diving programs, and they are almost always providing a log-jam on top of the leader boards in national competitions. The overall strength of SEC has grown to keep pace with the Pac-10's surge, and that makes for exciting finishes every time these two leagues compete with each other.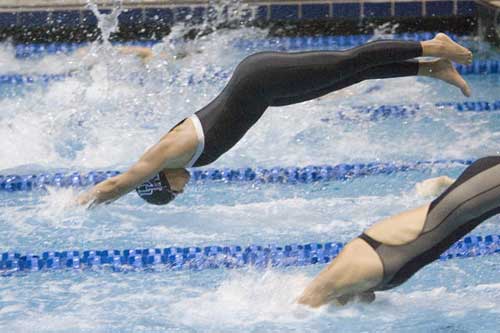 Kentucky swimmer dives into water. Thanks to ukathletics for the photo.

The other conferences do not stack up as well to these two, but they do have their strong suits:
SEC - The SEC gets the nod here because of its long time success and its depth. It is not a tremendously large conference due to certain schools not competing in the sport, but it is still very deep.
Pac-10 - If there is one conference that is consistently fighting with the SEC for supremacy in the sport, it is the Pac-10. They have some of the best programs around with Arizona, California, and Stanford all competing at extremely high levels.
Big 12 - The Big 12 does not have nearly as much talent as either the SEC or the Pac010, but the Texas Longhorns have managed to stay very competitive and look to continue their surge for a long time to come. They narrowly lost to Auburn last year in the national championships.
Big Ten - The conference as a whole has very few redeeming qualities in this sport. Michigan and Indiana are the only programs to win on any national stage, and even they are racked with inconsistency.
ACC - The ACC has a severe lack of competitive schools when it comes to swimming and diving. The conference has never won a national title, and they do not appear to even be close to claiming one in the next few years.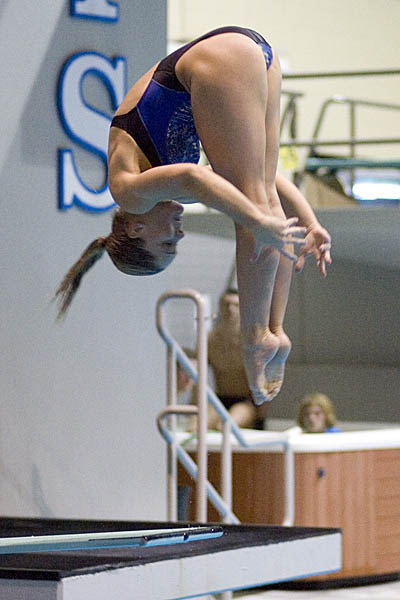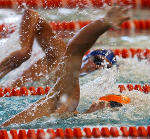 Thanks to utsports.com for photos 2 and 4 above. Thanks to ukathletics.com for photos 1 and 3 above. All rights are reserved for these photos.


The SEC's programs are a bit more difficult to rank than the conferences; but here we go:
1. Auburn Tigers - Auburn has been the most sustained program in the sport so far, and their men and women are both extremely talented. But they need to be mindful of Florida's program catching up with them.

2. Florida Gators - The Gators are the defending national champions in the women's division, and their men are also talented enough to compete with the highest level of competition.

3. Georgia Bulldogs - The Bulldogs are a surging program that are finally looking to break through in both the men and women's divisions. They have solid athletes that are experienced in winning and they could be considered a dangerous opponent down the stretch.

4. Tennessee Volunteers - They are another program that has just recently become competitive in the SEC. They have only had one great season (1978), and they are looking to break through and be competitive every year.

5. Alabama Crimson Tide - The Crimson Tide has a history of competing hard, and they are always a tough opponent for programs to play against. They just need to bring in a bit more talent, and they could move up higher on this list.

6. Kentucky Wildcats - The Wildcats are a program that is constantly overshadowed in the SEC by programs such as Auburn and Florida. They are very dangerous nationally, and are always tough competitors for any program to face.

7. LSU Tigers - The Tigers are not truly powerhouses in the sport, but they are also not the type of program to back down from any challenge. LSU has enjoyed some success in the sport, and now they are looking to build on that success.

8. South Carolina Gamecocks - The Gamecocks are another program that simply is not strong in the SEC. They are, however, a great program against the rest of the nation, and should never be overlooked by any program outside of the SEC.

9. Arkansas Razorbacks - The Razorbacks are not that bad of a program, but they only field a women's team. This keeps them from really moving up too far, because they do not have a men's division to help their records. The women are, however, a very competitive team in the SEC.

10. Vanderbilt Commodores - Like Arkansas, the Commodores only field a women's team, which hurts their chances at success in such a deep conference as the SEC. They do have a few talented athletes, however, that help the program to succeed nationally.

Sports are visual and you will love seeing our Best Sports Pictures.
What do you think?

We'd love to hear your comments and/or opinions. If you submit them here, other visitors can read them, rate them and comment on them. An e-mail address is not required.

What Other Visitors Have Said
Click below to see contributions from other visitors to this page...

By
Mo Johnson
, Copyright © 2006-2017 SECSportsFan.com