This site is all about how fan support makes the SEC the best sports conference. The very first thing we put up when we first built our home page was the statement that the Southeastern Conference has the best fan support and that fan support is the key to everything else that makes SEC sports so great.
Read more about the SEC's "Virtuous Sports Circle" of fans, money and victories at
Best College Sports Conference
if you haven't already.
However, until now, we never actually added up the numbers to determine which conference really is the top college fan attendance conference.
So, we went to the NCAA website at NCAA.org and got all the numbers and added them up.
We added up the total fan attendance at regular season games in the 2005-2006 academic year for football, men's basketball, and women's basketball.
Here are the totals. We were not surprised. The numbers speak for themselves.
1. SEC - 9,498,368
2. Big Ten - 8,270,591
3. Big-12 - 7,838,888
4. ACC - 7,320,046
5. Big East - 5,680,285 (note 16 team b-ball conference, so arguably unfair)
6. Pac 10 - 5,191,988
7. Mountain West - 3,263,756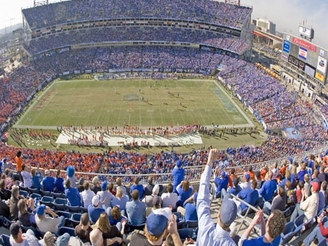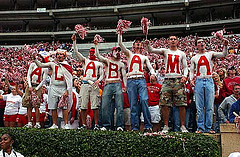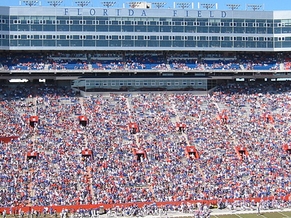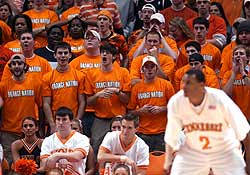 Thanks to utsports.com for photos 4 above. Thanks to ukathletics.com for photos 1. Thanks to flickr.com/photos/alabamaflorenceuna for picture # 2 and flickr.com/photos/e-moose7 for picture # 3. All rights are reserved for these photos.
---


The SEC was #1 in football fan attendance by more than 1.3 million fans. (Big Ten was second).

The SEC came in with strong 3rd place showings in both men's and women's basketball. Obviously it was football that was the key. The SEC broke its conference attendance record in all 3 sports!!

Obviously, more evidence that SEC sports is getting stronger and stronger.

Note that had we included baseball, the SEC would have been even further ahead. The top 3 NCAA Division I schools in baseball fan attendance are all from the SEC (LSU, Arkansas and Mississippi State). Ole Miss and Alabama were also in the top 10 nationally in 2006. The Big-12 was second in baseball fan attendance, but far behind the SEC. HOWEVER, the NCAA does not give a full breakdown by conference, so were unable to include baseball attendance figures in the above ranking.








---
What do you think?


We'd love to hear your comments and/or opinions. If you submit them here, other visitors can read them, rate them and comment on them. An e-mail address is not required.

---
Return to Home Page
LSU should get last BCS bowl bid
Southeastern Conference Football
BCS Selection of the Florida Gators
Florida Gators
Best College Basketball Conference
Baseball and Title IX
Pac-10 vs SEC Softball
Top College Fan Attendance Conference to SEC Sports
SEC Football
SEC Basketball
SEC Women's Basketball
SEC Baseball
SEC Track and Field
SEC Swimming and Diving
SEC Tennis
SEC Golf
SEC Gymnastics
SEC Soccer
SEC Softball
SEC Volleyball
Best College Sports Conference
SEC vs Big Ten Debate
SEC Sports News
SEC Sports Blog
2007 SEC Football Tickets
SEC Sports Fan Trips
SEC Sports Fan Store
About Us
Contact Us
Site Search