Best All-Time NCAA College Football Team
You won't be surprised to read that our pick for best all-time NCAA college football team comes from our very own Southeastern (SEC) Conference. If you've read The SEC is the Best College Sports Conference, you know that SEC football is the single biggest reason that SEC sports, overall, is the best.
There have been many great football teams in the history of the SEC. However, one stands out. That team is the 1961 Alabama Crimson Tide football team.

The '61 Alabama football squad was led by legendary coach Bear Bryant. The "Bear" went on to become the Best All-Time NCAA College Football Coach. That's another story, but certainly being led by the greatest college football coach in history is an important factor to consider when thinking about which team is the best in history.

Everyone knows about the great football legacy at the University of Alabama. Certainly Alabama had won football championships before Bear Bryant came along. But when he arrived at Alabama in 1958, the Tide had only won a total of four games in the three prior years.

When Bear Bryant took the Alabama head coaching job, he vowed to bring home a National Championship. And eventually he did. But, not right away. Bryant gradually turned the program around, going 5-4-1 in '58; 7-2-2 in '59; and 8-1-2 in '60.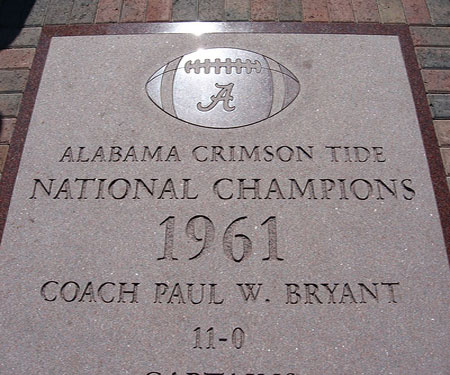 "This is the Walkway Monument in front of Bryant-Denny Stadium commemorating Bama's 1961 team."


The '61 Bama team was the breakthrough team for Bear Bryant and for Alabama football. It was the first of many great teams (Bryant would lead the Crimson Tide to five more NCAA Football National Titles). But, being the first is the toughest, and the '61 team has that distinction.

OK, so what are the hard facts about the 1961 team? Here you go:

Undefeated, 11-0 record
Outscored opponents by an incredible 297 - 25
Led by All-SEC and Heisman Trophy finalist (finished 5th), ***ads-160x90.shtml*** QB, Pat Trammell; Center/Linbacker Lee Roy Jordan (All-SEC in 61; All-American in '63); and, Offensive Lineman, Billy Neighbors (All-American). Jordan, and Neighbors were later selected for the College Football Hall of Fame and had outstanding professional careers as well.
Beat Arkansas 10-3 in the Sugar Bowl to win the National Championship

It is well recognized that the 1961 Alabama Crimson Tide football team was the best defensive team in college football history. Not only did the '61 Tide outscore opponents 297-25; they shut out six teams and never allowed more than 7 points in any game.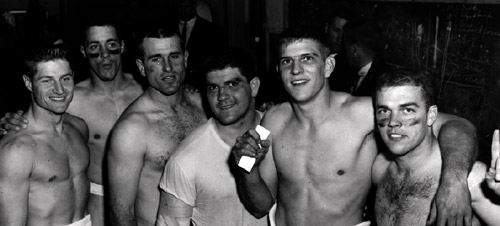 Billy Neighbors in locker room with other members of the great 1961 Alabama defense. Neighbors was one of five Bear Bryant players to be inducted into the College Football Hall of Fame. Thanks to Historic Photos of University of Alabama Football for this picture. You can purchase the book at follows.


Tex Noel, a college football StatHistorian, with 1st-N-Goal has conducted a comprehensive review of all 89 official NCAA 1-A National Champions since 1936 (counting the major polls over the years using NCAA official champions). Tex's research shows that the 1961 Alabama Crimson Tide team had the top all-time defense as far as points scored. The team gave up an incredible average of only 2.3 points per game. See Comparison Statistics of All-Time SEC National Championship Football Teams.

When you combine the incredible defense; the undefeated record; undisputed National Championship; legend of Bear Bryant; and, the fact they were the first of a long line of outstanding teams. You really have a hard time picking any team over this one.

If you ask me who is the Best All-Time NCAA college football team - I say it's the 1961 Alabama Crimson Tide.

To read about other great teams (in various sports), go to


Would you pick another team? Let us know by using the form below and/or check out 1971 Nebraska Cornhuskers Best Team Ever.

Here's Tex Noel's picks for best teams each year: 1st-N-Goals NC List: 1869 - 2008

To vote for the best all-time SEC football team, go to Top All-Time SEC Football Team Survey.

If you love college football history, you should check out this Great Early College Football History Book.

Here's Our Worst All-Time College Football Team.


---
Best All-Time NCAA College Football Team
Best All-Time NCAA College Football Team
Best All-Time NCAA College Football Team

Now you know who we think was the best CFB team ever. But, how about the pros? To find out, read Best All-Time Pro Football Team.


What do you think?


We'd love to hear your comments and/or opinions. If you submit them here, other visitors can read them, rate them and comment on them. An e-mail address is not required.

What Other Visitors Have Said
Click below to see contributions from other visitors to this page...

By
Mo Johnson
, Copyright © 2006-2017 SECSportsFan.com