Best All-Time NCAA College Football Coach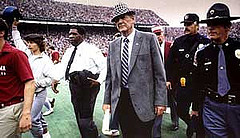 Paul "Bear" Bryant (September 11th, 1913 - January 26th, 1983).
Who is the best all-time NCAA college football coach? That's a tough question. There are lots of candidates; lots of great coaches. But, one stands out.

The greatest college football coach ever stands out, not only because of what he accomplished on the football field, but also because of what those accomplishes meant to his entire state. That coach was:

Alabama Crimson Tide Football is, and forever will be, highly regarded by football fans, of every stripe, from Coast to Coast. Alabama football fans have Bear Bryant to thank for that.

Alabama football fans - both young and old - recognize the man with the infamous houndstooth hat and stern gaze. In a state where college football is king; Bear Bryant is still king of college football.

In 25 years coaching at Alabama, Bryant led his teams to
a 232-46-9 record
6 National Championships
15 Southeastern Conference (SEC) Championships (14 with Alabama; 1 with Kentucky) (and 1 Southwest Conference Championship at Texas A&M)
25 Bowl Appearances (29 including prior teams)
15 Bowl Victories, including 8 Sugar Bowl Wins
3 National Coach of the Year honors
10 Times SEC coach of the year
A member of the College Football Hall of Fame

Alabama football will forever contentedly rest in the great shadow of Bear Bryant. Indeed, the Tide's great stadium, "Bryant-Denny", is named after him as well as a high school and major street on the University of Alabama campus.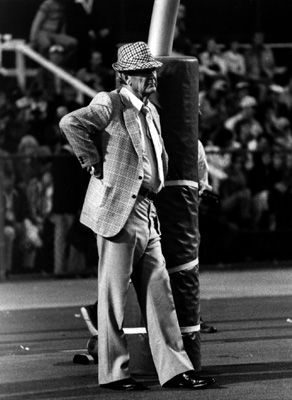 The one and only Paul W. "Bear" Bryant. Thanks to Historic Photos of University of Alabama Football for this picture. You can purchase the book at:

But, for Bear Bryant, there was life even before Alabama.

He started at Maryland; later coached at Kentucky, and then at Texas A & M -- all before Alabama. At each stop, Coach Bryant got the most out of the talent he had to work with. [If you are interested in Bear Bryant's record vs Kentucky (his alma mater) as well as the records of other college football coaches vs their alma maters, check out Coaches Record vs Alma Mater.]

At the University of Maryland, he took on the head coaching job in 1945, and in his only season, led the team to a 6-2-1 record. Of the four college football teams Bryant coached, this was the only school he didn't win a championship with. Of course he was only at Maryland for one year.

Following his short-lived stint with the Terrapins, Bryant coached the University of Kentucky for eight seasons. During that time, the Wildcats made their first bowl appearance in 1947 and brought home their first, and only, SEC title in 1950 (and beat Oklahoma in the Sugar Bowl).

In 1954, Texas A & M became Bryant's next home where he was both head coach and athletic director.

In 38 years as a head coach for four teams; Bear Bryant only had one losing season. That season was his first year at Texas A & M (1954) when the Aggies went 1-9. However, Bryant led them to a 7-2-1 season the next year. Then, in 1956, the Aggies went 9-0-1 and were crowned Champions of the Southwest Athletic Conference.

At the end of the 1957 season, Bear Bryant returned to coach his alma mater, the Alabama Crimson Tide. He had played end for the University of Alabama football team while in college, and was part of Alabama's 1934 national championship team. Upon his return, Bryant was named head football coach and athletic director.

As had been the case at Texas A & M, Bryant's first year at Alabama, was his toughest. The Tide went 5-4-1 and 3-4-1 in conference play in 1958. But, that was a dramatic improvement for Alabama which had won a combined total of only four games the previous three years! For Bama fans, Bryant brought an end to losing records.

In 1959, the Bear forever won the hearts of Bama fans with a win over Auburn and an appearance in a bowl game. Neither of these things had happened for Alabama in over half a decade.

And, that was just the beginning. Bryant led the Tide to 24 straight winning seasons. Most of those years the Tide were at the top of the SEC, if not the Nation. In fact, incredibly, in the majority of those years, the Tide lost no more than 2 games. They went undefeated overall three times and undefeated in the SEC numerous times.

The Bear completely turned the Alabama football program upside down (well, right side up) with his tough love and endearing personality. During those years, Alabama fans enjoyed quarterback, Joe Namath; the wishbone offense; and 24 straight bowl appearances. Bryant's Alabama teams also captured a total of six National Titles (1961, 1964, 1965, 1973, 1978, and 1979).

The Bear retired in 1982 with a career record of 323-85-17 (.780). At the time of his retirement he had won more college football games than any coach in the history of college football.

As good as Bear Bryant was for Alabama football; it has been tough for the coaches who have followed in his footsteps. It's tough to fill the shoes of a legend. It's impossible to fill the shoes of Bear Bryant - the greatest all-time college football coach.

Nick Saban -- best of luck!

You can find LOT'S more stats about Bear Bryant and other top all-time SEC football coaches at Best All-Time SEC Football Coach. And, some are beginning to make the case that another Alabama football coach, Nick Saban, could soon be considered the best ever.



You might be interested in our take on the Top Ten Current College Football Coaches. To read more about Bear Bryant check out Bear Bryant Biography. You can read a bit about Bear Bryant and other great SEC coaches at:

If you disagree, or agree, let us know by using the form below.


Best All-Time NCAA College Football Coach
Best All-Time NCAA College Football Coach
Best All-Time NCAA College Football Coach

What do you think?


We'd love to hear your comments and/or opinions. If you submit them here, other visitors can read them, rate them and comment on them. An e-mail address is not required.

What Other Visitors Have Said
Click below to see contributions from other visitors to this page...

THE IRISH ARE THE BEST






This is the most biased website ever, knute rockne, 13 years, 5 undefeated seasons 6 non consensus championships, No losing seasons, hall of famed, undefeated …
Frank Leahy, Second only to Rockne, as Best College Football Coach of All Time






People always forget Frank Leahy Only one other coach can come close to Rockne and that IS NOT BEAR BRYANT! Why Frank Leahy is either #1 or #2 (I …
Greatest Football Coach any Division






Larry Kehres Mount Union Purple Raiders, Alliance Ohio Division 3 Career Record - 275-21-3 10 National Championships all since 1993 Non Scholarship …
Wrong. Joe Paterno is #1






Say what you want to, but the old man has won more games than everyone else listed here.
philip fulmer is the greatest






Yes Phil Fulmer will have to retire from Tennessee. He won't get fired no matter what anybody says. I truly think he is the greatest and he will get another …
Unbiased Football Fan-- Bud Wilkinson Best Ever






I am a huge college football fan, and I found many holes in your argument that Bear Bryant is the greatest college coach of all time. Although I agree …
bear bryant is the best roll tide






Alabama is the best They have more national championships than any other team more sec championships than any other team they had the best coach …
Tom Osborne -- Greatest College Football Coach of All-Time






I think you'd have to argue for Tom Osborne, who like Bear Bryant had a 25 year record. His win total was more than Bryant's (255). He only had 3 official …
Bear Bryant Not a Deity





Bear Bryant was not what he is proported to be. He was an opportunist. He would break NCAA rules and get away with it better than any other coach and …
Bear Was The Best Not rated yet
When I saw the headline, I knew who it was before I clicked on the link. There is no doubt Bear Bryant is, was and always will be the best coach we have …
Tom Osborne, just look at the numbers Not rated yet
Best coach is easy, just look at the numbers - numbers do not lie - No coach in history won 255 games in 25 years - and the records go on - and he did …
Knute Rockne is the best ever Not rated yet
secsportsfan.com lol so baised. Every non-homer knows Rockne is the best...
6 Reasons Why Coach Bryant Was The Best... Not rated yet
1. Tom Osborne did not have to build up 4 different teams in different parts of the country. Bryant did it and won. 2. Paterno never once beat Coach …
Osbourn; Not Bear Not rated yet
Tom Osbourn Never lost more the 4 games in a year, went to a bowl every year he was a coach. Won 3 national titles in 4 years and played in 5 title games …
Green Bay Surfer Not rated yet
Me being 22, i couldn't tell you an acurate top ten but alonzo stagg, bryant, hugh mcwilliams, are some old timers i have come to know as influential in …
29 bowl appearances in 25 years? Really? Not rated yet
I just happened to get here looking for records for college football coaches. I don't know who does this site but one thing jumped out at me as I scanned …
By
Mo Johnson
, Copyright © 2006-2013 SECSportsFan.com