Posted By Kory Kinslow in SEC Football
Nov 20, 2014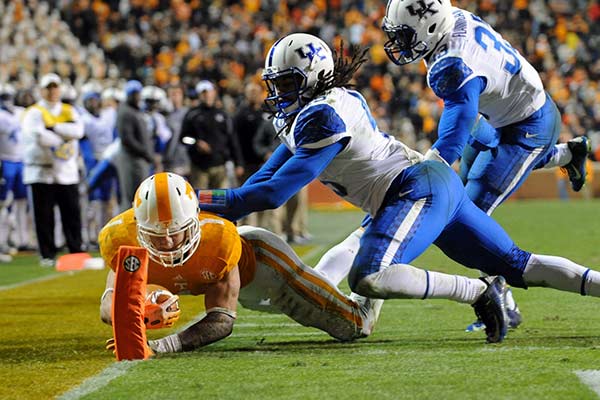 It was a big week in the SEC, no doubt! South Carolina beat Florida in Overtime. Florida appears to be looking for a new coach. Mississippi State was ranked number one, but got knocked off by 5 in a thriller against Alabama. Alabama appears to, once again, be the class of the SEC West. Tennessee got another big win toward getting themselves into a bowl game by beating Kentucky. Auburn got absolutely hammered by Georgia, but Georgia loses Gurley to injury. You have to wonder what this means for Georgia. Missouri may have assured themselves of getting into the SEC Championship game and still only having two losses by beating Texas A&M.

Posted By Kory Kinslow in SEC Football
Nov 12, 2014
The SEC West once again beat itself up and one team out of the College playoff, for now. We'll start with the East and Georgia's destruction of Kentucky. I have to admit, with the way Georgia had played and all Kentucky had done, I thought it would be a much better game. Ole Miss handled Presbyterian in the way I think we all knew they would. Texas A&M beat third ranked Auburn, which has knocked Auburn out of the 3rd spot in the playoff. Mississippi State continued to win against UT Martin and kept the number 1 slot in the playoff.

Posted By Kory Kinslow in SEC Football
Nov 06, 2014
The week in the SEC was another big one. We had a possible Final Four elimination game, a near huge upset, and one very large upset. First of all, Texas A&M suspends their starting quarterback and wins over UL Monroe by only 5. The rest of the season is being questioned and what they will do at quarterback next season as well. Florida came out and crushed Georgia in a huge upset. I don't think anyone saw this one coming. Florida's ground attack was what Georgia's normally is. Kentucky lost to Missouri by ten.

Posted By Kory Kinslow in SEC Football
Oct 30, 2014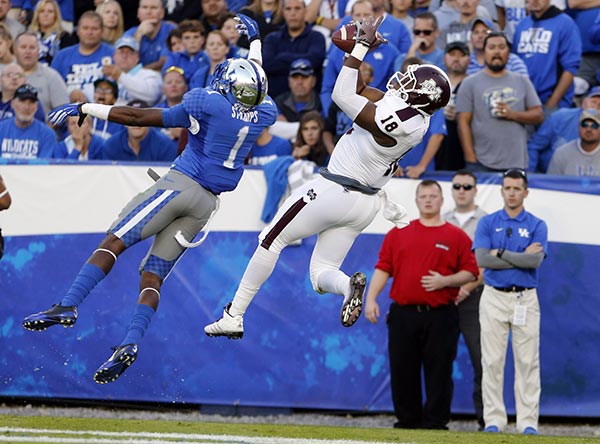 It was a big week in the SEC. Arkansas came out and hammered UAB. They're still searching for that first SEC win in almost two years. Mississippi State played a very game Kentucky team. I will admit that Kentucky played much better than I thought they would. Mississippi State proved why they are ranked number one and took care of business. Missouri beat Vanderbilt in a SEC East game. Missouri gets to 6 wins with only two losses, but no key big wins. Ole Miss lost in a nail biter to LSU. LSU played about as good as I've seen them play, while Ole Miss seemed off of their game.

Posted By Kory Kinslow in SEC Football
Oct 23, 2014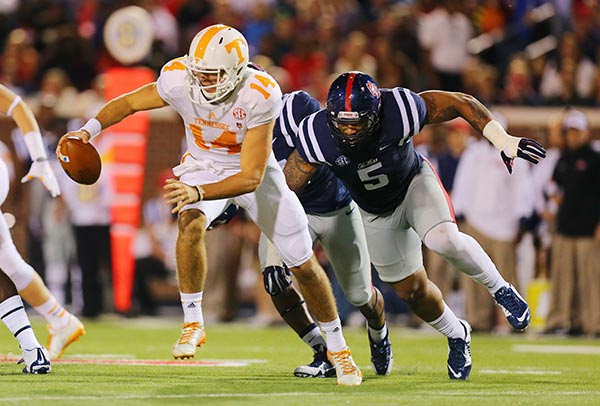 The SEC ended the week with 4 of the top 5 ranked teams. All 4 of these teams are from the SEC West. South Carolina won against an inferior opponent in Furman. They may be the most disapointing team in the SEC East, but with that side not fairing as well, they could make a run to get into the championship game, believe it or not. Texas A&M got crushed by a very determined Alabama team. I really have little to say other than A&M played their worst and 'Bama played their best game. Georgia beat Arkansas fairly easily. Their backup running back, Chubb, ran for 202 yards. This guy is for real and so is Georgia.

Posted By Kory Kinslow in SEC Football
Oct 14, 2014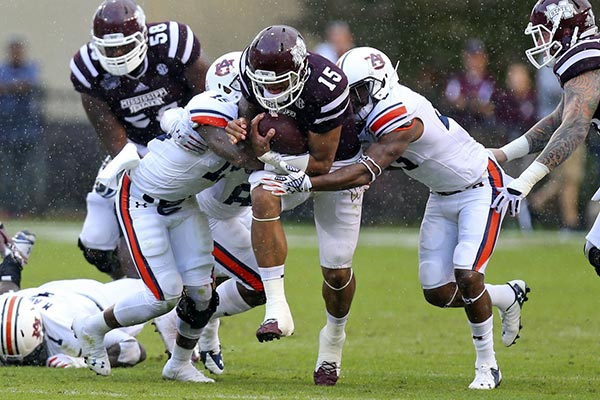 It was yet another wild week in the SEC. We start with Kentucky easily handling UL Monroe and becoming more of a threat in the East. Georgia played well without their star running back and hammered Missouri. This win helps Georgia out a lot and shows weaknesses in Missouri's game. Tennessee needed to get some momentum in the East and got a big win over Chattanooga. While Chattanooga may not be the best of teams, the confidence may be what Tennessee needed to get them back on track. LSU had a close game with the Gators. Florida drops it's second SEC game while LSU wins it's first. LSU will go to a bowl game, but I don't think they're anywhere near what we thought they were at the beginning of the year.

Posted By Kory Kinslow in SEC Football
Oct 02, 2014
Most of the SEC held to form, but a few games brought some big surprises. South Carolina is having a very disappointing season. Missouri beat them after the Tigers lost to Indiana last week. It is obvious that the Game Cocks are not the team we thought they were. LSU made short work of New Mexico State. Even with the one loss, LSU is still in the hunt for the SEC West. Tennessee is obviously improving. They gave a good Georgia team a major test. Georgia's running game is very good and Missouri kept up scoring 32 points. Georgia will have to play better if they expect to continue with winning the East. Kentucky played a good game and beat Vanderbilt. Probably a test of the worst two teams in the conference, but they could both beat mid-level teams of most other conferences.

Posted By Kory Kinslow in SEC Football
Sep 24, 2014
Week 4 turned out to show us some more things about the SEC. We saw three games that featured SEC on SEC and several games versus lesser opponents and one good win against an out of conference team. We started off the week with Auburn defeating Kansas St. This was a big win for the Tigers and should lift them past the doubters. They are a top 5 team and showed it. We saw what we thought we would in most of the rest of the out of conference schedule, Georgia handed it to Troy, A&M easily defeated SMU and Arkansas beat Northern Illinois. I do think that the Arkansas win was big for the Razorbacks. I don't think they were expected to handle this team like they did. They may be setting themselves up to upset a team or two in the ultra competitive SEC West.

Posted By Kory Kinslow in SEC Football
Sep 17, 2014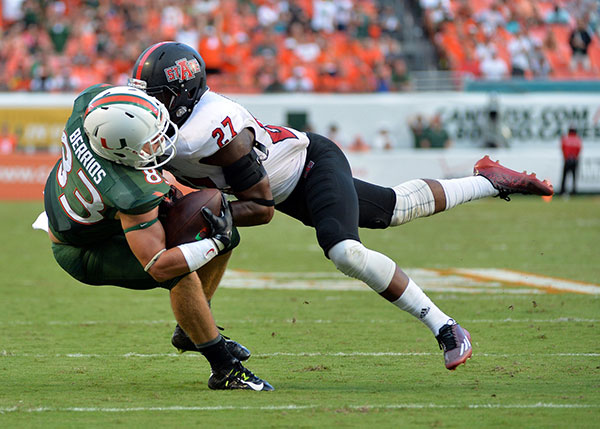 Here's the question that I come away with after the third week of college football. Can any SEC team, in either division, make it through the SEC schedule undefeated. I am very concerned that the West may not produce any undefeated teams and it's going to be hard to get through with less than two losses. With five teams in the top ten and teams like Arkansas and Mississippi State surprising the Nation right now, it's going to be a very difficult division to sift through. These teams also have to play a couple of teams out of the SEC East, which is not slouch of a division in itself.

Posted By Kory Kinslow in SEC Football
Sep 10, 2014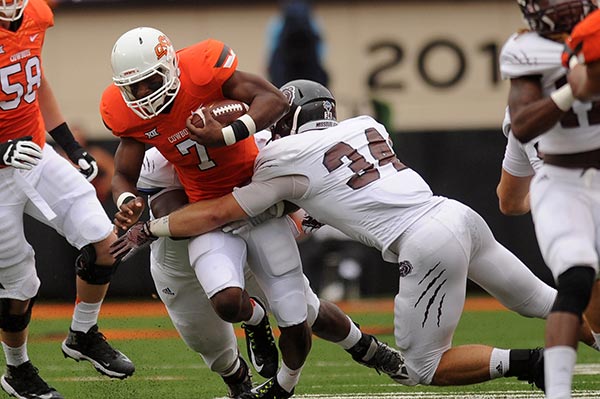 Most of the SEC played out of conference this week and for the most part played much weaker competition. They played well, as far as you could tell. Alabama looked very good in a game against Florida Atlantic. I think their Quarterback issue was solved with Sims playing very well. Missouri played well against a decent Toledo team and won by three touchdowns. Tennessee beat an Arkansas State team that has some good years in the previous few seasons. Tennessee is looking good this season. Mississippi State's offense looked good against UAB and they won. Kentucky beat an Ohio team out of the MAC, they need to improve.

SEC Sports are the best college sports in America for one reason.
You and me. The fans. SEC sports fans are the most committed, passionate, intense; indeed, FANatical fans in America.
Whether by foot, vehicle
or boat
SEC Fans always arrive ready to cheer and

have fun
by the tens of thousands

(Thanks to utsports.com for photos 1, 3, 4 and 7 above. Thanks to Roy Gullem at flickr.com/photos/roygullem for picture # 5. Thanks to flickr.com/photos/lordsutch/274837524 for photo # 6. Thanks to Pealco at flickr.com/photos/pealco/407910 for photo #8. Finally, thanks to flickr.com/photos/nickgreene556 for photo #2. Some rights are reserved for all of these photos. A story about the BAMA trailer photo can be read by clicking Roll Tide Trailer Story)


Because of the support of their fans, 
Southeastern Conference (SEC) schools (overall) have the biggest and best stadiums, athletic facilities, coaches, athletes, sports tradition, and history. 
When an SEC football or basketball team plays a home game, that game is probably the biggest thing going on in the entire state at the time. 
No other conference has that kind of fan support. So, SEC sports is what it is (the best) because of its fans. 
Our SEC Fan Store, and sources for SEC Championship Tickets, and Trip information might even save you some money. 
SEC Sports Fan is the Only Fan Site that Covers Every SEC Sport!!
Football is the favorite sport of SEC Sports fans but during the off season you might find them playing some blackjack online. They have a strong sense of competition which makes them sharp blackjack players. That doesn't mean they won't play less competitive games like online slots  sometimes too though. After all they could get lucky and win a jackpot that would pay for their season tickets!

SECsportsfan.com provides perspective on the SEC that you can get nowhere else. That includes an overview of every major college sport. Of course we cover football, basketball and baseball -- in depth. But, we also cover the sports no one else does like SEC Softball, Swimming, Gymnastics, Tennis, Golf, Soccer -- all of them. No other SEC fan site covers all the sports Southeastern Conference teams compete in. We do!!
While the Southeastern Conference is the best sports conference overall, sorry, it is not the best in every sport.
We rank the SEC in comparison to other conferences in each sport and tell you why. No one else (on the web or elsewhere) does this.
If you want to quickly get to the heart of the matter, click The SEC is the Best College Sports Conference and you'll find out why.
We also provide an analysis of every team in every sport at every SEC school. And, we rank them--so you know which team is the best and which team has work to do.
To find out how each Southeastern Conference school stacks up overall in the conference, click here: Which is the Best SEC Sports College?
You will find hundreds of pictures and videos scattered throughout the site. We added current news pages for each school where you can find the latest HOT story about your favorite team -- updated 24 hours a day!
We've also added new specialty Apparel; Merchandise; Tailgate Gear; and, Fatheads to go along with our basic Stores.
We are partners with the Intercollegiate Football Researchers Association and added their home page to our site. You can join them for free at College Football Association.
We also have partnered with SEC Talk to bring you a full-fledged "real-time" fan forum.
The big story of the month in the SEC is posted at SEC Story of the Month.
Our SEC vs. Big Ten Debate forum has become a popular destination for visitors to this site. Check it out and you'll find out why.
We are always adding new stuff to our site, so our SEC Sports Blog and RSS Feed gives you an option to quickly view recent updates to the site.
Sports Writers Needed: We are looking for college sports writers (especially SEC football writers) to write or blog about their favorite teams. If interested, go to SEC Sports Writer.
Click on the sport that interests you in the Navigation Bar to the left, and from there you will find links to individual teams. We now are the only site in the world (as far as we know) that has a separate page dedicated to every SEC team in every sport. Usually multiple pages. 

You can read our site policies, including our privacy policy at Terms of Use. You can also read more About Us or Contact Us if you have comments about the site; information to contribute or want to advertise here. 

If you have sports interests outside the SEC, check out our sister sites Best All Time Sports and The Best Sports Blog.

After you've looked around the site, you'll know why we say SEC Sports Fans are the Best Fans in the World! 
By
Mo Johnson
, Copyright © 2006-2014 SECSportsFan.com