Best All-Time NCAA College Football Player
Who is the Best all-time NCAA college Football player? There have been many great college football players in NCAA history. But, probably none turned around a program the way Herschel Walker did at the University of Georgia.
In 1979, the Georgia Bulldogs went 6-5 and were not invited to a post-season bowl game.

In 1980, the Georgia Bulldogs were the only undefeated team in Division I-A, NCAA College Football. They went 12-0, beating Notre Dame in the Sugar Bowl to win College Football's NCAA Division I National Championship.

The difference between the '79 and '80 Bulldogs?


One man - Herschel Walker.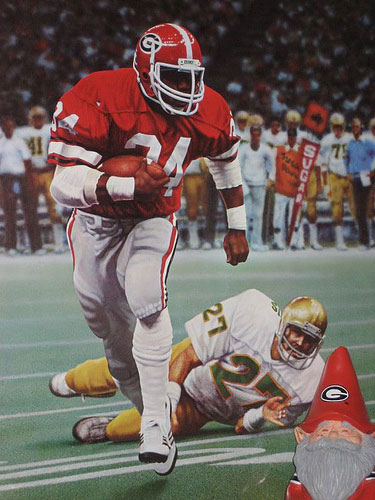 Nice shot of Herschel Walker at Georgia, with UGA gnome. Thanks courtneyleighdenney at flickr.com for the picture.


What Herschel meant to his team says the most. During his Georgia career, the Bulldogs went 33-3 and won the SEC Title each year.

But, his individual records say a lot too.

Walker broke 11 NCAA; 16 Southeastern Conference (SEC); and, 41 University of Georgia (UGA) all-time football records.

Herschel only stayed three years at Georgia. But, in that time he gained 5,259 yards which was the most yards ever gained in a three year NCAA football career. It also was the third most yards gained by any runner in NCAA history.

Herschel Walker was an all-American each year at Georgia. In his Freshman year (1980), Walker came in 3rd in the Heisman Trophy balloting. In his Sophomore year, he came in 2d. Finally, in his Junior year, (1982) Herschel Walker won the Heisman Trophy. He also won the 1982 Maxwell and Walter Camp Award. He was later picked as the all-time best athlete in the history of the University of Georgia.

Herschel Walker was born, in Georgia, on March 3rd, 1962. If you'd see Herschel as a youngster, you would never have imagined he would one day dominate the College Football world. As a youth, Herschel showed little interest in playing sports. In fact, he was an avid reader and spent most of his time writing poetry.

But, something happened at the age of 12 and Herschel embarked on an incredible exercise program. Over the next year, he racked up 100,000 push-ups, 100,000 sit-ups and sprinted many, many miles.

Before being recruited by UGA, Walker led his Johnson County High School to the 1979 state championship game and Parade Magazine recognized him as the nation's "High School Back-of-the-Year".

Most coaches and players who played with (or against) Hershel Walker, have said he was the best running back they ever saw. Walker's college football coach, Vince Dooley, has said, Herschel had all of the characteristics important to success as a football running back. They were (and still are)

In addition to his unparalleled success as a college football player, Herschel Walker was also on the track team at Georgia and a member of the United States Olympic Bobsled team in 1992.

Herschel Walker also had a distinguished professional football career after college. In a controversial decision, immediately after college, Walker spurned the NFL and agreed to play for the United States Football League (USFL)'s New Jersey General's. He signed a record 1.5 million per year deal with team owner -- Donald Trump. Walker was probably the most famous player ever to play in the USFL. However, the USFL later went out of business.

Later Herschel played for the NFL's Dallas Cowboy's and was picked for two Pro-Bowls before being traded to the Minnesota Vikings for an amazing 5 players and 6 draft picks! That trade was one of the most famous in NFL history. No single player, other than Herschel Walker, has ever been traded for 11 other players.

So, when you consider everything Hershel Walker accomplished in his life -- in particular, his performance on the football field for the University of Georgia Bulldogs -- it's easy to see why we picked him as the Best All-Time NCAA College Football Player.
---

To read more about Herschel Walker and other great SEC football players, click Best All-Time SEC Football Player.


Here's some other articles we have about other great players in various sports:

Let us know if you agree or disagree by using the form below.

You know who the best college football player of all-time was. But, who was the best Best Pro Football Player of All Time.

Best All-Time NCAA College Football Player Herschel Walker Biography.

Here's the story of the Georgia Bulldog's two Heisman Trophy Winners: Frank Frank Sinkwich and Herschel Walker.
Best All-Time NCAA College Football Player
Best All-Time NCAA College Football Player
Best All-Time NCAA College Football Player


What do you think?


We'd love to hear your comments and/or opinions. If you submit them here, other visitors can read them, rate them and comment on them. An e-mail address is not required.

What Other Visitors Have Said
Click below to see contributions from other visitors to this page...

By
Mo Johnson
, Copyright © 2006-2017 SECSportsFan.com