Florida Gators Fan Store
Check Out For Apparel and Merchandise
See the Selection below from Amazon.com for more Florida Gators Fan Store Products
If you didn't find what you were looking for, please click the link at the top of the page or the Powered by Amazon.com graphic in the upper right to search for more Florida Gators fan apparel, merchandise and products.


The Florida Gators Fan Store has whatever you're looking for in Gator merchandise. Whether it is a Florida football helmet, T-shirt, jacket, painting, pool cue, tailgate supplies, Gator DVD's, cheerleader outfit -- whatever -- it's all here.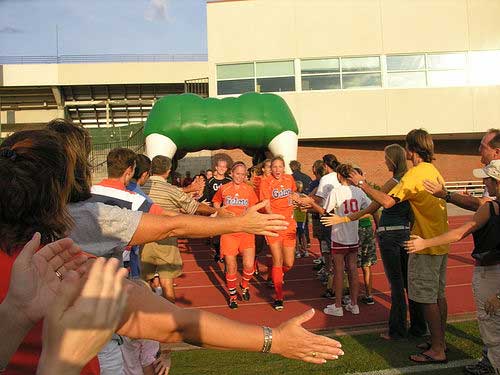 Florida Gators soccer team go through the Gator Tunnel. Thanks to bobbyuggles at flickr.com for the picture.

Some of the more unique products include:
Florida Gators Jibbitz
2007 TOSTITOS BCS NATIONAL CHAMPIONSHIP (DVD) (OHIO STATE/FLORIDA)
Gator Folding Stadium Seat
Florida Gators Backpack
Crocs Florida Gators Athens Sandals
Florida Gators Board Shorts
UF Gators 3rd Times A Charm Tee Shirt
Florida Gators Garter W/Lace
University of Florida Garden Gnome
Florida Gators Laundry Hamper
Gators Glory: Great Eras in Florida Football (book)
Billy Donovan: Mastering the Full-Court Match-Up Press(DVD)

and Many, Many More!!
When you purchase from this page, you are actually purchasing from Amazon.com. All orders go through Amazon's secure order server.

If you are looking for something not in the Florida Gators Fan Store -- you can get to the main Amazon site by clicking on the DVD or book below:

For other Gator Fan Merchandise options go from SEC Sports Fan Merchandise and Rebate.

Don't forget to visit the other Florida Gators Fan store pages:
If you want more Florida Gators Fan Store, check out our best all time Florida Gators Fan Apparel, Jerseys & Merchandise.


Do you have a question about Florida Gators Fan Store on this page? If so, go to Questions to ask your question -- and get an answer!
---
By
Mo Johnson
, Copyright © 2006-2017 SECSportsFan.com