2010 ALABAMA CRIMSON TIDE FOOTBALL REVIEW -- AND 2011 PREVIEW
The most current info is at 2011 Alabama Crimson Tide Football Preview.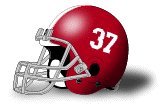 Alabama set a spring game attendance record with 92,310 watching the Crimson team beat the White on April 16,2011. Football Season Is Back!!
Very nice end to the season as the Alabama Crimson Tide crushed Big Ten co-champs, Michigan State 49-7 in the Capital One Bowl. No one has done anything close to that to Mich. State this year. Many think Alabama is as good (or better than anyone in the country).
Alabama returns most of its team next year (must replace QB and LT) and we are picking them to win the SEC West; SEC; and college football's 2011 National Championship. This is assuming most or all of the following players: Julio Jones, Marcell Dareus, Mark Ingram, Dont'a Hightower and Mark Barron elect to stay another year and not go pro.
Get your tickets at Alabama Crimson Tide 2011 Tickets.
Read about the 2011 Alabama recruiting class at 2011 College Football Recruiting Rankings and 2011 SEC Football Recruiting Summary. And, don't miss this article about Alabama's future star running back Demetrius "Dee" Hart.
It's turned out to be a tough year trying to repeat. Tough losses to South Carolina, LSU and now Auburn. You might be interested in the Cam Newton Controversy.

Alabama fans will enjoy this take on the Arkansas game: Bama Rolls Arkansas. Check out our preview of each Alabama Crimson Tide Football Game at SEC Football Blog.

What will bring close to 85,000 crimson-clad fans into Bryant-Denny Stadium on an April afternoon nearly five months before the kick-off of the 2010 Alabama football season? Well, the chance to preview their potentially repeating SEC and National Championship team that's what. Not many schools can bolster crowds averaging 84,000 fans to watch spring scrimmage games, but in Tuscaloosa, the Tide can easily roll those numbers through the turnstiles leading all other SEC teams in attendance of these season sneak peeks. In fact Bama's final spring practice was televised by ESPN!!

The Tide is taking a hit going into the 2010 season, as it loses eleven key defensive players including two cornerbacks who are headed to the NFL. Among those leaving: Kareem Jackson, Lorenzo Washington, Terrence Cody, Cory Reameu, and Javier Arenas. While the re-sculpting of the defense will have to be an area of focus for Head Coach Nick Saban, the offensive skills of his team is a key reason why Alabama enthusiasts have reason to believe their Crimson Tide deserve the number one status heading into the 2010 season.

Steered by veterans with large-scale playing time and experience coupled with a Heisman Trophy winner powerhouse the Bama offense provides a solid foundation for a successful season. Names like McElroy, Ingram, Richardson, Maze, Jones, McCain and Carpenter are all a major part of keeping Alabama bowl bound. For McElroy in the driver's seat means keeping his mistakes minimal and relying on the force of his running backs. With only four interceptions in 2009, including a string of 141 pass attempts without an interception, this is not a task unfamiliar to him. McElroy needs to keep his focus on the straight and narrow while using the offensive talent that surrounds him.

Alabama's Bryant-Denny Stadium in Tuscaloosa, Alabama. Evening shot taken during the 2010 Iron Bowl. Thanks to dreamcatchme at flickr.com for the picture.

According to Head Coach Nick Saban, "The true rating of a recruiting class comes somewhere down the road when you look at how many people in that particular class turned out to be the kind of players that we think they might be." If that is the case, then the 2008 Alabama recruits are getting high marks on the recruiting success scale with Julio Jones, Mark Ingram, Marcell Dareus, Mark Barron and Dont'a Hightower among the names in that class with indelible prints as contributors to Alabama's BCS Championship.

This year Saban has 18 student-athletes who have signed letters of intent to play for the Tide on National Signing Day thus joining 11 mid-year enrollees from January. The 11 mid-semester signers started classes this January and participated in the team's spring practices. Nick Saban thinks "that's a real advantage to this class, one of the things that maybe gets overlooked a little bit. I think it's something that could help our team quite a bit next year. I think that is going to enhance their development."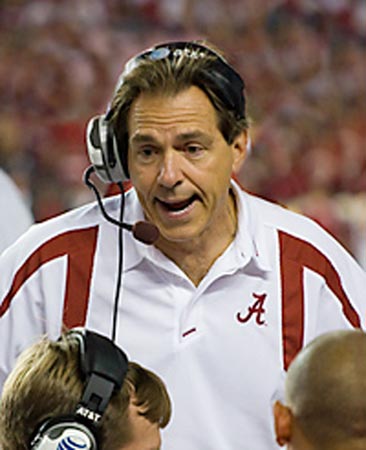 Alabama Head Coach Nick Saban. Thanks to Latics at wikimedia.org for the picture.
Just a few of the names among the 2010 recruits:

DeMarcus Milliner comes in as one of the top prospects of Bama's class with impressive accomplishments on both defensive and offensive sides of the ball. A Parade All-American, First-team EA Sports All-American and rated number one cornerback nationally by Scout.com, this player has long term sky-rocketing potential. Dequan Menzie a four star DB out of Copiah-Lincoln (Miss) Community College and second team All-American by the National Junior College Athletic Association (NJCAA).

CJ Mosley a power-packed linebacker from Theodore High School in Alabama, US Army All-American and Parade All-American. Jarrick Williams comes in as one of the top defensive back prospects in the nation. A US Army All-American and ranked the fifth best safety nationally and third best player in the state of Alabama by Rivals.com Williams is posed to make a significant contribution to the team.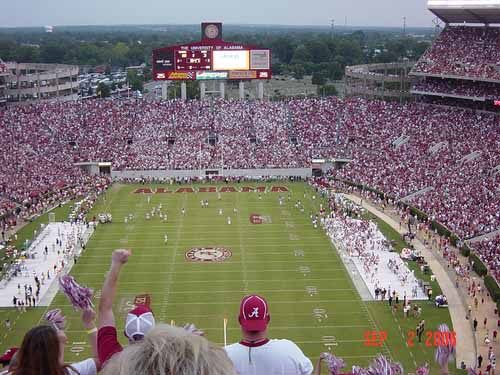 Bryant-Denny Stadium. Thanks to mrsbalentin at flickr.com for the picture.
Looking ahead to Alabama's 2010 schedule and their first game on September 4th against San Jose State, their season looks more than bright. With 7 Home games a winning season is not even a discussion point. Another SEC Championship is most definitely within their realm of opportunity and a consecutive national championship? Well, that would not be a far-fetched fairy tale, but as we all know pre-season predictions are just a like a lottery ticket…there is no winner until all the numbers are drawn; however, the Crimson Tide go into the next season as the solid #1 of the SEC.

Alabama Crimson Tide 2010 Football Schedule
Bold =Home Game * =Conference

| Date | Vs. |
| --- | --- |
| 9/4 | San Jose State |
| 9/11 | Penn State |
| 9/18 | Duke |
| 9/25 | Arkansas * |
| 10/2 | Florida * |
| 10/9 | South Carolina * |
| 10/16 | Mississippi * |
| 10/23 | Tennessee * |
| 11/6 | LSU * |
| 11/13 | Mississippi State * |
| 11/20 | Georgia State |
| 11/26 | Auburn * |
Alabama is ranked #1 in all the pre-season polls. Does that top ranking before the first kickoff increase or decrease the odds the Crimson Tide will finish the season #1? Here's an article by Tex Noel that answers that question: Accuracy of Pre-Season College Football Poll Rankings. And here's a related pdf with the results of all-time AP Poll pre-season SEC #1 ranked teams. Thanks Tex!

You also might enjoy the illustration on this page comparing the "pimp" statement Nick Saban made recently to similar statement made by Walter Camp in 1893.

2010 Alabama Crimson Tide Football Tickets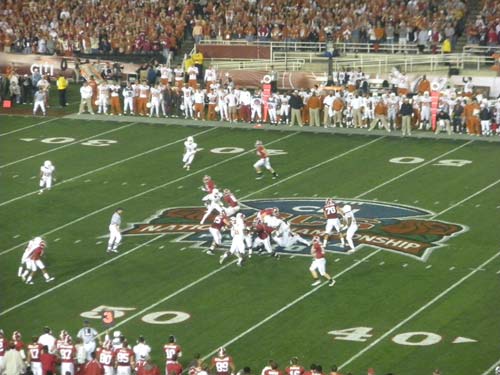 On January 7, 2010, Alabama defeated Texas 37-21 for the BCS National Championship. Thanks to Bband11th at wikimedia.org for the picture.

---
---
---
More Alabama Crimson Tide Football Pages: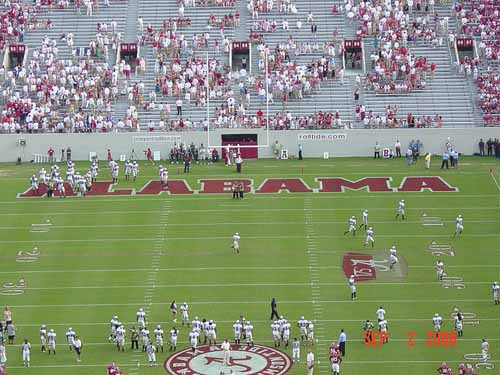 Alabama Football Warmup. Thanks to mrsbalentin at flickr.com for the picture.
What do you think?

We'd love to hear your comments and/or opinions. If you submit them here, other visitors can read them, rate them and comment on them. An e-mail address is not required.

What Other Visitors Have Said
Click below to see contributions from other visitors to this page...

By
Mo Johnson
, Copyright © 2006-2017 SECSportsFan.com