Best All-Time SEC Football Player
The debate over who is the "best all-time SEC football player" often comes down to whether you pick the player who was the best player (i.e. individual records, success in the NFL, etc) or the player who contributed the most to his or her team (i.e. the Most Valuable Player). We tried to take all of these factors into consideration in coming up with our list of the best all-time SEC football players.
Given that the Southeastern Conference is the best college football conference (see SEC Football; picking the top all-time SEC football player is a challenge.

But, here goes. Here's our top 5, starting with #5. [Please note we obviously need to put Tim Tebow somewhere in this list; just not sure where. Let us know what you think by commenting at Tim Tebow Now Belongs in the Top 5 All-Time SEC FB Players; Maybe 1 or 2.]

#5 -- Jack Youngblood (Florida)
When it comes to defense, there are few names bigger than Jack Youngblood. Youngblood earned a reputation as a tough player during his college years with the Florida Gators before he even made headlines playing in the Super Bowl with a broken leg. Starting out as a fullback in his football career, Youngblood graduated from Florida as one of the best defensive ends in the nation. Since Florida didn't keep sack stats until the middle of the 70s, we'll never know how much he really crushed the competition. In 1971, Youngblood was the 20th pick in the 1st round of the NFL draft for the Los Angeles Rams. He went on to be named an "All-Pro" five times and is a member of the Pro Football Hall of Fame. Read more about Jack Youngblood at Top All-Time SEC Defensive Football Player.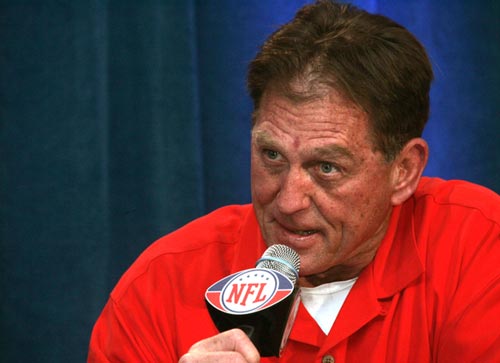 Former great and Hall of Famer Jack Youngblood of the Los Angeles Rams during the Gridirons Greats Press Conference at the Tampa Convention Center in Tampa, Florida.


#4 -- Joe Namath (Alabama)
Joe Namath played quarterback at Alabama under the guidance of football legend, Paul "Bear" Bryant during the 1962 to 1964 seasons. Recouping from a two-game suspension from the previous year, Namath led the Crimson Tide to the National Championship in 1964. With Namath as QB, Alabama went 29-4. The Tide's legendary coach, Bear Bryant, named him the greatest athlete he had ever coached. In 1965, Namath was selected as the 12th pick in the NFL's 1st round, later receiving numerous MVP honors, including the 1969 Super Bowl, and various AFL All-Star games. He is probably most famous for leading the New York Jets to their upset win over the Baltimore Colts in the 1969 Super Bowl. That was the first win by the AFL over the NFL.

#3 -- Bo Jackson (Auburn University)
As one of the most recognized players in college football history, "Bo knows" football. And, baseball".

Bo Jackson was probably the greatest pure athlete in SEC football history. Arguably, he was simply the best athlete in any league -- ever.

At Auburn, Bo broke virtually every rushing record. He was a two-time All-American; all-time leading rusher; and the third player in SEC history to rush more than 4,000 yards in a career (4,303 to be exact). Capping off his time at Auburn (1982-1985), he won the 51st Heisman Trophy in 1985.

Bo was the first player selected in the 1986 NFL draft, by the Tampa Bay Buccaneers. But, he rejected their offer and elected to play baseball (his first love) instead.

Jackson signed with the Kansas City Royals, and played 51 games in the minor leagues, before getting the call up to the big leagues. He eventually was named to Major League Baseball's All-Star Team.

In 1987, Bo was drafted in the 7th round of the NFL draft, by the Oakland Raiders. He was eligible because he never signed with Tampa Bay. Bo eventually became an all-pro running back at Oakland.

Bo Jackson was the first athlete to be named to the "All-Star Team" in both football and baseball.

#2 -- Peyton Manning (University of Tennessee)
When it is all said and done, people will generally think of Peyton Manning as the best football player to ever come out of the SEC. The reason is that he is turning out to be the best professional football player to come out of the SEC. He was drafted #1 by the Indianapolis Colts and he has broke numerous NFL football records. He finally got a Super Bowl ring in 2007 and was named Super Bowl MVP. He's also been named to seven Pro Bowls. And, he's still in the early prime of his pro career.

Peyton also did a lot during his college career at Tennessee. He went 39-6 during his four years as a starter. He has the lowest interception percentage in NCAA football history. He was an outstanding student and community leader. He turned down lots of money by staying in college his senior season. Manning is Tennessee's all-time leading passer with 11,201 yards, 839 completions and 89 touchdowns. In 2005, Tennessee has retired his #16 Jersey and a Knoxville street that leads to Neyland Stadium is now named "Peyton Manning Pass."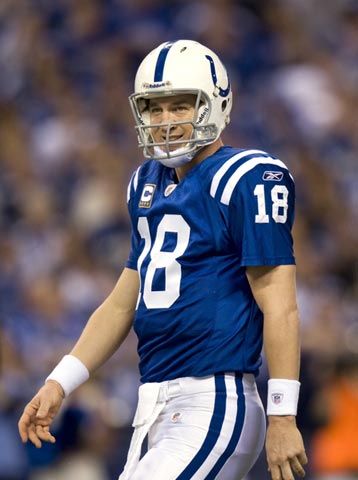 Indianapolis Colts starting quaterback #18 Peyton Manning during the second half of a game.


And, I haven't even talked about his Dad, Archie, or brother Eli both of which had great careers at Old Miss and later in the Pros. You'd have to say the Manning family has done more for SEC football than any other family in history.

As a Tennessee fan, I am a huge Peyton Manning fan. I really appreciate that he had the courage to come to Tennessee when so many of his closest friends and family members surely wanted him to follow in his dad's footsteps at Ole Miss. So, I would have loved to pick Peyton Manning as the top SEC football player of all time. And, I would have if he'd won either the Heisman Trophy or a National Championship. But, he didn't quite manage to do either of those things (lost to Nebraska 42-17 in the Orange Bowl; finished second to Michigan's DB Charles Woodson in 1997).

So, #2 is the highest I can rank him. I think you'll agree when you see who our #1 is.

You can read more about Peyton Manning at Best All-Time SEC Quarterback.

# 1 -- Herschel Walker (Georgia)
Herschel Walker (sometimes misspelled as "Hershal") is at the very top of many Best College Football Players of All-Time lists. And it's easy to see why. The University of Georgia phenom broke 11 NCAA; 16 SEC; and, 41 Georgia Bulldog football records. He almost single-handedly turned Georgia's football program around, leading it to a 12-0 record and National Championship in 1980.

Walker gained an unbelievable 283 yards in one game against Vanderbilt in 1980. Most college football observers recognize Herschel's 1980 performance as the best ever by a freshman.

In 3 years at Georgia, Herschel Walker gained 5,259 yards which was the most yards ever gained in three years in NCAA football history. It also was the third highest total in NCAA history. He was an all-American each of his three seasons at Georgia. During his three years at UGA, the Bulldogs won the SEC title each year, with a 33-3 record.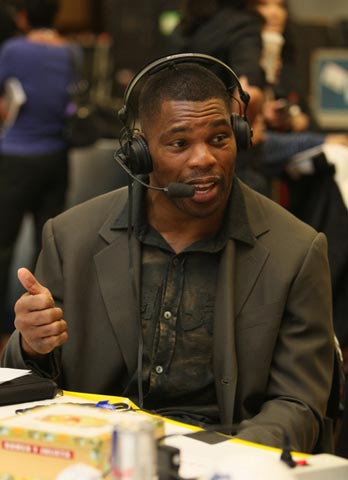 Former NFL Player Herschel Walker is seen on radio row during Super Bowl XLV in Dallas, Texas.


Walker won the 1982 Heisman Trophy, 1982 Maxwell Award, and the 1982 Walter Camp Award. Of course, his #34 jersey was retired by Georgia. Amazingly, Walker also was a member of Georgia's Track and Field team, and was named a Track and Field all-American twice.

Walker's pro career was a bit more checkered. He stirred controversy by leaving Georgia after his junior season to go pro. At that time, the NFL did not allow that, so Walker went to play for the New Jersey Generals of the USFL. After the USFL folded, Walker played for the Dallas Cowboys and eventually was recognized as a premier NFL running back as he was selected for two consecutive Pro-Bowl's. The Cowboys later traded Walker to the Vikings for an amazing five players and six draft picks. This trade is often viewed as the most talent ever traded for one player. The landmark trade was key to the Cowboys becoming a top NFL team again.

You can read more about Herschel Walker at Best All-Time NCAA College Football Player.

Cast your vote at Top All-Time SEC Football Team Survey if you think the 1980 Georgia Bulldogs were the best SEC football team ever -- or even if you don't.


********************************************


By the way, former LSU running back and run-away Heisman Trophy Winner, Billy Cannon, was our #6 choice as Best All-Time SEC Football Player. He was truly an amazing college player. Many older SEC fans remember listening to his great games on the radio. Unfortunately, his marginal pro career and recent run-ins with the law have tarnished his image. If interested, here's a short Billy Cannon biography.

If you want to know more about the best players in various sports, visit:
To read more about Best All-Time SEC Football Player check out:
Here's another list of All-Time SEC Football Players. Read more about SEC Football History.


What do you think?


We'd love to hear your comments and/or opinions. If you submit them here, other visitors can read them, rate them and comment on them. An e-mail address is not required.

What Other Visitors Have Said
Click below to see contributions from other visitors to this page...

By
Mo Johnson
, Copyright © 2006-2017 SECSportsFan.com