ALABAMA CRIMSON TIDE FOOTBALL HISTORY
UPDATE (Jan 2012): Alabama wins yet another National Championship beating LSU in the 2012 BCS Championship Game. This after defeating Texas in the 2010 BCS Championship Game. Certainly this strengthens Alabama's case for the Best All-Time NCAA College Football Program.

Alabama Crimson Tide Football History is full of great coaching and colorful characters on the field. In fact, we picked Bama as the all-time best SEC football college. This is mostly due to Alabama's tremendous football heritage.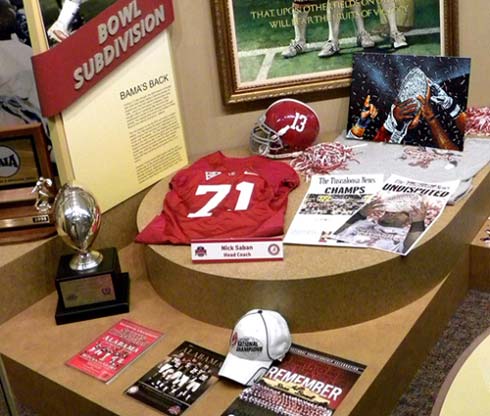 Alabama Crimson Tide 2010 BCS Championship memorabilia.  Thanks to www.allthingsgallery.biz for this picture.
---
Depending on which polls you count, Alabama Crimson Tide football is tied with Notre Dame and the University of Southern California for the all-time most college football National Championships with 12. Of course, many of those Championships were won under the leadership of legendary Alabama coach "Bear" Bryant. [Here's our latest Bear Bryant Story.]
Alabama Crimson Tide Football: Stadium History
Situated on its Tuscaloosa, Alabama campus, Crimson Tide home games are played at the Bryant-Denny Stadium. Fans gather on football Saturday's decked out in crimson and white. The "Yea Alabama" fight song plays in the background as the Million Dollar marching band takes its place. You can almost feel the electricity in the air when the Tide storms the field.

Over the years, Alabama football has developed some tremendous rivalries. Certainly the intra-state rivalry with the Auburn Tigers (the Iron Bowl) is probably the best all-time SEC football rivalry.

Then there is a great rivalry with the Tide's neighbor to the North - the Tennessee Volunteers (always played as the leaves are turning on the "Third Saturday in October"). Finally, there have been an number of legendary Alabama-LSU games over the years.

Bryant-Denny Stadium is named after former coach, Paul "Bear" Bryant and former president of Alabama, George Denny. It is the fourth largest structure in the SEC and one of the best SEC football stadiums. Today, Bryant-Denny can seat up to 92,158, making it the seventh largest on-campus sports stadium in the nation. The fact that every Alabama football home game has been a sellout since 1988. Amazing!

Alabama Crimson Tide Football History: Notable Coaches and Players
Of course, when you talk about "notable" Alabama coaches, the name of Bear Bryant is always the first to come up. We rate the Bear as the best all-time SEC football coach. Bryant served on the Alabama staff for 25 years (he was Assistant Coach there early in his career). Under Bryant's guidance, the Crimson Tide returned to the top of the college football world.

In 1961, Bryant led his Alabama team to an 11-0 record, which culminated with a National Championship at the Sugar Bowl. Several National Championships followed, as well as 12 SEC titles, and 24 consecutive appearances at various bowls, including the Liberty and the Orange. Bryant was also honored many times as National Coach of the Year and SEC Coach of the Year.

Bryant would go onto coach many great players, but none so memorable (in his eyes) as Joe Namath. Namath led Alabama from 1962 to 1964, with a National Championship in 1964. In the 1965 NFL draft, he was chosen the 12th overall pick by the New York Jets. Namath played in several AFL All-Star games and was MVP of the 1969 Super Bowl. That Super Bowl victory over the NFL's Baltimore Colts was one of the signature events in the history of the NFL (first Championship by an AFL team over an NFL team). "Broadway Joe" was later selected to the Pro Football Hall of Fame.

But, the list of great Alabama quarterbacks is long. They also include Bart Starr and Ken Stabler (see below).

True old-timers will remember another Bama player with an illustrious post-Alabama career. His name was Harry Gilmer and he was selected to join the Washington Redskins as the first overall player in the 1948 NFL draft. During his time at the University of Alabama, Gilmer played the halfback position from 1944 to 1947. He started every game during his four years and was best known for his unconventional passing technique, which traded set feet and throwing for leaping as high as he could in the air before releasing the football. His Crimson Tide career saw appearances at two Sugar Bowls and a Rose Bowl. After a 9-year NFL career, Gilmer went on to coach professional football for 27 years, followed by an 11-year career as an NFL scout.
Alabama Crimson Tide Football History: SEC Distinctions
Alabama Crimson Tide football is simply the best in SEC football history. They have more SEC football championships than anyone else (21) (4 other's before the SEC was formed). Alabama has delivered more Super Bowl winning quarterbacks than any other college football program. They are:

Bart Starr (Green Bay Packers) won Super Bowls I and II;
Joe Namath (New York Jets) captured Super Bowl III; and,
Ken Stabler with the Oakland Raiders that took the 11th Super Bowl.

[Actually Bama is now tied with Purdue in the category after Drew Brees and the Saints won Super Bowl Super Bowl XLIV.]

Besides those players noted above, three other Alabama Crimson Tide football players who were later inducted into the pro football Hall of Fame included:

Dwight Stephenson;
Ozzie Newsome; and,
Don Hutson.

Alabama Crimson Tide Football History: Did You Know?
Alabama is the only SEC team to win five consecutive SEC football titles (1971-1975).

Great Alabama Football Book
If you are looking for a truly fantastic, visual, book about Alabama Crimson Tide football history -- I've got one for you. The book is called Historic Photos of University of Alabama Football by Turner Publishing Company. It was just published this year, 2009.

I read it over the weekend and when they say "a picture is worth a thousand words" -- they were talking about this book. I actually "read" all 206 pages in one sitting because I couldn't put it down. Wow. Amazing photos of early Alabama football that I really never expected I'd ever get to see. I didn't realize pictures like that were out there. But, Turner found them.

Historic Photos of University of Alabama Football also has text to go along with the pictures and introductory text for each of its five chapters. The chapter titles kind of summarize the book. Here they are:

    Preface:   

The Origins of Greatness (1892 - 1922)
A Tradition of Greatness (1923 - 1946)
Greatness Lost (1947 - 1957)
Paul Bryant and the Return of Greatness (1958 - 1969)
A Legacy of Greatness (1970 - 1983)
Epilogue

You'll learn a lot from the text that goes along with the photos. They were written by Bama grad Woody Woodruff. I didn't realize that Alabama was the first Southern school to win a National Championship. Or, just how important that was to people living in the South and, indeed to the view that all American's had of the South. Alabama's 1926 Rose Bowl win over Washington was viewed by most sports writers of the time as the most important football game ever played by a Southern team. You'll read about that and much more.

Of course, it's the photos that will really move you; really make you feel almost like you were there -- with Bear Bryant and all the ghosts of Alabama football past.

Here's a couple examples of the pictures in the book:

This photo is of the first Alabama - Auburn game in February 1893. You can see the intensity from the start of this great rivalry. It was written that after Auburn scored a 65 yard touchdown in that game "it required several minutes to clear the field."

---
See the guy wearing the bowler hat? That's E.B. Beaumont, Alabama football's first coach. He went 2-2-0 in his one year coaching career.

---
Closing in to tackle the Tulane runner is Bully Vandergraaff, Alabama's first All-American football player. Are those guys wearing cups over their noses?

---
If you are an Alabama football fan, or really a fan of college football, you will love this book. You can buy Historic Photos of University of Alabama Football at Amazon, using the link below:
You can see more pictures from the book scattered on the other Alabama football history pages linked to below. Especially check out the "best all-time" pages.

Looking for Alabama Crimson Tide Merchandise and Apparel, Tickets, and Baseball Caps? Find them by clicking on the links.

Congrats to Nick Saban on becoming the first coach to win 3 BCS Championship Titles (LSU in 2003 and Alabama in 2009 and now 2011). Here's more Alabama 2011 - 2012 Championship Statistics.

Other Alabama Crimson Tide Football History Pages
ALABAMA CRIMSON TIDE FOOTBALL HISTORY
ALABAMA CRIMSON TIDE FOOTBALL HISTORY
ALABAMA CRIMSON TIDE FOOTBALL HISTORY

What do you think?

We'd love to hear your comments and/or opinions. If you submit them here, other visitors can read them, rate them and comment on them. An e-mail address is not required.

What Other Visitors Have Said
Click below to see contributions from other visitors to this page...

By
Mo Johnson
, Copyright © 2006-2017 SECSportsFan.com