2010 Florida Gators Football Review
The most current info is at 2011 Florida Gators Football Preview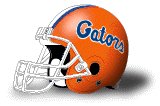 Congrats to Urban Meyer and the Florida Gators for finishing the season on a real high note, beating Penn State 37-24 in the 2011 Outback Bowl.

Florida has hired Will Muschamp to replace Meyer. Charlie Weis will be the OC and Dan Quinn will be DC and DL Coach. That's a seriously high-powered coaching staff. So, it will be interesting in 2011 to see how quickly Muschamp can get Florida back to playing Gator football. You should get your 2011 Florida Gators Tickets early.

Read about the 2011 Florida Gators recruiting class at 2011 College Football Recruiting Rankings and 2011 SEC Football Recruiting Summary.

Check out our preview of each Florida Gators Football Game at SEC Football Blog.

As the aura of Tim Tebow slowly begins to fade from Florida Field, the questions in the minds of Gator and SEC fans regarding the post-Tebow team produce a bit of a fog surrounding the 2010 season at The Swamp. Between losing their beloved quarterback and the "on/off switch" resignation of Head Coach Urban Meyer, fans are navigating some uncertain waters. But despite these uncertainties, one thing is always clear about the Gators, they will figure out a way to win. It may look a little differently with the ball in the hands of quarterback John Brantley who has sat patiently in the front row as an observer of the Tim Tebow show for the past years, but make no mistake; the Gators will still produce their share of hash-marks in the "W" column.

Will they be contenders for the SEC title in 2010-11? While it is not a complete re-building year for the Gators, they are likely to be spectators rather than participants in that game at the end of the season. Even though ranked #4 nationally right now, we are picking Georgia to win the SEC East.

There is no question that Tim Tebow brought not just extreme talent to the Gators, but also fire and brimstone leadership, over-achievement on and off the field and a powerful sense of pride; however, his departure is just one change among the many in the Florida locker room this season. With five juniors headed to the NFL, four new assistant coaches, a new Defensive Coordinator (Teryl Austin), and replacements needed for key defensive players including: linebackers Brandon Spikes, Ryan Stamper, and Dustin Doe; ends Carlos Dunlap and Jermaine Cunningham; cornerback Joe Haden, and Safety Major Wright…the 2010-11 Gator season could be a turbulent ride for both players and fans.
The Gators in their home Ben Hill Griffin Stadium. Thanks to Berniestew at wikipedia.org for the picture.


In comments after spring practices, Urban Myer used the word continuity, or rather the lack of, to describe what he is seeing right now. Coach Myer will be dealing with a lot of young players and their quick development may be a key to how many wins the Gators will see this season as some of them will be called on early to contribute. On the subject of young players, a very bright and not surprising note is the number one ranking of Urban Myer's 2010 recruiting class. Significant talent will now wear orange and blue including the nation's top player Ronald Powell. The stellar recruiting class includes: 17 players from the ESPNU 150 (11 of which are in the top 50), four 5 star players and fifteen 4 star players. Among just some of the class to watch: Dominique Easley (DT) from Staten Island, NY is 260 pounds of quick and explosive power, Jonathan Dowling (S) from Bradenton, FL is lean and tall while being an excellent pass defender, Shariff Floyd (DT) from Philadelphia, PA is a daunting and proficient guard prospect at 309 pounds, Matt Elam from Palm Beach Gardens, FL a dynamic athlete who likely will find a defensive role to play on the Gator squad and Chris Dunkley (WR) from Pahokee, FL is smooth with dangerous speed and efficiency at each stage of the passing game.

There is solid and proven ability returning to get those fans doing the Gator chomp…the running back trio of Jeff Demps, Chris Rainey, and Emmanuel Moody who contributed to a combined 2,000 rushing yards last season lead by Demps with 745 yards of his own; three returning starters on the defensive backfield: Ahmad Black, Will Hill and Janoris Jenkins; poised as a go-to receiver Andre Debose returns after a pre-season injury kept him out of play in 2009, as well as substantial performance on special teams from punter Chas Henry and kicker Caleb Sturgis.

The true call will be to John Brantley and of course Urban Myer in the leadership of this team through the multitude of changes and shifts the upcoming season will bring. Brantley has his own list of talent and skill sets and undoubtedly his own style of leadership which needs to now take center stage. Already titled as a more mechanical quarterback, not a running QB, and a pocket passer, this second generation Gator will definitely have the support of the blue and orange faithful behind him along with Jordan Reed and Trey Burton to help out...similar to Tebow's supporting role under Chris Leak.

Steve Spurrier, University of Florida quarterback, Heisman Trophy Winner, #11. Thanks to UF Digital Collections at flickr.com for the picture.


The Gators 2010-11 schedule picks up University of South Florida and Appalacian State (who back in 2007 beat number 5 Michigan), but their toughest games will be Alabama, LSU and Georgia. The Florida team will struggle periodically during this season and tack on between 2 and 3 losses. They head into the season as #3 in the SEC. With the amount of uncertainty lingering and necessary play time to develop the new and backup talent, the Gators will go bowling but not in the locker room at a BCS Bowl game when the regular season comes to a close.

University of Florida Gator 2010-11 Football Schedule
Bold = Home Game.     * = Conference

| | |
| --- | --- |
| Date | Vs. |
| 9/4 | Miami (OH) |
| 9/11 | University of South Florida |
| 9/18 | Tennessee* |
| 9/25 | Kentucky* |
| 10/2 | Alabama* |
| 10/9 | LSU* |
| 10/16 | Mississippi State (HC)* |
| 10/30 | Georgia* |
| 11/6 | Vanderbilt* |
| 11/13 | South Carolina* |
| 11/20 | Appalachian State |
| 11/27 | Florida State |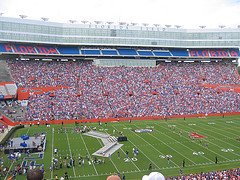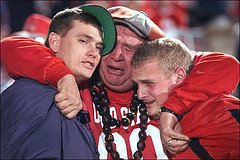 Thanks to flickr.com/photos/bjmillican for all photos above except for #'s 2 and 7 which were are credited to flickr.com/photos/slarche; #3, credited to flickr.com/royce58 and the last one, credited to flickr.com/photos/pealco. Some rights are reserved for these photos.


More Florida Gators Football Pages:
What do you think?

We'd love to hear your comments and/or opinions. If you submit them here, other visitors can read them, rate them and comment on them. An e-mail address is not required.

What Other Visitors Have Said
Click below to see contributions from other visitors to this page...

By
Mo Johnson
, Copyright © 2006-2017 SECSportsFan.com