Best All-Time SEC Football Team
Which is the best all-time SEC football team? Throughout the spectacular history of SEC Football, there have been numerous undefeated teams; National Championships; and unforgettable players, coaches and moments. So, it's tough to pick the Best all-time Southeastern Conference (SEC) football team. But, we did. Below are the top five all-time best SEC football teams.
#5 Auburn University (1957)
There have been a number of undefeated SEC football teams. But, only one was first. The 1957 Auburn University Tigers went undefeated and are the only Auburn football team to ever finish the year #1 in at least one major national poll. The team was coached by, Shug Jordan, who was named college football's Coach of the Year for 1957.
#4 University of Kentucky (1898)
Before the SEC existed, the 1898 Kentucky Wildcats set the stage for the tremendous football we would later see. In the history of the University of Kentucky football program, the 1898 team is the only one that went undefeated, untied, (7-0) and unscored on. The team was appropriately nicknamed, "The Immortals." They were coached by W.R. Bass. And the players had an average weight of 147 pounds!! My how times have changed.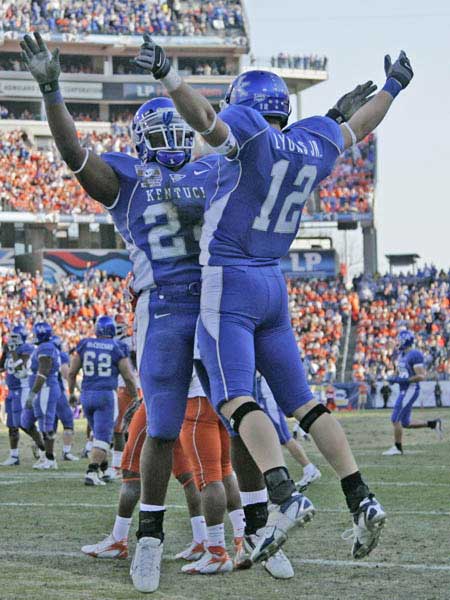 Kentucky endzone celebration. Thanks to ukathletics for the photo.


#3 University of Florida (1996)
No "All-Time Best SEC Football Team" list can be complete without mentioning the 1995 - 1996 Florida Gators led by QB Danny Wuerffel and coach Steve Spurrier, Both teams went 12-1. The difference is the '95 team lost in the National Championship game (Fiesta Bowl) to the Nebraska Cornhuskers. The '96 team won the National Championship, beating in-state rival, Florida State, 52-20 in the Sugar Bowl. [Interestingly, the Gators only loss in 1996 was to the very same Florida State Seminoles during a regular season road game at Tallahassee.] The '96 team beat the Alabama Crimson Tide in the SEC Championship Game (45-30). The Gators QB in 1996 was Danny Wuerffel, who won the Heisman trophy.

#2 University of Georgia (1980)
Led by freshman phenom running back, Herschel Walker, the Georgia Bulldogs went undefeated (13-0) in 1980 and won the college football National Championship. The Bulldogs beat Notre Dame in the Sugar Bowl 17-10. The reason we pick this team as the #2 Best All-Time SEC Football Team is because it was an amazing turn-around team. The year before (1979), the Bulldogs had endured and embarrassing 6-5 season (including a 31-0 homecoming loss to Virginia). Lindsey Scott, Buck Belue and the incomparable, Herschel Walker, led the 1980 Bulldogs to glory. To read more about Herschel Walker, check out Best All-Time NCAA College Football Player.

#1 University of Alabama (1961)
Legendary college football coach, Paul "Bear" Bryant, led his 1961 Crimson Tide team to an undefeated 11-0 record, a victory in the Sugar Bowl and a college football National Championship. The '61 Crimson Tide outscored their opponents by an amazing 297-25. The 1961 Alabama team, was led by Heisman Trophy Finalist, quarterback Pat Trammell and All-American offensive tackle, Billy Neighbors. Undoubtedly, they were the top SEC defensive team in history. We pick this team as the Best All-Time SEC Football Team because they were:

Undefeated
Outscored their opponents 297-25
Coached by Bear Bryant
The first of the Bear's great Bama teams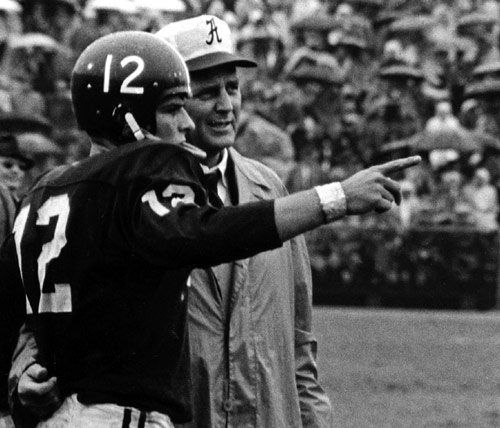 Pat Trammel talking to Bear Bryant on the sidelines in during the great 1961 National Championship season. Bama went 11-0 that year.


This last factor is important because Alabama was coming off a number of weak seasons. This 1961 team, unlike the teams that followed, had no legacy to work off of and draw from. They did it on their own.

For more about the 1961 Alabama Crimson Tide football team, check out Best All-Time NCAA College Football Team. To read more about Bear Bryant, check out Best All-Time NCAA College Football Coach.

This SEC Sports Fan visitor thinks Tennessee's 1938 undefeated team should make the list.

Now, what if you could pick the all-time best football players in the history of the SEC, regardless of team or year. What players would be on that team? Here's our picks of Players Who Would Make the SEC All-Time Football Team.

To read about other great teams in various sports, check out:

You can vote for your top all-time SEC football team at Top All-Time SEC Football Team Survey.
Best All-Time SEC Football Team
Best All-Time SEC Football Team
Best All-Time SEC Football Team


What do you think?


We'd love to hear your comments and/or opinions. If you submit them here, other visitors can read them, rate them and comment on them. An e-mail address is not required.

What Other Visitors Have Said
Click below to see contributions from other visitors to this page...

LSU Not rated yet
1908-1935,36-1958-1961-2003-2007. National Champs
By
Mo Johnson
, Copyright © 2006-2017 SECSportsFan.com