2010 Arkansas Razorbacks Football Review
The most current info is at 2011 Arkansas Razorbacks Football Preview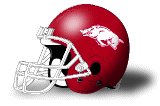 The Arkansas Razorbacks made a big statement this season, ending up #2 overall in the SEC. As a reward, they received a BCS Bowl Bid to the 2011 Sugar Bowl, but lost a heartbreaker to the Ohio State Buckeyes 31-26 -- if only they picked up that blocked punt and run it in.... You can read more about the game at Arkansas Comes Up Short In The Sugar Bowl.

Oh well, next issue will be whether Ryan Mallet stays or goes pro. If he stays, Arkansas will be loaded in 2011. Now's the time to get your 2011 Arkansas Razorbacks Football Tickets.

Read about the 2011 Alabama recruiting class at 2011 College Football Recruiting Rankings and 2011 SEC Football Recruiting Summary.
Nice win at Miss. State. So, Arkansas has only 2 losses; both to the two teams from Alabama. Not bad. But, one last big game vs. LSU this weekend. A win would lock in a major bowl bid and the best year for Arkansas football in recent memory.

Tough loss at Auburn. It was a shame to see apparently bad calls play such a crucial role in the outcome of the game. Read more about the Terrible Officiating in Auburn - Arkansas Game.

Check out our preview of each Arkansas Razorbacks Football Game at SEC Football Blog.

Arkansas fans will not like this opinion about the Alabama game: Bama Rolls Arkansas.

Unlike many SEC teams going into the 2010-11 season, Coach Bobby Petrino and the Razorback fans are not in question of who their number one quarterback will be come September 4th when they open their season against Tennessee Tech at Reynolds Razorback Stadium. It will be the QB who led the SEC in passing in 2009 and even had a better pass efficiency rating than Florida's Tim Tebow.

Ryan Mallett threw for 3,624 yards and 30 touchdowns which makes for a lot to look forward to as the Razorbacks look to be considered real contenders for a SEC conference title. Mallett is out for spring practice healing a broken foot but should be back for summer camp. Mallett's backup competition is being played out between sophomore Tyler Wilson and redshirt freshman Brandon Mitchell as well as early enrollee Jacoby Walker. Wilson saw play in four games last year with two touchdowns, Mitchell adds a running dimension to the role and Walker who has been described as "very mature" also vies for play time.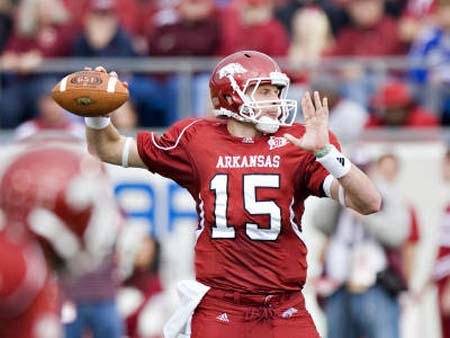 Arkansas Razorback quarterback Ryan Mallett.


One area that the Razorbacks will gain momentum in is running back. Four hard runners look to be significant contributors and stat stackers. In the forefront are sophomores Ronnie Wingo and Knile Davis, with Wingo listed as #1 on the depth chart heading into the spring practices. Wingo averaged 6.5 yards a carry last year and Davis at 163 yards/4.9 per carry. Juniors Broderick Green and Dennis Johnson are also in the mix, right now for the #3 spot, but Johnson has shown some attention-grabbing play during practices that may push him forward (in '09 he accumulated 342 yards/6.0 avg).
In the wide receiver category, the trio of Greg Childs, Jarius Wright and Joe Adams combined for 118 catches and 19 touchdowns last season and all return ready to put up big numbers again. Newcomer Lance Ray from Havana, FL will also be in the picture at wide receiver. In addition, tight end D.J. Williams, who might have been thinking NFL earlier, returns to the squad. Williams had 32 receptions with 3 touchdowns in '09. After an ankle injury sidelined Chris Gragg last year, he is now bigger and faster and will be at tight end as well.

The Arkansas defense has some decisive gaps to fill at end, tackle and linebacker. To support their potentially explosive offense, the defense needs to improve by putting a stop to their opponents (they gave up 402 yards a game last year). Junior cornerback Isaac Madison who missed last season with a torn ligament in his right knee comes back ready to tackle and with a new number on his jersey to go along with his fresh start. Before his pre-season injury he was considered an Arkansas defensive leader.

Is there a constellation lined up for fans in Fayetteville in the shape of their beloved Hog? It would certainly appear that the Razorbacks have all the building blocks necessary to be playing in the Georgia Dome come early December if they get their defense moving at the same speed as their offense. The Hogs' ability to claim their momentum early and maintain their consistent offense while getting tougher on defense sends the Arkansas Razorbacks into the 2010-11 season at #5 overall in the SEC.


Arkansas Razorback 2010-11 Football Schedule:
Bold = Home Game.     * = Conference

| Date | Vs. |
| --- | --- |
| 9/4 | Tennessee Tech |
| 9/11 | Louisiana-Monroe |
| 9/18 | Georgia* |
| 9/25 | Alabama* |
| 10/9 | Texas A&M |
| 10/16 | Auburn* |
| 10/23 | Ole Miss* |
| 10/30 | Vanderbilt* |
| 11/6 | South Carolina* |
| 11/13 | UTEP |
| 11/20 | Mississippi State* |
| 11/27 | LSU* |
2010 Arkansas Razorbacks Football Tickets

---
More Arkansas Football Pages:
What do you think?

We'd love to hear your comments and/or opinions. If you submit them here, other visitors can read them, rate them and comment on them. An e-mail address is not required.

What Other Visitors Have Said
Click below to see contributions from other visitors to this page...

By
Mo Johnson
, Copyright © 2006-2017 SECSportsFan.com