Ultimate Alabama Football Tailgate Party Trailer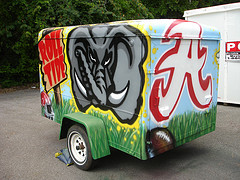 This is the ultimate Alabama football tailgate party trailer. Thanks to Neil Kirkpatrick of BAMA Murals for providing the pictures. BAMA Murals painted the trailer. The owner of this trailer is clearly a HUGE Bama fan. He uses it to haul his tailgate gear down to Bama football games. It is parked near the quad by the library on game days in Tuscaloosa.
BAMAmurals used only spraypaint to paint it and it took about 15 hours to paint. BAMAmurals is willing to paint bama murals anywhere, on anything. They will even turn your house into a "roll tide" bama mural if you want.

Even though they work out of the Tuscaloosa area, they would be willing to travel to other SEC towns and paint works of art celebrating other SEC teams as well. Actually, they say they will paint anything on anything.

Feel free to email them at bamamurals@hotmail.com if you are interested. You can view other BAMA trailer pictures on flickr.com at nickgreene556.

Here's your Bama Nation Merchandise, Tickets, and Bama Fight Song (and Logo) Poster.

The last chapter of the cookbook by Katherine Helms covers Alabama tailgating recipes.

If you are interested in a great Tennessee fan tailgate story, check out Tennessee Vol Fans Tailgating For a Cause.


By
Mo Johnson
, Copyright © 2006-2017 SECSportsFan.com