Bear Bryant Biography
Comparing Bear and Saban in NC Seasons

If you believe in yourself, have dedication and pride and never quit, you'll be a winner.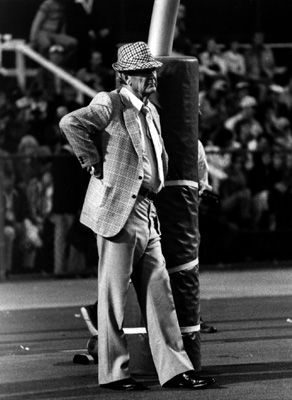 THE classic shot of the Bear. Perfect pose; perfect expression; houndstooth hat. Thanks to Historic Photos of University of Alabama Football for this picture. You can purchase the book from bottom right.

---
Paul William "Bear" Bryant was born September 11, 1913, 11th child of 12 born to William and Ida Bryant. The family lived on a farm in Moro Bottom, Arkansas. Paul may have been nearly the youngest of the family, but you wouldn't know by looking at him.

At age thirteen, Paul earned his nickname, "Bear", when he agreed to wrestle a captive bear. While in the eighth grade and standing at a full 6'1", Bear played for Fordyce High School's football team in Fordyce, Arkansas.
During Bear's senior year at Fordyce, he played offensive end and defensive line. Bear and his team won the 1930 Arkansas State High School Football Championship. At a young age, Bear had his career as a football star well underway. His future was clearly mapped out for him. However, Bear left Fordyce High School before receiving his diploma.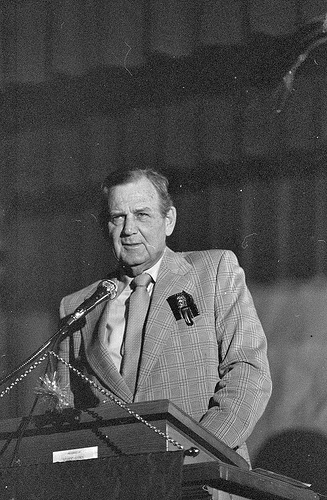 Thanks to JCMcdavid for this picture of the Bear Bryant recruiting at Woodlawn High School, Birmingham, Alabama in 1975.

---
In 1931, Bear was offered a full scholarship to the University of Alabama to play football. This posed a problem because he had no high school diploma—obviously a prerequisite to being accepted into any college.

So, he enrolled in Tuscaloosa High School and finished his requirements in the fall semester of 1931. When he wasn't hitting the books, he practiced with the Crimson Tide to prepare for his college football career.

Bear nearly missed his chance to play for Alabama, and by a twist of fate was discovered by then coach, Hank Crisp. Crisp was actually in Fordyce hoping the lure the Jordan twins to his school. The twins ended up going to Arkansas, and Crisp went back to Alabama with the relatively unknown Paul "Bear" Bryant.

[I've been told by a long-time Arkansas native, that the reason Bear Bryant chose Alabama over Arkansas was because, in the 1930's, it was faster to travel to Tuscaloosa, AL then Fayetteville, Ark. due to the location of Fordyce being in SE Arkansas (close to Alabama) and Fayetteville being in extreme NW Ark. Furthermore, the reason the Univ. of Ark. is located in Fayetteville (far from a central location in the State) is simply due to the fact that the land was given to the state by it's owner in the mid 1800's. As for coaching, check out story of why Bear Bryant didn't coach at Arkansas. Interesting to speculate on the obvious "what-if's"....]

Of course, in retrospect, this outcome benefited Crisp, as the Crimson Tide, with Bear a part of it, captured the 1933 SEC Championship. Then, in 1934, the team went 10-0 and defeated Stanford in the Rose Bowl.

Bear was finding success on the field, as well as off. In June of 1935 he married Mary Harmon Black in a secret ceremony. Bear feared that Coach Crisp would revoke his scholarship if he found out about the marriage.

It would not stay a secret for long, as the couple welcomed a baby daughter nine months later. Bear's legend and devotion to his team grew in October of 1935, when he led the Crimson Tide to a victory over the Tennessee Volunteers, with a broken bone in his left leg!

From 1936 to 1941, Bear Bryant was an assistant football coach for Union College, the University of Alabama, and Vanderbilt University. He was offered the position of Head Coach at the University of Arkansas, but opted instead to join the U.S. Navy after the bombing of Pearl Harbor. Bear never saw the front lines in WWII. Instead, his talents were put to use training recruits and coaching football at North Carolina Pre-Flight.

After the War, in 1945, Bear became Head Coach of the University of Maryland's football team. After one season, he left Maryland to take over the football team at the University of Kentucky, where he accumulated 60 wins and 23 losses over eight seasons. He coached three seasons at Texas A&M University before beginning his first of twenty five seasons coaching his alma mater, the Alabama Crimson Tide.
In twenty-five seasons at Bama, Bear's record totaled 232 wins and only 46 losses. He was a ten-time SEC Coach of the year and a four-time National Coach of the Year. In fact, the National College Football Coach of the Year Award was renamed in his honor, and today is called the Paul "Bear" Bryant Award.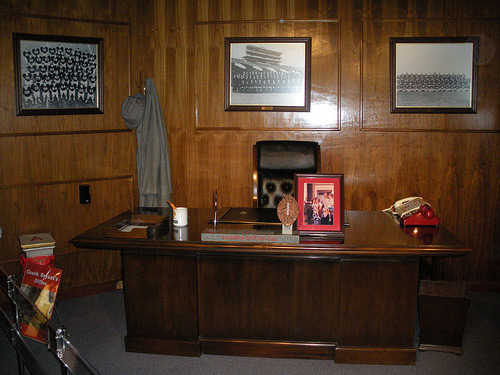 Mock up of Bear Bryant's office

In 1975, Alabama's football stadium, a high school, and a street running through the Universtity of Alabama campus were named in honor of Paul William "Bear" Bryant. He was also awarded the Presidential Medal of Freedom in 1983 by President Ronald Reagan, and memorialized on a postage stamp in 1996, thirteen years after his death.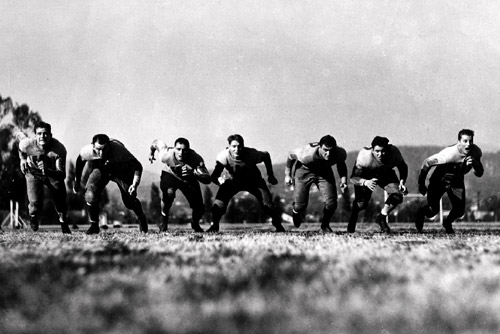 The Crimson Tide's 1934 offensive line. That's Paul "Bear" Bryant on the left. The rest from left to right are Bill Lee, Bob Ed Morrow, Kavanaugh Francis, Charlie Marr, James Whatley, and Don Hutson.

---
Bear Bryant's legacy lives on in the records he set over his career, as well as the countless football players and coaches he has worked with. Many of Bear's football players have gone on to play professionally, become head coaches at major universities, and NFL teams. In Bear's career, he participated in a total of 31 bowl games. 24 of those games were consecutive at the University of Alabama.

Bear Bryant announced his retirement from coaching, effective after the 1982 season. He jokingly responded to a reporters question of his plans for retirement by saying that he'd probably croak in a week. Less than one month later, Bear checked into a Tuscaloosa hospital with complaints of chest pains. On January 26, 1983 he passed away.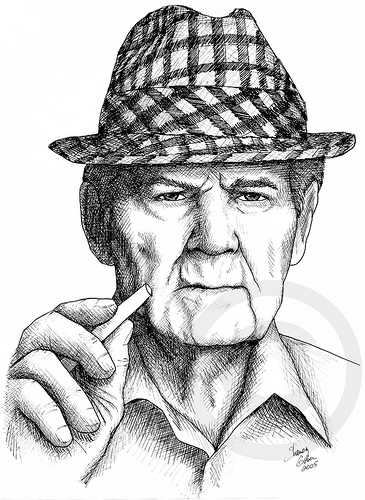 Thanks to Shaney442 for this drawing of Bear Bryant putting up X's and O's at the chalkboard.
Bear's legend is alive and well at the University of Alabama, the Bryant-Denny Stadium, and the hearts of Alabama's students, alumni and fans. His twenty-five year career with the Crimson Tide made them a force to be reckoned with in college football. Bear Bryant's legacy will never be forgotten.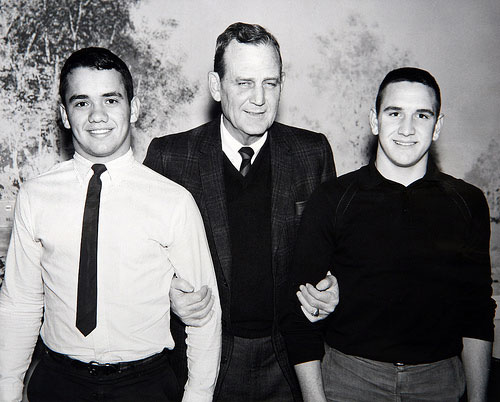 This photograph was taken the night Bear Bryant told Joe Namath that he would not play in the '63 Sugar Bowl because Namath had broken curfew rules. Bryant had flown up to Tennessee from New Orleans, arrived very late, and you can see how tired he is in the picture. Bobby Cannon (running back at Alabama) is on the left in the photo and Rodney Wampler of Morristown, TN is on the right. Thanks to Bobby Cannon for this photo.

---
To read more about Bear Bryant, check out Best All-Time NCAA College Football Coach and Bear Bryant Story.

To vote on which was the best team in SEC football history, go to Top All-Time SEC Football Team Survey.

See also Alabama Crimson Tide Football and Alabama Crimson Tide Football History.
---
Share Your Bear Bryant Story Or Opinion Here

We'd love to hear your story (or opinion) about Bear Bryant. If you submit it here, other visitors can read it, rate it and comment on it. An e-mail address is not required. You can submit a picture too.

What Other Visitors Have Said
Click below to see contributions from other visitors to this page...

By
Mo Johnson
, Copyright © 2006-2017 SECSportsFan.com