Nick Saban Biography
Comparing Bear and Saban in NC Seasons

University of Alabama Head Football Coach
Nick Saban Biography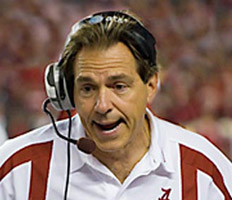 Congrats to Nick Saban on becoming the first coach to win 4 BCS Championship Titles (LSU in 2003 and Alabama in 2009, 2011 and 2012). Here's more about the latest game Alabama 2011 - 2012 Championship Statistics and 2011 Saban/Bama Championship Facts.
Two years ago we said: Congrats to Nick Saban and the Alabama Crimson Tide. After only 3 years at Alabama, Saban has led Alabama to college football's 2010 National Championship. Saban is the first coach to ever lead 2 different teams to a BCS Championship (LSU in '03 was his first).

Nick Saban was born in Fairmont, West Virginia on October 31, 1951. The Kent State Alum has come a long way from West Virginia to head football coach at Alabama. He was the highest paid college football coach in America.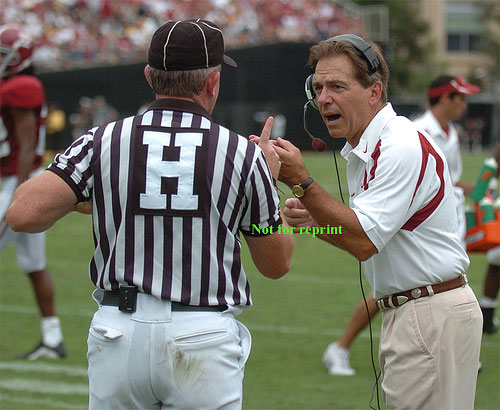 Nick Saban argues with referee. Thanks to bamaisback2006 at flickr.com for the picture.
Saban's $32 million contract over 8 years gave him that honor in January 2007. However, Les Miles passed that mark when he signed a contract guaranteeing that he (Miles) would make $1000 more than any other coach of a public university in the SEC. Still, with other bonuses, etc, Saban may still be #1 overall. In any event, this wasn't exactly a direct route for Coach Saban. Making just a few stops along the way, he has had many different coaching experiences in his twenty years since college.

Saban was an assistant football coach at Kent State, Syracuse, West Virginia, Ohio State, the United States Naval Academy and Michigan State in NCAA Division I-A. In 1988 he made the crossover into the NFL, assistant coaching for the Houston Oilers.

Later, after spending a year in his first position as a college Head Coach at the University of Toledo, Nick went back to the NFL again as a defensive coordinator for the Cleveland Browns. This would not be the last time Saban would coach a professional team.

In 1995 Nick Saban accepted a position at Michigan State University as Head Coach of the Spartans. MSU was coming off five straight losing seasons. Coach Saban took the struggling team and led them to a 9-2 season by 1999. However, after accepting his next coaching position with Louisiana State University, Saban resigned from Michigan State.

It would seem that things like this happen every day, and they do. However, the resignation came weeks before the team was to play the Florida Gators in the Citrus Bowl. This left Saban's assistant head coach, Bobby Williams (who would succeed him) to coach the bowl game. MSU defeated Florida, resulting in a great 10-2 record for the '99 season.

There is a story that makes the rounds about Saban supposedly telling his MSU assistants they had 24 hours to board a plane for Louisiana if they wanted to join him there (or something like that). Supposedly none joined him. Not sure the veracity of all that, but certainly the way he left MSU left a bad taste in some mouths.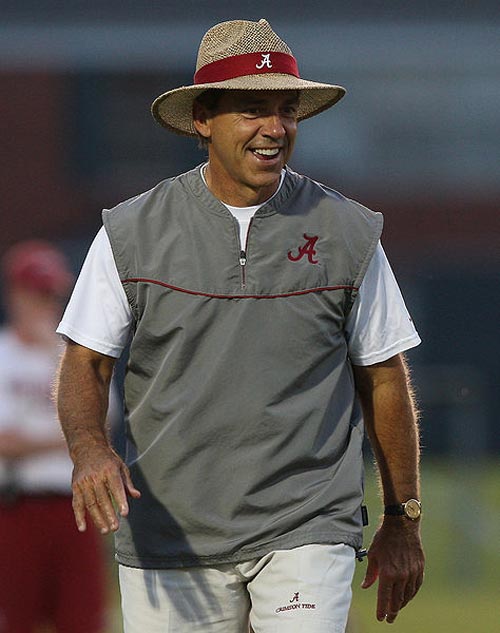 Alabama head football coach Nick Saban at a practice in the fall of 2009. Thanks to wikipedia for the picture.
Saban coached at LSU from 2000-2004. His credits while coaching LSU include a 2001 and 2003 SEC Championship; accompanied with an NCAA College Football Championship in '03. That year Saban also won the Paul 'Bear' Bryant Award, which is given annually to college football's coach of the year.

At the end of the 2004 season, Coach Saban decided to try his hand in the NFL again. He accepted the job of Head Coach for the Miami Dolphins. The team began the season with a disappointing 3-7 record. They pulled it together for the final 6 games, which they won consecutively to end the season at 9-7. Still, the playoffs were not in the cards for them that year.

2006 proved to be even more of a letdown. The Dolphins ended their season 6-9 and brought Nick Saban his first losing record as head coach. Saban bailed and headed for Bama.
Nick Saban has been hailed as the savior of Alabama football by most Crimson Tide fans. We shall see. The SEC is so tough. After accepting the head coaching job at the University of Alabama in January 2007, Saban has already faced some criticism.

Most notably is the criticism about Saban's restriction of the media's access to his players and coaching staff. Coach Saban has begun alternating those days which he and the players will be available for media questions.

Although this policy has not made him any friends in the media, Nick speculates he will let up once his trust builds for the media that covers his team.

Nick Saban had a tough first year (2007) at Alabama. The Tide started strong, but faded down the stretch, losing to Miss. State and even Louisiana-Monroe. But, they did win their bowl game and landed the Nations's top recruiting class in 2008.

Then came the Tide's magical 2008 season. Followed by their 2009 National Championship Season. You can read all about the current (2010) team at 2010 Alabama Crimson Tide Football. Right now the Tide are still undefeated and ranked #1 in the nation!
So, the Crimson Tide is back in a big way. For more information about Nick Saban and Alabama Crimson Tide Football, see Alabama Crimson Tide Football History.
---
Check out our current page about Alabama Crimson Tide Football.


Nick Saban Biography
Nick Saban Biography
Nick Saban Biography

Check out this illustration about the recent "pimp" quote that Nick Saban made -- referring to the agents who sometimes prey on college football players.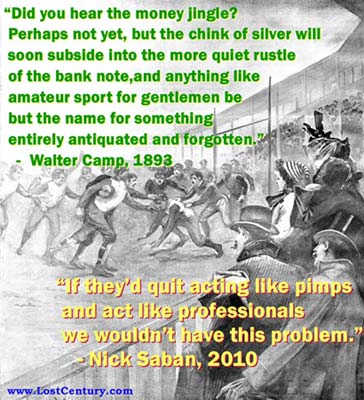 What do you think?

We'd love to hear your comments and/or opinions. If you submit them here, other visitors can read them, rate them and comment on them. An e-mail address is not required.

What Other Visitors Have Said
Click below to see contributions from other visitors to this page...

What do you think?


We'd love to hear your comments and/or opinions. If you submit them here, other visitors can read them, rate them and comment on them. An e-mail address is not required.

By
Mo Johnson
, Copyright © 2006-2017 SECSportsFan.com