2010 LSU Tigers Football Review
The most current info is at 2011 LSU Tigers Football Preview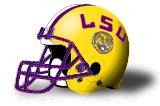 Les Miles met with Michigan and said "no." He will stay at LSU. I'm sure he'll receive an upward "adjustment" to his current $3.75 million/year contract. Good, I would have missed "The Mad Hatter."

Finishing with an 11-2 record, it definitely turned out to be quite an exciting year for the LSU Tigers. The season was capped off with an impressive 41-24 beating of Texas A&M in the Cotton Bowl.

LSU appears loaded talent-wise again next year -- especially after signing JUCO transfer QB Zach Mettenberger. Get your tickets at LSU Tigers Football Tickets and 2011 LSU Tigers Football Preview..

Read about the 2011 LSU Tigers recruiting class at 2011 College Football Recruiting Rankings and 2011 SEC Football Recruiting Summary.

Check out our preview of each LSU Tigers Football Game at SEC Football Blog.

Here's a funny Tennessee - LSU Tailgate Story. If people in Baton Rouge and beyond doubted LSU Head Coach Les Miles's recruiting stamina, they should be somewhat silenced after National Signing Day this year. With a 2010 recruiting class ranked in the top ten by Rivals.com, Scout.com and ESPN, Miles is stocking his squad with plenty of future talent for the Tigers in his 27 player signees. As Les Miles said, "We didn't get everybody we wanted but we got the guys we absolutely had to have." But the nagging question still lurking in the Bayou- What is going to get LSU to regain their forward momentum in the SEC?

The bulk of the weight of that question lies in the still maturing quarterback position. Like the yellow caution signs warning of "Wet Floors" and "Men at Work", LSU displays a fluorescent one for the key offensive position that says-"Quarterback Development Still in Progress". When then sophomore Jordan Jefferson stepped on the field for the 2009 season he was only 19, the youngest starting QB in the SEC. The '09 season allowed Jefferson big game experience and a full playing year to learn the rough lessons opposing SEC defenses love to dish out. The Tigers absorbed three tough conference losses to Florida, Alabama and Mississippi as well as a disappointing post-season shortfall to Penn State in the Capital One Bowl Game. With remarks that the defense saved the 2009 season, more positions on the offense than just the quarterback need to step up their contributions.

At this point, the starting quarterback for the 2010-11 season is still a role that has not been solidly claimed or awarded. Junior Jarrett Lee who started one game and played in seven last season has been improving his mechanics and is proving in spring practices to be a formidable competitor for the starting QB slot. Jordan Jefferson will need to take more responsibility for the offense, improve his accuracy and find his identity in order to be the leader of a team that is stacked with talent and is chopping at the bit to have an explosive push up the SEC rankings and be seen as a contender for this year's SEC championship.

Plugging the holes in for the loss of seven defensive starters will be vital to the success of the Tigers, but excellent recruits from the 2009 class are ready to step up and perform. Among them: Sam Montgomery (DE), Michael Brockers (T), Kevin Mintner (LB) and junior college transfer Kendrick Adams who is already enrolled and participating in spring practices. Additionally, Kelvin Sheppard will return for his senior season. Sheppard was ranked 4th best in the SEC in 2009 with 110 tackles.
More power is being slated for the defense with this year's recruits including: J.R. Ferguson (DE) from Hargrave Military Academy who had 67 tackles and 12 sacks and rated one of the top defensive prospects of this class; J.C. Copeland (DE) from Troup High School who dropped Tennessee and switched to the Tigers will bring outstanding pursuit and quick change in direction; Brandon Worle (FB) also from Troup H.S. puts forth tremendous size, blocking ability and mental team effort. Combine both defensive recruiting classes with veterans Lazarius Levingston, Patrick Peterson and Brandon Taylor and you have the makings for a fearsome defense in the SEC.

On the offense the Tigers loose six starters including Charles Scott and Keiland Williams at the running back position. This is a role in which Spencer Ware, Jakhari Gore and Alfred Blue could provide immediate help. Ware who was a high school quarterback from Cincinnati is poised to make an impact with his cut-back ability, strength and pure determination. It has been said he can make something out of nothing and is tough to bring down. Gore from Miami, FL may not have the size but he has the speed and elusiveness to make plays. Alfred Blue from Boutte, LA is quick on his feet and with improved power will be a good contributor.
With four wide receivers graduated, this is another position to seal up in Baton Rouge. The Tigers do return leading receiver Terrance Toliver who had 53 catches and 735 yards in the 2009 season and has big play capability as well as Reuban Randle and Russell Shepard. New wide receiver recruits Kadron Boone and James Wright fill the gaps left by the de-commitments of Justin Hunter and Mike Davis. Boone from Ocala, FL has the size to compete at the college level and will catch everything thrown his way. James Wright received over 20 offers and will prove effective in the red zone with his ability to find open area and his great leaping skills.
Overall the LSU Tigers are poised to get over their temporarily stymied push up the rankings...visions of a strong comeback year are floating over Tiger Stadium. Taking advantage of Florida's transitions, the Tigers go into the 2010 season #2 in the SEC. They will have to play Florida at The Swamp this year but get to take on Alabama at home. Their early schedule is trying but it would not be surprising to see LSU give Alabama a run for the #1 spot in the SEC West and a chance for their fans to sport purple and gold at the SEC Championships game this year.


LSU Tigers 2010-11 Football Schedule:
Bold = Home Game.     * =Conference

| Date | Vs. |
| --- | --- |
| 9/4 | North Carolina |
| 9/11 | Vanderbilt* |
| 9/18 | Mississippi State* |
| 9/25 | West Virginia |
| 10/2 | Tennessee* |
| 10/9 | Florida* |
| 10/16 | McNeese State |
| 10/23 | Auburn* |
| 11/6 | Alabama* |
| 11/13 | UL-Monroe |
| 11/20 | Ole Miss* |
| 11/27 | Arkansas* |
2010 LSU Tigers Football Tickets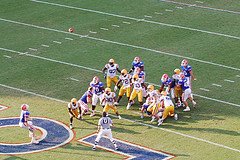 Thanks to Roy Gullem at flickr.com/photos/roygullem for picture # 1; flickr.com/photos/lordsutch for picuture # 2; and, Slarche at flickr.com/photos/slarche for the final photo. Some rights are reserved for these photos.


---


More LSU Football Stories:
What do you think?

We'd love to hear your comments and/or opinions. If you submit them here, other visitors can read them, rate them and comment on them. An e-mail address is not required.

What Other Visitors Have Said
Click below to see contributions from other visitors to this page...

By
Mo Johnson
, Copyright © 2006-2017 SECSportsFan.com