SEC Football Traditions
In the world of college football, there is nothing quite like SEC football traditions.
College football would not be what it is today if not for years of traditions. Without traditions, football would just be a game, and college football would just be another distraction from class.
But instead, generations of people that harbor great love for their school, and the game of football, have established rich traditions so deep that it is difficult to look around a college football stadium and not see numerous legends, myths and traditions.
In its early history, sports writers began to refer to the University of Alabama's football team as "The Thin Red Line". Before that, the team was simply listed as "varsity" when mentioned in newspapers, or occasionally "Crimson White" which referred to their team colors. "The Thin Red Line" stuck around for a number of years until a momentous game in 1906.
In 1907, the last Alabama-Auburn matchup until 1948, took place in Birmingham. Auburn was heavily favored to win against Alabama, and "The Thin Red Line" didn't seem to have a chance. Somehow they managed to fend off Auburn into a 6-6 tie, despite the sea of thick, red mud that surrounded them on the field that day. From that day forward, the Alabama football team was known as the Crimson Tide.
Read what one reader has to say (see Tim's comments close to the bottom of that page) about the Clay Travis book,
Dixieland Delight
(amazon link above) at
Who's the Best -- It Does Matter
.
In another particularly interesting matchup of teams, another tradition was born. Longtime rivals since 1901, the University of Arkansas and Louisiana State University (LSU), upped the ante when the two became conference rivals in 1992 (the year Arkansas joined the Southeastern Conference (SEC).
The Golden Boot is a 24-carat gold statue in the shape of the two states. It stands at four feet tall, 200 pounds, and had been valued at over $10,000. Each year the schools play each other as the last game of the regular season. The winner takes home the boot and keeps it until the next year's game.
Not all traditions are rooted in rivalry. The University of Georgia found its mascot, the Bulldog, through close ties with another popular school with the same mascot. The first University President was a Yale graduate (Abraham Baldwin).
Many of the first buildings built on the Georgia campus were modeled after Yale buildings. Georgia and Yale often played against each other's football teams. Of course Yale was much better back then - check out
Best All-Time NCAA College Football Program
.
Atlanta Journal
writer Moran Blake wrote in 1920 that "the Georgia Bulldogs would sound good because there is a certain dignity and ferocity associated with both."
Georgia's Bulldog mascot has come to be known as Uga, (i.e.
U
niversity of
GA
) a white bulldog. Today's mascot, Uga is a direct descendant of the original Uga who joined the team at the Rose Bowl in 1943. Uga V was in the movie "Midnight in the Garden of Good and Evil" and has appeared on a famous
Sports Illustrated
Magazine cover.
Silver Britches are another Georgia tradition that date back to 1939. Then coach Wally Butts designed the striking uniform, pairing silver pants with red jerseys that made the team really stand out. [Read more about this era of Georgia football at
Top All-Time SEC Offensive Football Player
.] The Bulldogs wore the uniform until Coach Vince Dooley made the switch to white pants in 1964.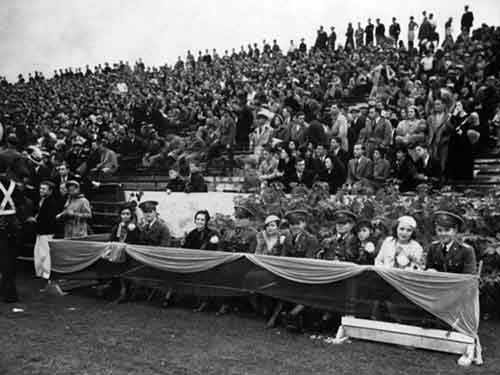 Gator fans watch the 1930 homecoming game against Alabama. Thanks to Historic Photos of University of Florida Football for this picture.
You can buy the book and read about and see many similar photo's by clicking on this amazon.com ad:
---
Then, in 1980, Dooley changed the uniforms back to their original silver pants. Now, it could be a coincidence, or truth behind superstition, but the Bulldogs had their best season ever that year. The 1980 Georgia Bulldogs, sporting silver pants, went an undefeated 12-0 and were SEC Champions and National Champions. See
Best All-Time SEC Football Team
.
Some of the greatest traditions are those that take place before the game. America's favorite pregame pastime is tailgating, and no one does it quite like the University of South Carolina (USC) Gamecocks.
About fifteen years ago, a local couple decided they were tired of looking at the railroad tracks that sit just south of the USC football stadium. So, in 1990, they opened the
Cockaboose Railroad
that caters to the thousands of tailgaters that gather before each USC home game. Amenities such as running water, cable and air conditioning make tailgating better than ever. For the diehard fans unable to travel with the team, each Cockaboose is equipped with a closed circuit video feed of USC's away games.
Whether it is a pregame or postgame tradition; a fan custom; one done by players, students, fans or all of the above; traditions are the foundation of a great football program. Traditions pull people of all walks of life together and give them a common ground and bonds the hearts of players and fans. Without traditions, we'd just be watching a group of men chase a funny shaped ball. We probably wouldn't be watching at all. Because of traditions, when you watch a college football game, you're watching history.
Speaking of SEC football traditions, here's an entertaining
Tennessee Tailgate Story
. To read more about Southeastern Conference (SEC) Football rivalries, check out
Best All-Time SEC Football Rivalry Games
.
---
Learn more about Origins of SEC School Colors.
What do you think?


We'd love to hear your comments and/or opinions. If you submit them here, other visitors can read them, rate them and comment on them. An e-mail address is not required.

What Other Visitors Have Said
Click below to see contributions from other visitors to this page...

---
Best All-Time SEC Football Coach | All-Time Best SEC Football College | Best All-Time SEC Football Player | Top All-Time SEC Offensive Football Player | Top All-Time SEC Defensive Football Player | Best All-Time SEC Quarterback | Best All-Time SEC Football Rivalry Games | Best SEC Football Stadium | Best All-Time SEC Football Team | Top All-Time SEC Offensive Football Team | Top Offensive Rushing Team in SEC History | Biggest All-Time SEC Football Victory |
---
From SEC Football Traditions to SEC Football | SEC Sports Blog | SEC Football Blog | SEC Basketball | SEC Women's Basketball | SEC Baseball | SEC Track and Field | SEC Swimming and Diving | SEC Tennis | SEC Golf | SEC Gymnastics | SEC Soccer | SEC Softball | SEC Volleyball | Best College Sports Conference | College Football Bowl History | BCS Controversy | SEC vs Big Ten Debate | SEC Sports News | Current SEC Sports News | SEC Sports Pictures and Videos | SEC Sports Fan Forum | College Sports Blogs | College Football Association | SEC Sports Fan Trips | College Sports Gift | Fathead | College Sports Tailgate Party Shop | College Sports Merchandise | College Sports Apparel | SEC Sports Fan Store | SEC Football Tickets |
---
Home Page

About Us | Contact Us | Site Search | Advertise | Terms of Use |
---