All-Time Best SEC Football College
Which is the All-Time Best SEC Football College?

Impressive win-loss records, dazzling comebacks, the greatest players, memorable coaches, Bowl victories, and the most SEC and National Championships (and many other factors) go into making a particular college the Best SEC Football school in history.

Here's our list of the all-time best SEC football colleges. We'll start with #5.
#5 -- Florida
Florida had quite a run in the 90's and 2000's. Enough to move them into the top 5 all time. Historically, there isn't much to say about Florida football until Steve Spurrier arrived in 1990. During Spurrier's 12 years at Florida, the Gators went 122-27-1, with 11 bowl games; 7 SEC Championships and two National Championships. Urban Meyer has continued the Gators' winning tradition by winning the 2006 SEC and National Championships.

#4 -- Auburn
Auburn Tigers football has a history of tenacious defense and great offensive stars. They led the nation in total defense in 1957, 1958, 1964, and 1988. Their offensive stars have included Heisman Trophy winners, Pat Sullivan (1971) and Bo Jackson (1985). Auburn won SEC championships in 1957, 1983, 1987, 1988, 1989, 2004 and 2010. In 2004, Auburn found itself in the middle of the BCS controversy when it went undefeated (12-0) in the regular season (13-0 after their bowl victory), but was not picked for the BCS championship game, and thus denied an opportunity for a national championship. Many believe to this day that Auburn should have been the 2004 College Football BCS National Champion.
But, that is an issue for another day....

#3 -- LSU
Death Valley (home of the LSU Tigers) is one of the toughest places to play in the SEC. Louisiana State University has had 38 Bowl appearances. In 2003, under Nick Saban's leadership, they won the National Championship with a 13-1 record. Then again, led by Les Miles in 2007. In the 2007 NFL draft, LSU QB JaMarcus Russell was the first pick in the draft. Amazingly, three other LSU Tigers were also drafted in the 1st round. That was a powerful example of the kind of talent LSU regularly puts on the football field.

#2 -- Tennessee
"Good Old Rocky Top" - General Bob Neyland, Johnny Majors, Reggie White, Peyton Manning, "Wide Receiver U" - it goes on and on. So many names. So much football tradition. The Tennessee Volunteers have one of the richest history's in college football. There is nothing quite like seeing the Vols run through the "T" at a packed Neyland Stadium. The Vols have been to 46 bowl games (through the 2006 season). They have won five national championships (4 under General Neyland; 1 under Phil Fulmer). The Big Orange is also well known for sending talent to the NFL. Players like Reggie White, who played for the Vols from 1980 to 1983, and retired from the NFL after the 2000 season as the NFL's all-time quarterback sack leader with 198 career sacks. As for the Super Bowl, at least one former Volunteer has played in every match-up since 1992, such as Steve Kiner (1971), Chris Mims (1995); Marcus Nash (1999), and of course, 2007 Super Bowl MVP Peyton Manning. This reader thinks Tennessee should be #2 (and now they are!).

Tony Nathan scores first TD in Alabama drubbing of Ohio State (35-6) in the 1978 Sugar Bowl.

#1 -- Alabama
History, Tradition, Crimson Tide. Alabama's rich football heritage makes them the top all-time SEC football program. 14 National Championship trophies says it all. 1925, 1926, 1930, 1934, 1941, 1961, 1964, 1965, 1973, 1978, 1979, 1992, 2009 and 2011 seasons. Out of 54 appearances in various Bowl games, Alabama has earned 30 wins (through 2006; it's more now....) both the most for any team in NCAA history).

Displaying outstanding effort and achievement, 19 former players and coaches have been inducted into the College Football Hall of Fame, such as Paul Bryant (Right End, 1933-35); John Hannah (Guard, 1970-72); Cornelius Bennett (Linebacker, 1983-86); Frank Howard (Guard, 1928-30); and Johnny Mack Brown (Halfback, 1923-25).

Then there's Paul "Bear" Bryant, the best football coach in the history of the SEC.


William G. Little was a native of Livingston, Alabama. He is credited with bringing football to Tuscaloosa from Phillips Exeter Academy in Andover, Massachusetts. His son, William, played for Bama in 1920 and 1921.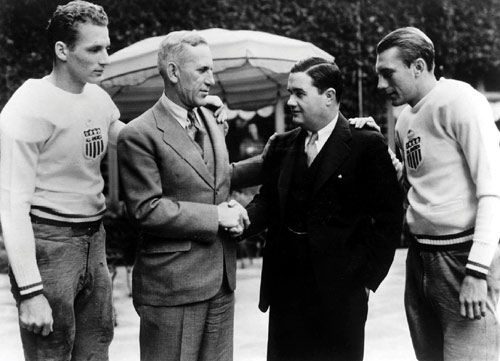 Alabama's coach Frank Thomas shakes hands with USC coach Howard Jones before the New Years Day 1935 Rose Bowl. Two of Bama's stars, Don Hutson is left and Dixie Howell on the right.


To read more about Alabama's football program, check out Best All-Time NCAA College Football Program.


What do you think?


We'd love to hear your comments and/or opinions. If you submit them here, other visitors can read them, rate them and comment on them. An e-mail address is not required.

What Other Visitors Have Said
Click below to see contributions from other visitors to this page...

By
Mo Johnson
, Copyright © 2006-2017 SECSportsFan.com