2010 Georgia Bulldogs Football
The most current info is at 2011 Georgia Bulldogs Football Preview

Check out this new Georgia Bulldogs Sports Blog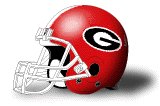 The Georgia Bulldogs came on strong at the end of the year and look to end 2010 even stronger with a Liberty Bowl win over the University of Central Florida. The game will played in Memphis on New Years Eve.

Get your tickets at Georgia vs UCF Liberty Bowl Tickets.

You can read a preview of the game at Georgia vs UCF Preview. Read about other bowl games SEC teams are in at SEC Bowl Previews.

Read about the 2011 Bulldogs recruiting class at 2011 College Football Recruiting Rankings and 2011 SEC Football Recruiting Summary.

It's been a tough year for Georgia football. Still, a win over in-state rival Georgia Tech on Nov. 27 will still land UGA in a bowl game. Get your Georgia Bulldogs Football Tickets.

Check out our preview of each Georgia Bulldogs Football Game at SEC Football Blog. Here's a review and analysis of the South Carolina loss: Georgia Falls to South Carolina 17-6. That was followed up by losses to Arkansas and Miss. State. Is Mark Richt on the hot seat?

Earlier this spring the only bulldog getting attention was "Blue" of Butler University, but as the hoop games have faded away, early thoughts of the bulldog with the fire-red, air-conditioned doghouse stationed on the football field come to Georgia fans' minds. Which brings up two very important questions to answer before both mascot and team take the field in Sanford Stadium this September. Who will be leading the Dawgs as quarterback this year? And what dog will be chosen to begin the 54th anniversary of the Uga legacy for the 2010-11 season? For Georgia, replacing the real bulldog may prove easier than replacing the graduated senior Joe Cox at the QB position.

The spring practices at UGA feature a three player pursuit to take the place of Cox who passed for 2,584 yards and 24 touchdowns in 2009. Junior Logan Gray and red shirt freshmen Aaron Murray and Zach Mettenberger are the current contenders. All three have been active in taking snaps during the spring practices. Head Coach Mark Richt: "I believe those guys are athletic enough to add a little bit of quarterback run, run a little zone read, run a little quarterback draw." A likely favorite has yet to materialize; however, it is probable that Mettenberger will be suspended from the opening game on September 4th for some off-field misdemeanor charges. The quarterback decision could be pivotal to the success of the Bulldog season and the SEC is one tough "classroom" in which to learn.

"Uga VI" - University of Georgia Official Georgia Bulldog Mascot. Thanks to Brian Ussery at wikipedia for the picture.


On the defense, Georgia is in "re-training" mode as the new defensive coordinator Todd Grantham schools his players on his 3-4 system. This change from previous defensive coordinator Willie Martinez's 4-3 scheme, could prove to introduce some painful lessons and will be something to watch as it is implemented and then tested by SEC opponents. Replacing safeties Nick Evans and Reshad Jones are potentials Nick Williams who played in 10 games with one start last year and 4 tackles in the game against Auburn, as well as Bacarri Rambo who had play time in 11 games and 25 tackles. Newcomer Jakar Hamilton, a transfer from Georgia Military College, could also compete for playing time with his sharp closing speed and tackling ability.
Working the nose position during practice has been Kwame Geathers in addition to Abry Jones and DeAngelo Tyson playing both nose and defensive end. All three of these players could step up to make significant contributions in this defensive switch. After some of last year's stats, sacrificing 30 or more points in four games and 40 or more points twice, it is hopeful that the new defense will instigate some much needed improvement on this side of the ball, but it also will require more discipline from the players.

Georgia Bulldogs Scores. Thanks to johntrainor at flickr.com for the picture.


The Bulldog offensive line endured some season-ending damages in 2009 with Tanner Strickland out with a shoulder injury and offensive tackle Trinton Sturdivant's knee injury. Regaining the health and stamina of the offensive line will be essential to jumpstarting the Georgia season. Recruit Kolton Houston, an early enrollee from Buford, GA, has seen some playing time this spring due to these veterans recovering and with his aggressiveness and versatility he could be called on to give of his talent early.

Georgia will have the benefit of one of the top SEC receivers on their experience list with junior A.J. Green. Green had 808 receiving yards and 6 touchdown catches last season for the Dawgs and was selected for the 2009 All-SEC First Team by the Associated Press. Green is also working on returning punts during the spring drills as Coach Richt looks to replace the graduated Prince Miller. You can read more about AJ Green and UGA's great placekicker Blair Walsh in the comments on this page: Southeastern Conference Mascots.

Providing power at the tailback position is Caleb King, who despite injuries early in the season, accumulated 594 yards and 7 touchdowns for the year. Washaun Ealey, also at tailback, who as a true freshman stacked up 717 rushing yards and three touchdowns of his own, adds to the potential strength of the offensive line.

Georgia's out of conference opponents in the next season should not pose too much of a threat to a positive win/loss ratio, as typically is the case, their toughest obstacles to leading the SEC East will be their fellow Southern teams. Going into the season they need to make their adjustments quickly and efficiently in order to be in a strong position to take on Florida on October 30th and give them a run for SEC East dominance. The Bulldogs start the fall off as #4 in the SEC overall nipping at the tails of the also transitioning Gators while the fans of the Bulldog Nation await a definitive quarterback answer.


University of Georgia Bulldog 2010-11 Football Schedule:
Bold = Home Game.     * = Conference

| Date | Vs. |
| --- | --- |
| 9/4 | University of Louisiana-Lafayette |
| 9/11 | South Carolina* |
| 9/18 | Arkansas* |
| 9/25 | Mississippi State* |
| 10/2 | Colorado |
| 10/9 | Tennessee* |
| 10/16 | Vanderbilt* |
| 10/23 | Kentucky* |
| 10/30 | Florida* at Jacksonville |
| 11/6 | Idaho State |
| 11/13 | Auburn* |
| 11/27 | Georgia Tech |
---
More Georgia Bulldogs Football Pages:
---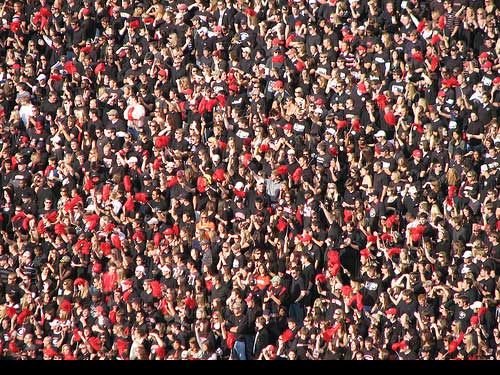 Georgia Bulldogs student section "Black Out" at Sanford Stadium. Thanks to klondike_kid at flickr.com for the picture.


What do you think?

We'd love to hear your comments and/or opinions. If you submit them here, other visitors can read them, rate them and comment on them. An e-mail address is not required.

What Other Visitors Have Said
Click below to see contributions from other visitors to this page...

By
Mo Johnson
, Copyright © 2006-2017 SECSportsFan.com