Best All-Time SEC Football Rivalry Games

When it comes to SEC rivalries - there are many. In fact, every team in the SEC has major rivalries with at least two other SEC schools. So, picking out the five best all-time SEC football rivalry games is a real challenge. Here's our best effort, starting with #5.
#5 -- Auburn vs. Georgia (1996)
Football rivalries are known to include the players, coaches, and fans, but what happens when the mascots get involved? At the November 16th, 1996 game between Auburn University and the University of Georgia, the Deep South's Oldest Rivalry took a comical turn.
But not for Auburn wide receiver, Robert Baker, who received a nip from the bulldog mascot. The act would turn into one of the most famous moments associated with the rivalry. Did it help? Perhaps. Georgia beat Auburn in a 56-49 win.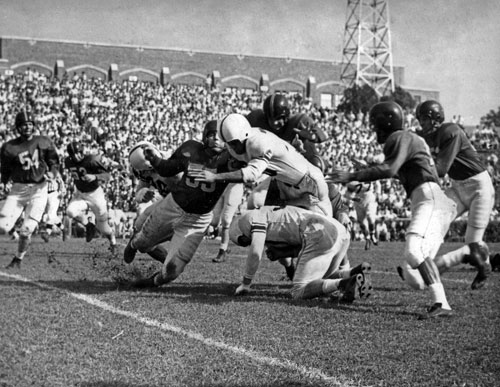 Defense usually wins rivalry games and defense was certainly the hallmark of the Gator's teams in the 1950's, coached by Bob Woodruff (who played at Tennessee under Bob Neyland). Thanks to Historic Photos of University of Florida Football for this picture.


You can buy the book and read about and see many similar photo's by clicking on this amazon.com ad below right:

#4 Florida vs. Georgia (1970)
All-American defensive end, Jack Youngblood led the Gators to one of its most exciting wins ever and one of the top all-time SEC football games in history. As Georgia led the game (17-10), the ball was positioned at the Gator 2-yard line and Georgia was poised for the knockout blow. But, Youngblood rose up and created a brick wall that Georgia running back, Ricky Lake, could not penetrate. A fumble followed and Youngblood fell on the ball. With a two-touchdown pass effort from John Reaves and Carlos Alvarez, Florida came back to beat the Bulldogs.

#3 LSU vs. Georgia (2003)
It is often said that defense wins big football games. Many consider the 2003 LSU - Georgia game to be one of the best defensive games of all-time. LSU pulled it out and went on to win the National Championship. By this time sports betting had become big so no doubt if you attended that game you would have heard many talking about the
live betting options on today's football matches at William Hill
.
#2 LSU vs. Auburn (1988)
One of the most memorable SEC games was dubbed the "Earthquake Game" when LSU met Auburn at LSU's Tiger Stadium, creating a crowd reaction so spirited that it was felt on a seismograph located in the LSU Geology Department. LSU beat Auburn 7-6, in a game in which LSU QB, Tommy Hodson, threw the winning TD pass to running back, Eddie Fuller in the game's final seconds.

#1 Auburn vs. Alabama (1972)
In picking the best all-time SEC football rivalry game, what could be better than an intra-state grudge match between two teams, led by legendary SEC coaches and resulting in a huge upset! The Iron Bowl is an annual clash between Auburn University and the University of Alabama. On December 2nd, 1972, this particular match-up led to the upset of the #2 ranked and undefeated Alabama team led by coaching legend, Bear Bryant. Despite entering the game as a 16-point favorite over Shug Jordan's Tigers, the "tide" turned in the last ten minutes. The game eventually earned the nickname, "Punt Bama Punt," because, with Auburn trailing 16-3, the Tigers blocked two straight Alabama punts and returned them both for touchdowns for a 17-16 Auburn victory.
The Bama - Auburn Iron Bowl match-up was selected as the Biggest all-time college football rivalry.

Here's to SEC football rivalries!

To read more about the history and pageantry of SEC football, check out SEC Football Traditions.

There have been so many great rivalry games in the SEC that the none of the great "Third Saturday in October," Alabama vs Tennessee, games made the the cut (for this article anyway). But, UT vs Bama is a classic. You can read all about it in this book Third Saturday in October.

Similar stories are located on the following pages:

Longest Uninterrupted SEC Rivalries (through 2010)
| Games | Series | First Games |
| --- | --- | --- |
| 95 | Ole Miss-Mississippi State | From 1915** |
| 91 | Tennessee-Kentucky | From 1919** |
| 91 | Auburn-Georgia | From 1919** |
| 86 | Georgia-Georgia Tech | From 1925 |
| 70 | Alabama- Tennessee | From 1944** |
**~Neither team fielded a team in 1943 due to World War II

Most Consecutive Wins Over an SEC Opponent (through 2010)
| Games | Series | First Games |
| --- | --- | --- |
| 26 | Tennessee over Kentucky | 1985-current |
| 22 | Alabama over Mississippi State | 1958-1979 |
| 22 | Tennessee over Vanderbilt | 1983-2004 |
| 19 | Vanderbilt over Ole Miss | 1894-1938 |
| 17 | LSU over Tulane | 1956-1972 |
What do you think?


We'd love to hear your comments and/or opinions. If you submit them here, other visitors can read them, rate them and comment on them. An e-mail address is not required.

What Other Visitors Have Said
Click below to see contributions from other visitors to this page...

By
Mo Johnson
, Copyright © 2006-2017 SECSportsFan.com