2010 Tennessee Volunteers Football Review
The most current info is at 2011 Tennessee Volunteers Football Preview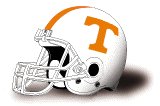 Congratulations to the Tennessee Volunteers -- on winning their final 4 games to get a bowl bid. [As we predicted, by the way.] Unfortunately, the ball didn't bounce the Vols way in the Music City Bowl as they lost to North Carolina 30-27 in double overtime.

There were a number of calls and bounces that went against the Vols down the stretch. For the second time this year, the scoreboard went to 00:00; with the Vols apparently having won the game; fans, players, coaches rushing the field; only to have an officials review put time back on the clock and ultimately result in the Vols losing the game. Wow. Hearbreaking especially for freshman QB Tyler Bray who threw a big INT in the second OT. BUT, the future is bright my Vol fan brethren. Tyler is a freshman, so is the heart of the offensive line; wide receivers and many others.

Things are looking up for the Orange Nation. We think the Vols will be competitive for the 2011 SEC East crown.

Get your 2011 Tennessee Volunteers Football Tickets now!

Read about the 2011 Tennessee recruiting class at 2011 College Football Recruiting Rankings and 2011 SEC Football Recruiting Summary.

Impressive wins against Memphis, Ole Miss, Vandy and Kentucky have completely turned the season around in Knoxville. Now we await our bowl bid -- likely the Music City Bowl against Maryland or North Carolina. I actually predicted in August that the Vols would finish 6-6 and get a bowl game. And, that's exactly what happened. Great job by Derek Dooley, holding the team together until a true star emerged. Freshman QB Tyler Bray is making me really excited about the future of Tennessee Volunteers Football.
Prior Discussion: I was pretty pumped about that first half against Oregon. But, we got pummeled in the second half. Would love to pick the Vols to upset the Gators who have looked spotty so far. I just don't think it will happen, but maybe the young Vols can put together two halfs and pull it off. Would be sweet....

Loved the Vols first game. 50-0 win over Tennessee-Martin. Much better than could be expected. Of course it was a minor team, but still, was a surprising performance. I also thought the team looked disciplined and acted like they had honor, integrity, respect. I liked the interview after the game with one of the players. Just lots of little things i really liked. Was proud of the team and the way they held themselves. Haven't been able to say that for a long time really. Even under Fulmer things got increasingly undisciplined. So, needless to say, I'm very impressed. Of course, again, it's only one game. Still Dooley has them going in the right direction. Just hope Vol fans are ok with a 6-6 record. I'll be. They'll get better and better in future years if they stick with Dooley.

I am holding out some hope for beating Oregon next week. But that would REALLY be a big (and wonderful) surprise.

Now that Lane Kiffin is "California Dreamin" on some other school's payroll, the Tennessee Volunteer fans look to new head coach Derek Dooley to bolster a wounded program that longs for the good old days of passionate football when the unofficial game-time song, Rocky Top, was heard loud and clear in the SEC. But Tennessee fans may still be a couple of seasons away from getting Smokey to howl with excitement based on the multiple challenges the Volunteers face in establishing a team able to compete in the top rankings again.

Check out this Lane Kiffin Commentary.

A common theme in the SEC this year that Tennessee is unfortunately a part of: the quarterback replacement dilemma. Jonathan Crompton, after a success-story year under Coach Kiffin (2,8oo yards and 27 touchdowns), moves on and the next UT leader is undetermined likely until August. At first it would seem that Senior Nick Stephens would have "dibs" at the QB position, but Stephens after starting his Vol career by throwing 106 consecutive passes without an interception, the best start to a UT career, has gone the route of his former coach and departed from the team. So now the Volunteers are left to make up for his notable stats in 2008 (seven games of play: 840 yards, 4 touchdowns and 3 interceptions). The hopes are for junior Matt Simms who is certainly a worthy competitor for the leadership role. Matt, the son of former Super Bowl champion quarterback Phil Simms, enrolled at Tennessee in January from El Camino Community College where he amassed 2,204 yards and 17 touchdowns in 10 games of play. Supplementing Simms and while initially thought as talent further down the road is Tyler Bray, a freshman from Kingsbury, CA who is getting some practice time this spring. The key words used by Coach Dooley for the success of the next quarterback: decision, accuracy, and emotional composure when things get physical.

Credit for the outstanding photos above to flickr.com/photos/motionblur except that credit for pictures 1, 2, 4, 12, and 14 to to flickr.com/photos/royce58. Some rights are reserved for these photos.


In addition to the foggy quarterback position, the Volunteers have compound areas of concern when it comes to depth on both lines and at linebacker. As Derek Dooley put it, "We need to find out what's our discipline level, what's our toughness level, what's our effort level on every play." Missing from the spring practices to assist in that evaluation are three defensive starters all re-cooperating from injuries: Art Evans (CB), Nick Reveiz (LB) and Savion Frazier (LB). Aaron Douglas who was an experienced player and expected to be the line's leader as right tackle has left the team leaving an area desperate for talent. William Brimfield (OG) is also now absent from the squad further dwindling the depth in an already slim zone on the offense.

| | |
| --- | --- |
| On bright notes for Vol fans, the wide receiver position has a solid foundation with the return of Gerald Jones and Denarius Moore. The combined strength of these two players accounted for 86 receptions, 11 touchdowns and 1,220 yards in the 2009 season. Supplement these promising contributors with tight end Luke Stocker (five touchdowns and 29 catches) and whoever is the new quarterback, he should have dependable ways to sustain his momentum. On the defensive end, Ben Martin and Chris Walker are welcomed back with experienced ability ready to step up in the 2010 season as true play makers. Newcomers of note: JerQuari Schofield (OG) may have the opportunity to play earlier than he anticipated and Jacques Smith (DE), who remained loyal to his commitment to UT after Kiffin left, also is slated as a future contributor. | Thanks to JEFFHREED at flickr.com for this photo of the Tennessee Smokey Mascot. |
While the new coach finished out well on signing day, managing a top ten recruiting class nationally, the benefits of that recruitment class will not ease the stress of the major depth worries for the team this year, and possibly not for two seasons. The Volunteers were already predicted to struggle prior to Lane Kiffin's hasty departure and with so much vital development still in the works, it leaves Tennessee with the reality of another 7-6 season. The Volunteer schedule does them no favors, despite challenging the Gators at home, especially in the month of October when they play four consecutive conference games (LSU, Georgia, Alabama and South Carolina) with three of those played on the opponent's home turf. The faithful Tennessee fans will don their orange and white, but Smokey will be howling the blues as the Volunteers fight to have a winning record and head into the 2010-11 season as #8 overall in the SEC.

University of Tennessee Volunteer 2010-11 Football Schedule
Bold= Home Game.     * = Conference

| Date | Vs. |
| --- | --- |
| 9/4 | Tennessee-Martin |
| 9/11 | Oregon |
| 9/18 | Florida* |
| 9/25 | UAB |
| 10/2 | LSU* |
| 10/9 | Georgia* |
| 10/23 | Alabama* |
| 10/30 | South Carolina* |
| 11/6 | Memphis |
| 11/13 | Mississippi* |
| 11/20 | Vanderbilt* |
| 11/27 | Kentucky* |
If you are looking for a fun Tennessee football fan story, check out this Tennessee Tailgate Story. Then, you can get your 2010 Tennessee Volunteer Football Tickets.


---
More Tennessee Volunteers Football Pages:
What do you think?

We'd love to hear your comments and/or opinions. If you submit them here, other visitors can read them, rate them and comment on them. An e-mail address is not required.

What Other Visitors Have Said
Click below to see contributions from other visitors to this page...

By
Mo Johnson
, Copyright © 2006-2017 SECSportsFan.com