SEC Football Week 13 Review
Rivalry Week in the SEC was everything we thought and hoped it would be. Incredible comebacks, games that went down to the final seconds and upsets all marked a Thanksgiving weekend of great football.
Let's look at the week that was in the SEC:
Auburn 28 – Alabama 27
In one of the most exciting games in SEC history, Auburn kept alive their hopes for a National Championship as they came back from a 24-point deficit to beat their archrivals from Tuscaloosa 28-27.
Bama had a chance to put Auburn away before halftime, but a Mark Ingram fumble through the end zone, a Trent Richardson dropped pass that would have gone for a touchdown and a Greg McElory sack and fumble that took away another scoring opportunity was a harbinger of bad things to come for Alabama. When that happens, you know something weird is about to take place, and sure enough, it did.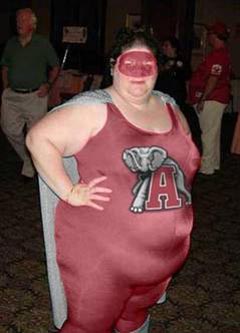 Cam Newton pulled a Pat Sullivan on Friday. Sullivan was the front-runner for the Heisman Trophy in 1971, but needed a huge game against Georgia to clinch the trophy. He got it in a 35-20 Auburn victory and won the award a few weeks later.
Newton had the same type of performance with four touchdowns (three passing, one rushing) as the victory, and the way it was achieved, will be enough to give Auburn it's third Heisman Trophy winner.
Looks like "Super Bama" must have been late in racing to the scene to help Coach Saban and the Crimson Tide on Friday.
South Carolina 29 – Clemson 7
The SEC East champs tuned up for their championship game appearance against Auburn by trouncing their most hated rivals in Clemson Saturday night 29-7.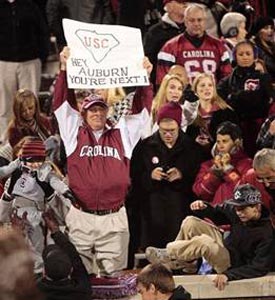 Photo courtesy of AP/Patrick Collard.
Stephen Garcia threw for 227 yards and two touchdowns, while Alshon Jeffery had five catches for 141 yards and a touchdown.
Clemson was held scoreless for the last 58 minutes of the game. However they made up for their inept offensive by having three turnovers and a botched punt.
South Carolina has won consecutive games in this series for the first time since 1968-70, when it won three straight.
I don't know about you, but this guy is definitely not on the payroll at the Rand McNally Atlas Company. Is that the state of South Carolina on that sign? It looks like this guy got liquored up and thought to himself, "This will really look cool once I draw the state on it…"
Florida State 31 – Florida 7
The 22nd-ranked Seminoles ended a six-year losing streak against Florida with a 31-7 victory.
Florida State's 31 points were the most against Florida since 2003, which is also the last time the Seminoles beat the Gators. The 24 point margin was the 'Noles third largest win over Florida in the history of the rivalry.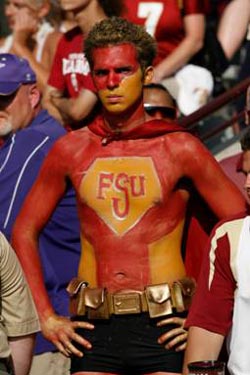 For Florida head coach Urban Meyer, it was his first loss to FSU. The five losses are the most he has ever had in his career. Jimbo Fisher became the first Florida State rookie coach in the last 50 years to beat Florida. For Urban Meyer, it was his first loss against the Seminoles.
Nothing worked for the Gators as their usual game of finesse and risk taking was stuffed down their own snouts. Among the plays that spelled defeat were a fake punt that was stopped, an interception at the end of the first half halted a scoring drive to go with two other turnovers, and a passing game that netted only 64 yards.
This guy looks like he has a case of the red ass. Gee, lighten up, Francis, your team just won the game. Hey, I wonder if he runs into that Super Bama chick down at the Hall of Justice? And I have to wonder if the Carolina guy got his drawing from this dude's chest?
Tennessee 24 – Kentucky 14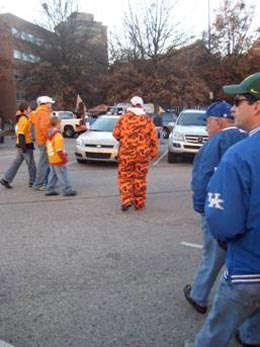 Death, taxes and Tennessee beating Kentucky in football: those are the only things for certain in life. The Vols made it 26 straight victories over their neighbors to the north with a 24-14 victory. The streak is the longest winning streak over another opponent in NCAA history.
Tyler Bray threw for 354 yards and two touchdowns, and the Vols stopped Kentucky's offense in the fourth quarter to seal the victory.
With the football season coming to a close, good to see hunting season has begun in Big Orange Country…
Mississippi State 31 – Ole Miss 23
The Egg Bowl was a one sided affair that was made closer by two fourth quarter Rebel touchdowns as Mississippi State made it two straight over Ole Miss with a 31-23 victory. The win ended a five-game losing streak for the Bulldogs at Ole Miss.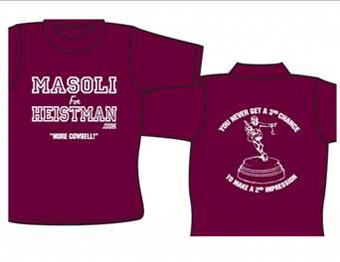 Chris Relf threw for a career-high 288 yards as the Bulldogs raced out to a 31-9 lead. The victory was MSU's eighth, which was the first time that happened since 1999. The loss dropped the Rebs to 1-7 in the SEC, which is the third time in the last six seasons they have finished 1-7 or worse.
Ole Miss QB Jeremiah Masoli ended a disappointing senior season in Oxford after transferring from Oregon over the summer. He finished with 261 yards passing with one touchdown and one interception.
Mississippi State head coach Dan Mullen has gone to the Woody Hayes school of interviewing as he calls Ole Miss "The School up North," referring to Ole Miss' location some 100 miles north and west of Mississippi State's campus.
Arkansas 31 – LSU 23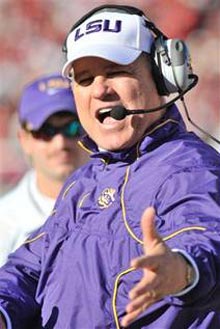 AP Photo/David Quinn.
In a pseudo-playoff game for a possible second SEC BCS spot, Arkansas rolled the dice in the fourth quarter on a fourth and three as Ryan Mallett made a perfect throw on a 39-yard touchdown pass to Joe Adams to give the Razorbacks a 28-20 lead, and eventually a 31-23 victory.
Bobby Petrino told the media after the game, "We didn't come to paint, we came to win the game". What does painting have to do with football? And you came to win the game. Hmm, doesn't every team come to the game to win?
Meanwhile, Les Miles is shown here warming up for his second career as a lounge singer. He might be heading to that gig sooner than he thinks after that loss.
Georgia 42 – Georgia Tech 34
Aaron Murray threw for three touchdowns, Justin Houston returned a fumble 18 yards for a score as Georgia made it two straight over Georgia Tech with a 42-34 victory.
Cue the circus music as both team ended the regular season with turnovers, missed assignments and poor special teams. Tech appeared to have withstood all of their mistakes to tie the game at 35, and had the momentum with only five minutes to play.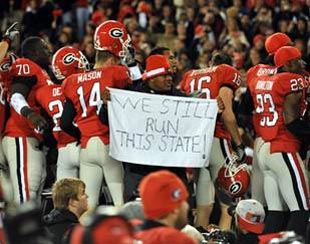 Photo Courtesy of Brant Sanderlin AJC.
However, on the simplest play for a kicker, Scott Blair hooked the extra point which ended a streak of 77 straight PATs and left the Bulldogs with a one-point lead. To make matters worse, it appeared the Bulldogs were not even rushing the kick, and were going through the motions on the play.
Anthony Allen rushed for 166 yards to lead Georgia Tech, who ran 92 plays for 512 yards and controlled the ball for nearly 38 minutes. However, Georgia turned every turnover into a touchdown and that was the difference in the game.
At 6-6, I worry about the future of the state of Georgia if these guys are running things…
Wake Forest 34 – Vanderbilt 13
Ever see those old movies when the little sick kid asks his hero to win one for him? Well, the Vanderbilt players found out before the game that their head coach, Robbie Caldwell was being canned after one season. I am sure they got together in the locker room and vowed to play one for their doomed coach.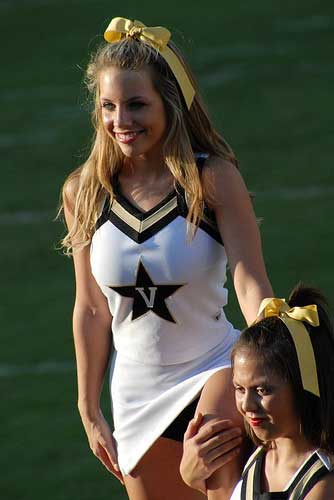 Photo Courtesy of JEFFHREED at flickr.com.
What happened? The 'Doores got shellacked 34-13 to send Caldwell out a loser. I am sure that will be on his list of most memorable moments during his time in Nashville. Then again, I am sure he is not sure whether to laugh or cry at the news he was being asked to step down as Vandy coach.
Wake Forest scored 24 first-half points to salt the game away early. The win snapped a nine-game losing skid, which was the longest active streak in the FBS. Josh Harris rushed for 138 yards to lead the Deacs.
Since the game was so ugly for the Commodores, here is something from the Vandy sidelines that might make up for it.
Check out Coach Scooter's prediction for the 2010 SEC Football Championship Game at Auburn vs South Carolina Preview.
---
What do you think?

We'd love to hear your comments and/or opinions. If you submit them here, other visitors can read them, rate them and comment on them. An e-mail address is not required.

---
SEC Football 2010 Week 13 Preview | SEC Football 2010 Week 12 Review | SEC Football 2010 Week 12 Preview | SEC Football 2010 Week 11 Review | SEC Football 2010 Week 11 Preview | SEC Football 2010 Week 10 Review | SEC Football 2010 Week 10 Preview | SEC Football 2010 Week 9 Review | SEC Football 2010 Week 9 Preview | SEC Football 2010 Week 8 Review | SEC Football 2010 Week 8 Preview | SEC Football 2010 Week 7 Review | SEC Football 2010 Week 7 Preview | SEC Football 2010 Week 6 Review | SEC Football 2010 Week 6 Preview | SEC Football Week 5 Review | SEC Football 2010 Week 4 Review | SEC Football 2010 Week 4 Preview | SEC Football 2010 Week 3 Review | SEC Football 2010 Week 3 Preview | SEC Football 2010 Week 2 Review | SEC Football 2010 Week 2 Preview | SEC Football 2010 Week 1 Review | SEC Football 2010 Week 1 Preview | Tennessee Tailgate Story | My Ideas To Make College Football Better | 2010 Preseason College Football Conference Comparison | Origins of SEC School Colors | History of SEC School Mascots | College Football Books and Videos | Cam Newton For Heisman | 2010 Pre-season All-SEC Football Team | 2010 Pre-season All-SEC Freshman Team | Conference Realignment Analysis | 2010 SEC Football Spring Practice Dates | Lane Kiffin | Alabama vs Texas BCS Championship Game Review & Analysis | Best All-Time SEC Football Coach | College Football Yesterday and Today |
---
From SEC Football 2010 Week 13 Review to SEC Football Blog | SEC Sports Blog | SEC Football | SEC Basketball | SEC Women's Basketball | SEC Baseball | SEC Track and Field | SEC Swimming and Diving | SEC Tennis | SEC Golf | SEC Gymnastics | SEC Soccer | SEC Softball | SEC Volleyball | Best College Sports Conference | College Football Bowl History | BCS Controversy | SEC vs Big Ten Debate | SEC Sports News | Current SEC Sports News | SEC Sports Pictures and Videos | SEC Sports Fan Forum | College Sports Blogs | College Football Association | SEC Sports Fan Trips | College Sports Gift | Fathead | College Sports Tailgate Party Shop | College Sports Merchandise | College Sports Apparel | SEC Sports Fan Store | SEC Football Tickets |
---
Home Page

About Us | Contact Us | Site Search | Advertise | Terms of Use |
---