Lane Kiffin Commentary and Analysis
How and Why Does Lane Kiffin Keep Getting Hired?
On January 10th 2010, future College Hall of Fame coach Pete Carroll announced his resignation as head coach of the University of Southern California Trojans. Faced with replacing a brilliant tactical mastermind in Carroll and armed with a mandate to extend the Trojan's incredible 83-19 record into the next decade, the USC Athletics Department hired a respected, influential coaching great named...Lane Kiffin?
Lane Kiffin? No wait that can't be right. What has Lane Kiffin accomplished thus far in either collegiate or professional football to be hired as the successor to Pete Carroll and the face of the most iconic name in collegiate sports? The answer, of course, is nothing. Yet, this is, in many ways, the perplexing story of Lane Kiffin's career: a mesmerizing journey of mediocrity, outright failure, and endless controversy and scandal that has nonetheless led to undeserved fame and constant promotion.
You don't believe me? Well I suppose it would be sensible for you not to; Kiffin's career arc is counter-intuitive to say the least. After an unremarkable college career as a quarterback at Fresno State, Kiffin served without distinction as an assistant at his alma mater in 1997-1998, the offensive line coach at Colorade in 1999, and a minor assistant on the Jacksonville Jaguars assistant in 2000. However, despite that, Kiffin was inexplicably hired as the USC wide receivers coach in 2001.
To be fair, Kiffin's (sometimes mispelled "Kiffen") initial coaching career at USC was hardly a failure. In his time as wide receivers coach, Kiffin was an integral part of the 2005 championship offense and developed a number of high profile wide receivers including future Carolina Panthers standout Steve Smith. However, Smith's NFL success was the outlier and the vast majority of Kiffin's wide receiver mentees-Patrick Turner, Fred Davis, Dwayne Jarrett, Mike Williams, Keary Colbert, and Kareem Kelly amongst them-failed to live up to their NFL potential. Therefore, though it can hardly be considered a complete failure, Kiffin certainly did not maximize the talent available to him during his tenure as USC wide receivers coach.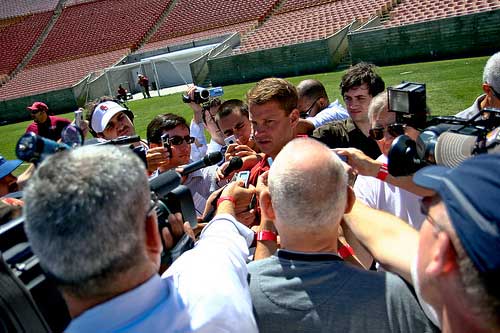 USC Trojans new (and controversial) head coach Lane Kiffin takes questions after the 2010 Spring Football Game. Thanks to modenadude at flickr.com for this Lane Kiffin photo above.
---
Nonetheless, despite these questions, Kiffin was promoted over his more qualified coworker DeWayne Walker as USC Offensive Coordinator in 2005. While Kiffin's offenses broke a number of records and recorded an 88% win percentage, his tenure was nonetheless the subject of future controversy that has cast doubt on his success. First, many of Kiffin's best achievements as OC were accomplished in 2005, which was the now infamous Reggie Bush Heisman-winning year. Furthermore, while USC had another strong season in 2006, it ended with a major upset loss to UCLA that took the Trojans out of the title conversation. Ultimately, Kiffin served only two years as OC and largely coached an offense that Offensive Coordinator legend Norm Cho built....hardly a track record of exceptional success.
However, Al Davis liked Kiffin's potential and made him the youngest NFL head coach in history at 32 to begin the 2007 season. This proved to be a bad decision as Kiffin oversaw the controversial (read awful) decision to draft JaMarcus Russell 1st overall (despite the LSU's product's lack of football IQ and third round grade) and put up a 5-15 record as a head coach over two seasons. His embarrassing tenure was capped by an unceremonious exit (punctuated, as all firings involving Al Davis are, by a lawsuit) and his father, famed NFL defensive guru Monte Kiffin, was forced to step in to save his son's career by pledging to join him at the University of Tennessee as defensive coordinator. In his lone Volunteer season, Kiffin led the team to a semi-respectable 7-6 record, but Tennessee was embarrassed in a 23 point blowout loss to Virginia Tech in the Chick-Fil-A bowl. Moreover, it was Monte Kiffin's ability to create an excellent defense (one that held its high-scoring SEC opponents to under twenty points per game), which propped up the Volunteer's anemic offense and even allowed them to approach respectability. It was a season of controversy, various recruiting scandals, trading insults with Florida's Urban Meyer, etc -- backed up by mediocrity on the field.... So how is it possible that it was Lane Kiffin who got the call to become the new head coach of the mighty USC Trojans? One of the top 2 or 3 football progams in the country (some say #1)??
The honest truth is that Kiffin's rapid rise is inexplicable-at least from a rational perspective. Although Kiffin certainly has connections-his father foremost amongst them-and did not abjectly fail as an assistant, these factors would only serve to get him his opportunity as a head coach, an opportunity he failed at miserably with the Raiders. Beyond that, his job with the Tennessee Volunteers can be explained away as his father's intervention; but the USC job...inexplicable.
Kiffin certainly has moxie and charisma, but is that enough to be a great coach? Kiffin's record up to this point suggests it is not. Perhaps USC will wake up one day to smell the coffee and Kiffin's miraculous career rise will end as fast as it began. Actually, with the very latest lawsuit by the Tennessee Titans against Lane Kiffin and USC for Kiffin's indescretions in stealing away a Titans coach -- maybe this will force USC's hand a bit.
If not now, then after another year of various scandals (they seem to be attracted to Lane), undoubtedly USC will part company with the Kiffster -- but where will he land next? Who will sign the next contract with Lane Kiffin? See the comments below for some ideas.
There are many very funny Lane Kiffin songs and videos poking fun of Lane Kiffin. Many of them were made by irate Tennessee fans after Lane quit Tennessee and fled Knoxville (to move to California) in the dead of night. Here's one for your entertainment:
You also might be interested in this Lane Kiffin Biography.
Thanks to Paul Grossinger, SEC Sports Fan Senior Staff Writer, for this commentary and analysis about Lane Kiffin.
What do you think?

We'd love to hear your comments and/or opinions. If you submit them here, other visitors can read them, rate them and comment on them. An e-mail address is not required.

What Other Visitors Have Said
Click below to see contributions from other visitors to this page...

Lane Kiffin Will Be Out Of Work Soon Not rated yet
Very good and accurate read. Kiffy will find himself with living under an overpass in the near future. I can assure you it will not be in So CAL or SEC …
Lane Kiffin Will Be Out Of Work Soon Not rated yet
Very good and accurate read. Kiffy will find himself with living under an overpass in the near future. I can assure you it will not be in So CAL or SEC …
---
Alabama Coach -- Nick Saban Biography | Arkansas Coach -- Houston Nutt Biography | Auburn Coach -- Tommy Tuberville Biography | Georgia Coach -- Mark Richt Biography | Kentucky Coach -- Rich Brooks Biography | LSU Coach -- Les Miles Biography | Mississippi State Coach -- Sylvester Croom Biography | Ole Miss Coach -- Ed Orgeron Biography | South Carolina Coach -- Steve Spurrier Biography | Tennessee Coach -- Phil Fulmer Biography | Vanderbilt Coach -- Bobby Johnson Biography | Billy Cannon Biography | Bear Bryant Biography |
---
From Lane Kiffin to SEC Football | SEC Sports Blog | SEC Basketball | SEC Women's Basketball | SEC Baseball | SEC Track and Field | SEC Swimming and Diving | SEC Tennis | SEC Golf | SEC Gymnastics | SEC Soccer | SEC Softball | SEC Volleyball | Best College Sports Conference | College Football Bowl History | BCS Controversy | SEC vs Big Ten Debate | SEC Sports News | Current SEC Sports News | SEC Sports Pictures and Videos | SEC Sports Fan Forum | College Sports Blogs | College Football Association | SEC Sports Fan Trips | College Sports Gift | Fathead | College Sports Tailgate Party Shop | College Sports Merchandise | College Sports Apparel | SEC Sports Fan Store | SEC Football Tickets |
---
Home Page

About Us | Contact Us | Site Search | Advertise | Terms of Use |
---