SEC Football 2010 Week 3 Review
Week 3 of the SEC football season affirmed what many of us had thought about Alabama, Tennessee and Arkansas. What we never saw coming was offensive struggles from Florida; Ole Miss completely absent so far this season; and Georgia starting 0-2 in the SEC for the first time under Mark Richt.
Let's take a look at the week that was in the SEC.
Game of the Week
#12Arkansas 31 – Georgia 24
Can Georgia break the hearts of their fans any more this year? After losing a tight defensive struggle the week before, the offense came back from a 14-point deficit to tie the game late and got the ball back with a chance to move into field goal position for Blair Walsh, who has a foot that could nail a three pointer from Savannah.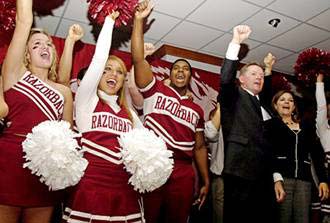 However, Jake Bequette must have been watching Any Given Sunday the night before as he put a Willie Beamen sack on QB Aaron Murray that blasted Murray's helmet off and stopped Georgia's last opportunity at victory.
The real victory came for Arkansas coach Bobby Petrino. This was his first trip to the state of Georgia since he left the Falcons high and dry, so getting out of the state before Arthur Blank could put a Home Depot 2x4 across his face was the biggest victory of all.
Vanderbilt 28 - Ole Miss 14
As inept as both teams have been so far this season, it was a major victory that they both found the stadium in time for the kickoff.
#1 Alabama 62 – Duke 13
In what many thought would happen, Alabama showed the world why they are the #1 team by completely handling Duke. Question: did the Tide shoot their wad in this game when undefeated Arkansas welcomes them on Saturday?
#10 Florida 31 – Tennessee 17
You have to wonder what kind of team Urban Meyer has in Gainesville if he had to resort to a fake punt to swing the momentum of the game around against a team that lost by 35 points at home last week.
Clemson 24 - #16 Auburn 27 (OT)
Auburn slept through most of the first half, but came alive in the third quarter to take the lead, then finally won it in overtime.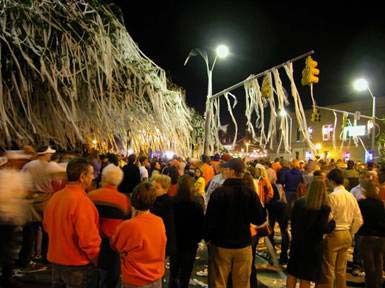 High drama in overtime saw Clemson kicker Chandler Catanzaro, whose name sounds like the lunch special at the Olive Garden, miss a 32-yard FG, after he had booted through a 27-yard kick to apparently tie the game. On the previous play, Clemson was penalized for an illegal snap, and had to try the kick again.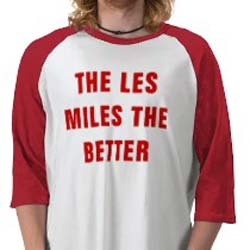 Mississippi State 7 – LSU 29
LSU fans are dancing in the streets as the most adored man in Baton Rouge has at least one more week of job security.
Well, look on the bright side, Tiger fans. At least he is not Gerry DiNardo…
Akron 10 - Kentucky 47
Kentucky looked good in their final tune-up before finding out what kind of football team they really have as they are 3-0 going into Gainesville next Saturday to play the Gators. You have to figure the Apocalypse has come since Florida has to be more worried about Kentucky than they were Tennessee.
Furman 19 - #13 South Carolina 38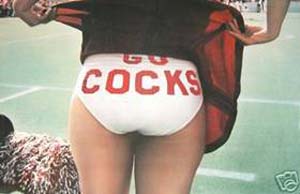 In state little brother gets spanked as the 'Cocks stay unbeaten before the showdown with Auburn on Saturday. The question still has to be asked, "What the hell is a Palladin?"
Odds and Ends
Separated at birth?
Is it just me, or is Auburn's Gene Chizik and former Braves pitcher Tom Glavine the same person? Have you ever seen them in the same place at the same time? Just wondering…
The truth or sour grapes?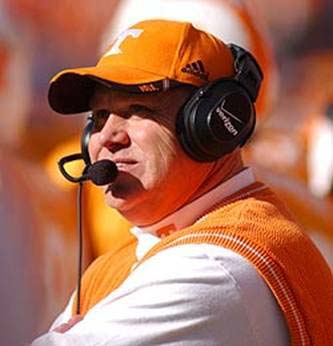 Did anyone else see the pregame of the Florida-Tennessee game? Former Tennessee coach Phillip Fulmer was on and the conversation turned to Lane Kiffin. I am sure someone at CBS slipped Brando a ten spot and said, "This will make for good TV. Ask Fulmer what he thinks of Kiffin."
Fulmer said "Kiffin's arrogant attitude turned people off" and wondered how Kiffin was able to land prestigious head coaching jobs at Tennessee and Southern California. He added, "The bigger question in my opinion is how does a guy like this end up with two jobs with historic football teams like Tennessee and USC?"
After hearing his remarks, my thoughts were that Coach Fulmer spoke the truth, but on a national stage like that, take the high road and do not go down that path. Sure, Kiffin left under a cloud of controversy and possible shady dealings, but everyone else knows that without an affirmation nine months after it happened. Your comments while accurate, sounds like sour grapes. I love ya Coach, but we should let it go and move on.
Celebrity sightings
Good to see WWE's "The Undertaker" on the sidelines at the Georgia game yesterday.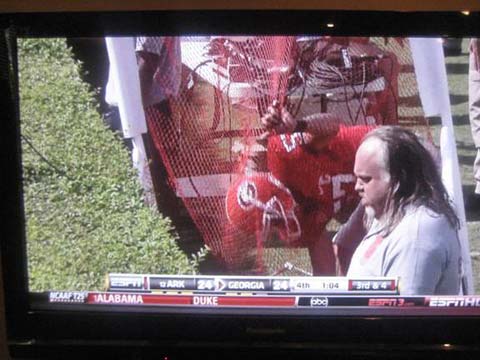 Welcome back, Ron Franklin!
Did anyone get to see The King," Ron Franklin, call the Texas-Texas Tech game last night? It is good to see him back in the press box of the living.
We wondered what The King had ever done to upset the powers that be since he was the headliner for ESPN's Saturday night games, and then the next time we saw him, he was doing the play by play of the Sapperstein family backyard touch football game in Wildwood, New Jersey.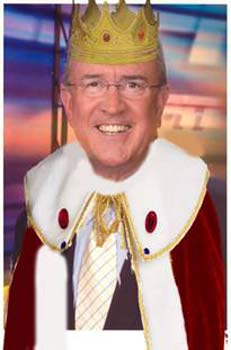 SEC Sportsfan did a little digging and found out what might have caused the riff between Franklin and the suits.
Apparently, something happened between The King and cute little Holly Rowe. During the Purdue-Notre Dame broadcast in October of 2005, sideline reporter Holly Rowe praised Purdue defensive coordinator Brock Spack for using all three timeouts on defense despite trailing by four touchdowns late in the game. "If the coaches are giving up," Rowe added, "what does that say to the players?"
Franklin responded: "Holly, it's not giving up. It's 49-21, sweetheart."
In response to that, Mo Davenport, senior coordinating producer for college football said, "It was an inappropriate comment, and we've communicated that to Ron. There's never a reason to say something so mean-spirited. Ron apologized. We dealt with it internally."
Ever since Franklin was dropped from the Saturday primetime games on ESPN in 2005, many fans and bloggers have expressed their displeasure with the demotion. (including this one). Richard Deitsch of SI.com wrote about how many people were displeased about the move.
As expected, The King took the high road in this controversy. He said, "You don't do something as long as I did and not miss it. I've taken the high road on this and I really haven't said anything negative to anybody. I really don't want to start now. But I don't know if that opportunity will afford itself again. I'll be 65 in a month, but I'm a long way from wanting to retire."
As much as I love Holly Rowe and her tight leather outfits, I think the suits at ESPN overreacted, on that one.
Check back this week for Week 4 previews and the best of the worst from the announce booth. All this week on the SEC Football Blog!
Love SEC Football? Check out our SEC Football page.

What do you think?

We'd love to hear your comments and/or opinions. If you submit them here, other visitors can read them, rate them and comment on them. An e-mail address is not required.

What Other Visitors Have Said
Click below to see contributions from other visitors to this page...

---
SEC Football 2010 Week 2 Review | SEC Football 2010 Week 2 Preview | SEC Football 2010 Week 1 Review | SEC Football 2010 Week 1 Preview | Tennessee Tailgate Story | My Ideas To Make College Football Better | 2010 Preseason College Football Conference Comparison |
2010 Pre-season All-SEC Football Team | 2010 Pre-season All-SEC Freshman Team | Conference Realignment Analysis | 2010 SEC Football Spring Practice Dates | Lane Kiffin | Alabama vs Texas BCS Championship Game Review & Analysis | Best All-Time SEC Football Coach | College Football Yesterday and Today |
---
From SEC Football 2010 Week 3 Review to SEC Football Blog | SEC Sports Blog | SEC Football | SEC Basketball | SEC Women's Basketball | SEC Baseball | SEC Track and Field | SEC Swimming and Diving | SEC Tennis | SEC Golf | SEC Gymnastics | SEC Soccer | SEC Softball | SEC Volleyball | Best College Sports Conference | College Football Bowl History | BCS Controversy | SEC vs Big Ten Debate | SEC Sports News | Current SEC Sports News | SEC Sports Pictures and Videos | SEC Sports Fan Forum | College Sports Blogs | College Football Association | SEC Sports Fan Trips | College Sports Gift | Fathead | College Sports Tailgate Party Shop | College Sports Merchandise | College Sports Apparel | SEC Sports Fan Store | SEC Football Tickets |
---
Home Page

About Us | Contact Us | Site Search | Advertise | Terms of Use |
---