SEC Football Week 6 Review
Week 6 in the SEC was business as usual as an underdog toppled the nation's number one ranked team, Auburn is now king of the state (for now) and once again, LSU fans don't know whether to be happy, or afraid. Let's get to the week that was in the wildest conference known as the SEC.
Game of the Week
LSU 33 – Florida 29
LSU fans loathe Les Miles, but the "Mad Hatter" has the Tigers undefeated after another thrilling last second victory, this time over Florida 33-29.
With only six seconds left this week, as opposed to last week's win that came after time had expired, Jared Lee hit Terrance Tolliver with a three-yard TD pass to win the game. The TD was set up by a gutsy call by Miles as the Tigers used a fake field goal to keep a drive alive.
"They didn't like us too much when we were 5-0," Miles said. "Hopefully, they'll like us a little better at 6-0."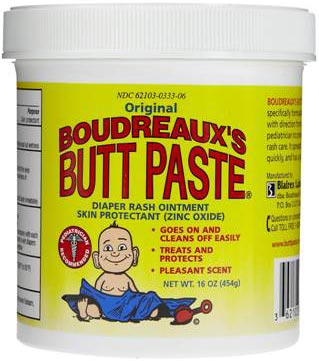 Maybe the fans need to stock up on Boudreaux's Butt Paste to cure the major case of red ass they get when they see Miles pull another victory out of his butt. (Boudreaux's Butt Paste is the official diaper rash crème of Coach Scooter's SEC Chalkboard).
I spoke to my LSU Buddy, "Bonecrusher" Busch who told me, "Coach, it's gotten so bad around here, we are actually praying for the Tigers to lose so we can fire that moron."
Nowhere in the world will you find a fan base so rabid and in love with their football team that they want to fire their coach, no matter if he wins every game and the national championship. In fact, Miles is held in about the same regard as the man who shot "The Kingfish" Huey Long. God bless those crazy Tiger fans.
#19 South Carolina 35 – #1 Alabama 21
Stephen Garcia threw three touchdown passes, two to Alshon Jeffery, and Marcus Lattimore scored three times as 19th-ranked South Carolina stunned No. 1 Alabama 35-21. The win was South Carolina's first ever over a #1 ranked team.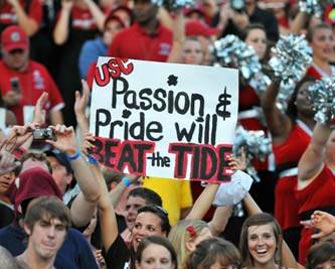 Photo by Al Messerschmidt/Getty Images
Spurrier earned his 107th SEC victory, breaking a tie for second with Mississippi great Johnny Vaught. Alabama's Paul "Bear" Bryant is the all-time leader with 159 league wins. Maybe this is the game that finally gets the Gamecocks over the hump in the SEC East.
As mentioned before, I had a feeling this one was coming, since any team, especially in the SEC, will have a problem getting up for a third straight week against a ranked opponent. However, as I also mentioned, Bama is the best team in the SEC, and if they were going to lose, do it now, since a lot of people will forget this game at the beginning of December, especially if these two teams meet again in Atlanta.
Georgia 41 – Tennessee 14
Tennessee must have thought it was December since they were giving away gifts like a department store Santa Claus. The Vols did not need to give the Dawgs any help as Georgia avenged last year's shellacking with one of their own in a 41-14 rout.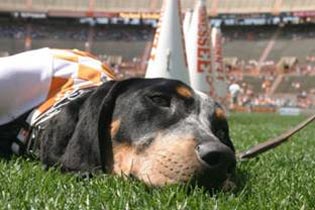 Aaron Murray ran for two touchdowns and threw for two more scores, and A.J. Green made his return to Sanford Stadium with a TD catch and 96 yards receiving. For the Vols, they had almost as many turnovers as they had first downs in the first half (5 - 3). The lone bright spot was they were not called for illegal participation (12 men on the field) all game yesterday. Now that is progress!
The only chuckle of the day was when my Aunt Molly called. It was in the middle of the third quarter, which is usually when her Vodka really sets in and the one-liners roll off her tongue. "Coach, Georgia is treatin' us like a baby treats a diaper…" and, "Them Dawgs have put so many knots on our heads, we look like a sack full of walnuts."
By the way, I think UT just turned the ball over again…
Auburn 37 – Kentucky 34
Cam Newton once again was the star as he led Auburn to a game clinching field goal as time ran out to beat Kentucky. Newton accounted for 74 yards on Auburn's final drive, which gave Wes Byrum a chance to win it from 24 yards out.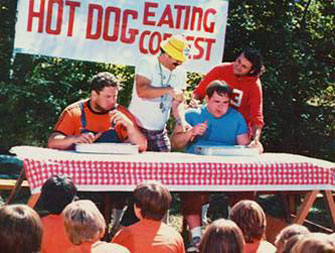 Newton rushed for 200 yards and four TD's, all in the first half. I know I poke fun at Newton, since his body looks like a lineman with a quarterback's number pasted on his back, but this guy is the real deal and without him, the Tigers would not be undefeated.
Newton's influence does not stop once he leaves the football field. SEC Sportsfan is investigating a story that Newton was the life coach of Camp Northstar's Larry Finkelstein when Finkelstein was able to upset "The Stomach" to win the Hot Dog Eating contest during the Camp Northstar – Camp Mohawk Annual Olympiad.
#11 Arkansas 24 – Texas A&M 17
Ryan Mallett threw three touchdown passes in the first half, but failed to build on it and No. 11 Arkansas ended up needing to hold on for a 24-17 victory over Texas A&M at Cowboys Stadium on Saturday.
This is the second game in a 10-year series between these schools at the stadium built by Dallas Cowboys owner Jerry Jones. If I were A&M I would think about ended that contract since they lost last year too, 47-19.
Vanderbilt 52 – E. Michigan 6
Quarterback Larry Smith threw for 253 yards and two touchdowns and ran for another as Vanderbilt rolled to a 52-6 victory over Eastern Michigan on Saturday night.
***ads-468x60.shtml***
The win snapped the Commodores nine-game losing streak at home. But look on the bright side, Eastern Michigan has lost 18 straight, the second-longest streak in the Football Bowl Subdivision -- with its last win coming on Nov. 28, 2008, against Central Michigan.
Vanderbilt and Eastern Michigan entered the contest with a combined 3-30 record since the start of the 2009 season. Three wins? It's a wonder both teams knew where the end zone was…
Mississippi State 47 – Houston 24
Remember when I predicted a huge Houston victory? Well, as my Aunt Molly reminded me last night, I was as full of wind as a fartin' coon. Thanks to Mississippi State to uphold the honor of the SEC as they trounced Houston by 23.
Vick Ballard ran for 134 yards and three touchdowns and Mississippi State rushed for 409 yards, and the Bulldogs D held Houston's high-powered offense to 47 yards rushing and snapped the Cougars' 18-game home winning streak.
Ole Miss – Off week
Ric Chiddix's ways to get through the week after your team loses
Remember my softball buddy, Ric Chiddix? He is the Kentucky fan who is as crazy as they come, and every once in a while comes up with a good idea. Let me clarify that, every once in a LONG while.
He once gave me a few ideas on how to get through the week after your team loses. Try these steps and see if they work for you:
| | |
| --- | --- |
| | |
Grab your beverage of choice and go into a dark, quiet part of your house. Put on side one of Foghat's Fool For The City album. If you don't have any Foghat, put on Mountain's Nantucket Sleighride.


Do not, under any circumstances, watch ESPN until at least Wednesday.


Do not call your buds since all they will want to do is recap the game. "Wake up, son," Chiddix says. "Ain't no reason to replay it 'cause they ain't comin' back to do it again."


If you have to watch TV, turn on Telemundo or Univision. Nothing better to take your mind off your team tankin' it than seeing a bunch of hot Mexican chicks in skimpy outfits. You can't understand what they are saying, but who cares.


If you don't get Telemundo or Univision, click over to QVC. (Never understood that one, but hey, whatever works)


Do not read a newspaper or surf the Internet.


Drink heavily, then start cleaning the house. In your misery, you will not remember any of it, since you will be thinking about the game that got away, as well as the major buzz you have. Before you know it, it will be morning, and even though you'll have one helluva headache, at least the house will be clean and you'll have something to be happy about.
I have tried a few of these methods and they work. However, you have to remember were they came from. Once Chiddix forgot to bring his wallet to church and instead of stiffing the collection plate, he reached into his coat pocket and grabbed the first thing he could find, which was a beer he forgot about from the previous night's tailgate. He put it in the collection plate, looked at the guy next to him and said, "Praise Jesus and the Kentucky Wildcats!"
Tailgater's food of the week recipe
For all the great SEC fans reading this, here is a recipe for a cheese dip that is so delicious, you would think that is belongs in the tailgater's Hall of Fame. It is so good, it makes you want to slap your momma!
2 lbs. of hot sausage
2 lbs. of Velveeta cheese
2 cans of Rotel tomatoes
Brown the sausage then drain. Mix the remaining ingredients in a Crockpot. Make sure to cut the Velveeta cheese in cubes so it will melt easily.
Mix the ingredients once everything has melted. The preferred chips with this dip are Fritos Scoops.
---
Get ready for Saturday's (Oct 16) games with my SEC Football Week 7 Preview.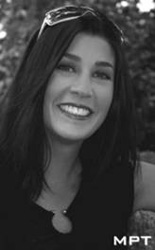 By the way, speaking of tailgating, stop by and see my good friends at SEC Grilltoppers.
They have EVERYTHING you need to make your tailgate the best on campus.
www.secgrilltoppers.com
If you are looking for more about 2010 SEC football, check out our SEC Football Blog page.
---
What do you think?

We'd love to hear your comments and/or opinions. If you submit them here, other visitors can read them, rate them and comment on them. An e-mail address is not required.

---
SEC Football 2010 -- Week 7 Preview | SEC Football 2010 -- Week 6 Preview | SEC Football Week 5 Review | SEC Football 2010 Week 4 Review | SEC Football 2010 Week 4 Preview | SEC Football 2010 Week 3 Review | SEC Football 2010 Week 3 Preview | SEC Football 2010 Week 2 Review | SEC Football 2010 Week 2 Preview | SEC Football 2010 Week 1 Review | SEC Football 2010 Week 1 Preview | Tennessee Tailgate Story | My Ideas To Make College Football Better | 2010 Preseason College Football Conference Comparison | Origins of SEC School Colors | History of SEC School Mascots |
2010 Pre-season All-SEC Football Team | 2010 Pre-season All-SEC Freshman Team | Conference Realignment Analysis | 2010 SEC Football Spring Practice Dates | Lane Kiffin | Alabama vs Texas BCS Championship Game Review & Analysis | Best All-Time SEC Football Coach | College Football Yesterday and Today |
---
From SEC Football 2010 -- Week 6 Review to SEC Football Blog | SEC Sports Blog | SEC Football | SEC Basketball | SEC Women's Basketball | SEC Baseball | SEC Track and Field | SEC Swimming and Diving | SEC Tennis | SEC Golf | SEC Gymnastics | SEC Soccer | SEC Softball | SEC Volleyball | Best College Sports Conference | College Football Bowl History | BCS Controversy | SEC vs Big Ten Debate | SEC Sports News | Current SEC Sports News | SEC Sports Pictures and Videos | SEC Sports Fan Forum | College Sports Blogs | College Football Association | SEC Sports Fan Trips | College Sports Gift | Fathead | College Sports Tailgate Party Shop | College Sports Merchandise | College Sports Apparel | SEC Sports Fan Store | SEC Football Tickets |
---
Home Page

About Us | Contact Us | Site Search | Advertise | Terms of Use |
---