Cam Newton For Heisman
Cam Newton is a lock for the Heisman Trophy tonight. And he certainly deserves it. This year Cam Newton has put on perhaps the greatest performance by a college football player in a single year -- ever. But, it's hard to imagine that the 2010 Heisman Trophy winner will not have his father by his side due to his allegedly trying to get money for the recruitment of his son -- and, more incredibly, Cam Newton will not talk about or answer questions about whether he knew his dad was doing that. It seems obvious he did; but he can't admit that due to NCAA rules. So, tonight, he won't be answering questions from the media. It's crazy. Read more at Cam Newton Controversy and Cam Newton to New York?
The Heisman Trophy is one of the greatest awards a college football player could ever have bestowed upon them. Countless men have battled for the coveted award, and this year the race for the Heisman has been as close as ever before. However, one man has set himself apart from the rest of the nation.
This man has run for more yards than the recent legend Tim Tebow ever did during a season. This man has punched gaping holes in the brick wall that was LSU's run defense. This same man has made grown fans at Florida cry at the thought of him; not at the thought of playing against him, but at the notion that this was once the heir to Tim Tebow's legacy. This man is named Cam Newton. Here are Cam Newton's Statistics.


Many people will try to discount Newton's burst onto the scene; they will claim that, while he is talented, he is not known for making the best decisions. But I have to ask them what young college student is? People make mistakes, no matter how vehemently some in today's society will try to deny it. It is how we respond to the adversity that follows a mistake that makes us who we are.
When he was with the Florida Gators, Newton was charged with stealing a laptop and later trying to get rid of it when the police tried to investigate. Newton transferred not long after the allegations were settled, and was viewed by many as just another kid who blew his big chance at stardom for a quick thrill. This was not the case with Newton however. He left not because he was ashamed, but because he had the presence of mind to know when a fresh start was needed.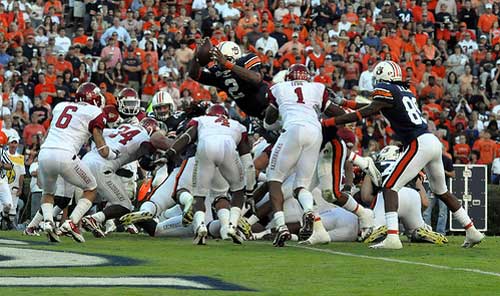 AU vs. Arkansas Cam Newton Touchdown.
Thanks to Victorie@flikr.com for this photo.
---
Cam Newton has responded in a resounding fashion from the charges that were leveled against him back in Florida. Not only has he become the unquestioned leader of the Auburn Tigers, but he has kept his record spotless after his first and only run-in with the law in Gainesville. Many people seem to forget just how easily it is to get scammed by people today; Newton thought he was getting a cheap laptop, and instead it turned out to be stolen and he was pinned with the blame. How many other people have had this happen to them?
The bottom line is that, for every shortcoming that Cam Newton has, he is still the best player at this time in college football. He is unquestionably the best player on the number 1 team in the nation (which is one reason to pick him over, say, Kentucky's Randall Cobb). Yes, the Heisman voters should look at his integrity as well as his on-field performsances; they should not, however, judge him for a mistake that was made years ago, and that he has more than made up for with the blood, sweat, and tears that he has put into the revival of his career.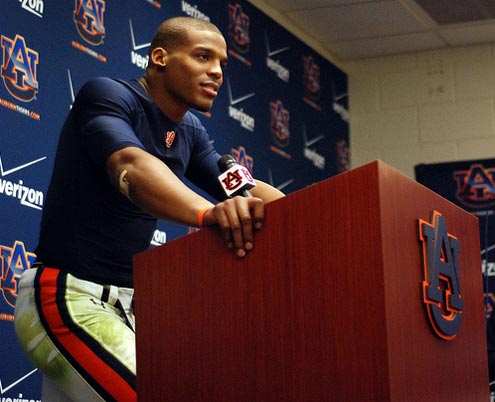 Newton @ Press Conference.
Thanks to Victorie@flikr.com for this photo.
---
No one may ever know if the allegations that swirled around Newton during his stay at Florida were true. That story was buried years ago. What people can see, however, is what Cam Newton: playing better football at Auburn than even the legendary Bo Jackson did during his prime years at the school. And if he does lead the Tigers to an undefeated season, can anyone really deny him the reward that he will have rightfully earned?
For a different opinion about whether Cam Newton should get the Heisman, check out Auburn and the Sad Cam Newton Saga.
What do you think?

We'd love to hear your comments and/or opinions. If you submit them here, other visitors can read them, rate them and comment on them. An e-mail address is not required.

What Other Visitors Have Said
Click below to see contributions from other visitors to this page...

---
SEC Football 2010 Week 9 Preview | SEC Football 2010 Week 8 Review | SEC Football 2010 Week 8 Preview | SEC Football 2010 Week 7 Review | SEC Football 2010 Week 7 Preview | SEC Football 2010 Week 6 Review | SEC Football 2010 Week 6 Preview | SEC Football Week 5 Review | SEC Football 2010 Week 4 Review | SEC Football 2010 Week 4 Preview | SEC Football 2010 Week 3 Review | SEC Football 2010 Week 3 Preview | SEC Football 2010 Week 2 Review | SEC Football 2010 Week 2 Preview | SEC Football 2010 Week 1 Review | SEC Football 2010 Week 1 Preview | Tennessee Tailgate Story | My Ideas To Make College Football Better | 2010 Preseason College Football Conference Comparison | Origins of SEC School Colors | History of SEC School Mascots |
2010 Pre-season All-SEC Football Team | 2010 Pre-season All-SEC Freshman Team | Conference Realignment Analysis | 2010 SEC Football Spring Practice Dates | Lane Kiffin | Alabama vs Texas BCS Championship Game Review & Analysis | Best All-Time SEC Football Coach | College Football Yesterday and Today |
---
From Cam Newton For Heisman to SEC Football Blog | SEC Sports Blog | SEC Football | SEC Basketball | SEC Women's Basketball | SEC Baseball | SEC Track and Field | SEC Swimming and Diving | SEC Tennis | SEC Golf | SEC Gymnastics | SEC Soccer | SEC Softball | SEC Volleyball | Best College Sports Conference | College Football Bowl History | BCS Controversy | SEC vs Big Ten Debate | SEC Sports News | Current SEC Sports News | SEC Sports Pictures and Videos | SEC Sports Fan Forum | College Sports Blogs | College Football Association | SEC Sports Fan Trips | College Sports Gift | Fathead | College Sports Tailgate Party Shop | College Sports Merchandise | College Sports Apparel | SEC Sports Fan Store | SEC Football Tickets |
---
Home Page

About Us | Contact Us | Site Search | Advertise | Terms of Use |
---