SEC Football 2010 Week 1 Review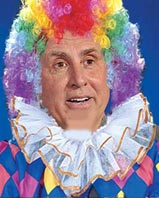 Were you as happy as I was to have college football back? I can sum it up in one exchange I had with my three-year old daughter, Sofie. Every morning during college football season, I recite the line from We are Marshall, to her.
"What day is it, Sofie?"
"Gameday!"
"What day?"
"Gameday"
"Time to play 'till the whistle blows…"
She will try to whistle, but she gives up and just yells "Toot! Toot!"
So without further ado, let's look at what Week 1 had to offer:
Game of the Week:

LSU 30, North Carolina 24
In the first thrilling Chick-Fil-A Kickoff Game in its three-year history, L.S.U. withstood a furious North Carolina rally to win 30-24.
L.S.U. coach Les Miles, who has had clock management issues before, had another huge one in this game. He must have thought the games were only 30 minutes long, instead of 60, because the Tigers forgot to bring their offense in the second half, and it almost cost them.
Funny how one play can determine a coach's fate. Had North Carolina TE Zack Pianalto held on to one of the two throws in the end zone on the game's final plays, we would be talking about Les Miles going from the hot seat into the fire. He is still one of the most loathed figures in Louisiana since Hurricane Katrina, so stay tuned because with another performance like this, Miles might be asked to get a few miles out of Baton Rouge.
By the way, did you see the hit #57 Lamin Barrow put on QB Tyler Yates? When they would show close-ups of Yates, you could see his stitched Chick-Fila-A patch on his jersey was hanging by a thread. Now that is a big time hit.
Northwestern 23, Vanderbilt 21
I watched this one on my ESPN Gameplan and if it wasn't SEC football, I would have turned the channel. The camera view was so far away, I thought I was watching the game from the International Space Station. The colors were off too, which made it look like they were playing in a parking lot. Even my wife (who we'll discuss later) commented, "This looks like some cheesy porno movie shot in someone's basement." After thinking about her comment for a few seconds, I had to re-focus on the task at hand…
Jacksonville St. 49, Ole Miss 48 (2 OT)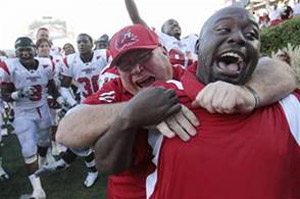 So much for my chest-pounding article a few weeks ago about the SEC being so friggin' tough. Ole Miss blew leads of 31-10 at halftime and 31-13 going into the fourth quarter to lose in double overtime. Of course, my inbox was filled with fans of the, what conference was it again, Ohio Valley Conference I think, asking me to re-evaluate my conference rankings. Of course, being in Alabama, the Ohio Valley Conference is a perfect fit for the Gamecocks…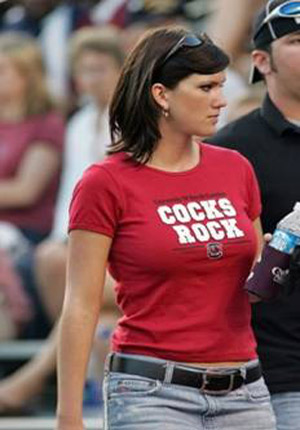 South Carolina 41 Southern Miss 13
Speaking of Gamecocks, Carolina looked pretty good on Thursday night.
Marcus Lattimore is the real deal, and if the line can block for Stephen Garcia, this might be a pretty formidable team.
One thing I have to mention, did you hear the rooster crowing before each kickoff?
Every time I heard it, which was a lot since Carolina scored so often, I kept looking for the Gap Band to hit the field and break into "Early in the Morning."
---
---
During the second quarter, ESPN cut to a shot of "The Nature Boy" Ric Flair walking on the sidelines.
I had to ask what was up with the hair? It looked like he needed to do a comb…um…sideways, since he had a large bald spot on the side of his head. I don't know if I have ever seen a bald spot on the side of someone's head, so it must have been all those pile drivers that Terry Funk gave him during his career.
Remember my softball buddy, Ric Chidix, from last week's article? He called as soon as he saw that and yelled "WHHOOOOOO!" into my ear about 27 times, then hung up.
Kentucky 23, Louisville 16
In one of the lowest scoring games ever in SEC history, Kentucky got past Louisville by seven points. Kentucky Coach John Calipari, and Louisville coach Rick Pitino could not explain what the problem was on offense. I, for one, was stunned when I saw that score scroll across my screen…
Cupcake Central:


These teams devoured their opponents like Sofie devours cupcakes:

Alabama 48, San Jose State 3

Arkansas 44, Tennessee Tech 3

Auburn 52, Arkansas State 26

Mississippi St 49, Memphis 7

Tennessee 50, UT Martin 0

Georgia 55, Louisiana-Lafayette 7

Florida 34, Miami (Ohio) 12
Odds and ends
These uniforms make Oregon look normal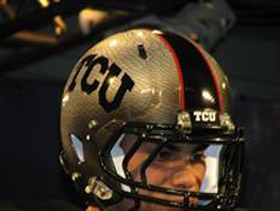 Was anyone else puzzled while watching the TCU – Oregon State game? What was up with TCU's uniforms? Is this some type of Tommy Hilfiger psyche out against the Beavers using the dreaded "Oregon Uniform Gambit"?
I found out these are TCU's Pro Combat Uniforms. That began to make sense, since these eyesores need to be shipped off to Iraq so our soldiers can use them to scare off the enemy while engaged in combat.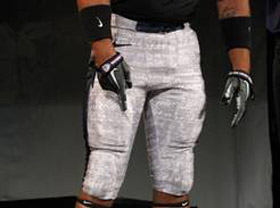 I found the official TCU Branding manual and it read, "TCU's school colors are purple and white—purple for royalty, white for a clean game—but purple has long been the strongest color brand for TCU."
Really? What's up with the red and black stripe and the black TCU on the helmet? Was Ronnie Milsap in charge of colors? The helmets looked like they were covered with my Aunt Molly's hairnet, and the pants resembled what happens to our clothes when I do the laundry.
My wife is saucy
My wife, who will not let me use her real name for obvious reasons so let' just call her Sweetie, was watching the USC-So. Miss game. At halftime when they got to Dr. Lou's segment, she squinted her eyes and looked at the TV with a puzzled stare on her face. Here is a transcript of her comments.
"Dr. Lou? You gotta be *#$%in' me. A doctor? He's a doctor of what?"
Then she paused and added, "Dude, you look like you're 92. You might actually look alive with the right makeup. Doesn't ESPN have anyone who can do a better make up job?"
She has a habit of getting part of the information wrong, which makes watching games with her quite amusing. When USC started to pull away, she remarked, "They better be careful. They don't want to run up the scoreboard on them."
When I told her it's "Run up the score, not scoreboard," she shook her head and said, "Whatever. Where's my wine?"
A woman who can toss out the one-liners with the best of them when it comes to college football. Why do you think I married her?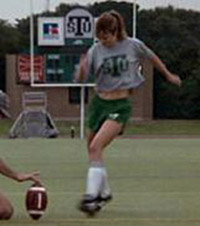 Fumble Rooskie…Fumblaya
I see where the Texas State Bobcats open their season on September 11th.
I was stunned to learn that they are no longer the Texas State University Fightin' Armadillos, and I did not see Scott Backula, Sinbad or Kathy Ireland anywhere on their roster. What's up with that?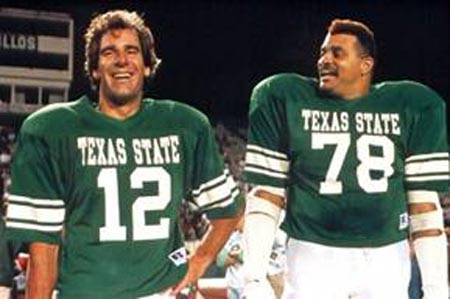 Texas State Bobcats Scott Backula, Sinbad.
---
Got that number for Jenny Craig?
Did anyone see the final seconds of the shootout between East Carolina and Tulsa? The game came down to a last second Hail Mary with five seconds to play that was incredibly caught by freshman Justin Jones to give ECU a 51-49 victory.
During the final timeout, they panned the crowd and I found this guy cheering on the Pirates. He was wearing a hockey mask, but no shirt. If I looked like him, I would want to have my face covered as well.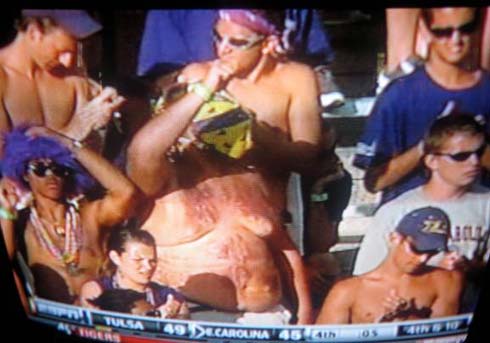 The final seconds of the shootout between East Carolina and Tulsa.
---
This is soooo wrong on soooo many different levels. Doesn't East Carolina have a topless policy? I feel bad for the guy in the purple wig to his right. I am sure he was worried if the game went into overtime, he might get eaten.
There were so many good lines I could use here, I couldn't decide on one, so here are my top three:
Looks like the ECU hockey team won't give up a goal this season.


He needs the Bro…the Manzier…the Bro…the Manzier….


Hey look, it's Jason from the Friday the 13th movies. Gee, he has put on a little weight since those days…
You know the guys in the ESPN truck were giggling like schoolgirls when the director said, "Let's give the viewers at home a real treat. Take Camera 3."
SEC Quote of the Week:
"Always remember…Goliath was a 40 point favorite over David."
Shug Jordan - Auburn
Check back this week for Coach Scooter's Week 2 preview where I will look at the big games in the SEC, as well as cover the rest of the college football world for all the stories you need to know.
Read more of Coach Scooter's entertaining blogs at SEC Football Blog.
What do you think?

We'd love to hear your comments and/or opinions. If you submit them here, other visitors can read them, rate them and comment on them. An e-mail address is not required.

---
SEC Football Week 1 (2010) Preview | Tennessee Tailgate Story | My Ideas To Make College Football Better | 2010 Preseason College Football Conference Comparison | 2010 Pre-season All-SEC Football Team | 2010 Pre-season All-SEC Freshman Team | Conference Realignment Analysis | 2010 SEC Football Spring Practice Dates | Lane Kiffin | Alabama vs Texas BCS Championship Game Review & Analysis | Best All-Time SEC Football Coach | College Football Yesterday and Today |
---
From SEC Football 2010 Week 1 Review to SEC Sports Blog | SEC Football | SEC Basketball | SEC Women's Basketball | SEC Baseball | SEC Track and Field | SEC Swimming and Diving | SEC Tennis | SEC Golf | SEC Gymnastics | SEC Soccer | SEC Softball | SEC Volleyball | Best College Sports Conference | College Football Bowl History | BCS Controversy | SEC vs Big Ten Debate | SEC Sports News | Current SEC Sports News | SEC Sports Pictures and Videos | SEC Sports Fan Forum | College Sports Blogs | College Football Association | SEC Sports Fan Trips | College Sports Gift | Fathead | College Sports Tailgate Party Shop | College Sports Merchandise | College Sports Apparel | SEC Sports Fan Store | SEC Football Tickets |
---
Home Page

About Us | Contact Us | Site Search | Advertise | Terms of Use |
---