SEC Football Week 2 Review
After two weeks of play in the SEC, things are going pretty much according to plan. Alabama looks worthy of their pre-season #1 ranking, Marcus Lattimore's play has made the recruiting guru's look prophetic, and everyone thought Tennessee would get taught a football lesson once they started playing the big boys on their schedule. Well, as you saw on Saturday night, class was in session.
Let's get to the week that was in the SEC…
Game of the Week
| | |
| --- | --- |
| #22 Georgia | 6 |
| #24 South Carolina | 17 |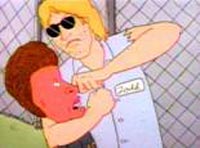 I think we will have to grease up the Defibrillation Paddles and use them on the UGA offense. Or defense. Take your pick. When you rush for only 61 yards, and forgot to tell your team to join you for pizza and Dr. Pepper during the Dorf on Tackling video watching party in Todd Grantham's office, that is a recipe for disaster. But remember, Todd is cool…..
While Georgia was flat, Carolina super freshman Marcus Lattimiore was spectacular. Draw all the comparisons you want to the great backs of the past like Herschel Walker, Bo Jackson and a player close to Carolina fans hearts, George Rogers, but this kid has a chance to go down as one of the great runners in SEC history. Yes, it is only two games, but Herschel got the love early after running over Bill Bates, so it has happened before.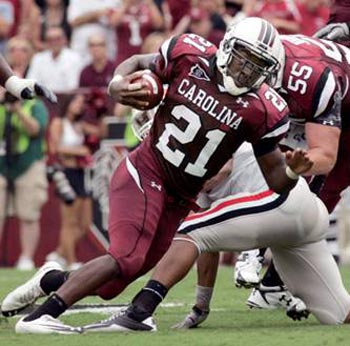 Is this the game that gets the 'Cocks over the psychological hump of finally giving their long suffering fans what they have always wanted, and that is a SEC Championship? Too early to tell, but stay tuned…
| | |
| --- | --- |
| Auburn | 17 |
| Mississippi State | 14 |
This game could have gone either way, and it came down to the final possession of the game as Mississippi State was driving for the winning score late in the fourth quarter. Unfortunately for the Bulldogs, QB Chris Relf's fourth down pass fell incomplete at the Auburn 25.
Did you guys see the Friday morning SportsCenter? Cindy Brunson was explaining the game highlights and after showing an MSU drop, she yelled into the microphone, "Catch the ball son!"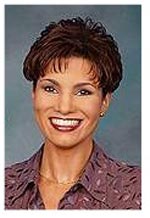 First of all, Brunson must have been the inspiration for the Seinfeld character, Two Face, because some days she looks good, and others, geeze, get the Milk Bones.
Secondly, why don't you get your anorexic, Nazi collaborator haircut ass out of the studio and on to the field and see how easy it is to catch a pass when you have a defender waiting to lay the lumber.
Sorry, I hate it when someone criticizes a player who has never played the game before.
| | |
| --- | --- |
| South Florida | 14 |
| #8 Florida | 38 |
Once again, the Gators teased their opponents into actually believing they had a chance to win at The Swamp before getting their offense on track and pulling away in the second half.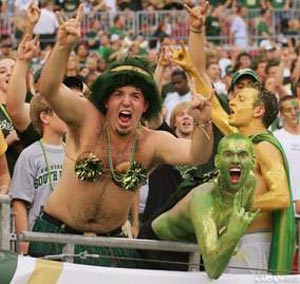 The key play came in the third quarter when the Bulls were driving for a score in a 7-7 game. RB Demetris Murray fumbled and the Gators recovered on their own 12-yard line. The momentum swung back to Florida, and Bulls would never recover.
Just two plays after the turnover, Jeff Demps, who is so fast he can turn out the bedroom light and get into bed before the room gets dark sprinted 62 yards for a touchdown to give Florida its first lead of the game and effectively end the chances of an upset.
| | |
| --- | --- |
| #7 Oregon | 48 |
| Tennessee | 14 |
For the first thirty minutes, it looked like this was going to be a football game. However, there is a reason why Oregon is the seventh best team and the Vols are in a Hiroshima type rebuilding phase. After sixty minutes, it was the Ducks who made the Vols look Daffy in a laugher.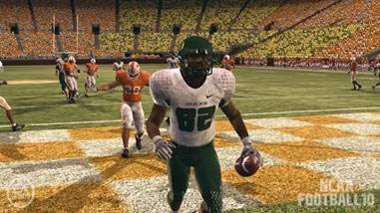 I found this nugget on a website posted by a sports gamer (right). The final in this one was 26-25 as Orgon won on a last second touchdown. I wonder if Tennessee can petition the NCAA to see if they substitute this game for the one played last Saturday. At this point, the Vols would even welcome a rematch using the old Nintendo Techmo Bowl game…
| | |
| --- | --- |
| #18 Penn State | 3 |
| #1 Alabama | 24 |
Two of the most storied programs in college football met once again as Alabama hosted Penn State. Bama made a statement for the conference as their convincing victory strengthened their hold on the nations #1 ranking.
Anytime you talk about Alabama and Penn State, you have to include the goal line stand Alabama used to win the 1979 Sugar Bowl. The victory clinched the first of Bear Bryant' back-to-back National Championships.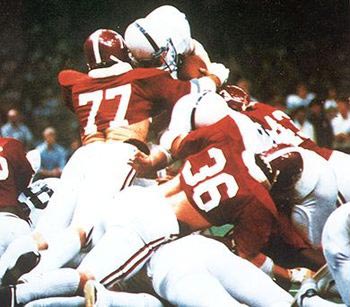 The key play came after Penn State recovered a Tide fumble and drove inside the five-yard line. After two short plunges netted nothing, Joe Paterno tried the same play on fourth down. Chuck Fusina handed the ball to Mike Guman, only to be met for no gain by Barry Krauss. Krauss suffered a pinched nerve and a busted helmet on the play, but gained immortality as his hit is still talked about to this day.
***ads-468x60.shtml***
It looks like Vandy has cemented the state of Tennessee as having the worst football programs in the country. Vandy is 0-2, Memphis is 0-2 and Tennessee is 1-1. Good thing the Titans are in Nashville or this would really look bad…
Pass the frosting….more cupcakes coming
| | |
| --- | --- |
| Louisiana Monroe | 7 |
| #14 Arkansas | 31 |
Ryan Mallet and the Hogs tune up for a huge one between the hedges on Saturday.
| | |
| --- | --- |
| W. Kentucky | 28 |
| Kentucky | 63 |
He's a Joker, he's a smoker, he's a….pretty good football coach.
This one is in the cupcake section, but I am not sure who the cupcake is.
Odds and Ends
Mississippi State has been bashful in giving some of their players ink. But here at SEC Sportsfan, our crack sports staff has found a few players who have famous families that you might have heard of.
Did you know that WR Chad Bumphis had his family featured in a movie we all know titled, A Christmas Story? Remember the Old Man's nemesis, The Bumphis Hounds? (cue the jaw harp here).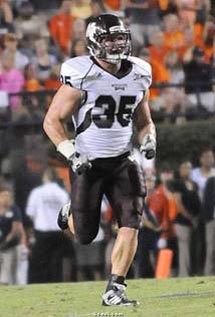 I was really hoping Bumphis would score a last second TD to win the game so we could see Auburn head coach Gene Chizik yell, "Sons of bitches!!! Bumphises!!!!!!!!!"
As hard as it is to believe, another icon of movieland has his grandson playing for the Bulldogs. Patrick Hanrahan, whose grandfather, Tommy Hanrahan, was a goalie for the Long Island Ducks of the Federal League, is a fullback, and a darn good one.
I just hope you don't see an opposing player lean over to him during the game and whisper something that will drive him berserk…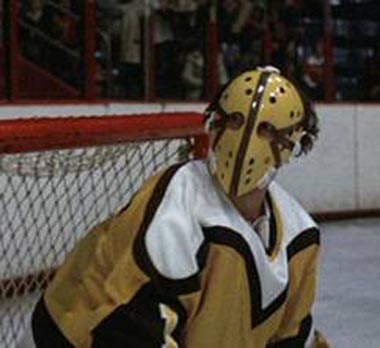 The Gary Danielson report

Let's take a look at what went down in the booth this week. Enjoy it while we can, because there will be a clown sighting around 3:30 on Saturday in Knoxville.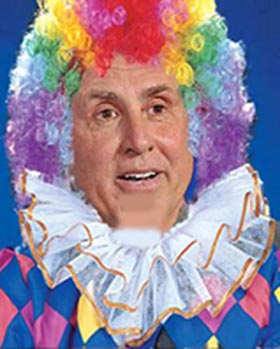 "My legs are sore, but I can't feel them."
Craig James - ESPN
Played a few games without your helmet, Craig?
"Lattimore against Rambo, and this time the solder lost... Rambo didn't make it."
Mark Jones – ESPN
Did they have to fly in the chopper to take him back to Bragg?
"Sometimes when you see blitz, you get ants in your pants."
Chris Spielman – ESPN
Did they make you dance?
"They are about six inches away from putting this game in the barn."
Dave Weekley – ESPN
Maybe Aunt Jenny can sew the uniforms. And we can get Uncle Goober to play the Head Coach. (Thanks to Lt. Daniel Caffey for that comment)
"James Madison's best work since the Federalist Papers."
Rece Davis – ESPN
I don't know, Dolly Madison has done some pretty good work as well. Ever had a Zinger? Yum yum yum…
"Polk is great with the YAC... yards after (pause) tackle."
Tom Glasgow – FSN Northwest
After hearing that one, I wanted to YAC.
"ACC stands for Awful Coast Conference."
Rece Davis – ESPN
And after seeing the ACC teams this week, that's being nice.
"The Cavaliers are stepping on their own parts right now."
Barry Tompkins – Fox Sports Net
If that's the case, it sounds like Virginia has some studs on the team.
"This game is encouraging for Notre Dame's defense."
Lou Holtz – ESPN
After Michigan's Denard Robinson racked up 502 yards himself, it appears Dr. Lou must have been hitting the nitric oxide during commercial breaks.
(Thanks to Awful Announcing for these clips)
All right SEC fans, check back later this week for a preview of the upcoming games for Week 3. We'll give you the skinny on some biggies like:
Arkansas at Georgia – UGA must learn how to tackle, hold on to the ball, and run the football…all in six days.
Florida and Tennessee – What is it now, like 46 straight games Florida has beaten Tennessee?
Mississippi State at LSU – Sooner or later, Dan Mullen will win a game he is not supposed to. I know a lot of LSU fans are hoping it is this week.
Vanderbilt at Ole Miss – (insert laugh track here)
What do you think?

We'd love to hear your comments and/or opinions. If you submit them here, other visitors can read them, rate them and comment on them. An e-mail address is not required.

---
SEC Football 2010 Week 1 Review | SEC Football 2010 Week 1 Preview | Tennessee Tailgate Story | My Ideas To Make College Football Better | 2010 Preseason College Football Conference Comparison | 2010 Pre-season All-SEC Football Team | 2010 Pre-season All-SEC Freshman Team | Conference Realignment Analysis | 2010 SEC Football Spring Practice Dates | Lane Kiffin | Alabama vs Texas BCS Championship Game Review & Analysis | Best All-Time SEC Football Coach | College Football Yesterday and Today |
---
From SEC Football 2010 Week 2 Review to SEC Football Blog | SEC Sports Blog | SEC Football | SEC Basketball | SEC Women's Basketball | SEC Baseball | SEC Track and Field | SEC Swimming and Diving | SEC Tennis | SEC Golf | SEC Gymnastics | SEC Soccer | SEC Softball | SEC Volleyball | Best College Sports Conference | College Football Bowl History | BCS Controversy | SEC vs Big Ten Debate | SEC Sports News | Current SEC Sports News | SEC Sports Pictures and Videos | SEC Sports Fan Forum | College Sports Blogs | College Football Association | SEC Sports Fan Trips | College Sports Gift | Fathead | College Sports Tailgate Party Shop | College Sports Merchandise | College Sports Apparel | SEC Sports Fan Store | SEC Football Tickets |
---
Home Page

About Us | Contact Us | Site Search | Advertise | Terms of Use |
---