SEC Football 2010 -- Week 6 Preview
Week 6 games
LSU at Florida

Les Miles has crawled out of more coffins than Bela Lugosi, and similar to the old Hollywood star, he is both a villain and a giant pain in the neck to Tiger fans.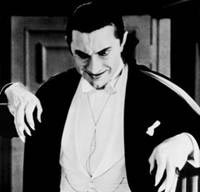 However, I have a feeling the Tigers winning streak comes to an end on Saturday. You know how I know? I found out through a secret source that the Gators have been working overtime on how many players are eligible to be on the field for each play. As athletic as they are, they could play only eight or nine guys and still beat most of the teams on their schedule.
Since the LSU offense can't move the ball across the street, and because Florida is at home, the Gators rebound.
Florida 27 – LSU 10
Alabama at South Carolina
Remember how I said the Tide would lose a game this year, and it would happen in Columbia? Hard to keep thinking that after what we all saw last Saturday. Bama clearly has the best team in the country (Sorry to Oregon and Ohio State fans), but playing three of the better teams all in a row in the SEC has to take something out of your squad. As much as I don't want to pick against Alabama, I think they are due for a stinker. And playing in Columbia, they better bring their big boy diapers since that place will be crazy.
South Carolina 17 – Alabama 16
Arkansas at Texas A&M
A classic old SWC matchup as the Hogs and Aggies tangle in the palace that Jerry built in Arlington. They are talking about firing Mike Sherman in College Station, while Bobby Petrino was still in Fayetteville the last time we checked. I think Petrino stays another week, but, don't quote me…
Arkansas 31 – Texas A&M 14
Auburn at Kentucky
It's hard to pick Kentucky in this one since Auburn has been playing so well the last few weeks, and Kentucky has not. However, Auburn is a lot like Alabama in that they have had a few emotional wins and getting up for another conference game, especially on the road, might be a tall order.
Kentucky 28 – Auburn 14
Tennessee at Georgia
I never thought I would write this, but this year's Tennessee vs. Georgia features two teams that do not have a conference victory yet. As my Aunt Molly always says, "This game is gonna be uglier than a bucket full of armpits."
To take your mind off what a stinker this one is going to be, let's go back 42 years to 1968 when the Vols opened their season against Georgia. Why 1968? Because this was college football's first game on Tartan Turf.
Georgia was not happy about the change because this was a radical move at the time. Nobody knew what to expect with this kind of surface, so tensions were high. The Bulldogs even hinted that they might not show up for the game since UT made the announcement during the summer, so they had no way to adequately prepare for the contest.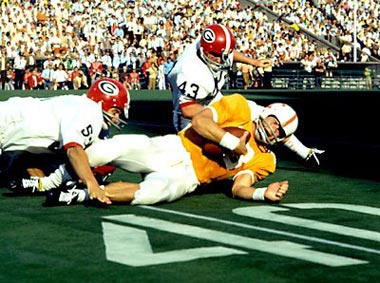 The pre-game build up matched the game drama as Georgia outplayed the Vols throughout and had a 17-9 lead late in the fourth quarter. The Vols drove 80 yards in the final seconds, including a 20-yard touchdown pass on fourth down from Bubba Wyche to Gary Kreis on the game's final play. With no time showing on the clock, Wyche hit tight end Ken DeLong with a two-point conversion toss to secure the tie.
In the above picture, check out #57 for Georgia making the tackle. He is none other than Happy Dicks. Happy Dicks? I am positive he never got teased by his name…
As much as I would like to predict a 0-0 tie, there are no ties in college football, so I will say it's a Blair Walsh field goal as time expires to get the Bulldogs out of the cellar in the SEC East.
Georgia 13 – Tennessee 10
E. Michigan at Vanderbilt
***ads-468x60.shtml***
Vandy lost to a Big East team last week. Will Vandy lose to a MAC team this week? Let's look at the stats to give us an idea of how to pick this one. Of the 120 FBS teams:
EMU ranks 93rd in total yards, Vandy 104th.
EMU ranks 80th in passing yards, Vandy 108th.
EMU ranks 85th in rushing yards, Vandy 58th
EMU ranks 98th in points scored, Vandy 108th.
Yeeeeech! Those numbers remind me of where I finished in my high school graduating class. But intelligence aside, and with me its way off to the side, I will take Vandy at home. Nobody said I was the sharpest pencil in the box…
Vandy 21 – E. Michigan 10
Mississippi State at Houston
The Bulldogs seem to be on a roll under Dan Mullen, but they are facing a Houston team that ranks eighth nationally in points scored and 19th in total yards. If they can find some defense, they might pull this one off, but I don't see it happening.
I think you are going to see a lot of Dan Pastorini and Earl Campbell on offense, and when Mississippi State tries to run the ball, Curley Culp will stuff the run at the line of scrimmage. However, if Toni Frisch comes on the field, shield your eyes. His face could make a train take a dirt road…
I'll say that Bum' boys will prevail in this one, and next year, kick in the door in….oh, sorry, wrong Houston…
Houston 35 – Mississippi State 20
To learn more about 2010 SEC football, check out our SEC Football Blog page.
What do you think?

We'd love to hear your comments and/or opinions. If you submit them here, other visitors can read them, rate them and comment on them. An e-mail address is not required.

---
SEC Football Week 5 Review | SEC Football 2010 Week 4 Review | SEC Football 2010 Week 4 Preview | SEC Football 2010 Week 3 Review | SEC Football 2010 Week 3 Preview | SEC Football 2010 Week 2 Review | SEC Football 2010 Week 2 Preview | SEC Football 2010 Week 1 Review | SEC Football 2010 Week 1 Preview | Tennessee Tailgate Story | My Ideas To Make College Football Better | 2010 Preseason College Football Conference Comparison | Origins of SEC School Colors | History of SEC School Mascots |
2010 Pre-season All-SEC Football Team | 2010 Pre-season All-SEC Freshman Team | Conference Realignment Analysis | 2010 SEC Football Spring Practice Dates | Lane Kiffin | Alabama vs Texas BCS Championship Game Review & Analysis | Best All-Time SEC Football Coach | College Football Yesterday and Today |
---
From SEC Football 2010 -- Week 6 Preview to SEC Football Blog | SEC Sports Blog | SEC Football | SEC Basketball | SEC Women's Basketball | SEC Baseball | SEC Track and Field | SEC Swimming and Diving | SEC Tennis | SEC Golf | SEC Gymnastics | SEC Soccer | SEC Softball | SEC Volleyball | Best College Sports Conference | College Football Bowl History | BCS Controversy | SEC vs Big Ten Debate | SEC Sports News | Current SEC Sports News | SEC Sports Pictures and Videos | SEC Sports Fan Forum | College Sports Blogs | College Football Association | SEC Sports Fan Trips | College Sports Gift | Fathead | College Sports Tailgate Party Shop | College Sports Merchandise | College Sports Apparel | SEC Sports Fan Store | SEC Football Tickets |
---
Home Page

About Us | Contact Us | Site Search | Advertise | Terms of Use |
---