SEC Football Week 7 Review
I don't have to tell you that the SEC is crazy every week. One week you are on the top of the world, and the next you are scraping cat dung off your tires as you are heading out of town. (Gee, who could that be?) Seven days ago your national championship hopes took a severe hit, and today, your back in business. And when you have lost two straight you know you can count on…well, maybe that five-minute retirement last year might have been a pretty good option.
Well, that's the way it goes in the fast-paced slam-bang, live-on-the-razor's-edge, laugh-in-the-face-of-death world of SEC football. Let's look at he week that was:
Georgia 43 – Vanderbilt 0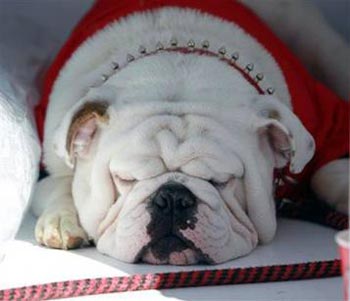 (AP Photo/John Bazemore)
The only drama in this one was watching Georgia introduce its new mascot, UGA VIII, before the game.
Remember last week when I wrote that the band, The Commodores, would have fared better than the football team, The Commodores? Gosh, I scare myself sometimes.
Here is a picture of the new mascot prowling the sidelines. Looks like they forgot to tell him games against Vandy can be a tad boring and over quite early…
SEC Game of the Week
#7 Auburn 65 - #12 Arkansas 43
Get your calculators out as this game was a 100-yard pinball machine with Auburn staying unbeaten as they outlasted Arkansas in the highest scoring non-overtime game in SEC history. Cam Newton strengthened his case for the Heisman as he rushed for 188 yards, passed for 140 and was involved in four touchdowns.
I called former Arkansas Head Coach Lou Holtz to get his take on the game. "That'ssssss a diiiiiisssssssssssgrace," he said into the phone. After wiping the spit that had traveled through his phone and into mine, I had to agree.
By the way, get your Arkansas Lou Holtz Dolls while they last…
Oh, there was some controversial officiating in the game.
Kentucky 31 - #10 South Carolina 28
Somebody forgot to tell South Carolina that if you want to be big time, you cannot have a clinker after a stunner the week before. The Gamecocks blew a 28-10 halftime lead and were outscored 21-0 in the second half as they failed on a chance to take command in the SEC East.
The big play came on fourth and seven as Kentucky's Randall Cobb caught a 24-yard touchdown pass with 1:15 remaining then added the two-point conversion to give the Cats a three point lead. It looked like Carolina was going to tie the game, or better yet, win the game as Garcia drove the 'Cocks to the Kentucky 20. But instead of trying an easy field goal, Stephen Garcia's heave into the end zone was intercepted by Kentucky's Anthony Mosley to end the game.
Did I hear someone in Clemson giggling?
Miss. State 10 - #22 Florida 7
The sign of the Apocalypse is upon us. When did you ever think you would see a Gator team lose three straight, or worse yet, two straight at home? What in the world of Ron Zook is going on here?
If I were to tell you Mississippi State would score only ten points, pass for 33 yards and convert only six of 14 third down conversions, yet win the game, you would have made some creative comments about my intelligence. To be honest, I am sure that's happened way before reading about this game…
By the way, did you get a look at Florida offensive coordinator Steve Addazio? Doesn't he look like the German guy that fought Indiana Jones in The Lost Crusade? I am sure Florida fans are wishing they could be Jones for a day…
#9 LSU 32 - McNeese State 10
The worst #9 team in the history of college football yet again made things interesting, but got it together when they needed to as they beat McNeese State. Maybe it was two straight emotional wins, or maybe it was the non-traditional purple jerseys, but whatever it was, the Tigers led 16-10 at the half and looked as if they had spent the previous night in the French Quarter, instead of playing like it was the second quarter.
***ads-468x60.shtml***
LSU, who might have been looking ahead to the other Tigers in the SEC, Auburn, was once again sluggish, but the King of Louisiana rushed to the command bunker to calm the fears of his loyal subjects. "I didn't think we played with a lot of emotion," Miles said in the post-game press conference.
That's insightful! Even Ronnie Millsap could see that, Coach.
By the way, Auburn just scored again…
#8 Alabama 23 - Mississippi 10
As predicted, Alabama rebounded from last week's loss to get themselves back in the SEC, as well as national championship talk by shutting down Ole Miss. Bama's defense was so dominate, it looked as if they were saying, "We came here to drink Gatorade and kick some ass. Well, we just finished our Gatorade…"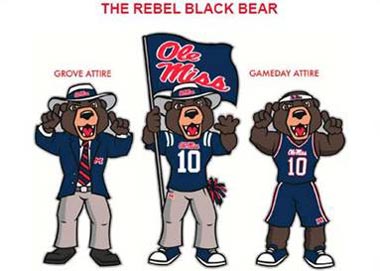 Alabama won its 18th straight game at Bryant-Denny Stadium, matching the school's third-longest home streak and longest since 1935.
By the way, did you read where an on line vote by Ole Miss students, alumni, faculty and season ticket holders selected the Rebel Black Bear as the school's new mascot?
Margaret Ann Morgan, who co-chaired the committee, said in the news release, "It has a Mississippi connection, is timeless, appeals to children, is unique to the SEC and fits the other characteristics established in the initial focus groups."
Well, let's look at this closer. The only Bear in the SEC belongs to Alabama so I don't see the uniqueness to the conference. I didn't know there was a huge Bear problem in Mississippi, but if they don't do something about it now, Yogi and Boo Boo will be elected Governor and First Bear before you know it, so I can see the Mississippi connection there. Hmm, something stinks in Oxford.
Open Date 15 – Tennessee 14
What did I tell you last week? The Vols are playing so poorly they could only muster 14 points, as I thought they would, and sure enough, Open Date stole one in Knoxville. Personally, I think UT was looking ahead to Alabama, so that's probably what happened.
Get a jump on next week's games with our SEC Football Week 8 Preview.
What do you think?

We'd love to hear your comments and/or opinions. If you submit them here, other visitors can read them, rate them and comment on them. An e-mail address is not required.

---
SEC Football 2010 -- Week 8 Preview | SEC Football 2010 -- Week 7 Preview | SEC Football 2010 -- Week 6 Review | SEC Football 2010 -- Week 6 Preview | SEC Football Week 5 Review | SEC Football 2010 Week 4 Review | SEC Football 2010 Week 4 Preview | SEC Football 2010 Week 3 Review | SEC Football 2010 Week 3 Preview | SEC Football 2010 Week 2 Review | SEC Football 2010 Week 2 Preview | SEC Football 2010 Week 1 Review | SEC Football 2010 Week 1 Preview | Tennessee Tailgate Story | My Ideas To Make College Football Better | 2010 Preseason College Football Conference Comparison | Origins of SEC School Colors | History of SEC School Mascots |
2010 Pre-season All-SEC Football Team | 2010 Pre-season All-SEC Freshman Team | Conference Realignment Analysis | 2010 SEC Football Spring Practice Dates | Lane Kiffin | Alabama vs Texas BCS Championship Game Review & Analysis | Best All-Time SEC Football Coach | College Football Yesterday and Today |
---
From SEC Football 2010 Week 7 Review to SEC Football Blog | SEC Sports Blog | SEC Football | SEC Basketball | SEC Women's Basketball | SEC Baseball | SEC Track and Field | SEC Swimming and Diving | SEC Tennis | SEC Golf | SEC Gymnastics | SEC Soccer | SEC Softball | SEC Volleyball | Best College Sports Conference | College Football Bowl History | BCS Controversy | SEC vs Big Ten Debate | SEC Sports News | Current SEC Sports News | SEC Sports Pictures and Videos | SEC Sports Fan Forum | College Sports Blogs | College Football Association | SEC Sports Fan Trips | College Sports Gift | Fathead | College Sports Tailgate Party Shop | College Sports Merchandise | College Sports Apparel | SEC Sports Fan Store | SEC Football Tickets |
---
Home Page

About Us | Contact Us | Site Search | Advertise | Terms of Use |
---