---
If you are looking for our Current Florida Gators Football page, check out 2010 Florida Gators Football.
---
Check out Florida Should Be Ranked # 2.
Wow, very nice end to the 2009 - 2010 Florida Gator football season and Tim Tebow's career. 51-24 over Big East Champion Cincinnati in the Sugar Bowl. If the Gators had played like that against Alabama, Florida would be in the NC game and Tebow would have won the Heisman. Oh well. Let's dwell on the positive. There's lot's of it.
First, Tebow was 31-35 passing completions (3 TD's; 0 INT's) in the Sugar Bowl game with 482 passing yards; 51 rushing; for 533 total yards. That's more yards than any player has ever racked up in any BCS Bowl Game -- ever.
Florida's 659 total yards was a Sugar Bowl record.
Tebow ended up with a 35-6 record in his 3 years as UF's starting QB and Florida's senior class was the most successful (winningest) in SEC history. Wow!! This is why we talked so much about how devestating Florida's loss in the SEC Championship game was. Urban Meyer's reaction after the game perhaps confirmed how tough a loss it was. Meyer will coach Florida next year. But, will his less active (and intense) role in coaching and recruiting hurt the Gators in the future? Here's what we said after the Bama loss:
Tough loss for Florida in the SEC Championship Game. The Gators and Tim Tebow were on the edge of college football immortality. Here's our take on the significance of Florida's loss.
Get your
2010 Florida Gators Football Tickets
. What are
Tebow's Current Pro Prospects
?.
But, it's far from over. It's still been a great season and a great run for the Gators and Tebow. A win in the Sugar Bowl over undefeated Big East Champ, Cincinnati would be a great cap to the Tebow era. But the Gators must guard against the kind of letdown Alabama had last year when it lost in the Sugar Bowl to Utah. Read our
Florida vs Cincinnati
Preview.
The Gators keep chomping along. Great win at South Carolina over (former Gator coach) Steve Spurrier's Gamecocks 24-14. The game was tight there for a bit. But, the win means Florida is the first team to go undefeated in the SEC since 1996 when Spurriers National Champion Gators did it. Next big game is Florida State at home on Nov. 28. Then on to the much anticipated SEC Championship Game against Bama on December 5 in the Georgia Dome in Atlanta. The winner of the game will play for the National Championship on January 7, 2010. Get your tickets to these games and others at
Florida Gators Football Tickets
.
Tough win over Arkansas; controversial too. Check out
Florida Almost Upset By Arkansas
. However, remember last year about this time, the Gators LOST to Ole Miss; yet won the NC. So, all is well for now. Miss. State up next.
Looks like Alabama running back Mark Ingram and Tim Tebow will be front runners for the 2009 Heisman Trophy. Interestingly, they likely will face off in the SEC Championship game on Dec 5. I think Heisman ballots will be due on Wed., December 9; the Heisman announcement on Dec 12. So, expect a flurry of last minute Heisman ballots this year. Both the SEC Championship; Heisman Trophy; and, arguably, the National Championship could all be settled on Dec 5th, at the Georgia Dome, in Atlanta.
Congrats to the Gators on the 23-13 win over Tennessee. Some will be critical of Tebow for his interception and fubmle. But, there's no doubt that his leadership willed the Gators over Tennessee in a game that Florida was not at it's best. In retrospect, this game might turn out to the be the closest game of the year for the Gators.
What records could the Florida Gators football team break in 2009? Check out
Florida Gators Potential 2009 Records
. We all know the Gators were ranked #1 in all the preseason polls. In fact they set a record for highest percentage of #1 votes in the AP pre-season poll. But, how accurate are pre-season polls? Check out
Pre-Season College Football Poll Accuracy
.
When you are coming off an outstanding season in which you went 13-1 overall, and 7-1 in the SEC Conference, you know that you have to be feeling pretty confident about the upcoming season ahead. And when you are also coming off a National Championship (2d in 3 years), a title won in convincing fashion over an elite opponent, that confidence can come along with a certain amount of swagger.
Given what the Gators have accomplished in recent years, as well as the players that will be returning to the team in 2009, the swagger is not entirely undeserved. In January 2010 we may all be discussing whether the 2009 Gators were the best college football team ever. In fact, a similar question is being asked right now at
College Football Statistics
.
What's particularly impressive about the way that the Gators marched through their 2008 schedule. Despite the fact that they did lose a game to the surprisingly good Ole Miss squad last season, the team was thoroughly dominating in every other one of its games. In fact, it was only poetic justice that the team did, in fact, manage to make its way back into the BCS championship game, as there are very few who did not think all around that the Gators were the best team in the nation.
The single most important returning player not just on the Florida Gators, and not just in the Southeastern Conference, but to any single football team in the nation, is quarterback Tim Tebow, who bypassed the chance to come out to go to the NFL following his excellent season last year. Tebow is a unique talent behind center. He doesn't necessarily have the best arm in the nation, although it is more than capable. And he doesn't necessarily have the quickest feet in the nation, although they are quite nimble.
However, what he does have is, likely, the best combination of the two in the nation. He is a great throwing QB. He gets good distance. He is accurate. And he can run. In addition to being the teams throwing threat, he is also the returning leader in rushing at 673 yards.
---
---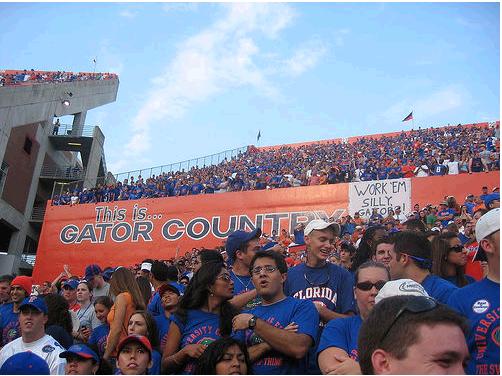 Florida Gators Football Stadium -- "The Swamp".
Thanks to bjsmith at flickr.com for the picture.
---
Tebow should have an ample array of weapons to whom to disperse the ball, even with the departure of some of its greatest weapons in Lou Murphy and Percy Harvin., Most teams would be devastated by 2 losses such as this, and while it won't be easy to do so, if any team is capable of transitioning to the new regime, it is the Gators. Younger receivers such as Riley Cooper and Deonte Thompson are ripe and waiting to step into roles of prominence in this offense.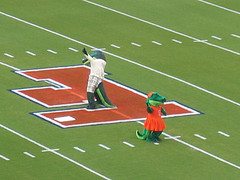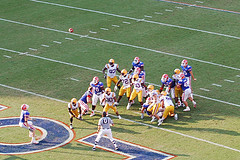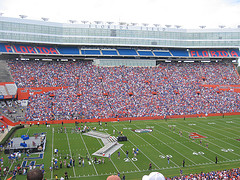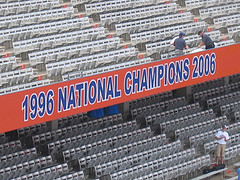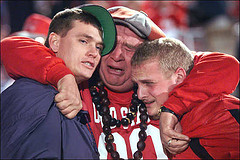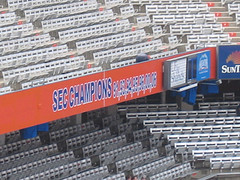 Thanks to flickr.com/photos/bjmillican for all photos above except for #'s 2 and 7 which were are credited to flickr.com/photos/slarche; #3, credited to flickr.com/royce58 and the last one, credited to flickr.com/photos/pealco. Some rights are reserved for these photos.
---
However, despite all of the pomp and circumstance surrounding the offense, the real key to this team's ability to win back to back national titles will be its defense. This special unit returns all 11 of its starters from last year's squad, and in addition, every key defensive reserve will be back to help the U. get back to the Promised Land. And this defense is loaded with pro caliber talent up and down the lineup, including Brandon Spikes, who had 93 tackles last season, as well as secondary-leaders such as Joey Haden and Admad Black.
All told, there really is no reason to believe that the Florida Gators are not only the favorites to win the SEC Championship in 2009, but also, to repeat as BCS National Champions in 2009. The team is loaded with talent, loaded with leadership. And in fact, this team, particularly on defense, has the potential to be so good, that an undefeated season may very well be on the horizon.
Bottom line 2009 Florida Gators Football Prediction: Tebow wins second Heisman. Florida goes undefeated and wins 2d straight National Championship (and joins elite group with 3 NC's in the same decade.) We begin debating whether Tim Tebow was the best college football player of all-time and whether the 2009 Gators were the best college football team in history!! And, whether Urban Meyer is the best college football coach ever. Just wait.
Well, we missed that one. Here's an interesting take on the current
Tim Tebow Super Bowl Advertisement Controversy
.
Wondering how many Heisman Trophy winners have played in a National Championship game? Here's your answer:
List of Heisman Trophy Players in National Championship Games
.
---
---
Other Florida Gators Football Pages
What do you think?

We'd love to hear your comments and/or opinions. If you submit them here, other visitors can read them, rate them and comment on them. An e-mail address is not required.

---
Alabama Crimson Tide Football | Arkansas Razorback Football | Kentucky Wildcats Football | Ole Miss Rebels Football | Mississippi State Bulldogs Football | South Carolina Gamecocks Football | Auburn Tigers Football | Georgia Bulldogs Football | LSU Tigers Football | Tennessee Volunteers Football | Vanderbilt Commodores Football |
---
From Florida Gators Football to SEC Football | SEC Sports Blog | SEC Basketball | SEC Women's Basketball | SEC Baseball | SEC Track and Field | SEC Swimming and Diving | SEC Tennis | SEC Golf | SEC Gymnastics | SEC Soccer | SEC Softball | SEC Volleyball | Best College Sports Conference | SEC Bowl Predictions | BCS Controversy | SEC vs Big Ten Debate | SEC Sports News | Current SEC Sports News | SEC Sports Pictures and Videos | SEC Sports Fan Forum | College Football Association | SEC Sports Fan Trips | Fathead | College Sports Tailgate Party Shop | College Sports Merchandise | College Sports Apparel | SEC Sports Fan Store | SEC Football Tickets |
---
Return to Home Page

About Us | Contact Us | Site Search | Terms of Use |
---