2008 FLORIDA GATORS FOOTBALL
---
If you are looking for our Current Florida Gators Football page, check out 2010 Florida Gators Football.
---
CONGRATS TO THE GATORS -- COLLEGE FOOTBALL'S 2008 - 2009 NATIONAL CHAMPION !!!
How bout Tim Tebow and them Gators? Awesome!! The Gators have won their 3rd college football national championship, beating Oklahoma 24-14. Read more about it at
Florida vs Oklahoma BCS Title Game
.
Florida's 31-20 win over Bama in the SEC Championship game gave the Gators the SEC Championship for the 2d time in 3 years. And they followed that with their 2d BCS Championship in 3 years beating the Big-12 Champion Oklahoma Sooners. As we predicted, with Percy Harvin back, Tebow and the Gators would not be denied.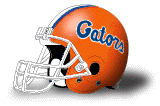 Our early prediction is that the Florida Gators will win it all next year as well. Tim Tebow and Brandon Spikes are both coming back for their senior seasons. Percy Harvin decided to go pro. But, Tebow will be the key. We think he is just unstoppable on the college football field. He has great talent; but more important is his drive to win. We are predicting he wins his second heisman trophy and leads UF to winning college football's 2009 national championship. That would be an amazing 3 out of 4 years...and 4 straight for the SEC. Yea, it's early to be predicting anything, but the Gators are not a hard choice. Who else would you pick. Look for them to be ranked #1 in the preseason 2009 college football polls.
Get your
2009 Florida Gators Football Tickets
.
Tim Tebow came in a close 3rd in the 2008 Heisman voting. Who won? None other than Oklahoma's QB Sam Bradford. Did that fire the Gators up? You betcha!!
Prior Discussion:
Should Tebow win a second straight Heisman Trophy? If you saw today's game, you have
NO DOUBT -- YES!!
Without Harvin -- Tebow carried the team with a simply flawless game when it was needed most. Wow.
Tebow deserves the Heisman this year more than last. After all, last year's Gators team did not even with the SEC East. This year, they are going to College Football's National Championship game. And, there's no doubt that Tebow is the leader of the team and just such a special player. Great players will their teams to win. Tim Tebow is a great player.
You probably heard Verne Lundquist talk a lot about Tebow's "Promise" speech after the Ole Miss loss. You can see the speech in the middle of this video:
Here's the place to get your
2009 Florida Gators Football Tickets
.
Florida Gators dominating 45-15 win over rival Florida State -- in Tallahassee -- capped a terrific regular season which has seen the Gators get stronger and stronger. Next up is the SEC Championship Game Saturday in Atlanta against Alabama. This game may be the "real" national championship game as some think these are the two best teams in the country.
2008 Florida Gators Football is simply awesome. UF's huge win over Georgia put the Gator's in contol of the SEC East. Then the Gators chomped on the Gamecocks by a score of 56-6 (worse loss ever by a Spurrier team). It's clear the Gators are hitting their stride. We think they will beat Alabama in the SEC Championship game and return to the BCS Championship game for the second time in three years. They'll likely face the Big 12 Champ. If so, they will win it all (we think). Amazing.
---
---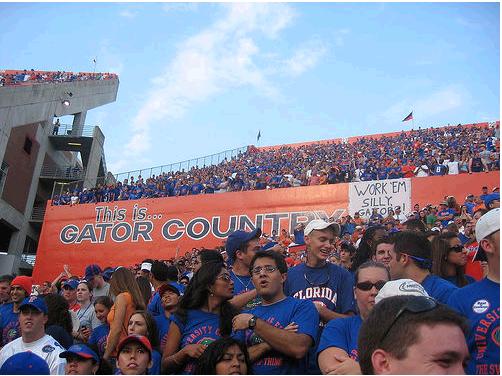 Florida Gators Football Stadium -- "The Swamp".
Thanks to bjsmith at flickr.com for the picture.
---
Congrats to Florida for their big win at Tennessee. Florida looked very strong. But, that was immediately followed by a tough loss, at home, in the Swamp, to Ole Miss. Just shows how tought the SEC is. Of course Georgia lost as well, also at home, also to an SEC West team (Alabama) -- so the SEC East is simply wide open.
Florida looked great in big wins against LSU and Kentucky at home. But, the "Game of the Year" is this weekend in Jacksonville against UGA.
We still think the winner of the Georgia-Florida "Cocktail Party" on November 1 will win the SEC East; the SEC Championship and the BCS Championship. We think that team will be Georgia -- but it could go either way. Will be a great game.
What a HUGE win, taking out LSU at home 51-21. Wow!
That was a statement. Tebow is back in the Heisman race. And, the Gators are very much back in the National Championship picture. Interesting PDF with historical match-ups of current vs former National Champs at
LSU vs Florida
.
Will the Gators return to the top in 2008? [If you want a recap of their 2006 National Championship, check out
Florida Gators 2006 National Championship
.]
2007 Heisman Trophy winning QB Tim Tebow is back for his junior season as is 2008 Preseason All-SEC wide receiver Percy Harvin; tight end Cornelius Ingram; linebacker Brandon Spikes; and 2d team All-SEC offensive lineman Jim Tartt; defensive lineman Carlos Dunlap; and defensive back Woody Pierre-Louis. In fact, the 2008 Florida Gators football team has more All-SEC players (7) than any other SEC team. Whether Emmanuel Moody (transfer from USC) can give the Gators a strong running game will be key.
Florida will benefit from a relatively easy schedule. They really only have three truly tough games. First, on September 20 they go to Knoxville to take on the Vols. Then on October 11 they play LSU at home. Finally, on November 1 they play what could be the Game of the Year when they play Georgia in the annual "World's Largest Outdoor Cocktail Party."
You have to figure the Gators will take care of business at home against LSU. The game at Knoxville could go either way as could the Georgia game. We think Georgia will be a powerhouse this year, so we are picking UGA to win the East (and the SEC and the BCS Championship). But, a few points in the Georgia game could be all that separates Florida from being the team that wins it all. So, a couple lucky breaks in that game could swing everything over to Florida. A 2d BCS Championship in 3 years is on the table for the Gators.
If the Gators do it, will Urban Meyer pass Steve Spurrier to become the best Florida football coach ever? Here's one opinion, feel free to post yours. See
Is Urban Meyer the Best UF Ball Coach Ever?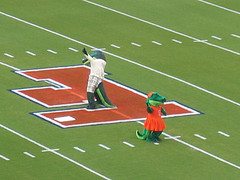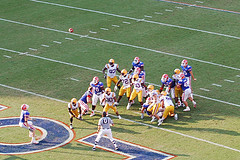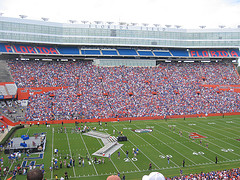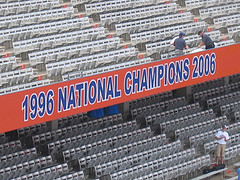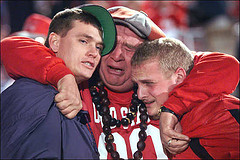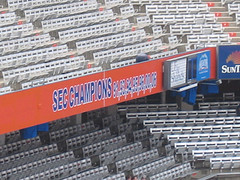 Thanks to flickr.com/photos/bjmillican for all photos above except for #'s 2 and 7 which were are credited to flickr.com/photos/slarche; #3, credited to flickr.com/royce58 and the last one, credited to flickr.com/photos/pealco. Some rights are reserved for these photos.
---
The Tebow saga will be fun to watch again this year. No doubt there is something special about him. He is truly "Superman." I thought it was all hype till he sliced and diced Tennessee (59-20) last year. I honestly think Tim Tebow could play anywhere on the field. We know he can play quarterback, fullback, tight end. Could he win a 2nd Heisman? He could of course. But, it's pretty tough to win back to back Heisman's. In fact, no one ever has. So, don't count on it.

We expect a more subdued Tebow this year with more running from an actual running back (redshirt freshman Chris Rainey and Emmanuel Moody). Tebow was worn down last year as the season went along. So, expect him to take less of a beating. Which will make the Florida offense that much better.

But, Florida's defense, especially the secondary is the big question mark. Especially after injuries to defensive back John Curtis and safety Dorian Munroe (both out for the year).

It's tough to make call now, before the first ball is snapped. But we have to do it. So, our prediction is that Florida loses to Georgia; comes in second in the SEC. Still the Gators get a BCS bowl bid; win that and end up ranked in the top 5 at the end of the year.
---
2008 Florida Gators Football Schedule
August 30 HAWAII
Sept. 6 MIAMI
Sept 20 at Tennessee
Sept 27 MISSISSIPPI
October 4 at Arkansas
October 11 LOUISIANA STATE
October 25 KENTUCKY
Nov 1 Georgia (@ Jacksonville)
Nov 8 at Vanderbilt
Nov 15 SOUTH CAROLINA
Nov 22 CITADEL
Nov 29 at Florida State

Get all the Gator gear you need - Merchandise and Apparel, Tickets, and Baseball Caps.

2008 Florida Gators Football Roster

2008 Florida Gators Football Roster

Head Coach: Urban Meyer (70-16 .814). 8th season as a head coach; 4th at Florida (previously at Utah)
Stadium: Ben Hill Griffin Staduim at Florida Field, Gainesville; Nick-named "The Swamp." 76 years old. Stadium capacity listed at 88,548 but often over 90,000 stuffed in for big games.
Other Florida Gators Football Pages
What do you think?

We'd love to hear your comments and/or opinions. If you submit them here, other visitors can read them, rate them and comment on them. An e-mail address is not required.

What Other Visitors Have Said
Click below to see contributions from other visitors to this page...

Chris Leak in the All American Football League






The last time Chris Leak saw playing time he completed eleven of sixteen passes for eighty-eight yards,with a interception and touchdown. It was the final …
---
Return to Home Page
Alabama Crimson Tide Football Arkansas Razorback Football Kentucky Wildcats Football Ole Miss Rebels Football Mississippi State Bulldogs Football South Carolina Gamecocks Football Auburn Tigers Football Georgia Bulldogs Football LSU Tigers Football Tennessee Volunteers Football Vanderbilt Commodores Football From Florida Gators Football to SEC Sports
---
SEC Sports Blog | SEC Football | SEC Basketball | SEC Women's Basketball | SEC Baseball | SEC Track and Field | SEC Swimming and Diving | SEC Tennis | SEC Golf | SEC Gymnastics | SEC Soccer | SEC Softball | SEC Volleyball | Best College Sports Conference | SEC vs Big Ten Debate | SEC Sports News | Current SEC Sports News | SEC Sports Pictures and Videos | SEC Sports Fan Forum | College Football Association | SEC Sports Fan Trips | 2008 SEC Football Tickets | Fathead | College Sports Tailgate Party Shop | College Sports Merchandise | College Sports Apparel | SEC Sports Fan Store |
---
Return to Home Page
About Us | Contact Us | Site Search |
---