Mississippi State Bulldogs Football History
Mississippi State Bulldogs football history traces its roots back before 1905. However, the earliest documented use of the "Bulldog" nickname was in 1905. However, Mississippi State's official emblem did not make an appearance until 1961. Through the years, the Mississippi State football team was also referred to as the Maroons and even the Aggies. Today, if you go to an MSU football game, you will see "Bully" the mascot prance about the sidelines of Davis Wade Stadium, entertaining the many MSU football fans, that come to see their Bulldogs play.

MSU's Davis Wade Stadium at Scott Field. Thanks to rogersmith at flickr.com for the picture.


Historically, Mississippi State football has been pretty weak on the field. Certainly a big part of that is the tough league they play in - the Southeastern Conference (SEC). The Bulldogs have only won one SEC football title (1941), and one SEC Western division title (1998).

However, the 1999 squad finished their season with a 10-2 record, earning a final ranking of #12 nationally. This was the best record, and highest final ranking, of any Mississippi Division 1-A college football team in the past 30 years.

Grab your Tickets, Baseball Caps and other fantastic Merchandise and Apparel today.

Mississippi State Bulldogs Football Stadium History
The Davis Wade Stadium at Scott Field was constructed in 1914, offering an initial capacity of 55,082. It has a natural grass field. The Starkville, Mississippi stadium showcases Scott Field, named to pay homage to Don Magruder Scott, who was one of Mississippi State's first football stars. In all of the Division I-A college football stadiums, Davis Wade is the second oldest.

As with other SEC schools, MSU has a wide array of entertaining game day traditions. For instance, cowbells play an important role in their games. Why? In the early 1900s, the tradition was born after a jersey cow found her way onto the football field, causing an interruption of the game. Over time, the animal was simply replaced with a cowbell and now cowbell's are a popular noisemaker at Mississippi State Bulldog football games. Who knew?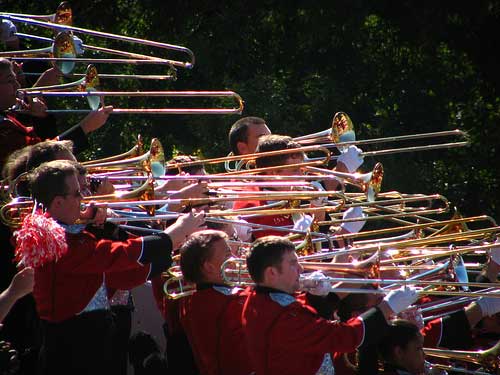 Young Mississippi State fan waves his cowbell. Thanks to rogersmith at flickr.com for the picture.


Mississippi State Bulldogs Football History: Notable Coaches and Players
The MSU football team has had a number of notable players in its history. These players included Billy Stacy (safety; the third pick in the first round in the 1959 NFL draft); John Dickerson "Jackie" Parker (an All-American college football with running back, quarterback, and defensive back experience); and D.D. Lewis (an All-American and SEC Player of the Year in 1967).

As for coaches -- the College Football Hall of Fame named former MSU football coaches - Bernie Bierman and Allyn McKeen to its membership.

Mississippi State Bulldogs Football History: Did You Know?
After the 9-11 attacks, Mississippi State was one of the first teams to return to the field in a nationally broadcast game. On September 20th, 2001, MSU battled the South Carolina Gamecocks; a game broadcasted on ESPN.


---

Mississippi State Bulldogs Football Links:
What do you think?

We'd love to hear your comments and/or opinions. If you submit them here, other visitors can read them, rate them and comment on them. An e-mail address is not required.

By
Mo Johnson
, Copyright © 2006-2017 SECSportsFan.com