Bobby Cannon's Bear Bryant Story
Here's a great Bear Bryant story you won't find anywhere else. What makes it great is that it's a true, real-life, first-hand, story about one man's personal experience with Bear Bryant. You'll see that Bob Cannon is a huge fan of Paul "Bear" Bryant. His story illustrates how Bear Bryant's drive and dedication to win made him and his teams the best in college football history. But, perhaps, that hunger to win, caused the Bear to push too hard, with negative consequences, in some cases. See what you think.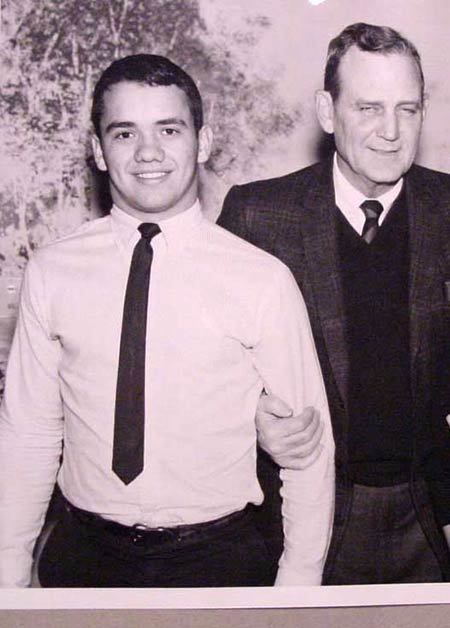 Bobby Cannon with Bear Bryant in December 1963. Coach Bryant had flown in late at night (from New Orleans) on a recruiting trip. It so happens that earlier in the day this picture was taken, Bryant had told Joe Namath he could not play in the Sugar Bowl due to curfew violations. You can see how tired Bryant looks.


Bobby Cannon played fullback on the Alabama Crimson Tide National Championship teams in 1964 and 1965. He was an eyewitness to greatness as a member of two of the greatest college football teams ever. Check out Top All-Time SEC Football Team Survey.

The best place to start with Bobby Cannon's story is to start with his dad. Bobby's dad was Ray Cannon and he played football, during an even earlier era in college football, at the University of Tennessee for one of the best all-time SEC football coaches -- "General" Robert Neyland. Here's a picture of Ray Cannon in 1939.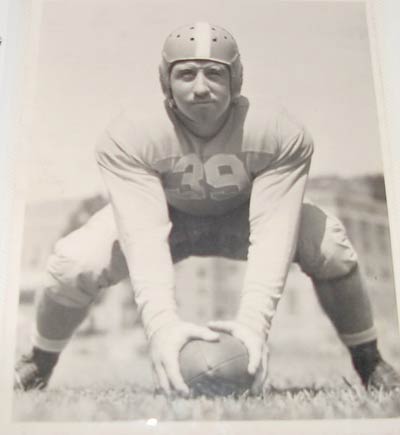 Picture of Ray Cannon in his Tennessee football uniform in 1939.


Tennessee won the SEC Championship in 1939. Of course, that was right in the middle of probably UT football's "glory years". Tennessee won college football's National Championship in 1938 (consensus selection) and again in 1940 (some selectors).

You can see more pictures and read more about Ray Cannon at Ray Cannon Scrapbook.

Given Bobby Cannon's family history - lived in Knoxville; dad played for Tennessee and General Neyland; mom (and most of the rest of the extended Cannon family) graduated from UT - you would naturally expect that Bobby would go on to play for the Volunteers as well.

And, that might have happened, except that Ray thought his son would be better off at Alabama. The reason is that in 1963 Tennessee still played the old-style single wing football, which, Ray thought was "dead." And, of course, Alabama had Bear Bryant and was coming off a National Championship in 1961. You can read more about that team at Best All-Time NCAA College Football Team. Also, Alabama simply recruited Bobby sooner, and harder, than UT did. By the time, Tennessee showed serious interest, Bobby was pretty well committed to Bama.

Here's what Bob Cannon had to say about how he was recruited by Bear Bryant and why he decided to go to Alabama:

"I went to Alabama only to play for Coach Bryant. My dad played for General Neyland at UT in 1939 and thought Coach Bryant the greatest coach that ever lived. My dad played at Central High in Knoxville. He was the best natural athlete I ever saw. He could do anything well. He went to UT and dislocated his shoulder (as I would also later do). He played center in the single wing and centered the ball with his head down. Extremely difficult. Most teams played with a guard over center and it was hard to do.

General Neyland called dad, "the hardest working player on the team" while he was there in 1939. Bob Suffridge told me that dad was the best athlete he ever played with. Bob got dad a contract with the Philadelphia Eagles but dad's shoulder kept him from playing. Many of dad's teammates told me the same thing.

I met UT greats who recruited me -- including Beatty Feathers from Wake Forest and and Ray Graves from Florida -- who knew dad. Dad taught me more than any coach I ever had. He and Coach Bryant were cut from the same piece of cloth.

I enjoyed meeting the athletes dad played with more than the ones I was with in school. These guys loved to play the game just for the game. They would have played in the middle of the night without fans for no money - just for the love of the game.

Alabama committed to give me a scholarship when I was a junior even if I broke my leg in my senior year. Tennessee didn't recruit me hard. I played sports on the same team for years with Jim McDonald. He was later a star player at UT and his dad was head coach at UT my senior year. I spent the night at their house many times and he assumed I would naturally want to go to UT.

I didn't go to Tennessee because they were still playing single wing football which was dead. Dad understood the single wing extremely well and knew it wasn't the offense of the future. UT was dismal at that time and until Coach Dickey arrived there was no hope in sight. I wanted to be a running back and couldn't pass well enough to be a tailback in the single wing. We had verbally committed to UA for a long time and were honored to be considered for a scholarship in that program.

I went to Alabama to see the Auburn game as a recruit in 1963. Alabama was losing and in the last 5 minutes of the game, no Alabama fan in the stadium thought UA would lose [even though they did]. I had visited many schools as a recruit and this was really impressive. Any kid would want to be part of a team that played in that environment.

Bear Bryant came to Morristown to see me. Z Buda was the mayor of Morristown and a big UA supporter. [Z Buda was considered the representative for Alabama football in East Tennessee.] He hosted all of us there. Howard Schnellenberger (offense coach at the time) and Jim Goostree (trainer) and former UA great Charlie Pell recruited me mostly. This was the only trip Coach made just to recruit me in Tennessee. [The picture of Bobby Cannon with Bear Bryant on this day is the picture at the top of the page.]

One afternoon in December, 1963, my sister came to get me at school while I was working out. She told me that the new UT Head Coach, Doug Dickey, was at our house and wanted to see me. He had just flown to Knoxville and came straight to our house. I went home and met him. He told me he wanted me to come to UT and that he was going to build his offense around me. I really liked him a lot and would have loved to stay home and play for the Vols.

But, dad was adamant that I would go to UA and wouldn't even consider it. My mom is still mad about it until this day. My mom is a UT graduate as is everybody else in my family. She loves UT and is still an avid supporter. She loved Coach Bryant as well and he was a big fan of hers. In fact, the day they dedicated Paul Bryant Hall in Tuscaloosa, she was the first person he went to see after the dedication. She wanted me to go to UT but loved all of the attention from him.

Here's an image of the letter Bobby Cannon received in December 1963 from Bear Bryant. Interesting that Dec. '63 was when Tennessee coach Doug Dickey first called on Bobby. Too late though...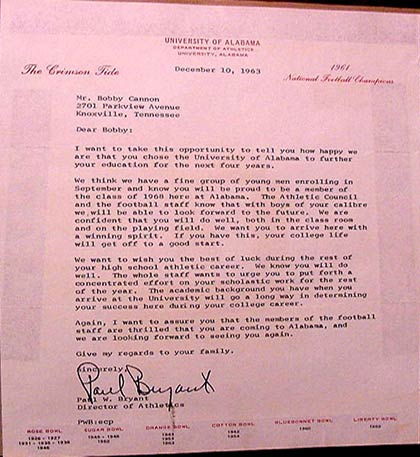 This is the letter Bobby Cannon received from Bear Bryant in December 1963 welcoming him to the University of Alabama.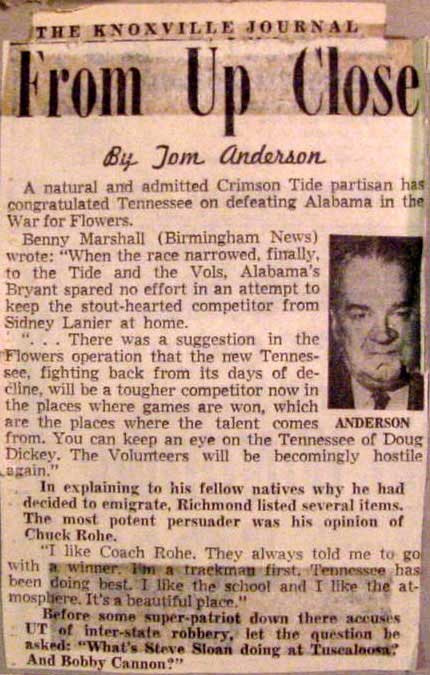 Interesting article illuminating the hot recruiting rivalry in the early 60's between Tennessee and Alabama. Article mentions Bobby Cannon as a Tennessean stolen by Alabama.


Coach Bryant was always great to me and treated me like a son. I was in the "100% Club" at UA as a freshman and you didn't get in that elite group without Coach Bryant being high on you.

[You can read about Bear Bryant's One Hundred Percent Club and Bobby Cannon's membership in it towards the bottom of the article pictured here:]


Photo of Bear Bryant in his famous Tower in 1964.


Towards the bottom of this article is a discussion of Bobby Cannon; his membership in Bear Bryant's "100% Club"; and, it's privileges.

In one practice, I got into a fight on the field with an assistant coach. Coach Bryant came down out of his tower and it scared me to death.

I had seen the same thing happen one other time and he made the player run until his tongue hung out. He walked over to me and looked around and said: "Let's play ball." That was one of the happiest moments of my life!

I played for Bear Bryant at the Univ. of Alabama in 1964 and 1965. I played every game in 1964. But, I dislocated my shoulder many times and had surgery in Birmingham after the Spring Game in 1965.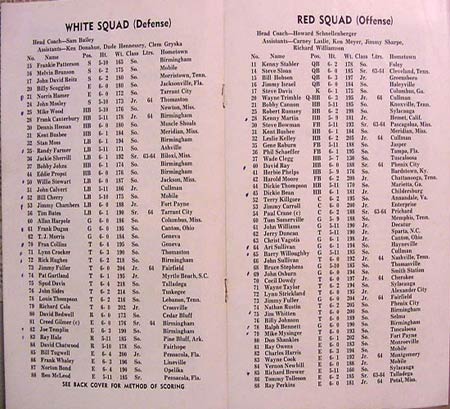 Copy of the 1965 Alabama Red-White spring football game roster. Lots of big names on there. Bobby Cannon is #21 on the Red Squad.


During one of the first practices our freshman year, we all ran a 40 yard race. The fastest runners remained as backs and the rest were sent to the line. I came in second behind Dennis Homan. I should have been a running back but I was such a good blocker that Coach Bryant put me at fullback. He valued a good blocker more than a good runner. That was my undoing. I would knock these big linemen down and they would fall on my shoulder. Gaylon McCullough had a dislocated shoulder also and he would help me get mine back in place.

I'll never forget a spring practice in 1965. I lost 14 pounds during that one particular practice! The next day I had only gained 7 pounds back. We had a scrimmage in Denny Stadium and I didn't even take my uniform. Coach Goostree saw me and asked why I wasn't dressed. I told him and he told me to get dressed and that they would use me sparingly and put towels on my head.

On about the 5th play, Steve Bowman got hurt and I played the rest of the scrimmage and no "towel" was forthcoming. Near the end of the day, I dislocated my shoulder and I thought to myself: "wow that is finally coming to an end." I got up on my knees; looked at the sideline and saw Leroy Jordan sitting there looking at me. I thought to myself that there was no way I was going to leave the game then. I had always heard that he had some teeth knocked out in a game, stuck a cloth in his mouth, and went back in the game. Needless to say, I finished the practice.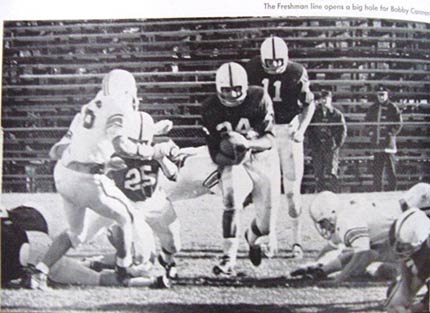 Bobby Cannon running through a big hole at the line of scrimmage. Notice all the players that have been knocked to the ground. You don't see blocking like that any more. #11 behind Bobby is Alabama QB Ken Stabler.


After the spring game in 1965, I had shoulder surgery around the first of June. My arm was in a sling until the middle of July and I couldn't run or lift weights all summer. I had always been in great shape and bench pressed 325 lbs in high school before most people were even lifting weights.

When my sling was removed, I couldn't even lift my right arm. I was horrified to see the condition of my upper body. I had to walk my fingers up the wall for a month before I was able to raise my arm without assistance.

When we reported to camp around the first of August, we had to run a 6:15 mile to get into camp. I hadn't run for two months and didn't think that I could do it. My dad and I talked about the situation and decided that I wasn't physically able to play. Dad took me home after Picture Day and I was away from UA for several days.

Dad and I both knew that by leaving after Picture Day I was essentially giving up my scholarship. He decided that I would go back to UA in the spring for spring practice and pay my way to school. I would spend the fall and winter getting myself physically ready to play. He asked me to go back to Tuscaloosa and tell Coach Bryant what I wanted to do.

When I got back to school, Coach Bryant said he wanted to meet me at the coach's office at 11:00 that night. We were the only two people there. He started talking to me and I sat there and listened. I felt like Moses right before getting the Ten Commandments. He was just a totally charismatic personality and I felt that if he wanted to turn me into ashes at that moment, he could do it.

He finally said, "I've only given two people back their scholarships, Richard Williamson and Jerry Sharpe, but you're going to be the third. So go get your stuff, get in the dorm tonight, and be at practice in the morning."

That was the last thing that I needed to do, but I had so much respect for him that I would never have refused him anything. Time proved that I should have done what dad told me to do, but I couldn't tell Coach Bryant "no" after what he said to me. I couldn't physically play and things went steadily downhill from there.

I did play in 1965, but never fully recovered, and never again did I play football as well as I had before the surgery. Going back at that time was the worst decision I ever made.

But, I don't blame Coach Bryant. It's sort of like General U.S. Grant. He had a war to win. He knew people were going to be killed in doing it. You can't win a war without somebody getting hurt. Coach Bryant was doing what he thought was best for the team and to win a national championship. I believe he thought it was best for me also. Steve Bowman could have been hurt and he wanted me there if that happened. He really wanted to red-shirt me though. In most cases, that might have been the best. In my case it wasn't. I was already demoralized about my physical condition and having to try to do my best in practice without being able to do so. I couldn't live with that and that was my fault; not his.

I didn't live up to Coach Bryant's expectation or my own. But I learned a lot from being around him and will always remember him with the greatest admiration. Few people get to be around the best coach that ever lived and I am grateful to have had the opportunity to know him.

The game today is totally different. The rule changes since the 60's have done that. The game was played a few inches from the ground back then and quickness was important. Now, blocking is done by standing up and holding somebody's jersey or just getting in their way.

Back then, blocking meant that you knocked them on the ground. Knocking a defensive end on the ground was better than leaving him standing. The quarterback has better visibility and doesn't have to worry about the end knocking down the pass [if the end is on the ground]. That's just one of many things that has changed the game.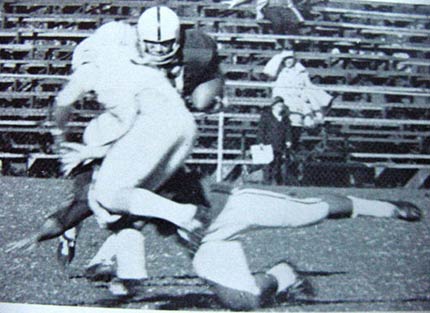 Bobby Cannon blocking for Ken Stabler. What a block!!


The last time I saw Coach Bryant, he was in the Tuscaloosa airport. He was boarding a plane with several gentlemen. He saw me and came over and sat with me and talked to me for several minutes. He was a true gentleman in every sense of the word. Anybody that was around him was truly fortunate."


You can view many more interesting articles and photos about Bobby Cannon's football career with Alabama and Bear Bryant at Bobby Cannon Scrapbook.

SEC Sports Fan is grateful to Bob for sharing a bit of his family's tremendous football heritage with all of us. If you have questions for Bob, send them to Contact Us and we'll pass them along. Maybe we can squeeze some more info out of him :)

Also, everyone has a story or opinion about Bear Bryant. Share yours below. Thanks.

You can read more about THE Coach at Bear Bryant Biography or about the glorious Alabama Crimson Tide Football History.

If you are looking for current Alabama football information, check out Alabama Football.


Share Your Bear Bryant Story Or Opinion Here

We'd love to hear your story (or opinion) about Bear Bryant. If you submit it here, other visitors can read it, rate it and comment on it. An e-mail address is not required. You can submit a picture too.

What Other Visitors Have Said
Click below to see contributions from other visitors to this page...

bamagirl Not rated yet
this is great info. i just love reading about the crimson tide!!!!!!!!!!!!!!!!!!!!!!!!!!!!!!!!!!!!!!!!!!!!!!!!!!!!!
awesome info Not rated yet
sweet i used alot of your information for my project at school!
By
Mo Johnson
, Copyright © 2006-2017 SECSportsFan.com