Vanderbilt Commodores Football History
The first game in Vanderbilt Commodores football history was in 1890 when they met the University of Nashville in their first college match-up. Four years later, Vanderbilt would become one of the seven founding members of the now-defunct Southern Intercollegiate Athletic Association. During those years, Vanderbilt enjoyed success and even dominance in Southern college football.
In 1932, Vandy was instrumental in the establishment of the Southeastern Conference (SEC). The original teams of the SEC consisted of Alabama, Florida, Kentucky, Georgia, Ole Miss, Tennessee, Mississippi State, LSU, Auburn, Sewanee, Tulane, and Georgia Tech.

Unfortunately (for Commodore football fans), Vanderbilt has never won an SEC football championship. In fact, the Commodores enjoyed their last winning season in 1982. The 1982 team was able to muster an 8-4 record, which earned them a spot in the Hall of Fame Bowl.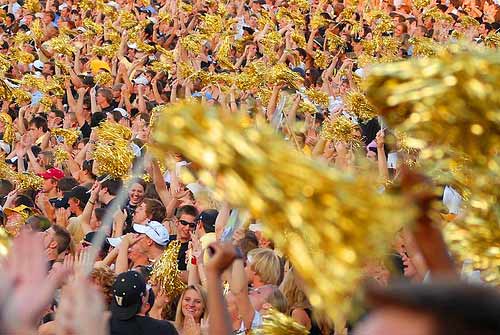 Thanks to JEFFHREED at flickr.com for this photo of Vanderbilt fans showing their true colors (black and gold).


Stadium History
The fans that gather in the stands of the Vanderbilt Stadium at Dudley Field wear black and gold to represent the school colors. The stadium opened on October 14th, 1922 with an original capacity of 20,000. Over the years, numerous expansion projects saw the addition of stands in the south, a completed horseshoe design, and north end zone bleacher stands. The first home game played at Dudley Field was between the Commodores and the University of Michigan. The game ended in a scoreless tie.

In 1981, most of the stadium was completely demolished and rebuilt to accommodate a total capacity of 41,448. Wooden bleachers were added and then later removed in 2004. Currently, the school is drawing up additional plans to expand the stadium with the intended addition of a JumboTron.

The nickname of Vandy's football team originates from a designation given to Cornelius Vanderbilt, who made a boatload of money in the shipping business. Since a Commodore is a rank in the Navy, a naval officer in 1880s attire has always represented the school as its mascot.

Notable Coaches and Players
In Vanderbilt Commodores Football History, there have been a handful of coaches who have received College Football Hall of Fame honors. Some of those coaches have returned to the school for repeat performances as leaders of the Commodores. This includes Dan McGugin, who coached from 1904-1917 and 1919-1934; Ray Morrison, who played for the Dores and later became their head coach from 1936-1939; and Red Sanders, who led the Commodores from 1940-1942 and 1946-1948.

Over the years, Vanderbilt has sent a number of players into professional football careers in the NFL. One of the most notable is Jay Cutler, a quarterback, who served as the offensive captain for the Commodores and was selected as the 11th overall pick in the 2006 NFL draft. Cutler went on to play for the Denver Broncos and was given the starting quarterback position his rookie year. While at Vanderbilt, he started more than 40 consecutive games and set school records in touchdowns and rushing yards.

Former Vanderbilt players who have earned a space alongside other greats in the College Football Hall of Fame include John J. Tigert (fullback; 1901-1903); Josh Cody (tackle; 1914-1916, 1919); Lynn Bomar (end; 1922-1924); William Spears (quarterback; 1925-1927); and Carl Hinkle (center; 1935-1937).

Bowl Records
Vanderbilt offers a short read when it comes to the number of bowl appearances under their belt. The record is even less appealing. On December 31st, 1955, Vanderbilt was part of the Gator Bowl where they defeated the Auburn Tigers 25-13. On December 28th, 1974, the Commodores met up with the Texas Tech Red Raiders in the Peach Bowl, which ended with a 6-6 tie. Their last bowl appearance took place on December 31st, 1982, making it to the Hall of Fame Bowl, only to lose in a 36-28 to the Air Force Falcons.

Did You Know?
According to college football writer, Tony Barnhart (Atlanta Journal-Constitution), a 2006 survey of ten former SEC coaches ranked the Vandy job as the least desirable in the conference.

Did you also know that you can get all your Vanderbilt Commodores Merchandise and Apparel, Tickets, and Baseball Caps here?

Vanderbilt Commodores Football Pages:
What do you think?

We'd love to hear your comments and/or opinions. If you submit them here, other visitors can read them, rate them and comment on them. An e-mail address is not required.

What Other Visitors Have Said
Click below to see contributions from other visitors to this page...

2007 Georgia vs Vanderbilt Not rated yet
In this game, Georgia was hoping to return the favor in beating Vanderbilt on their homecoming game. In 2006, Commodores beat the Bulldogs …
By
Mo Johnson
, Copyright © 2006-2017 SECSportsFan.com