Ole Miss Rebels Football History
If you look back to the beginning of Ole Miss Rebels football history, you will find that the "Rebels" were originally called the "Flood". When the University of Mississippi football team first set foot on the field, fans cheered on the "Mississippi Flood."
In 1935, after joining the Southeastern Conference (SEC), the nickname was changed to "Rebels." The cardinal red and navy blue colors, were chosen to reflect the esteem of Harvard and Yale.

Ole Miss football history begins in 1890, when Dr. A.L. Bondurant, a former dean of the Graduate School, encouraged the formation of an Athletic Association that would accommodate the interests of football, tennis, and baseball. In 1893, the football team was born and Bondurant took over as a manager-coach.
Over the years, the Rebels have experienced plenty of ups and downs. Under the leadership of Johnny Vaught, the football team did quite well, being named as the National Champion in the post-season polls in 1960.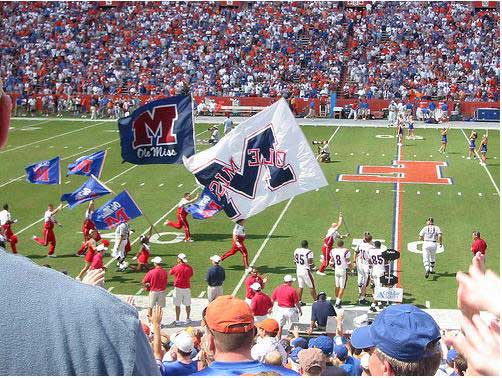 Ole Miss football takes the field at Florida. Thanks to bjsmith at flickr.com for the picture.


The most recent success that the football program enjoyed came in the form of Old Miss legend, Archie Manning's son, Eli, who delivered a SEC Western Division co-championship and Cotton Bowl victory in 2003.

Check out these links for your Ole Miss Rebels Merchandise, Fathead.

Ole Miss Rebels Football: Stadium History
The ground for the Ole Miss football stadium was broken in 1912 and was officially opened on October 1st, 1915. It was called "Hemingway Stadium" until 1982 when the name was modified to Vaught-Hemingway Stadium. Throughout the years, the stadium has received a series of facelifts. Lights were installed in 1990, followed by a JumboTron in 1997. Today, the field showcases an AstroPlay artificial turf with stands that can hold up to 60,850 fans.


Ole Miss Vaught-Hemingway Stadium. Thanks to shockingbird at flickr.com for the picture.


Over the years, Vaught-Hemingway Stadium has seen the Rebels establish a strong rivalry with two SEC teams in particular - the LSU Tigers and intra-state rival - the Mississippi State Bulldogs. At the end of each football season, the Rebels and Bulldogs meet to play in the Egg Bowl, where the victorious team walks away with the Golden Egg Trophy.

Ole Miss Rebels Football History: Notable Coaches
When it comes to legendary coaches, Ole Miss holds a candle to the legacy that Johnny Vaught created at Mississippi. Vaught was responsible for boosting the Rebels football program throughout the 1950s. In 1947, Vaught replaced Harold Drew and instantly went to work on improving the team. He introduced the Split-T in the Deep South, and amassed 190 coaching victories in his 24 years as head coach. In 1960, he led Old Miss to a 9-0-1 season and won the SEC Football Championship. Vaught also accumulated three National titles, six SEC overall titles, and 18 bowl appearances.

Ole Miss Rebels Football History: The Manning Legacy
There is probably no family name more prominent in College Football than the Manning family. Ole Miss was privileged to enjoy the talents of father and son - Archie and Eli Manning. In the late 60s and early 70s, Archie Manning was known as one of the greatest quarterbacks in Ole Miss and SEC history. To this date, he is the only player to have his number retired (#18) at Ole Miss - (NOPE, NOT CORRECT -- thanks to a reader who posted below that Chucky Mullins' #38 was also retired in Sept. 2006). In 1971, Archie was the second overall pick in the 1972 NFL draft, drafted by, and playing most of his career (all of the substantive part of it), with the New Orleans Saints. [Thanks to Philip W. for pointing out that at the end of his career Archie was traded by Bum Phillips to Houston and later he went to Minnesota where his career ended due to physical problems (thyroid maybe?).]

As for his son, Eli, he went on to set or tie 47 single-game, season and career records at Ole Miss. Setting a school record for number of career passing yards, Eli amassed 10,119 yards, ranking fifth on the SEC career list. He set various records in career completions, passing attempts, and touchdown passes. In 2004, Eli was the 1st pick in the NFL draft. He was drafted, and still plays, for the New York Giants.

Then there is Peyton Manning. But, he never played for Ole Miss; so that's for another page. You can read more about him at Best All-Time SEC Football Player.

Ole Miss Rebels Football History: SEC Distinctions
Recently, Ole Miss Football has struggled. See SEC Football. But, if you look back into Ole Miss Rebels football history, you will find an impressive portfolio of accomplishments that includes:
Three National Championships (1959, 1960 and 1962);
Six SEC titles (1947, 1954, 1955, 1960, 1962, and 1963); and,
One SEC Western Division title (2003).

Ole Miss football teams produced more than 40 First-Team All-Americans and 145 All-SEC selections. More than 200 former Rebels have also played professional football.

Ole Miss Rebels Football History: Did You Know?
Archie Manning's #18 uniform number is the official speed limit on the University of Mississippi campus.


Other Ole Miss Rebels Football Pages:
What do you think?

We'd love to hear your comments and/or opinions. If you submit them here, other visitors can read them, rate them and comment on them. An e-mail address is not required.

What Other Visitors Have Said
Click below to see contributions from other visitors to this page...

Ole Miss Retired Numbers Not rated yet
Above it was mentioned that only Archie's number 18 was retired, but Chucky Mullins' number 38 is also retired.
By
Mo Johnson
, Copyright © 2006-2017 SECSportsFan.com