SOUTH CAROLINA GAMECOCKS FOOTBALL HISTORY
South Carolina Gamecocks football history began long before it entered the Southeastern Conference (SEC). It was only in 1992, that the University of South Carolina began SEC play.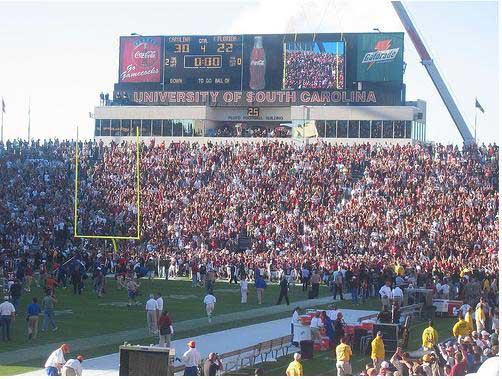 South Carolina Gamecocks football fans behind the endzone. Thanks to bjsmith at flickr.com for the picture.
UPDATE: Thanks to a visitor who sent us the following comment: "Comments: Just letting you know that on your history of south carolina page, it is incorrect that they left the Atlantic Coast Conference (ACC)in 1990. They actually left the ACC sometime in the 1970's (at Frank McGuire's behest, I believe) and the football team remained an independent until joining the SEC. We still played brutal schedules though, regularly playing teams like Georgia, Notre Dame (another independent), Michigan, Florida State, of course Clemson and sometimes even the Univ. of Southern Cal. (we're the REAL USC, ha-ha!)"

[In 1992, the SEC became a 12 team league, with East and West divisions, and a playoff at the end of the season to determine the winner of the SEC title.]

The University of South Carolina (the "real" USC) is the only major athletic program in college to sport the official nickname and mascot - "Fighting Gamecocks." [NOTE: Thanks to Kevin who visited this page and let us know that Jacksonville State (AL) also carries the nickname "Gamecocks".] So, there's another college that uses that nick name. Not sure if it should be considered a "major" athletic program though....

Anyway, before the 1900's, the football team was known by a multitude of other nicknames, but none ever really stuck. The unofficial name was made permanent when, in 1903, the morning newspaper in Columbia called "The State," shortened their name to Gamecocks, which South Carolina teams, players, and fans readily embraced.

Known for its lively and aggressive spirit, the fighting rooster embodied the character of South Carolina players. The name has historic meaning, as South Carolinian's traditionally took the breeding and training of birds for cockfighting quite seriously. In fact, Revolutionary War General, Thomas Sumter, was from South Carolina, and was known as "The Fighting Gamecock."

Go here for all your South Carolina Gamecocks Merchandise and Apparel, Tickets, and Baseball Caps.

South Carolina Gamecocks Football Stadium History
The current football stadium, now called Williams-Brice Stadium, opened on September 23, 1934. The stadium was known as the Municipal Stadium from 1934 to 1940 and Carolina Stadium from 1941 to 1972.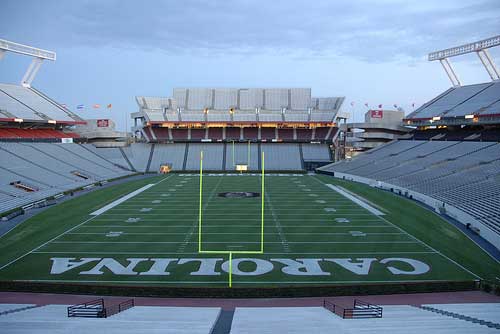 South Carolina's Williams-Brice Stadium. Thanks to a better buzz at flickr.com for the picture.
On a typical South Carolina football Saturday, as South Carolina fans pile into the "Cockpit," you'll see flashes of garnet and black (the school colors) mimic the flair of the gamecock plumage. With an explosion of color, "Cocky" the National Mascot of the Year in 1986, 1994, and 2004, greets roaring Gamecock fans.

Many well-known and respected college football teams have played the Gamecocks at Williams- Brice Stadium and never captured a win. For example, Kansas State, Georgia Tech, and Southern California have tried, yet failed, to get a win in Columbia.

Over the years, the Gamecocks have also established a slew of stadium traditions - the most undeniable being the "rooster crow" heard over the loudspeakers when a touchdown is made.

South Carolina Gamecocks Football History: Notable Characters
George Rogers, winner of a Heisman Trophy, is probably the most famous football player in the University of South Carolina's football history. After graduating from USC, Rogers went on to have a very successful pro career (see below for more about George Rogers).

Bill Wohrman (1952-1954) also racked up many different awards as the 1954 co-captain and Most Valuable Player award recipient. Before a professional football career with the Cleveland Browns and the New York Titans, he was the only player in Carolina history to win four Jacobs Blocking trophies.

Another tremendous South Carolina football player was its all-time leading passer and winningest quarterback in Gamecock history, Todd Ellis (1986-1989). During his career with South Carolina, Ellis set several passing records and later, after graduating from USC Law School, became an announcer with the Gamecock Radio Network.

Of course, a summary of South Carolina Gamecocks history would not be complete without noting the recent arrival of their current colorful coach, Steve Spurrier. If you haven't already, you can read more about him at Best All-Time SEC Football Coach.

South Carolina Gamecocks Football History: The Legacy of George Rogers
With a history of college and professional running back distinctions, George Rogers broke many barriers and set many firsts. Not only was he the first player to have a jersey (#38) retired while still active at the school, but he also left behind a handful of records yet to be broken including total career yards, rushing touchdowns, and all-time points scored. As noted earlier, George Rogers won the Heisman Trophy and was the 1st pick in the 1981 NFL draft.

South Carolina Gamecocks Football History: Games and Rivalries
Throughout the history of the USC football program, the Gamecocks have won many notable games. Their first win came in 1934, when they beat Erskine (25-0). Additional big wins include:

Probably South Carolina's biggest rival is rival ACC and in-state football power Clemson University. Gamecock fans will never forget November 22, 1975, when South Carolina beat the Tigers 56-20. That was their biggest win ever against Clemson.

The biggest victory margin in Gamecocks history came when they trounced Wichita State in a 73-0 win on September 13th, 1980.

The highest ranking achieved by the Gamecock football program followed the November 10th, 1984 win (38-26) against Florida State when they captured their ninth win; remained undefeated; and reached the # 2 position in national college football polls.

The September 28th, 2006 game against Auburn University became the highest-rated televised Thursday night game in ESPN history.

South Carolina Gamecocks Football History: Did You Know?
In 1993, Williams-Brice Stadium was the setting for the movie, "The Program" - a college football movie that starred James Caan and Halle Berry.

South Carolina Gamecocks Football History Pages:
---
---
What do you think?

We'd love to hear your comments and/or opinions. If you submit them here, other visitors can read them, rate them and comment on them. An e-mail address is not required.

What Other Visitors Have Said
Click below to see contributions from other visitors to this page...

By
Mo Johnson
, Copyright © 2006-2017 SECSportsFan.com