Jonathan Crompton
by Cincy Vol
(Roanoke, VA )
Decisions, Decisions, Decisions
Phil Fulmer made it clear earlier this week what his QB decision was. Fulmer said Crompton was the man for Saturday and will be the man barring anything drastic. Now, we're left wondering if Phil made the right decision and if Jon can too.
The day following this announcement, it was released that Crompton would have surgery. A minor surgery on his elbow, but it still leaves you on the edge of your seat. Not to mention the Spring Mr. Crompton has had. So excuse me as I question Fulmer's decision.
We all remember when Jon filled in for an injured Erik Ainge just two years ago. Crompton opened the eyes of Vol fans everywhere when he impressively threw for 183 yards, two touchdowns and an interception. He followed that up the next week against Arkansas with similar numbers, 174 yards, two touchdowns and an interception.
Crompton had minor playing time last year and finished the season with a touchdown and two interceptions. This spring in the scrimmages to date, Crompton has thrown for three touchdowns and five interceptions against a stellar defense. So by now, we should all realize what I'm getting at. The guy throws interceptions. How does nine interceptions in minimal playing time plus spring sound to you? What does it say to me? It says the guy's decision making isn't there.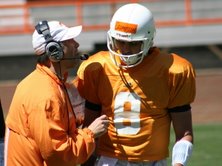 I don't want a quarterback who thinks that he can throw into anything because he has a great arm. We know the guy has a good arm, he was a 5 star recruit and #3 quarterback in the nation coming out of high school. But, he seems to know he has a good arm, too.
In some cases this can be good, but there is a fine line between arrogance and confidence. Jon is going to get his first start to a football game in some time, but he has to realize who he'll have around him. The wide receivers include Gerald Jones, Austin Rogers, Ahmad Paige, Quintin Hancock, and Lucas Taylor. He'll also have Luke Stocker and most likely Jeff Cottam at the tight end positions to throw to.
That's a pretty deep squad; meaning doesn't have to try to be the hero. His job is to get the ball to the playmakers, just like Clawson has been preaching. So maybe Fulmer has made the right decision in electing Jon the starting job, we'll have to see if Crompton will listen to what Clawson is preaching and lead this team to victory.
Cincy Vol can be found posting about all things Tennessee at
Tennessee Football Blog
and UT Vols Football Blog.