2007 Tennessee Football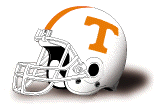 ---
Our current UT football page is at
2010 Tennessee Volunteers Football
. Sound off about Phil Fulmer at
Fire Phil Fulmer?
.
---
Check out our new
Tennessee Football Blog
.
Moon Dog just recently started a weekly UT football round table. You should check it out at:
The Big Orange Round Table
.
It was a big win for the UT football program in the Outback Bowl. Good, close game (21-17). Nice to see the Vols win one of those -- especially against a strong Big Ten team in Wisconsin. Big win for the SEC as well, especially since Florida lost to Michigan.
So, 2007 turned out to be a great year for Tennessee Volunteer football. UT ended up with a 10-4 record (first 10 win season since 2004). And, it happened in year that started off badly, and saw Fulmer on the ropes as never before. But, Fulmer and the Vols showed class and courage by ending the year with 5 wins in the last 6 games.
Next year will likely be a challenge as UT loses QB Erik Ainge to the pros, and even worse, Offensive Coordinator David Cutcliffe to Duke. Much more to come on the 2008 outlook for Tennessee Volunteers football. For now, suffice it to say, an SEC East Championship repeat is not likely in the cards.
Prior Discussion:
I know we lost. But, Tennessee fans should be feeling pretty good tonight. We were very, very lucky to win the SEC East and be in the SEC Championship game. Remember those South Carolina, Vanderbilt and Kentucky wins. Very fortunate.
And, UT played well tonight, losing by only a touchdown to an LSU team that likely will play for the BCS National Championship.
So, nothing at all to be ashamed of. And, it could work out better in the long run as now we'll still go to a nice bowl, and have a good chance of winning it.
More on that to come.
Please make your your Tennessee football comments at bottom of this page.
Here's what we've been saying since August -- and it has panned out so far....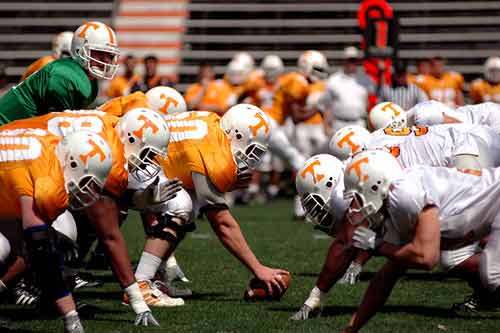 Tennessee Volunteers football line of scrimmage.
Thanks to Motion blur at flickr.com for the picture.
---
**********************************
There is nothing quite like Tennessee football. Of course, as a huge UT fan I readily admit I am biased. But, even so, you've got to admit there is nothing like the chills you get at Neyland Stadium when surrounded by 106,000 screaming, orange-clad Volunteer fans when the Vols run through the "T" on game day. OK, well, at least you will admit there is nothing like that checkerboard end zone!
For the past several years, I have had numerous opportunities to express my frustration with the Vols and head coach Philip Fulmer.
But, I'm not gonna go there. At least not yet. I'm keeping a positive attitude and have convinced the crew at www.secsportsfan.com that this is the year Tennessee football rises again to the top.
Florida, lost virtually all of their starters on defense and everyone will be gunning for them this year – so we don't think they will repeat as SEC East Champs.
So, who will? Why not the Vols? Why not?
Show your support for Tennessee football!
Check out these links for your Tennessee Volunteers
Merchandise and Apparel
,
Tickets
, and
Tennessee Vols Fight Song Poster
.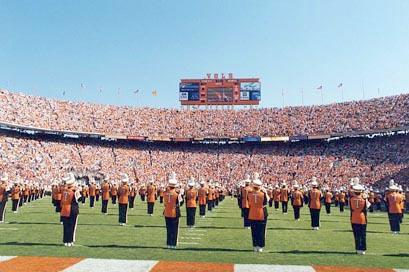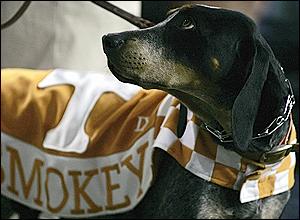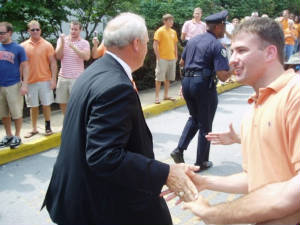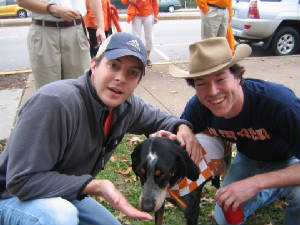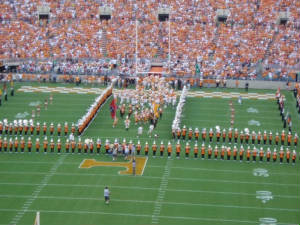 Thanks to UT Sports.com for the first 2 photos above. Thanks to onthetrucks.com for the last 3. You can read more about them at On The Trucks. Some or all rights are reserved for these photos.
---


We know that's not a good reason to pick the Vols to win the SEC East – but, really, this is a year when each of the six teams in the SEC East can beat the other on any given Saturday. We think the winner of the east will have at least two SEC losses and maybe finish in a tie for first. We think, all in all, Tennessee football is best positioned to be the team at the top of the SEC East come November.

Tennessee's football program, coaching staff (Phil Fulmer, David Cutcliffe, etc) and talent is strong, experienced, and well-positioned for a great year. They have a great Senior QB in Eric Ainge and two top-notch runners.

The Vols need to get it done this year. If not, Florida will be stronger than ever in 2008 and Georgia and South Carolina look to be stronger as well. This is the year for the Big Orange!

Tennessee football had a decent season last year with a 9-4 record, placing second in the SEC East. They lost close games to Florida and LSU and also suffered a loss to Arkansas when QB Eric Ainge was out with an injury. They went on to the Outback Bowl, where they were sadly defeated by Penn State 20-10. Yet, another game that turned on a couple crucial plays.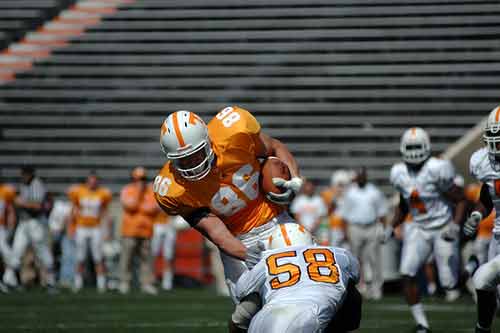 Tennessee Vols Orange and White game
Thanks to Motion Blur at flickr.com for the picture
---


The Vols had great success with star wide out Robert Meachem, who had 1,298 receiving yards and scored eleven touchdowns, and with quarterback Erik Ainge, who had a 67% completion record.

Meachem is gone, but Ainge is back along with running back Arian Foster. Running Back LaMarcus Coker was picked to the 2nd team pre-season All-SEC team. So, it's easy to see that Tennessee football will be focused on its running game this year. We think it will be powerful.

Tennessee has solid linebackers, led by Jerod Mayo (pre-season All-SEC). Jonathan Hefney (preseason All-SEC DB) will lead the way in the secondary. CB Eric Berry is also getting good pre-season reviews. However, Tennessee is inexperienced on the defensive line.

We'll know a lot more after the California game on September 1. And, then Florida two weeks later. We'll know a lot more after that game.

For now, our prediction – Tennessee goes 10-2; wins the SEC East; loses to LSU in the SEC Championship Game. Then goes on to a nice New Years Day bowl game – and wins.

It will be a great year for Tennessee football, Smokey, and all the fans of Rocky Top!

2007 Tennessee Football Schedule:

Sep. 1 California Away
Sep. 8 Southern Miss. Home
Sep. 15 Florida Away
Sep. 22 Arkansas St. Home
Oct. 6 Georgia Home
Oct. 13 Miss. State Away
Oct. 20 Alabama Away
Oct. 27 South Carolina Home
Nov. 3 Louisiana-Laf. Home
Nov. 10 Arkansas Home
Nov. 17 Vanderbilt Home
Nov. 24 Kentucky Away



---
Other Tennessee Football Pages
What do you think?

We'd love to hear your comments and/or opinions. If you submit them here, other visitors can read them, rate them and comment on them. An e-mail address is not required.

What Other Visitors Have Said
Click below to see contributions from other visitors to this page...


JUST BE OBJECTIVE -- about UT Football Not rated yet
WT*!?... You seem to be "dead on" in your predictions and "on-target" in describing SEC football, but your OBVIOUS bias against the Vols disqualifies you …

Big Orange Nation Should Support the Vols Not rated yet
I've been surprised since the LSU loss last night (in the SEC Championship game) to get several submissions extremely critical of Coach Fulmer and Erik …

GO VOLS! Not rated yet
Sad to see LaMarcus Coker gone. But hopefully we can still get the SEC Championship game. Editor's Note: Yea, it is really sad for LaMarcus and the …


2007 Tennessee Football Roster:

#2 RB, So., Montario Hardesty
#5 LB, So., Rico McCoy .
#6 WR, Jr., Ja'Kouri Williams
#7 LB, Jr., Jerod Mayo
#8 QB, So., Jonathan Crompton
#10 QB, Sr., Erik Ainge
#12 WR, Jr., Lucas Taylor
#13 WR, Sr., Kris Fant
#15 DB, Jr., Sinclair Cannon
#17 QB, Fr., Nick Stephens
#19 DB, Sr., Jarod Parrish
#21 WR, So., Austin Rogers
#22 RB, So., LaMarcus Coker
#23 DB, So., Ricardo Kemp
#25 DB, Fr., Art Evans
#26 K, Fr., Daniel Lincoln
#27 TB, Jr., Arian Foster
#28 TE, Sr., Chris Brown
#30 FB, Sr., David Holbert
#31 DB, So., Marsalous Johnson
#33 DB, Sr., Jonathan Hefney
#33 RB, Sr., Roy Olasimbo
#34 LB, So., Dorian Davis
#35 LB, Jr., Ellix Wilson
#36 P, Fr., Chad Cunningham
#37 DB, Sr., Antonio Gaines
#38 DB, So., Antonio Wardlow
#39 LB, Sr., Ryan Karl
#42 LB, Fr., LaMarcus Thompson
#46 DE, So., Andre Mathis
#47 P, Jr., Britton Colquitt
#48 LB, Jr., Adam Myers-White
#50 C, So., Josh McNeil
#51 OG, So., Vladimir Richard
#52 DT, Fr., Victor Thomas
#54 OT, Sr., Eric Young
#55 DT, So., Dan Williams
#56 DE, Sr., Michael Crain
#58 DT, Fr., Donald Langley
#60 OG, Jr., Kirk Swearingen
#65 OG, So., Jacques McClendon
#67 C, Jr., Cameron Mayo
#70 OG, Fr., Darius Myers
#71 OT, Sr., Steven Jones
#72 OT, Fr., Ramone Johnson
#73 C, Sr., Michael Frogg
#74 OT, Fr., Jarrod Shaw
#75 OG, Jr., Anthony Parker
#76 OG, Fr., Darris Sawtelle
#77 C, Fr., Cody Pope
#78 OG, Jr., Ramon Foster
#79 OT, So., Chris Scott
#80 TE, So., Jeff Cottam
#81 WR, Jr., Josh Briscoe
#83 WR, Fr., Todd Campbell
#85 WR, Sr., Casey Woods
#86 TE, Sr., Brad Cottam
#87 WR, So., Quintin Hancock
#88 TE, Fr., Luke Stocker
#89 DE, Sr., Antonio Reynolds
#91 DE, Jr., Robert Ayers
#93 DE, Sr., Xavier Mitchell
#94 DE, So., Wes Brown
#95 DE, Jr., Walter Fisher
#97 DT, So., Chase Nelson
#98 DT, Jr., Demonte Bolden
#99 DE, Sr., J.T. Mapu








---
Return to Home Page
Alabama Football
Arkansas Football
Auburn Football
Florida Football
Georgia Football
Kentucky Football
LSU Football
Mississippi State Football
Ole Miss Football
South Carolina Football
Vanderbilt Football
From Tennessee Football to SEC Sports
SEC Football
SEC Basketball
SEC Women's Basketball
SEC Baseball
SEC Track and Field
SEC Swimming and Diving
SEC Tennis
SEC Golf
SEC Gymnastics
SEC Soccer
SEC Softball
SEC Volleyball
Best College Sports Conference
SEC vs Big Ten Debate
SEC Sports News
SEC Sports Blog
SEC Sports Fan Forum
2007 SEC Football Tickets
SEC Sports Fan Trips
SEC Sports Fan Store
About Us
Contact Us
Site Search
---