Peyton Manning Biography
Peyton Manning, the greatest NFL star ever to come out of the SEC, was born in New Orleans, Louisiana in 1976. His father, Archie Manning, was the quarterback of the New Orleans Saints and local hero so, unsurprisingly; the younger Manning was groomed for superstardom from a very young age. [Note his younger brother, Eli Manning also had a great SEC and now NFL QB career.] Flashing advanced skills and pocket recognition from the outset, Manning starred as the quarterback of his high school team and was the Gatorade National Player of the Year in 1993 after compiling a 34-5 record as a starter.
Following his high school success, Manning stunned almost everyone when he chose to attend the University of Tennessee over his father's alma mater Ole Miss. However, once there, he excelled at the highest level and compiled a 39-6 record as the centerpiece of the Vols offense. Moreover, Manning was a Maxwell, Davey O'Brien, Johnny Unitas, and Best College Player ESPY award winner in 1996. However, despite breaking the all-time SEC record for career wins (39), setting school records for passing yards (11,201) and touchdowns (89), and receiving numerous personal accolades, Manning and the Vols broke down at key moments during his time there. As a result, despite his exceptional record, Manning failed to play in a championship-eligible bowl while at Tennessee and instead settled for Citrus Bowl victories in 1995 and 1996. Nevertheless, he is arguably the best all time SEC quarterback.
---
Following his senior year, Manning was picked first overall by the Indianapolis Colts in the 1998 NFL draft. Manning was an all-Rookie in his first season and threw for 3,739 yards with 26 touchdowns, but he also chucked 28 interceptions to go it and the Colts limped to a 3-13 record. However, Manning remained undeterred and cut down on his interceptions the following season to finish with 4,200 yards, 26 touchdowns, and his first pro-bowl berth. From then on, Manning was a perennial pro-bowl quarterback for the Colts and won the NFL MVP award in 2003 and 2004, but he remained plagued by the same big game foibles that had hurt him at Tennessee and, consequently, the Colts won only a handful of playoff games between 1999 and 2005 despite attending the postseason five of six years.
Manning's postseason breakthrough would come during the 2006 season. After reaching the postseason, the Colts managed to limp past the Ravens defense 15-6 in the divisional game, but found themselves in a seemingly insurmountable 21-3 halftime hole versus the New England Patriots in the AFC Title Game. However, Manning then led one of the most impressive postseason comebacks of all time and defeated nemesis Tom Brady 38-34 to advance to the Superbowl. Using this incredible momentum, Manning then defeated the Chicago Bears 29-17 to win his first Superbowl ring.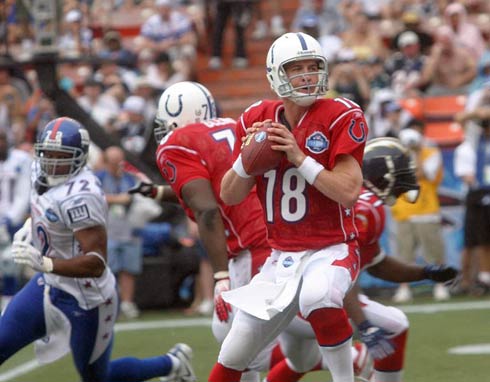 Manning at the 2006 Pro Bowl.
Thanks to wikipedia.org for the picture.
---
Following his inaugural Superbowl victory, Manning suffered consecutive playoff divisional losses in 2007 and 2008. In 2009, the Colts nearly went 16-0 in the regular season and advanced to the Superbowl with relative ease but, despite being relatively heavy favorites, the Colts were defeated 31-17 by the New Orleans Saints.
Unlike many other SEC greats, Manning not only towers above his competition, he also has the ability to add numerous additional accolades before his career comes to a close. Nonetheless, although the book remains open, we can already say with certainly that Manning is one of the all-time great pro players ever to come out of the SEC. Some claim Peyton Manning is the best all time professional football player. If you love Peyton Manning, definitely check out the awesome Peyton Manning Fathead.
Thanks to SEC Sports Fan Senior Staff Writer Paul Grossinger for this Peyton Manning Biography.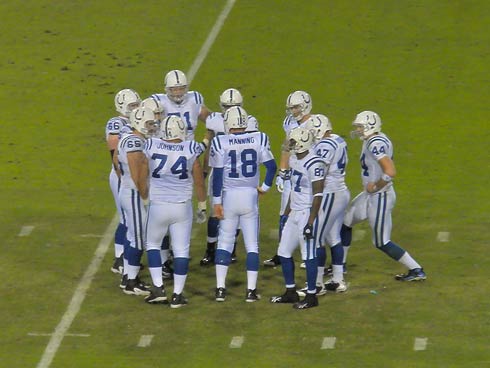 Manning in a huddle against the Jaguars.
Thanks to wikipedia.org for the picture.
---
Check out our All Time SEC Football Team and Top 2010 Fantasy Football Picks; you'll find Peyton Manning there.
Learn more about Peyton Manning's younger brother a great SEC and now NY Giants QB
Eli Manning Biography
and their father
Archie Manning Biography
one of the greatest quarterbacks to ever play in the Southeastern Conference.
Here's more about the current
University of Tennessee Volunteers Football Team
and also
Tennessee Vols Football History
.
What do you think?

We'd love to hear your comments and/or opinions. If you submit them here, other visitors can read them, rate them and comment on them. An e-mail address is not required.

---
Archie Manning Biography | Antonio Langham Biography | Billy Cannon Biography | Bo Jackson Biography | Bob Gain Biography | Cam Newton Biography | Chris Samuels Biography | David Pollack Biography | Eli Manning Biography | Frank Kinard Biography | Herschel Walker Biography | Ike Hilliard Biography | Jack Youngblood Biography | Joe Namath Biography | John Hannah Biography | Josh Reed Biography | Ozzie Newsome Biography | Reggie White Biography | Shawn Andrews Biography | Terrance Cody Biography | Terry Hoage Biography | Tim Tebow Biography | Tommy Casanova Biography | Tracy Rocker Biography |
---
From Peyton Manning Biography to SEC Football | SEC Sports Blog | SEC Football Blog | SEC Basketball | SEC Basketball Blog | SEC Women's Basketball | SEC Baseball | SEC Track and Field | SEC Swimming and Diving | SEC Tennis | SEC Golf | SEC Gymnastics | SEC Soccer | SEC Softball | SEC Volleyball | Best College Sports Conference | College Football Bowl History | BCS Controversy | SEC vs Big Ten Debate | SEC Sports News | Current SEC Sports News | SEC Sports Pictures and Videos | SEC Sports Fan Forum | College Sports Blogs | College Football Association | SEC Sports Fan Trips | College Sports Gift | Fathead | College Sports Tailgate Party Shop | College Sports Merchandise | College Sports Apparel | SEC Sports Fan Store | SEC Football Tickets |
---
Home Page

About Us | Contact Us | Site Search | Advertise | Terms of Use |
---