Best All-Time SEC Quarterback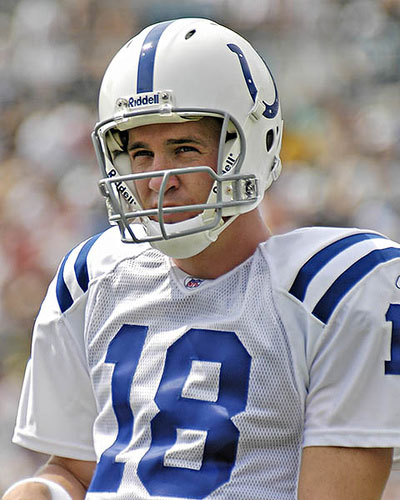 Peyton Manning. Thanks Miro-Foto at flickr.com for the picture.


Who is the best all-time SEC Quarterback? There have been a number of great quarterbacks in the Southeastern Conference (SEC). Certainly Archie Manning, Joe Namath, Steve Spurrier, among others, come to mind.
But, of all the great SEC quarterbacks in history, Peyton Manning stands out.

Born on March 24th, 1976 in New Orleans, Louisiana, Peyton is the middle son of football's royal family -- the Manning's.

Of course, his father was Archie Manning (Ole Miss and New Orleans Saints quarterback). One of his brothers (Cooper), was an Ole Miss wide receiver. Another brother, Eli, was also a standout QB for Ole Miss and currently leads the NFL's New York Giants.

So, Peyton certainly has perhaps the most extensive football pedigree of anyone, ever.

His climb to football fame officially began when Peyton attended the Isidore Newman School in Louisiana and played high school football in New Orleans.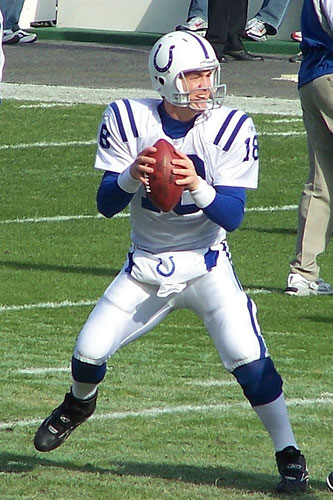 Peyton Manning drops back to pass. Thanks gokahne9 at flickr.com for the picture.


In high school, Peyton started three consecutive seasons at the quarterback position, proudly displaying the #14. He would later throw 7,207 yards and 92 touchdowns to lead his high school team to a 34-5 record, earning him the Gatorade Player of Year ('93-'94) award for the state of Louisiana.

As a high school freshman, Peyton got a chance to play with his older brother, Cooper, who was a senior wide receiver on the team. After high school, Peyton sought a different path than the one Cooper and his father took at Ole Miss and declared his intent to attend the University of Tennessee.

Peyton fit right in with the Volunteers, eventually becoming the Vols' all-time leading passer with a total of 11,201 yards, 863 completions, and 89 touchdowns - and, amazingly, only 33 interceptions!

As a starter, Manning racked up a 39-7 record. At the time, those 39 career wins were the most ever by an SEC QB (later passed by Trent Green of Georgia with 42). Peyton led the Vols to bowl games each year he was there and they won 3 of the 4.

Peyton was also an outstanding student, graduating with a degree in Speech Communication with a GPA of 3.61 (and completed his course requirements in 3 years).

Manning was widely respected when he elected to stay at Tennessee for his Senior season - forfeiting millions of dollars he could have earned that year as a pro.

The only "blemishes" on Peyton Manning's college football career were:

He went 0-3 versus the Florida Gators
In one of the most controversial Heisman Trophy decisions ever, Manning came in second to Michigan's defensive back, Charles Woodsen. That decision will always be a bone of contention in the SEC vs Big Ten debate.

However, he was selected as the first-team college football All-American quarterback in 1997 and led Tennessee to an SEC championship.

Peyton Manning was the first pick in the 1998 NFL draft (selected by the Indianapolis Colts) and he has developed into arguably the top quarterback in the NFL and one of the best professional QB's of all-time. Some of the NFL records he holds include:

Most touchdown passes in a single season - (49 in 2004).
Most consecutive seasons accumulating more than 4,000 passing yards (6 - from 1999 to 2004; and a 7th in 2006)
Consecutive seasons with 25 or more TD passes (9 -- 1998-2006 - and counting)
Most completions in a single post-season (97 - '06-'07 post-season)
Games with perfect passing rating - (4)

In 2007, Manning led the Colts to a world championship in Super Bowl XLI, (29-17 win over the Chicago Bears). Peyton was named Super Bowl MVP, finally pocketing a championship ring, and overcoming criticism that he could not win "the big one."

Believe it or not, Peyton Manning, already a perennial all-pro, is still relatively early in his pro career. One day, we may say he was the greatest quarterback of all-time (college and pro). Today, we can certainly say he was the top SEC quarterback of all time.


---
To read more about Peyton Manning and other great SEC football players, read Best All-Time SEC Football Player and Peyton Manning Biography.


Best All-Time SEC Quarterback
Best All-Time SEC Quarterback
Best All-Time SEC Quarterback


What do you think?


We'd love to hear your comments and/or opinions. If you submit them here, other visitors can read them, rate them and comment on them. An e-mail address is not required.

What Other Visitors Have Said
Click below to see contributions from other visitors to this page...

By
Mo Johnson
, Copyright © 2006-2017 SECSportsFan.com