Fire Phil Fulmer?
By Mo Johnson
Phil Fulmer will step down effective at the end of the season. UT forced him out. This is bittersweet news. It is sad; yet encouraging that both the University and Fulmer did the right thing. Check out these videos of the announcement.
Let's turn out for the last game of the year against Kentucky at Neyland Stadium on November 29th. That will be Fulmer's last game. It will also be big as it might keep Tennessee out of the celler of the SEC East and would be the 24th straight Tennessee win over Kentucky in the "Border Bowl." That is the longest win streak (one team vs another) in the nation!! So, let's show the world what great fans we are; turn out for the game; and, whoever wins, Fulmer gets a "Standing O" when he leaves the field for the last time. He deserves it.
However, the good news is that the Orange Nation is now united once again!! It took a terrible loss, at home, to a bad Wyoming team (1-5 in Mountain West Conference) to bring us all together. After Fulmer announced he was being forced out last week, there was a wave of support for him from Tennessee fans across the nation. You can read many of those comments at the bottom of this page.
After the Wyoming loss, I don't think there is a single Tennessee fan left who thinks Fulmer should stay another year. Most probably think he should leave IMMEDIATELY. Obviously, this is not all Phil Fulmer's fault. Yes, the players play the game. But, he is the man at the top. He is responsible and accountable. And, he has the talent. They have plenty of talent. So, you do have to look at the coaching.
Anyway, we fully expect the Vols to lose at least one more game this year, which will give them 8 losses on the season. That will be more losses than any Tennessee football team in history. Wow! Sad way for the Fulmer era to end. It should have ended a few years ago (after the 5-6 2005 season).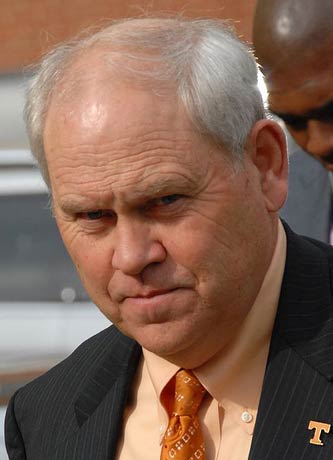 Phil Fulmer
Photo by JEFFHREED at flickr.com
---
Prior comments, somewhat overcome by events:
If you want to start a fight in Knoxville, Tennessee - try asking someone whether the University of Tennessee should fire its head football coach, Phillip Fulmer.
There are good arguments on both sides of the "Fire Phil Fulmer" debate.
On the one hand, it seems silly to even complain about Phil Fulmer. Yes, the Vols are 3-7 at the moment and 1-5 in the SEC. They embarassed the SEC by losing to unranked UCLA (second straight year UT has lost to a Pac-10 team). Then, they embarassed all Tennessee fans by getting blown out at home by Florida (again). That, even after being insulted by Florida players before the game. You can read more about that at
2008 Tennessee Volunteers Football
.
On the other hand, the Vols were in a similar situation last year, and, miraculously, pulled it together and
won
the SEC East! They ended up with a 10-4 record; Outback bowl win; and a national ranking of #12. [But, they don't look to repeat that this year as they have lost now to Georgia and South Carolina which were wins last season.] Of course, we can't forget that Fulmer led UT to a national championship in 1998. And, every year, Tennessee seems to at least be part of the college football national discussion at some point (usually until after the Florida game in week 3).
So, what to think and/or do about Phil Fulmer has become a difficult and controversial issue.
In fact, on the Monday after the Florida loss, two callers asked Fulmer on his radio show "when or if" he might consider retiring.
Here's part of Fulmer's reply:
We've won 148 football games in my time here at Tennessee and lost a little bit less than that - a lot less than that, actually - and we didn't all of a sudden get stupid as coaches. We know what we're doing, and we're going to go to the practice field and correct and work and put our football team on the field with the best advantage that we can possibly have.
OK, so passions are running high in Knoxville. Here is a list of the arguments commonly advanced in support of, or in criticism of, Fulmer.
First, a few reasons he should keep his job. Phil Fulmer is:
The 7th winningest SEC football coach in history. He's been the head coach of the Vols since 1992. His all-time record (through the '07-08' season) is 147 - 45 (.766) -- 5th highest winning percentage of all active college football coaches who have coached 5 years or longer.



A masterful recruiter. He almost always lands a "top-10" recruiting class; several times, in the top three.



A great fundraiser. Tennessee football is very successful financially and raises lots of money for the University.



A Tennessee legend. Fulmer was an offensive guard on the Tennessee football team from 1969 - 1971; helping the Vols go 30-5 during that time. He played for legendary coaches Doug Dickey and Bill Battle. Later, Fulmer served as an Assistant Coach under another Tennessee legend, Johnny Majors, for 13 years (1980 - 1992) before taking over for Majors. It would be a shame to end Phil's great career on such a sour note.
For all the reasons above, with Fulmer at the helm, Tennessee fans can be assured of having talented teams that can compete against the top 20 teams in the nation. They will almost always make a bowl game and be a generally successful college football program.
So, what's not to like?
Here's what.
Fulmer is ancient history. Fulmer led the Vols to an SEC Championship in 1997 and a National Championship in 1998. In the 10 years since then, the Vols have won the SEC East a very respectable 3 times; however they lost all 3 of those SEC Championship games.



The Vols went 5-6 in the dreadful 2005 season. A couple of Johnny Majors' teams ('80 and '88) went 5-6; but otherwise, you have to all the way back to Doug Dickey's first year (1964) to find a worse Tennessee football record (4-5-1 that year).



The Vols have improved since 2005, but they still had 4 losses in 2006 and 4 more in 2007. It's true they managed to win the SEC East in '07 - but only because of incredible luck and after embarrassing losses to California, Florida and Alabama (see 2007 Tennessee Football).



The Vols have been terrible so far this year. They lost to an outmanned, unranked UCLA team (that subsequently got blown out by BYU). Then got clobbered by Florida - again - after being insulted (as noted above). Most recently they lost to Auburn due to a botched handoff that Auburn recovered in the endzone.



Sure Fulmer can recruit. He has the #1 recruiting budget in the nation. Besides, he hasn't done so well the past few years.
It just seems like Fulmer's teams, of late, consistently disappoint. He seems, to us, to get less from his talent than he should. It seems like we lose more "big" games than we win.
But do we? Maybe we (Tennessee Volunteer football fans) are just overexuberant fans with unrealistic expectations.
What we need is an objective test to measure Phillip Fulmer's skills and performance as a head coach at a major college football institution.
As noted above, one of Fulmer's strengths is as a recruiter. Over time, he has been recognized as one of the best college football recruiters around. How good? Well, we went to
Rivals.com
and looked at their list of top recruiting classes. Rivals only goes back to 2002. So, to cover years before that we used two other sources -- Sports Ilustrated and
Suite 101
(for 1999).
When you run all the numbers, you find that over his entire career as a head coach (1993 - current), Fulmer has, on average, landed the 10th best recruiting class in the nation (9.71 average). When you look at over the past 10 years, the average drops to 12th best (11.90). When you look at just the past 5 years, the average drops to 16th (15.6).
Here's a handy chart illustration:
<![if !supportLineBreakNewLine]>
<![endif]>
| | |
| --- | --- |
| | Average Recruiting Class Rank |
| Career | 10 |
| 10 Years | 12 |
| 5 Years | 16 |


So, what does all that mean? Well, two things:


Over his career, Phil Fulmer is a Top 10 recruiter; and


Over his career, Fulmer's recruiting prowess has declined.
As noted above, a common complaint about Fulmer is that he is not a good "game" coach. The allegation is that he consistently gets outcoached in games. But does he really? How can we know?
The ultimate objective test, of whether someone is a good game coach is how they do against comparable competition. Let's define that as teams ranked (by AP at the end of the season) in the top 25. After all, as documented above, overall, Fulmer's teams have ranked #10 nationally in talent recruited. On average, his teams have the 10th best talent in college football.
Therefore, you would expect that, on average, his teams should win at least as many games (actually should win a bit more, but we'll give him the benefit of the doubt) against "Top 25" competition as they lose. Right?
If Fulmer's record against Top 25 teams is better than 50-50 that would be objective evidence that he's a good game coach; if below 50-50 -- objective evidence that he's not a good game coach. We did some research and couldn't find anyone who had tabulated this information. So, we did.
Below is a chart that gives us Phil Fulmer's career won-loss record versus Top-25 teams (current through 2008 season). The chart is further broken down by his record against Top 20; Top 15; Top 10; and Top 5 teams.
<![if !supportLineBreakNewLine]>
<![endif]>
| | | | |
| --- | --- | --- | --- |
| | Wins | Losses | Win % |
| Top 25 | 33 | 40 | .452 |
| Top 20 | 25 | 35 | .417 |
| Top 15 | 21 | 33 | .389 |
| Top 10 | 14 | 24 | .368 |
| Top 5 | 6 | 14 | .300 |



You can see that Fulmer has a losing record vs Top 25 teams in his career. That's not good. And, naturally, his record gets worse and worse as the teams he coaches against get better.

But, that's only part of the story.

The real issue with Phil Fulmer is the decline in the performance of his teams as his career has gone on.


In the 10 seasons since the Vols won the National Championship in 1998 (so 1999 - present), Tennessee is
15-31 (.326)
against teams that ended the season ranked in the Top 25.
In the past 5 seasons, the Vols are
8-18 (.308)
against Top 25 teams.
That's why it has seemed to Volunteer fans like we have suffered the agony of defeat more than the thrill of victory in big games in recent years. Indeed we have. Over the past decade, under Fulmer, UT has
lost 2 big games for every one they won
. Put another way, when playing against a Top 25 team, Tennessee is twice as likely to lose as win.
Well, there you have it. Them's the facts. Not great for Fulmer. Maybe not terrible either.
Question is: is it good enough?
Ultimately, it really comes down to what we as Tennessee fans should reasonably expect. College football, especially the Southeastern Conference, is so competitive now. Heck, even Vanderbilt is no longer a guaranteed win. Almost every game is tough. So, is it sensible to expect more? Or, should we be happy with what we have. What do we have?
Well, over Fulmer's career, his teams, on average, have ended the season ranked 15th (14.6 average). Over the past 10 years, the average end of season ranking has slipped to 18th (18.3). Over the last five years, the average ranking has dropped to 20th, and it will be lower after this year as they surely will end 2008 unranked again. [Note: For these calculations, in years when Tennessee finished the season unranked in the AP poll (2000, 2002, 2005), we presumed they were the 35th best team in CFB; though, in 2000, the Coaches Poll actually ranked them 25th.]
This ranking slippage is further evidence of the slow erosion of Tennessee football under Phil Fulmer. It is truly unmistakable. In summary:
Fulmer is a good, but declining, recruiter.


Fulmer is generally not a good "game" coach. That is also getting worse.


Overall, Fulmer has established Tennessee as a Top 15 college football program; however, that also is declining.
But, I have a friend who's an Arkansas Razorback fan. He says he only wishes Arkansas had our problems ("only" winning 1 out of 3 games against Top 25 opponents; "only" averaging a Top 20 ranking).
Some also make the valid point that college football programs ebb and flow and it is natural to expect down cycles as well as up cycles. Maybe we are at the end of a down cycle and about to go into an up cycle under Fulmer. Maybe.
And, if you look at overall record, Tennessee has the 5th best in the SEC over the past 5 years (LSU, GA, AU, FL higher) and the third best over the past 10 years (only GA and FL higher). So, that puts Fulmer and his program in a more positive light.
One thing I'm sure all Tennessee fans will agree on is that, after last season, the University should not have given Fulmer another contract extension (now through 2012) and with salary and bonuses in the $3 million a year range.
Phil Fulmer coaching on the sideline
Photo by Leesean at flickr.com
---
Personally, I think it's too soon to decide the "Fire Phil Fulmer" issue. The team has been woeful often this year, especially the offense. But, they are still fighting. They haven't quit. There is no shame in losing 14-12 at Auburn.
Much more will be known before this 2008 season is over. Tennessee is 1-5 right now in the SEC; 3-7 overall. They are off to their worst start in 20 years (since 1988). Even worse than Fulmer's second full season in 1994. That year, Coach Fulmer turned it around and the Vols ended up 8-4; winning the Gator Bowl and ended up ranked in the Top 20.
In fact, after the 1-3 start in '94, over the next 4 ½ years, Tennessee went 52-6, winning the BCS Championship game in 1998.
So, let's see if Fulmer can turn things around like that again. We'll know soon enough. Tennessee still has to play Wyoming, Vanderbilt and Kentucky. Wyoming at home
should
(but probably won't) be easy. But, the rest will be tough games. And, UT has to win all 3 games to finish 6-6 and make it to another Bowl Game (would be 19th bowl game in 20 years). And, it probably would pull Tennessee up to 4th in the SEC East. Again, nothing to brag about, but given where we are now, it would show that Fulmer kept the team fighting. And, I'd give him in the benefit of the doubt. He'd deserve another year -- if he want's it.
Really, no matter what happens the rest of this year, the program seems clearly on a downward slide and no longer competitive with the "Big Five" in the SEC. See
Fulmer vs SEC Big 5
. So, for the good of the team and the State of Tennessee - maybe Fulmer will do the honorable thing and resign. He could accept a "promotion" to become Executive Director of Football Operations at the University of Tennessee, or something like that.
But, if not, Mike Hamilton (UT Athletic Director) should only fire Fulmer if the team ends up with a losing record.
Bottom line:
Mike Hamilton: if Tennessee ends up with a losing record, and Fulmer won't resign; you will have to fire him.
For the good of the team, program and State of Tennessee. I think it's 50-50 right now whether the Vols can finish 6-6 or better.
If that happens, maybe we can get David Cutcliffe back. This time as head coach.
It may be time for Phil Fulmer to move on. Or, like Joe Paterno, maybe he's got another run left in him. We'll know soon enough. The game this weekend at home against Alabama is HUGE. If Fulmer can pull that out, he will almost certainly save his job. If not, it will be uphill the rest of the season.
Please check out some of the comments submitted below and, if so inclined, tell us what you think. Maybe Mike Hamilton will read it!
Below the comments from other visitors are videos of Fulmer's statement/press conference. There is also a form to vote in our "Fire Phil Fulmer" poll. So far, the results are: over 80% say Fulmer should be fired; 11% say keep him; 9% are not sure. However, many of the votes were cast weeks ago. We think now probably 99% of Vol fans thinks he needs to go. Cast your vote if you haven't yet.
What do you think?

We'd love to hear your comments and/or opinions. If you submit them here, other visitors can read them, rate them and comment on them. An e-mail address is not required.

What Other Visitors Have Said
Click below to see contributions from other visitors to this page...

Here are
Three Videos From Fulmer's Press Conference
where he accepts UT's decision that this will be his last season as head coach. The first video is Phil Fulmer's complete statement. The second is his emotional response to a reporter's question. The last one is a statement by two current Vol football players. All three videos are from the press conference on the day of the announcement. Importantly, this was before the terrible loss to Wyoming. That loss confirmed that it is time for Fulmer to move on.
---
---
Alabama Crimson Tide Football | Arkansas Razorback Football | Kentucky Wildcats Football | Ole Miss Rebels Football | Mississippi State Bulldogs Football | South Carolina Gamecocks Football | Auburn Tigers Football | Georgia Bulldogs Football | LSU Tigers Football | Florida Gators Football | Vanderbilt Commodores Football | From Fire Phil Fulmer to SEC Sports
---
SEC Sports Blog | SEC Football | SEC Basketball | SEC Women's Basketball | SEC Baseball | SEC Track and Field | SEC Swimming and Diving | SEC Tennis | SEC Golf | SEC Gymnastics |SEC Softball | SEC Volleyball | Best College Sports Conference | SEC vs Big Ten Debate | SEC Sports News | Current SEC Sports News | SEC Sports Pictures and Videos | SEC Sports Fan Forum | College Football Association | SEC Sports Fan Trips | College Sports Tickets | Fathead | College Sports Tailgate Party Shop | College Sports Merchandise | College Sports Apparel | SEC Sports Fan Store |
---
Return to Home Page
About Us | Contact Us | Site Search |