Here's a great first-hand account of the 2009 Orange and White Game. Thanks Scott!!
---
Looking for Current Tennessee Volunteers Football info? Check out 2010 Tennessee Volunteers Football.


---
Tennessee has named Lane Kiffen as its new head football coach -- replacing Phil Fulmer. Check out our brand new Lane Kiffin Biography.
Kiffen is a great pick. And, other SEC football coaches know it. You could see that by Steve Spurrier's petty complaint about Kiffen calling a potential recruit (both teams are after) the day before Lane was formally announced as the new coach.
Kiffen is a great recruiter with a great football background. He has good connections on the West Coast which will give UT a huge advantage (over other SEC schools) in recruiting there. Kiffen also has a creative offensive football mind -- which the Vols have clearly lacked recently.
Lane already showed his great recruiting skills and West Coast connections by recruiting Ed Orgeron to come to Tennessee as Assistant head coach in charge of recruiting and the defensive line. Orgeron is a great recruiter having brought in the talent that Ole Miss won a bowl game with this year. Oh, and the two met when they both coached at USC years ago.
One other thing. Lane is bringing his dad --
Monte Kiffen
with him! Monte is leaving the NFL's Tampa Bay Bucks, where's he's been the defensive coordinator for 12 years to join his son in Knoxville. Wow, Monte is a true football legend. He played football with Knute Rockne and Pop Warner (for instance). He is 68 years old but still has plenty of football left in him.
The Kiffen's are a great story. We think UT has got a great one. Look out SEC -- really.
Lane Kiffin Update:
Kiffin has caught a lot of flack lately and much of it deserved. But, he earned lots of Kudos by landing the nation's consensus #1 recruit in RB Bryce Brown from Wichita, KS. Reason? His grandma liked Kiffin; thought he was honest. So, it really doesn't matter what the rest of the SEC fans think of Kiffin -- if the top players and their families like him. Brown said he was easy to talk to and relates well to the players. Now we know why UT picked Kiffin. Looking forward to football season more than ever!!
Oh, Brown is the second highly touted running back recruit the Vols landed. They also picked up David Oku. Remember Cobb-Web? Looking forward to Brown-Oku.
One fly in the ointment: Coaches who immediately follow legends traditionally do not do well. Check out the article in
November 2008 College Football Historian
. Of course, I suppose it could be debated whether Fulmer qualifies as a college football legend or not. Let us know your thoughts about that at
Fire Phil Fulmer?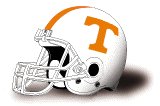 Tennessee beats Kentucky 28-10. Great last game for Phil Fulmer and the Vol Nation. It kept alive the nation's longest team vs team win streak; now 24 straight Tennessee wins over Kentucky.
So Tennessee Volunteers football closed out its traumatic 2008 season with two straight wins against bottom-tier SEC East foes -- Vandy and Kentucky. UT ends up in last place in the SEC East, but ahead of Miss. State and Arkansas to avoid the cellar of the SEC. Also, UT ended up with a 5-7 record overall; avoiding what would have been a record 8 losses in one year for Tennessee.
BIG NEWS -- Phil Fulmer to step down!!
Read more about it at
Fire Phil Fulmer?
.
Prior Discussion:
We hope Tennessee fans will show up in force for Fulmer's last home game against Kentucky Nov. 29 at Neyland Stadium. Let's show our class by giving him and the team a standing ovation. They deserve it. They really have worked hard and never quit. And, that deserves a pat on the back. And, support for the team, no matter what, would be good for the organization; recruiting, etc. We really should be proud of our Tennessee football heritage; Phil Fulmer; and the University's correct, though difficult, choice to move Fulmer out.
2008 Tennessee football is like a broken record. Another game; another disappointing loss. Except that they seem to get worse each week. This time the loss was on homecoming to a bad team from the Mountain West Conference -- Wyoming. Things have never been this bad at Rocky Top. Never. The Vols are now 3-7 overall and 1-5 in the SEC. Next up for Tennessee is at Vanderbilt on Nov. 22 and then home against Kentucky. With one more loss the Vols will have 8 losses.
More losses than any Tennessee Football team in history!
Wow, what a sad way for Phil Fulmer to go out.
It is now obvious that Fulmer has not been a factor at UT for a while now. John Chavis (Defensive Coordinator) has carried the defense as pointed out in
Johnny Majors Take on Phil Fulmer
. And, David Cutcliffe carried the offense until he left after last season for Duke.
There is good news though. The Vol Nation was divided on the firing of Phil Fulmer. Not any more. After the Wyoming loss, you would be hard pressed to find
any
Tennessee fans who still think Fulmer should stay another year.
But, now we look to the future and hope Mike Hamilton can find us a great coach (as he did with Basketball coach
Bruce Pearl
.)
Let us know who you think Hamilton should pick to follow Fulmer by using the form below.
Last week the loss was to South Carolina 27-6. Again, another SEC loss that was not even close.
The last UT game against a premier SEC opponent was Alabama. That loss was 29-9. The Vols kept it close in the first half, but their mistakes just seemed to pile up. It was easy to see which of the two teams was the better coached and disciplined and it wasn't the Vols. So, 0-4 against the top-tier SEC teams on the schedule this year -- Florida, Auburn, Georgia and Alabama. Only Auburn was even close, and of course, they also are having an off year. There's just nothing good to say. Sorry.
After disappointing losses to Florida and Georgia (and UCLA and Auburn) Tennessee showed some signs of life in their win against Miss. State. That was a "must-win" for Fulmer and the Vols pulled it out. Their new QB, Nick Stephens has shown grit and good potential. But, this team should not be where it is. It was only 2 INT/TD's that pulled the MSU game out. The offense is overall -- terrible. Against Georgia, UT had a net 1 yard rushing for the game. Arian Foster had 3 carries for 3 yards. I thought he was going to be a star this year. I thought the 2008 Tennessee Volunteers offensive line was supposed to be awesome? What has happened?
I don't think Fulmer will pull a rabit out of his hat this year. And, let's face it, they were very, very lucky last year. The Vols could finish as low as 5th in the SEC East. Maybe even lose to Vandy!
It seems clear, in big games, against top coaches, Fulmer is almost always outcoached. He's a great recruiter, but not much of a game coach. He consistently get's the least from the great talent he recruits. Maybe we can help UT's Athletic Director decide what to do about Phillip Fulmer. It's not an easy choice as Fulmer has done some great things at UT over the years and he does deliver the talent. Also, we have to keep in mind that the SEC is so tough. Is it realistic to expect the Vols to compete every year for the SEC Championship? Maybe not. Obviously, UT shouldn't have given Fulmer that contract extension last year, but I digress. Next time, Tennessee needs to hire a head coach who's been around a bit. They need someone who has coached in multiple programs for other good coaches. That's the kind of experience that Fulmer lacks. And it shows in big games.
Read our take and post your opinion about whether Phil Fulmer should be fired at
Fire Phil Fulmer?
.
Two weeks ago, beating Northern Illinois 13-9 was not what Vol fans were looking for (as evidenced by the empty seats at Neyland). The Vols are now 1-5 in the SEC and 3-7 overall. UT is off to it's worst start since 1988.
Of course, the week before that, Fulmer and the gang lost at Auburn 14-12. Tennessee's offensive woes continued; exemplified by the key play of the game: a botched handoff between QB Jonathan Crompton and RB Arian Foster. The Vols "O" is simply dreadful; worse than it should be. But, the defense played hard and well, keeping the game close.
Embarassing loss to Florida at home (30-6). It's clear, at the moment, that Florida simply owns Tennessee. This was UT's 4th straight loss to the Gators; Fulmer has never beaten Urban Meyer. Tennessee was never in the game and made it look easy for Florida. The Gators never even broke a sweat en-route to a 30-6 drubbing at Neyland Stadium. This, after being insulted by the Florida Gators before the game. The Vols didn't quit this time though as they played hard all game.
Here's what a Gator played said before the game (I leave it up, because it demonstrates how powerless the Vols were to respond):
Wow, Florida Player Calls Tennessee Volunteers Football Team -- Quitters and Not as Tough as the Gators!!
If you haven't heard, Gator linebacker Brandon Spikes yesterday said Tennessee players "quit playing" in last year's 59-20 blowout at the Swamp. Of course the Vols play the Gators Saturday afternoon in Knoxville. Here's some more gems from Spike (and another Florida player Derek Baldry):
"They kind of gave up. Our whole program is about, backed up against the wall, you've got to keep fighting. We saw them give up.. .. They just quit playing. I know they are going to be pretty jacked up, at least until we start kicking (expletive deleted).



According to Baldry, in last year's game, one of the Volunteers' players told him he wasn't going to try to block an extra-point attempt late in the game.



Spikes: "That kind of surprised me, for him saying I don't want to rush, But I know they are not really as tough as us.



Spike said lots of Gators players talked about that and that he'd never seen a team quit, at least, "not on this level."


Spikes also said he wasn't surprised the Vols quit last year, saying "I've seen them do the same thing many times."


Fulmer is normally not the best game coach or motivator. But, with that kind of ammo, even I could motivate the Vols Saturday. I've been predicting a Gator blowout. Now...maybe not. Either way this will stoke the rivalry. Should be very, very interesting this Saturday.
Has
Cincy Vol
been right about Jonathan Crompton all along, read
Jonathan Crompton
. Still, let's keep our fingers crossed and hope for the best. Go Vols!
Tennessee Volunteers Football is a glorious thing. Of course I may be a bit biased as a UT graduate and fan. But almost anyone would agree that one of the 7 wonders of the world is watching (or even better joining) 107,000+ orange-clad Volunteer fans cheering as the VOLS run through the T on a crisp fall Saturday afternoon or evening.
And the VOLS are just good enough to really torture their fans. I mean, they are almost always in the hunt for the SEC crown and ... just maybe ... the national championship. They almost always don't quite obtain either, but they are good enough to keep their fans fully engaged all year long. The brass ring seems always just out of reach...
And this year will not be an exception. Except it may not be quite as painfully tantalizing because I don't think the Big Orange will come close in 2008. Sorry fellow Vol fans, brace yourselves for a rocky 2008. Wish I could say otherwise, but I just don't see a good year ahead of us.
First, our outstanding Offensive Coordinator, David Cutcliffe has left to be head coach at Duke. We have at least 3 other new assistants this year. Long-time QB Erik Ainge finally graduated. But, the biggest problem is not so much the Vols as it is the rest of the SEC East. It's simply brutal. Tennessee is good; really. Just look at their roster (below). They'd probably win the ACC. But, in the SEC, other teams are simply better.
Georgia and Florida look to be perhaps the top 2 teams in the country and South Carolina looks considerably improved as well. And, you'll remember it took several miracles to beat South Carolina at home last year.
---
For the most current UT VOLS Football info, check out our
Tennessee Football Blog
and/or
The Big Orange Round Table
.
---
Credit for the outstanding photos above to flickr.com/photos/motionblur except that credit for pictures 1, 2, 4, 12, and 14 to to flickr.com/photos/royce58. Some rights are reserved for these photos.

---


This year we face the Gamecocks in Columbia. We also play Georgia and Auburn on the road as well. Sorry, but I see 3 losses there. The 2008 Volunteers also fact UCLA at their place and Florida, Alabama and Mississippi State at home. Maybe we go 2-2 in those 4 games. (Each of the 7 teams we've mentioned so far are in the national Top-25.)

So, that gives us 5 losses. And, Vandy and Kentucky are rarely easy wins. So, I think a 7-5 record will be about as good as Vol fans should expect in 2008. That will leave us in 4th place in the SEC East; still good enough for a minor bowl game.

OK, let's talk a little bit about UT's 2007 football season. The Vols ended up winning the SEC East (as SEC Sports Fan predicted before the season) and finishing with a nice 11-4 record, beating Wisconsin 21-17 in the Outback Bowl. Very nice.

But, oh what a wild (and lucky) ride it was. The Vols were thrashed by California and Florida. They were beaten soundly by Alabama and lost to LSU in the SEC Championship game. The key win was against Georgia; a win that probably saved Fulmer's job. But, we were so lucky against South Carolina, Vanderbilt and Kentucky. You can read more about that at 2007 Tennessee Football.

Quick academic note: Did you know that over 50 UT football players had a 3.0 or higher class average in the Spring of '08? All told, 223 Tennessee athletes earned Spring honors. Congrats to all those hard working "Volunteer" student-athletes.

Do you know that ever since Coach Philip Fulmer took over the head coaching job here at Tennessee more than NINE million fans have passed through the Neyland Stadium turnstiles?

Does Fulmer deserve the raise/contract extension he just got? Join the discussion below or at Did Phil Fulmer Deserve a Raise?

2008 Tennessee Vols Football prediction: 7-5; 4th in the SEC East.

We are always wanting more SEC vs Big Ten regular season football games. Great news! Tennessee and Ohio State announced they'll play a 2 game series in 2018 (at Knoxville) and 2019 (at Columbus). Great for college football fans! Tough on the coaches.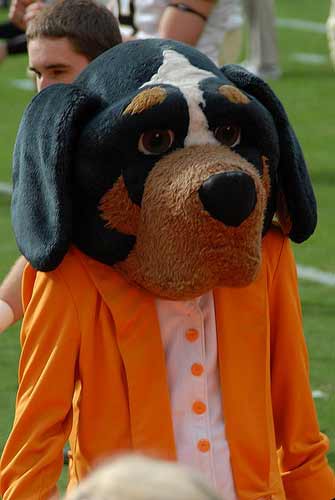 Thanks to JEFFHREED at flickr.com for this photo of the Tennessee Smokey mascot.
---


2008 Tennessee Volunteers Football Schedule:

Sept. 1 at UCLA
Sept. 13 UAB
Sept. 20 Florida
Sept. 27 at Auburn
Oct. 4 Northern Illinois
Oct. 11 at Georgia
Oct. 18 Mississippi State
Oct. 25 Alabama
Nov. 1 at South Carolina
Nov. 8 Wyoming (Homecoming)
Nov. 22 at Vanderbilt
Nov. 29 Kentucky

2008 Tennessee Volunteers Football Roster:

Key players include 2008 All-SEC Pre-Season 1st Team selects Arian Foster (Running Back); Anthony Parker (Offensive Line); and All-SEC 2d Teamers - Lucas Taylor (Wide Receiver); Rico McCoy (Outside Linebacker); Eric Berry (Defensive Back); Daniel Lincoln (Placekicker); and Britton Colquitt (Punter). But Colquitt is suspended for 5 games due to a DUI. Safety Demetrice Morley is back with the team after spending last year at a Jr. College to improve his grades. Morley should be a big help in the secondary.

Here's a link to the complete schedule: 2008 Tennessee Volunteers Football Roster.

UNIVERSITY OF TENNESSEE VOLUNTEERS FOOTBALL INFORMATION

Head Coach: Phillip Fulmer (1972 UT Grad and former VOL offensive lineman)
17th season coaching -- all at UT (147-45 .766)
Former Richmond Coach Dave Clawson replaced David Cutcliffe as Offensive Coord. Latrell Scott is the new Wide Receivers Coach and former Florida Assistant Stan Drayton is the new Vols Running Backs Coach. Stadium: Neyland, Shield-Watkins Field (87 years old; 104,079; but packs in 107,000+ for big games). Neyland ranked top college football stadium in a 2001 Sporting News poll.
See these links for your Tennessee Volunteers Merchandise and Apparel, Tickets, and Baseball Caps.


---
What do you think?

We'd love to hear your comments and/or opinions. If you submit them here, other visitors can read them, rate them and comment on them. An e-mail address is not required.

What Other Visitors Have Said
Click below to see contributions from other visitors to this page...

Something to Cheer About Not rated yet
Compiled by Tex Noel, Editor The College Football Historian Not many times during a losing season does the home team "have something to cheer about?" …
Other Tennessee Volunteers Football Pages
---
Return to Home Page
Alabama Crimson Tide Football
Arkansas Razorback Football
Kentucky Wildcats Football
Ole Miss Rebels Football
Mississippi State Bulldogs Football
South Carolina Gamecocks Football
Auburn Tigers Football
Georgia Bulldogs Football
LSU Tigers Football
Florida Gators Football
Vanderbilt Commodores Football
From Tennessee Vols Football to SEC Sports
---
SEC Sports Blog | SEC Football | SEC Basketball | SEC Women's Basketball | SEC Baseball | SEC Track and Field | SEC Swimming and Diving | SEC Tennis | SEC Golf | SEC Gymnastics | SEC Soccer | SEC Softball | SEC Volleyball | Best College Sports Conference | SEC vs Big Ten Debate | SEC Sports News | Current SEC Sports News | SEC Sports Pictures and Videos | SEC Sports Fan Forum | College Football Association | SEC Sports Fan Trips | 2008 SEC Football Tickets | Fathead | College Sports Tailgate Party Shop | College Sports Merchandise | College Sports Apparel | SEC Sports Fan Store |
---
Return to Home Page
About Us | Contact Us | Site Search |
---