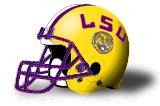 ---
Read about the Current LSU Tigers football team at
2010 LSU Tigers Football
---
Congrats to the LSU Football -- National Champs!! -- Again!!
LSU is the first team to win 2 BCS Championships. For more about their huge win and what it means for college football, go to
BCS Unfair to SEC
and
College Football Playoff
.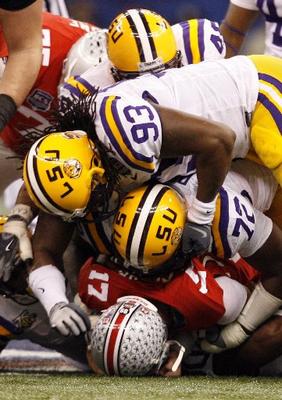 The BCS got it right by picking LSU for the BCS Championship game against Ohio State. You can read more about that at
LSU vs Ohio State BCS Controversy
.
The Tigers look great for 2008 as well. They will lose Glenn Dorsey, but Ryan Perrilloux who played so well against Tenn. in the SEC Championship game returns. Lots of talent at LSU next season. And, Les Miles is Mr. Intensity. Look for LSU football to repeat as SEC West Champs.
Prior Discussion:
Congrats to LSU Football. 2007 SEC Football Champs!! Well deserved. Unquestionably LSU was the class of the SEC this season. Let's hope the BCS gets it right and picks the Tigers for College Football's Championship game. After all, LSU is champion of the toughest college football conference. There only losses both came in conference and in TRIPLE OVERTIME! Of course they beat Virginia Tech earlier in the year by like 40 points. So, let's keep our fingers crossed tomorrow.
If you agree, read
What Do You Think of the BCS?
.
Use the form at the bottom of this page to submit your thoughts about LSU football.
*****************************
Before the season began we predicted that LSU would be College Football's 2007 National Champion. Despite the Tigers' loss at Kentucky we still hope that pans out. As the article above discusses, the BCS system may ruin that, but hopefully not.
The LSU Tigers are known for great talent and coaching. The 2007 LSU football edition is no exception. Even with the loss of their starting quarterback, JaMarcus Russel, they still have plenty of talent. And, Les Miles knows how to win football games. Period.
---
---
LSU had an impressive season last year with an 11-2 record overall, and their two losses were at Auburn and at Florida. They were led by QB phenom JaMarcus Russel (#1 pick in 07 NFL draft). However, the team's great coaching and incredible defense were key as well. After tying for second in the SEC West, the Tigers went on to the Sugar Bowl in New Orleans, where they blew out Notre Dame 41-14 and finished ranked 3rd nationally.
LSU has 15 returning starters. They had 12 players named to the pre-season All-SEC team. Five made the 1st team. Darry Beckwith, known as the heart of the powerful LSU defensive line, had 65 tackles last season, 29 of which were solo. Defensive back Chevis Jackson, who was chosen to be on the SEC pre-season first team, is also looking good in pre-season workouts. And Glenn Dorsey is back as well on the defensive line.
A big key for LSU football this season will be their fortunate schedule. The only tough game they play out of conference is against Virginia Tech, and that will be a home game.
Then their tough SEC games (Florida, Auburn, Arkansas) are all at home. Even South Carolina is a home game. Maybe their toughest road game will be against Alabama - but you'd have to figure that will be a win.
So, LSU will likely be favored in every game they play this year - at least until their Bowl game (hopefully the BCS National Championship Game).
So, fate seems to have aligned itself in favor of LSU football in 2007.
See you in New Orleans on January 7th 2008!
Order your
Tickets
,
LSU Tigers Fight Song Poster
and other fantastic
Merchandise and Apparel
now, so you don't miss a thing.
2007 LSU Football Schedule:
Aug. 30 Mississippi St. Away
Sep. 8 Virginia Tech Home
Sep. 15 Middle Tennessee Home
Sep 22 South Carolina Home
Sep 29 Tulane Away
Oct 6 Florida Home
Oct 13 Kentucky Away
Oct 20 Auburn Home
Nov 3 Alabama Away
Nov 10 Louisiana Tech Home
Nov 17 Mississippi Away
Nov 23 Arkansas Home
---
Other LSU Football Stories
2007 LSU Football Roster:
#1 DB, So., Tyson Andrus
#1 WR, So., Brandon LaFell
#4 CB, Fr., Jai Eugene
#5 DB, Fr., Darrell Glasper
#5 RB, So., Keiland Williams
#6 K, Jr., Colt David
#7 LB, Sr., Ali Highsmith
#8 RB, So., Trindon Holliday
#9 WR, Sr., Early Doucet
#10 WR, Fr., Ricky Dixon
#11 QB, So., Ryan Perrilloux
#11 LB, Fr., Kelvin Sheppard
#12 WR, Jr., Quentin Leday
#12 QB, Sr., James Welker
#14 QB, Jr., Jeremy Bunting
#15 QB, Sr., Matt Flynn
#16 DB, Sr., Craig Steltz
#17 P, So., Josh Graham
#18 FB, Sr., Jacob Hester
#19 DB, Sr., Jonathan Zenon
#21 RB, Sr., Donnie Chaucer
#21 DB, Sr., Chevis Jackson
#22 RB, Sr., Alley Broussard
#23 DB, Sr., Renaldo Thompson
#24 K, Jr., Sean Gaudet
#26 RB, Fr., Richard Murphy
#27 WR, Sr., Joshua McManus
#27 DB, Jr., Curtis Taylor
#28 RB, So., R.J. Jackson
#29 DB, So., Chris Hawkins
#30 FB, Jr., Chad Baniecki
#32 RB, SO., Charles Scott
#35 LB, Sr., Luke Sanders
#36 P, Sr., Patrick Fisher
#38 P, Jr., Brady Dalfrey
#38 LB, Sr., Anthony Zehyoue
#39 TE, Sr., Caleb Angelle
#40 FB, Sr., Shawn Jordan
#42 FB, Jr., Steven Korte
#42 LB, Sr., Micah Metrailer
#43 LB, So., Harry Coleman
#44 S, So., Danny McCray
#45 LB, Jr., Quinn Johnson
#46 TE, Fr., J.D. Lott .
#47 DE, Jr., Tremaine Johnson
#48 LB, Jr., Darry Beckwith
#49 DE, Sr., Kirston Pittman
#51 C, Sr., Jacob O'Hair
#54 LB, So., Jacob Cutrera
#55 OL, Jr., Andrew Decker
#56 LB, So., Perry Riley
#57 LB, Fr., Derrick Odom
#58 LB, Jr., Jeremy Benton
#58 LB, Jr., Ace Foyil
#58 OL, Fr., Michael Jeanise
#60 OL, Fr., Steven Singleton
#62 OL, Jr., Robert Smith
#63 OL, Jr., Ryan Miller
#64 OL, Fr., Matt Allen
#66 OL, So., Max Holmes
#67 OL, Fr., Mark Snyder
#70 OL, So., Ciron Black
#71 OT, Sr., Carnell Stewart
#72 DT, Sr., Glenn Dorsey
#72 OL, Jr., Cole Louviere
#73 OL, Sr., Will Arnold
#74 OL, Jr., Brett Helms
#79 OL, Jr., Herman Johnson
#81 TE, Sr., Mit Cole
#82 TE, So., Richard Dickson
#84 DE, So., Rahim Alem
#86 WR, So., Chris Mitchell
#87 WR, So., Jared Mitchell
#89 TE, Sr., Keith Zinger
#90 DE, So., Ricky Jean-Francois
#91 DE, Jr., Charles Alexander
#93 DE, Jr., Tyson Jackson
#95 DE, Fr., Pep Levingston
#96 DL, Fr., Joseph Barksdale
#97 DT, So., Al Woods
#98 DT, So., Lyle Hitt
#99 DT, Jr., Marlon Favorite

What do you think?


We'd love to hear your comments and/or opinions. If you submit them here, other visitors can read them, rate them and comment on them. An e-mail address is not required.

---
Return to Home Page
Alabama Football Arkansas Football Auburn Football Florida Football Georgia Football Kentucky Football Mississippi State Football Ole Miss Football South Carolina Football Tennessee Football Vanderbilt Football From LSU Football to SEC Sports SEC Football SEC Basketball SEC Women's Basketball SEC Baseball SEC Track and Field SEC Swimming and Diving SEC Tennis SEC Golf SEC Gymnastics SEC Soccer SEC Softball SEC Volleyball Best College Sports Conference SEC vs Big Ten Debate SEC Sports News SEC Sports Blog SEC Sports Fan Forum 2007 SEC Football Tickets SEC Sports Fan Trips SEC Sports Fan Store About Us Contact Us Site Search
---