2007 Ole Miss Football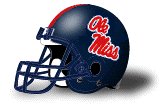 ---
Current information about Ole Miss Football can be found at
2010 Ole Miss Rebels Football
.
---
See bottom of page for current discussion of Rebels football.
It was a bad year for Ole Miss football. I mean, they are used to that in Oxford. But, given the rise of cross-state rival Mississippi State, it will be a tougher post season than usual. The Rebels went 0-8 in the SEC, and 3-9 overall. They had the Miss. State game (Egg Bowl) won, till collapsing late in the 4th quarter.
Ole Miss Vaught-Hemingway Stadium .
Thanks to bjsmith at flickr.com for the photo.
---
Coach Orgeron was fired and replaced by former Arkansas coach Houston Nutt. And therein lies hope. Nutt was a fine coach at Arkansas. He knows SEC football and he can recruit. So, look for Old Miss football to improve. They'll even win and SEC game or two next season.
---
---
Prior Discussion:
Ole Miss football doesn't get a lot of attention in the SEC. This is probably due to their extensive record of losing seasons. And, that doesn't look to change this season.
The Rebels finished a disappointing 4-8 season last year, tying for last place in the SEC West. However, they had two near victories against Georgia and Auburn and suffered nail-biting losses to Alabama and LSU in overtime. So, Ole Miss had nothing to be ashamed of in 2006.
Oh, and they won the
Egg Bowl
, and took home the
Golden Egg Trophy
, beating cross-state rival Mississippi State.
University of Mississippi football has been weak at the quarterback position ever since the departure of Eli Manning nearly four years ago. It was thought that the position would go to former Tennessee quarterback Brent Schaffer, but he struggled in pre-season scrimmages. The word out of Oxford is that Mississippi native, and seasoned veteran, Seth Adams, will start at QB. Adams will be solid, but not spectacular at all.
One of the team's other downfalls comes from the completely rebuilt defensive line, with talented veterans like Patrick Willis and Rory Johnson being replaced by relative newcomers like Army Veteran Tony Fein and sophomore Jonathan Cornell.
The strength of the Rebel's team will be their running game led by All-SEC Offensive Lineman Michael Oher and running back Ben Jarvus Green-Ellis. Ole Miss also has fifteen returning starters.
Head coach Ed Orgeron and Offensive Coordinator Dan Werner have overhauled the offense; developing a short-intermediate passing game, putting more focus on tight ends. Former quarterback Robert Lane, who now plays tight end, is especially expected to make some important contributions this year thanks to his good hands and his ability to think quickly on his feet.

Orgeron is on the hot seat to produce a winning football team at Ole Miss.

In the end, though, it's hard to see how Old Miss climbs out of the SEC-West cellar. They'll likely battle it out again with Mississippi State for last place.
Florida Gators vs Ole Miss Rebels
Thanks to bjsmith at flickr.com for the photo.
---
Help the Ole Miss Rebels climb with
Merchandise and Apparel
,
Rebels Tickets
and
Baseball Caps
.
2007 Ole Miss Football Schedule:
Sep 1 Memphis Away
Sep 8 Missouri Home
Sep 15 Vanderbilt Away
Sep 22 Florida Home
Sep 29 Georgia Away
Oct 6 Louisiana Tech Home
Oct 13 Alabama Home
Oct 20 Arkansas Home
Oct 27 Auburn Away
Nov 3 Northwestern St. Home
Nov 17 LSU Home
Nov 23 Mississippi St. Away
---
Other Ole Miss Football Pages
What do you think?

We'd love to hear your comments and/or opinions. If you submit them here, other visitors can read them, rate them and comment on them. An e-mail address is not required.

2007 Ole Miss Football Roster:
#1 DB, Fr., George Helow
#1 WR, Fr., Kendrick Lewis
#2 WR, So., Mike Wallace
#4 DB, Sr., Bryan Brown
#5 DB, So., Terrell Jackson
#6 RB, Jr., BenJarvus Green-Ellis
#7 K, Jr., Christian Albarracin
#7 QB, Jr., Brent Schaeffer
#8 QB, Fr., Billy Tapp
#9 S, Fr., Allen Walker
#9 QB, Fr., Connor Wise
#10 LB, So., Quentin Taylor
#11 LB, Fr., Jonathan Cornell
#12 QB, Fr., Cliff Davis
#12 DB, So., Dustin Mouzon
#13 DB, So., Jamarca Sanford
#14 QB, Jr., Bruce Hall
#14 QB, Fr., Michael Herrick
#14 DB, Fr., Bryan Kendricks
#15 TE, Jr., Robert Lane
#16 WR, Fr., Markeith Summers
#17 K, Sr., Will Moseley
#19 QB, Jr., Seth Adams
#20 Sr., Charles Clark
#22 RB, Fr., Dexter McCluster
#23 DB, Fr., Zac Craig
#25 TB, Fr., Cordera Eason
#25 RB, Jr., Hiram White
#26 LB, Jr., Garry Pack
#27 S, Fr., Jamal Harvey
#28 DB, Jr., Nate Banks
#29 WR, Fr., Marshay Green
#30 RB, Fr., Derrick Davis
#31 WR, Fr., Michael Hicks
#31 TE, Fr., Wallace McLaurin
#32 LB, Fr., Cole Buza
#32 TE, Sr., Keith Houston
#33 LB, So., Anonio Turner
#34 K, Fr., Justin Sparks
#35 CB, Fr., Cassius Vaughn
#36 DB, Fr., Mike Dzura
#36 P, So., Rob Park
#37 WR, Fr., Kelvin Rolack
#40 RB, So., Mico McSwain
#41 P, Fr., Stephen Payne
#41 LB, So., Brandon Thomas
#42 LB, So., Robert Russell
#44 FB, So., Jason Cook
#45 LB, So., LeRon King
#46 LB, So., Don Hargroder
#46 DL, Fr., Kentrell Lockett
#47 RB, Fr., Reggie Hicks
#48 DB, Jr., Kirt Finnell
#48 FB, Fr., Andy Hartman
#48 LB, Jr., Rory Johnson
#50 OT, Jr., Darryl Harris
#51 C, Jr., Corey Actis
#51 LB, Fr., Ryan Brunatti
#52 OL, Sr., James McCoy
#54 DT, Jr., Jeremy Garrett
#56 DE, Jr., Viciente DeLoach
#57 DL, Fr., Jerrell Powe
#59 LB, Fr., Sam Holcomb
#60 OL, Jr., Thomas Eckers
#62 OL, Fr., Don Mosley
#64 DL, Fr., Brent Hammac
#65 OL, Fr., Haley McIngvale
#68 OL, So., Paul Hurd
#68 LS, Fr., Preston Powers
#69 OL, So., Maurice Miller
#69 LS, Fr., Wesley Phillips
#70 LS, Fr., Brent Smith
#71 OL, Fr., Reid Neely
#72 OL, Fr., Daverin Geralds
#73 OG, Sr., Andrew Wicker
#74 OL, So., Michael Oher
#77 OG, Jr., Marcus Cohen
#77 OL, Fr., John Jerry
#78 OL, So., David Traxler
#82 TE, Fr., Cecil Frison
#84 DE, Fr., Joseph Maher
#84 DL, Fr., Garrett Ryan
#85 TE, Jr., Robert Hough
#86 DL, Fr., Greg Hardy
#86 WR, Jr., Kyle Hill
#87 WR, Jr., Josh Zettergren
#88 TE, Sr., Lawrence Lilly
#89 DL, Fr., Ben Benedetto
#89 WR, Jr., Kyle Higginbotham
#89 WR, Jr., Carlos Suggs
#90 DE, Jr., Brandon Jenkins
#90 TE, Fr., Andy Johnson
#92 DL, Fr., Marcus Tillman
#93 K, So., Robert Bass
#93 K, Fr., Joshua Shene
#94 DL, So., Lamark Armour
#95 DE, So., Chris Bowers
#96 K, Jr., Matt Hinkle
#97 DL, So., Hayward Howard
#98 DL, So., Peria Jerry
#99 DL, Fr., David Densmore
---
---
---
Return to Home Page
Alabama Football Arkansas Football Auburn Football Florida Football Georgia Football Kentucky Football LSU Football Mississippi State Football South Carolina Football Tennessee Football Vanderbilt Football From Ole Miss Football to SEC Sports SEC Football SEC Basketball SEC Women's Basketball SEC Baseball SEC Track and Field SEC Swimming and Diving SEC Tennis SEC Golf SEC Gymnastics SEC Soccer SEC Softball SEC Volleyball Best College Sports Conference SEC vs Big Ten Debate SEC Sports News SEC Sports Blog SEC Sports Fan Forum 2007 SEC Football Tickets SEC Sports Fan Trips SEC Sports Fan Store About Us Contact Us Site Search
---