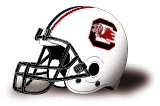 ---
If you are looking for our Current South Carolina Gamecocks Football page, check out: 2010 South Carolina Gamecocks Football.
---
See bottom of page to discuss South Carolina football.
South Carolina started out like gangbusters. They beat Georgia in Athens and eventually had a 6-2 record and were ranked in the top 10 nationally. Then the brutal schedule has caught up to them. South Carolina ended the year with 4 straight losses including cross-state rivals Clemson. Their defense especially wore down. They ended up 6-6 (3-5 in the SEC) and in 4th place in the SEC East. I thought they deserved a bowl more than 6-6 Alabama, but it didn't happen.
Still, Gamecocks football is on the rise, under Steve Spurrier. Look for a better 2008.
******************************
---
---
South Carolina football, under the direction of head coach Steve Spurrier, has come into its own with several winning seasons and appearances in bowl games over the past three years. The University of South Carolina (the "real" USC) is well known for its die-hard fans who gather at Williams-Brice Stadium to cheer on their Gamecocks.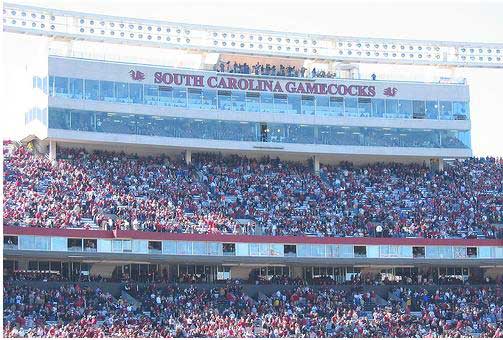 South Carolina Gamecocks Williams-Brice football stadium.
Thanks to bjsmith at flickr.com for the picture .
---
Head coach Steve Spurrier is back on for his third season and is confident that South Carolina football will produce another winning season. The team has never ranked high in the SEC; never finishing better than 5-3 in the conference.
Last year, the Gamecocks ended up with an 8-5 record, but only 3-5 in the SEC. They only managed to beat three of the lowliest football teams in the conference (Vanderbilt, Miss. State, and Kentucky). They ended up 5th in the SEC East. BUT, they were competitive in virtually every game - and nearly beat Florida.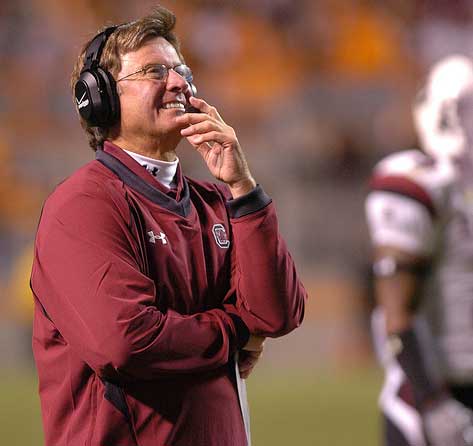 Thanks to bamaisback2006 at flickr.com for photo of Steve Spurrier grimacing as last second field goal wins game for Tennessee in 2007.
---
After the addition of Spurier three years ago, South Carolina has developed a much stronger football program. They made it to the Independence Bowl in 2005 and the Liberty Bowl in 2006 (beat Houston 44-36).
AND
they beat cross-state rival Clemson 31-28!
The offensive line has been an ongoing problem for the South Carolina football team.
However, they have talent in the quarterback and wide receiver positions. Some key players for this coming year are going to be quarterback Blake Mitchell, who passed for 1,789 yards and had a 61% completion record last season; wide receiver Kenny McKinley; and, tailback Cory Boyd.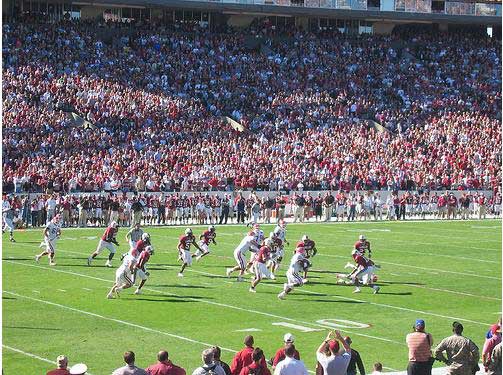 Gamecocks defend Gator run .
Thanks to bjsmith at flickr.com for the picture.
---
The Gamecocks had five players selected to be on the pre-season All-SEC team, with linebacker Jasper Brinkley being named to the first team. Coach Spurrier is hopeful that some freshmen will step up big time. In fact, he believes, USC's incoming freshman class, may be the best in school history.
We like what Spurrier is doing with South Carolina football. But,
darn
, the SEC is just so tough. The gamecocks play
at
LSU, Georgia, Tennessee, and Arkansas; then home against Florida and Clemson.
Just a brutal schedule!!
If the Gamecocks can win 7 games - that will be a great accomplishment. That would get them a winning season and into a minor bowl game. That's what we think will happen.
Check out these links for your South Carolina Gamecocks
Merchandise and Apparel
,
Tickets
, and
Baseball Caps
.
2007 South Carolina Football Schedule
Sep. 1 Louisiana-Lafayette Home
Sep. 8 Georgia Away
Sep. 15 South Carolina St. Home
Sep. 22 LSU Away
Sep. 29 Miss. State Home
Oct. 4 Kentucky Home
Oct. 13 North Carolina Away
Oct. 20 Vanderbilt Home
Oct. 27 Tennessee Away
Nov. 3 Arkansas Away
Nov. 10 Florida Home
Nov. 24 Clemson Home
---
South Carolina Football Pages
What do you think?

We'd love to hear your comments and/or opinions. If you submit them here, other visitors can read them, rate them and comment on them. An e-mail address is not required.

What Other Visitors Have Said
Click below to see contributions from other visitors to this page...

2007 South Carolina Football Roster:
#1 CB, So., Captain Munnerlyn
#3 RB, Sr., Cory Boyd
#5 QB, Fr., Stephen Garcia
#5 CB, Jr., Carlos Thomas
#6 QB, So., Tommy Beecher
#7 QB, Fr., Chris Smelley
#8 WR, Jr., Larry Freeman
#9 WR, So., Moe Brown
#11 WR, Jr., Kenny McKinley
#12 QB, Sr., Blake Mitchell
#14 K, Jr., Ryan Succop
#16 QB, So., Michael McQueeney
#18 CB, So., Chris Hail
#19 TE, Fr., Nick Prochak
#20 RB, So., Taylor Rank
#21 S, So., Emanuel Cook
#22 RB, Jr., Bobby Wallace
#23 WR, Sr., Mike West
#24 LB, Sr., Cody Wells
#25 RB, Jr., Mike Davis
#26 S, Sr., Brandon Isaac
#27 S, Sr., Ty Erving
#30 LB, Jr., Yvan Banag
#30 RB, Jr., Calvin Parks
#31 LB, So., Gerrod Sinclair
#32 LB, Sr., Marcus Davis
#32 S, So., Darian Stewart
#33 S, Sr., Chris Hampton
#34 WR, So., Kris Mizell
#34 S, Jr., Douglas Peterson
#35 FB, So., Jim Hutton
#35 S, Sr., Greg Wright
#36 CB, Jr., Stoney Woodson
#39 FB, Sr., Lanard Stafford
#39 CB, Sr., Ranzino Valentine
#40 DE, So., Eric Norwood
#41 DE, Sr., Jordin Lindsey
#42 S, Jr., Mike Newton
#42 DE, Fr., Travian Robertson
#43 FB, Sr., Ryan Brown
#44 FB, Fr., Clark Gaston
#44 LB, Jr., Dustin Lindsey
#45 LB, So., Rodney Paulk
#46 FB, Jr., Bryan Kingrey
#48 LB, So., Vandaral Shackleford
#49 LB, So., Damien Wright
#51 LB, Sr., Casper Brinkley
#52 LB, Sr., Jasper Brinkley
#53 LB, Jr., Marvin Sapp
#54 OG, So., Hardee Sanders
#55 LB, Jr., Dakota Walker
#57 OG, So., Lemuel Jeanpierre
#58 LB, So., John Guerry
#59 LS, Fr., Charles Turner
#60 OG, Jr., Matt Raysor
#62 OG, Fr., Pierre Andrews
#63 OG, Fr., Seaver Brown
#64 OG, Fr., Kevin Young
#65 C, Fr., Ryan Broadhead
#66 OT, So., Hutch Eckerson
#67 OG, Sr., James Thompson
#69 LS, Fr., Joshua Gonzalez
#70 OG, So., Garrett Anderson
#71 C, Sr., William Brown
#74 OT, Fr., Heath Batchelor
#75 OT, Jr., Gurminder Thind
#76 C, Jr., Jeremy Burgess
#77 OT, Jr., Jamon Meredith
#78 OT, Jr., Justin Sorensen
#79 DT, Jr., Marque Hall
#80 TE, Sr., Andy Boyd
#81 DT, Fr., Terrence Campbell
#81 WR, So., Paul Haile
#82 WR, So., Freddie Brown
#83 WR, So., Scott Spurrier
#84 WR, So., Jared Cook
#87 P, So., Spencer Lanning
#87 TE, Jr., Alex McGrath
#88 WR, Fr., Marquise Brown
#88 K, Jr., Thomas Hooper
#89 WR, Jr., Leon Gamble
#90 TE, Fr., Foxy Foxworth
#91 DT, Fr., Ladi Ajiboye
#93 TE, Sr., Robert Pavlovic
#95 DT, Jr., Nathan Pepper
#96 DE, Fr., Clifton Geathers
#97 DT, Fr., Kenrick Ellis
#97 P, So., Nate Spurrier
#98 DT, Sr., Joel Reaves
#99 DE, Jr., Jonathan Williams
---
Alabama Football Arkansas Football Auburn Football Florida Football Georgia Football Kentucky Football LSU Football Mississippi State Football Ole Miss Football Tennessee Football Vanderbilt Football
---
From South Carolina Football to SEC Sports SEC Sports Blog | SEC Football | SEC Basketball | SEC Women's Basketball | SEC Baseball | SEC Track and Field | SEC Swimming and Diving | SEC Tennis | SEC Golf | SEC Gymnastics | SEC Soccer | SEC Softball | SEC Volleyball | Best College Sports Conference | SEC vs Big Ten Debate | SEC Sports News | Current SEC Sports News | SEC Sports Pictures and Videos | SEC Sports Fan Forum | College Football Association | SEC Sports Fan Trips | College Sports Tickets | Fathead | College Sports Tailgate Party Shop | College Sports Merchandise | College Sports Apparel | SEC Sports Fan Store |
---
Return to Home Page
About Us | Contact Us | Site Search |
---