2007 Mississippi State Football
---
Want to read about the Current Mississippi State football team? Check out
2010 Mississippi State Bulldogs Football
.
---
Congrats to the Mississippi State Bulldogs!! They started off the SEC Bowl season with a classic defensive football; 10-3 win in the Liberty Bowl.
MSU beat a good University of Central Florida team that had Heisman candidate RB Kevin Smith. The Bulldogs shut him down and prevented him from breaking Barry Sanders single season NCAA rushing record.

MSU's Davis Wade Stadium at Scott Field.
Thanks to rogersmith at flickr.com for the picture.
---
UCF was champ of C-USA and prior to this game, their previous low point total was 32 points in a loss to Texas. But, they hadn't faced an SEC defense till tonight. Certainly not a defense like Miss. State's.
What a great year for Mississippi State football. Head coach Sylvester Croom -- named 2007 SEC Football Coach of the Year. Well deserved! Croom had the Bulldogs playing great, classic, SEC football. Tough defense, great teamwork, hustle; it's great to see them winning. Bear Bryant (Croom's mentor) would be proud.
Can't wait to see what happens in 2008. But, for now, Mississippi State can enjoy the off season, for the first time in a long time.
---
---
Prior Discussion:
Mississippi State football has long been the underdog of the SEC-West. But, they are trying to make up for lost time. In 2003, the Bulldogs hired Sylvester Croom, the first African-American head coach in SEC history. The Bulldogs are focusing on teamwork and rebuilding their defense this year in hopes of a winning season and making it to a long overdue bowl game.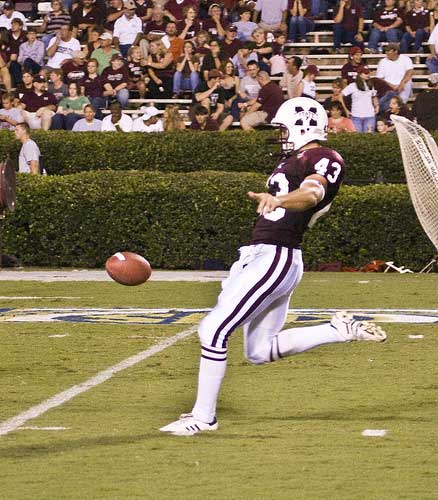 Mississippi State punter kicks the football.
Thanks to haydensimons at flickr.com for the picture .
---
Mississippi State had an unimpressive 3-9 record last season and placed last in the SEC West. In fact, they have not had a winning season, or won more than three games for that matter, since 2000.
Yet, it seems the Bulldogs may be on the path to a winning season after their good showing in the last half of the 2006 season when their point production nearly doubled. In that stretch, they beat Alabama (may have cost Mike Shula his job) and lost very close games to Georgia, Kentucky, and Ole Miss. Much of this improvement is thanks to quarterback Michael Henig, who improved tremendously.
Mississippi State football lost several starters last year, leaving a void in their defense. With inexperience being their number one problem, it may be another year before the Bulldogs "get there."
Senior wide receiver Tony Burks makes up a foursome of gifted receivers who showcase most of the Bulldogs' talent. On defense, Titus Brown and Jamar Chaney hit hard and have pretty good speed, they just need to encourage the newcomers and help them acclimate to their new positions.
Mississippi State has been busy in pre-season conditioning and working on their plays. Croom alluded to the fact that he may be switching around some people's positions, explaining that he wants the best guys for the job out there. If this strategy works, and no one resists moving positions, it could help bring the team together.
Four Bulldogs were voted into the pre-season All-SEC team, although none of them were placed on the first team. Defensive back Derek Pegues was selected to be on the second team most likely due to his punt return yardage, which ranked the fifth highest in Mississippi State history.
We wish we could be more encouraging. Sylvester Croom is doing the best he can. But the SEC is just so tough. It looks like another year of battling cross-state rival Ole Miss for last place in the SEC-West (and probably the entire SEC for that matter).
But, one thing you can count on - Mississippi State football will never give up and the Bulldogs will be competitive in most all their games.
Bulldogs fans, don't miss a single game. Get
Merchandise and Apparel
,
Tickets
, and
Baseball Caps
here.
2007 Mississippi State Football Schedule:
Aug. 30 LSU Home
Sep. 8 Tulane Away
Sep. 15 Auburn Away
Sep. 22 Gardner-Webb Home
Sep. 29 South Carolina Away
Oct. 6 UAB Home
Oct. 13 Tennessee Home
Oct. 20 West Virginia Away
Oct. 27 Kentucky Away
Nov. 10 Alabama Home
Nov. 17 Arkansas Away
Nov. 23 Ole Miss Home
---
Mississippi State Football Links
What do you think?

We'd love to hear your comments and/or opinions. If you submit them here, other visitors can read them, rate them and comment on them. An e-mail address is not required.

2007 Mississippi State Football Roster:
#1 CB, Jr., Keith Fitzhugh
#3 DB, Jr., Derek Pegues
#4 WR, Sr.,Tony Burks
#5 LB, Sr., Gabe O'Neal
#6 CB, Fr., Demario Bobo
#6 QB, Jr., Josh Riddell
#7 QB, Jr., Mike Henig
#8 S, Jr., De'Mon Glanton
#9 WR, Jr., Keon Humphries
#10 WR, Jr., Ryan Mason
#13 CB, So., Anthony Johnson
#18 CB, Fr., Marcus Washington
#19 S, So., Anthony Summers
#20 S, So., Jarvis Kyles
#22 LB, Jr., Jamar Chaney
#24 RB, So., Anthony Dixon
#24 RB, Sr., Justin Williams
#25 WR, Sr., Tyler Threadgill
#29 RB, So., Christian Ducre
#30 RB, So., Arnil Stallworth
#35 FB, Jr., Brandon Hart
#36 LB, So., Jamon Hughes
#37 K, Jr., Adam Carlson
#39 LB, Jr., Timmy Bailey
#43 P, Jr., Blake McAdams
#45 DB, So., Tay Bowser
#47 LB, Jr., Dominic Douglas
#47 LS, Fr., Aaron Feld
#48 TE, Sr., Dezmond Sherrod
#51 DE, Sr., Avery Hannibal
#53 OG, Jr., Anthony Strauder
#54 DE, Sr., Titus Brown
#56 LB, Jr., Anthony Littlejohn
#59 C, So., Johnny Carpenter
#60 OL, Fr., J.D. Hamilton
#63 OG, So., Chris Spencer
#66 DT, Fr., J.C. Brignone
#67 OT, Jr., Roland Terry
#70 OT, So., Chris Herrera
#72 OG, So., Anthony Dunning
#74 OL, Fr., Mark Melichar
#75 OT, So., Craig Jenkins
#76 C, Sr., Royce Blackledge
#77 OL, Jr., Michael Brown
#78 OT, Jr., Michael Gates
#81 WR, So., Brandon McRae
#82 TE, Sr., Jason Husband
#83 WR, Sr., Joey Sanders
#84 FB, Jr., Jeremy Jones
#85 TE, Fr., Brandon Henderson
#86 WR, Sr., Lance Long
#87 WR, Jr., Aubrey Bell
#87 WR, Jr., Jamayel Smith
#88 TE, Sr., Eric Butler
#89 WR, So., Alex Carpenter
#90 DE, Jr., Cortez McCraney
#91 DE, Fr., Rodney Prince
#92 DE, Jr., Charles Burns
#93 DE, Fr., Brandon Cooper
#94 DL, Jr., Jesse Bowman
#95 DT, So., Kyle Love
#96 DT, Fr., Reggie Odom
#99 DT, So., Quinton Wesley
---
Return to Home Page
Alabama Football
Arkansas Football
Auburn Football
Florida Football
Georgia Football
Kentucky Football
LSU Football
Ole Miss Football
South Carolina Football
Tennessee Football
Vanderbilt Football
From Mississippi State Football to SEC Sports
SEC Football
SEC Basketball
SEC Women's Basketball
SEC Baseball
SEC Track and Field
SEC Swimming and Diving
SEC Tennis
SEC Golf
SEC Gymnastics
SEC Soccer
SEC Softball
SEC Volleyball
Best College Sports Conference
SEC vs Big Ten Debate
SEC Sports News
SEC Sports Blog
SEC Sports Fan Forum
2007 SEC Football Tickets
SEC Sports Fan Trips
SEC Sports Fan Store
About Us
Contact Us
Site Search
---