2007 Vanderbilt Football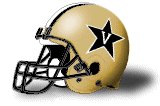 ---
Looking info for Current Vanderbilt Commodores football team? If so, go to 2010 Vanderbilt Commodores Football.
---
Frankly, we were a bit disappointed in Vandy this (2007) year. The Dores had a fine season (for them) -- ending up 5-7 (2-6 in the SEC). They beat South Carolina and Ole Miss. But, we'd hoped for a bit more. They needed at least one more win to get a bowl bid, and it didn't happen. Oh well, there's always next year. We'll have our 2008 predictions up soon, so check back.
---
---
Prior Discussion
Vanderbilt football seems a bit out of place in the the SEC. Not only is Vanderbilt the smallest college in the SEC, it is also the only private institution. And, of course, it is known more for academics than sports. The Commodores have not been to a bowl game since 1982.
Vandy has had some great basketball and baseball teams. But, in football, well "¦ the best they've ever done is "compete." And, since they compete in the toughest football conference in America - that's not bad.
Vanderbilt Football's head coach Bobby Johnson has really done a remarkable job with the program. Last year, the Commodores broke through with a big-time win at Georgia. Othewise, however, they were winless in the SEC (4-8 overall). But, they did have some other close losses (notably to National Champ Florida).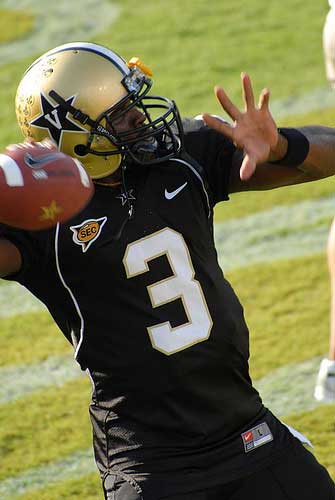 Thanks to JEFFHREED at flickr.com for this photo of Vanderbilt QB Chris Nickson throwing a football.
---
Overall, Vanderbilt returns eighteen starters - most in the SEC! This includes quarterback Chris Nickson, All-American wide receiver Earl Bennett, and four of the five offensive linemen, led by Second Team All-SEC left tackle Chris Williams.
Nickson is very athletic and has a solid arm. He can also spread it out and run the option to keep his opponent guessing. Last year he passed for over 2,000 yards and rushed for almost 700, making him a legitimate dual-threat quarterback. With two of his big receivers returning, Earl Bennett and George Smith, the Dores' passing game should be solid.
Traditionally, Vanderbilt football has been weakest on defense. But, last season they managed twice as many sacks as the prior year. And, most of their top defensive players return this season. Their defense, led by All-SEC linebacker Jonathan Goff, will be tough to run against, but will most likely have a tendency to give up the big pass play.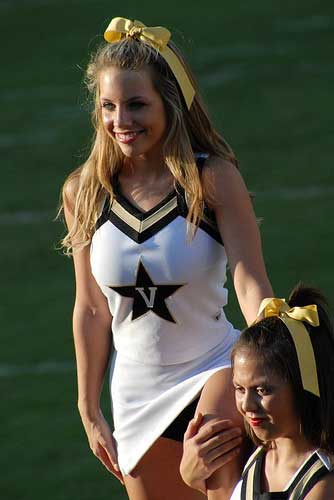 Thanks to JEFFHREED at flickr.com for this photo of Vanderbilt cheerleaders. They are more than just smart.
---
Vandy will likely be in virtually every game this year. We are going to go out on a limb and pick Vanderbilt football to have a winning season; finish 3rd or 4th in the SEC East (maybe tied for 3rd) --
and go to a bowl game for the first time in 25 years!
Cheer for your favorite Vanderbilt Commodores with your own
Merchandise and Apparel
,
Tickets
, and
Baseball Caps
.
2007 Vanderbilt Football Schedule:
Sep. 1 Richmond Home
Sep. 8 Alabama Home
Sep. 15 Ole Miss Home
Sep. 29 Eastern Michigan Home
Oct. 6 at Auburn Away
Oct. 13 Georgia Home
Oct. 20 at South Carolina Away
Oct. 27 Miami-OH Home
Nov. 3 at Florida Away
Nov. 10 Kentucky Home
Nov. 17 at Tennessee Away
Nov. 24 Wake Forest Home
---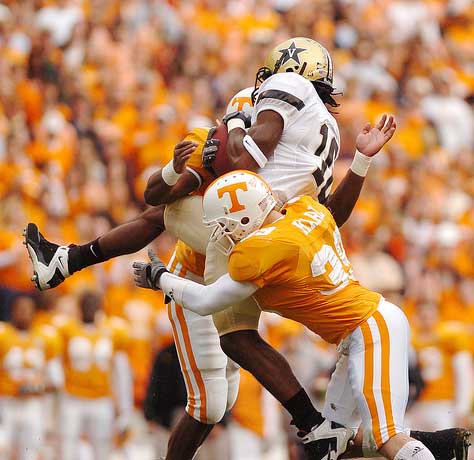 Thanks to bamaisback2006 at flickr.com for photo of Earl Bennett making a tough catch between two Vols.
Vanderbilt Football Pages
What do you think?

We'd love to hear your comments and/or opinions. If you submit them here, other visitors can read them, rate them and comment on them. An e-mail address is not required.

2007 Vanderbilt Football Roster:
#2 S, So., Ryan Hamilton
#3 QB, Jr., Chris Nickson
#4 S, So., Roger Herndon
#4 WR, So., Alex Washington
#5 CB, So., Myron Lewis
#6 CB, So., Darlron Spead
#7 WR, Jr., Sean Walker
#8 K, Jr., Bryant Hahnfeldt
#9 QB, So., Mackenzi Adams
#10 WR, Jr., Earl Bennett
#11 S, So., Brent Trice
#12 QB, Fr., Jared Funk
#13 WR, Fr,. Turner Wimberly
#14 CB, Jr., Josh Allen
#15 QB, Sr., Richard Kovalcheck
#16 CB, Fr., Alan Strong
#17 CB, So., D.J. Moore
#18 WR, So., Larry Simmons
#20 CB, Jr., Jared Fagan
#21 TB, Jr., Jeff Jennings
#22 TB, Sr., Cassen Jackson-Garrison
#24 OLB, Sr., Marcus Buggs
#27 RB, So., Gaston Miller
#28 TB, Fr., Kennard Reeves
#29 DB, So., Joel Caldwell
#30 LB, So., Patrick Benoist
#31 RB, So., Jared Hawkins
#32 FB, So., Matt Bubis
#33 S, Jr., Reshard Langford
#35 LB, So., Brandon Bryant
#36 WR, So., Chris Reinert
#37 LB, Jr., Dom Morais
#39 P, So., Brett Upson
#44 DE, Jr., David Whittington
#45 LB, So., Chris Johnson
#46 LB, So., Michael Garcia
#47 LB, Sr., Jonathan Goff
#48 DE, Sr., Curtis Gatewood
#49 OLB, So., Bo Baggarley
#50 K, So., Thomas Carroll
#52 LB, Fr., Nate Campbell
#53 C, Sr., Hamilton Holliday
#54 DT, Sr., Theo Horrocks
#56 DT, Sr., Gabe Hall
#59 DT, Fr., Adam Smotherman
#60 C, So., Bradley Vierling
#61 OL, Fr., Nick Forte
#64 OG, Sr., Merritt Kirchoffer
#66 OL, So., Eric Hensley
#68 OL, Fr., Reilly Lauer
#68 LS, So., Nick Miller
#70 OL, So., Drew Gardner
#71 OL, Fr., Joey Bailey
#72 OT, Sr., Brian Stamper
#73 OL, So., Ryan Custer
#74 OT, Sr., Chris Williams
#76 OT, So., Thomas Welch
#78 OG, Sr., Josh Eames
#79 OL, So., Ryan Vance
#80 WR, So., Justin Wheeler
#81 WR, Jr., Bryant Anderson
#82 TE, Fr., Justin Green
#83 TE, Jr., Brad Allen
#84 LS, So., Matt Quinn
#85 TE, So., Jake Bradford
#88 WR, Jr., George Smith
#89 DE, Fr., Teriall Brannon
#90 DE, So., Broderick Stewart
#91 OLB, Fr., Austin Newton
#92 DT, Jr., Brandon Holmes
#93 DE, So., David Leinweber
#94 DE, Fr., Kikko Logan
#95 DE, Fr., Sam Panke
#96 DE, So., Steven Stone
#97 K, Fr., John Laughrey
#98 DL, So., Greg Billinger
#99 DT, So., Derrius Dowell
---
Return to Home Page
Alabama Football
Arkansas Football
Auburn Football
Florida Football
Georgia Football
Kentucky Football
LSU Football
Mississippi State Football
Ole Miss Football
South Carolina Football
Tennessee Football
From Vanderbilt Football to SEC Sports
SEC Football
SEC Basketball
SEC Women's Basketball
SEC Baseball
SEC Track and Field
SEC Swimming and Diving
SEC Tennis
SEC Golf
SEC Gymnastics
SEC Soccer
SEC Softball
SEC Volleyball
Best College Sports Conference
SEC vs Big Ten Debate
SEC Sports News
SEC Sports Blog
SEC Sports Fan Forum
2007 SEC Football Tickets
SEC Sports Fan Trips
SEC Sports Fan Store
About Us
Contact Us
Site Search
---